It's an exciting time for comics! Laydeez Do Comics, which started out as two women in London thinking it would be nice to gather a few other people and talk about comics, has grown now to meetings in eight cities! You can go along to events in London, Leeds, Glasgow, Bristol, Brighton, Chicago, San Francisco... and now Dublin!! Here's the team taking part in the very first meeting: organiser Lynda Rucker, comics artist speaker Maeve Clancy and organiser Maura McHugh. We had pre-drinks at the Central Hotel, which is where I stayed for Irish 24-Hour Comics Day several years ago.




In London, we always have one designated person to make sketches from the evening, and in Dubin this time, it was Róisín Curé . You can see more of her drawings from the evening here! The idea of Laydeez is to focus on comics made by women, but also have a female-friendly space to talk about comics made by both men and women. So men are very welcome, too! Speaker Alan Nolan did a great job of being an honourary lady that evening.




You can see that I spouted lots of deep and meaningful feminist diatribe, ha ha. I only realised it when Maura pointed it out, but I was the first speaker at the inaugural London Laydeez Do Comics meeting, so I've helped open two branches of it. I'm rather proud of this! :)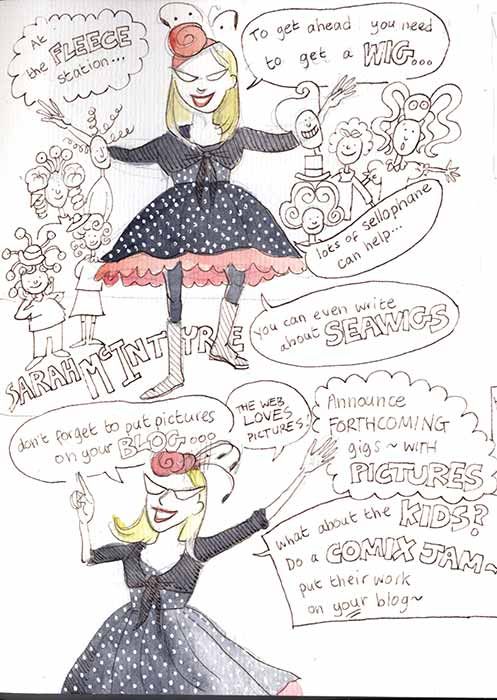 And I just like this shot of Maura, whom I first met at the excellent Thought Bubble comics festival in Leeds. Maura's awesome; when there was that huge kerfuffle over a comics festival not inviting any female speakers because the organisers couldn't think of any, she set herself of making an ongoing list with links to all the female comics creators in UK and Ireland, and then broadened it to Europe. You can read her list here! And here's Maura's write-up of the evening on the Laydeez Do Comics Dublin website.




Ah, but what is this, it's a call for another event...




And it was an excellent panel of illustrators for Dublin Writers Festival, all talking about how we got stuck into illustration. Here we are before the event in the Green Room at The Ark: Hervé Tullet, Sara Fanelli, Children's Laureate na NÓg Niamh Sharkey and me.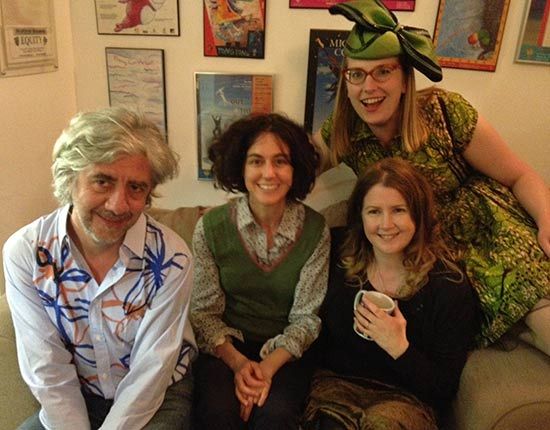 It was the only time we got to hang out with Sara - she popped over briefly from London - but it was great hearing her talk about her work, particularly her innovative book that let's the reader help an onion escape from a frying pan:



Here are Niamh and John Short preparing the slideshow. John was Niamh's course leader in college and it was the first time she'd done an event with him.




We were a very serious panel, as you can see. At the end, Sara got swamped with people wanting her to sign her book while I got all the writers who wanted me to illustrate their books. ("Do you think you can draw a leprachaun?")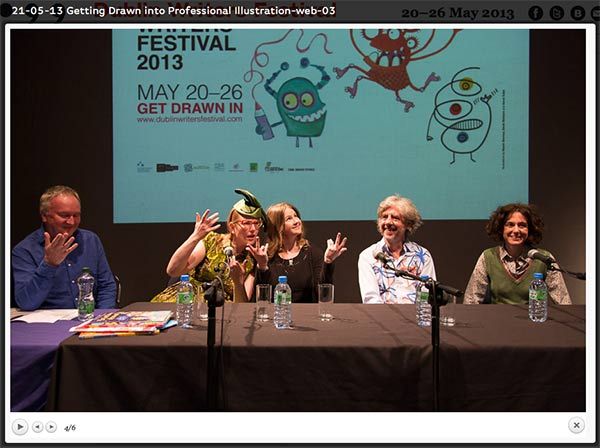 You can see more photos from the event over on the Dublin Writers Festival gallery. Thanks for inviting me, lovely festival people!