Last night was amazing, I went with Audrey Niffenegger to the Royal Opera House to see the ballet she'd help make! It was based on the fairytale in her picture book of aquatint etchings, Raven Girl, and the ballet really captured the spirit of the book. I loved how the performance was confidently narrative - the story was fascinating and easy to follow - and the set was gorgeous. This is a ballet that illustrators and graphic designers will love as much as dance enthusiasts.




Which made it funny that the second ballet, after the interval, was everything I suspect that would make most of illustrator friends run away in fright: lots of chicks in sequined white tutus with wide smiles, no costume or set changes, no story. Symphony in C was technically brilliant, just so odd after the dark, fascinating complexity of Raven Girl. A weird combo. I leaned over to Audrey and asked, 'When is the Raven King going to appear and snap up the dancers one by one?' and she said, 'You have to draw that'.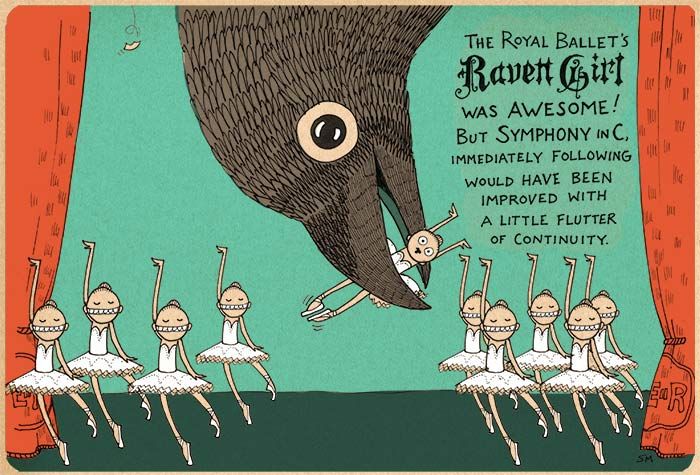 But don't let this put you off. Raven Girl is jaw-droppingly awesome and there are still some tickets left on the website. My experience with ballet was of the pink tutu variety. I thought maybe I wanted to be a ballerina, if I couldn't be a mermaid. I'm the tall kid in the photos. And then I became the tall, chubby kid, and could never master the splits, and it all went horribly wrong.




Raven Girl isn't a pink tutu ballet. One thing I loved about it was the way the set looked so much like an aquatint; it had the same colours and textures you see in Audrey's prints, and then there'd be a slight change in the lighting effects and the set would look even more flat, like it was printed on paper. And a bit of set would rise and have wavy, deckled edges, just like the kind you get on handmade paper. At one point, characters were dancing in front of enormous pages turning in a book; I loved it, anyone who loves books - the feel, the smell, the texture of them - would love it. I felt sucked into storyland.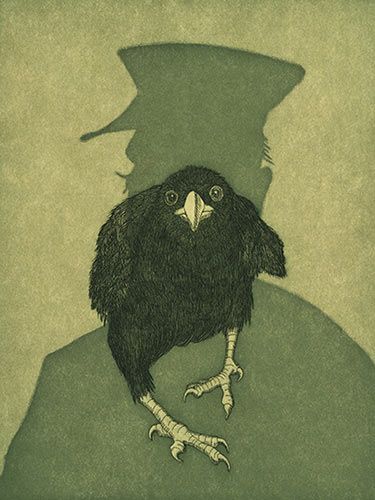 Audrey said that it's unusual for a ballet company to commission a brand-new story, they tend to rework popular older stories. So kudos to the Royal Ballet for taking it on. It works beautifully as a fairytale, but also challenges us, about how we understand our bodies and the different ways people respond to those who make surgical changes to their bodies. I loved the romantic, sometimes awkward physical relationship between the postman and his raven wife. And how he tucks the little raven chick he finds under his arm, like a little parcel. (We met the 8-year-old raven chick's mother in the lobby.) Actually, as a proper nerdy childhood stamp collector, I love that whole postal theme. I found the image so striking how, when Raven Girl is standing on the city rooftops, she tips back her head and huge flocks of black birds fly out of her mouth and swoop about. I was almost shocked by the operation scene, by the way that Raven Girl's body seems to be violated by her surgeon, and by the image when she emerges, armless. But it gave the ballet real punch and makes it unforgettable; this is no frothy little tale.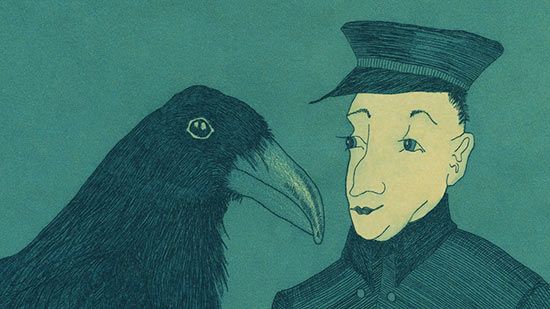 You can see a video where Audrey talks about aquatint, the process she used to make these pictures and which gave the ballet is atmosphere. (And here's a Wikipedia entry on Aquatint if you want more technical details.)



The ballet had some digital film effects worked into the built sets, and you can see on the website of the film designer, Ravi Deepres, how he and Audrey are kindred spirits in terms of mood and lighting.



Still from Ravi Deepres' Obscura

I don't know very much about lighting, but I love how choreographer Wayne McGregor's suggestions to the dancers in this video feels very much like an editor going over with me a tricky passage in a book, testing things, trying things, making it work.



And a couple more videos if you'd like to browse them. Do go see Raven Girl and fingers crossed that it will be be revived and travel so people in other parts of the world can see it. Even if you've never been to a ballet, try it; this is one I think you'll like very much.



Audrey has a new blog website, go have a browse! It's my self-appointed job to put some laffs on it. :D