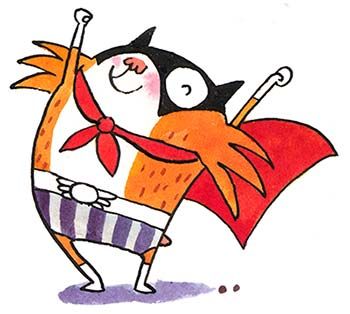 Hello, Superkids! I've come up with a Superhamster colouring sheet, and you can colour the tiny superhero like I've done, or better, make up an entirely new outfit! I'll send the winner:
* an original drawing of Superhamster!
* some of my new Superkid stickers!
* I'll do a short e-mail artist interview with you (if you want)! And I'll post it here on my blog with your winning picture.

And I'll try to post as many entries as I can here on my blog! Feel free to colour your picture with crayons, pencils, paint, etc, cut things out and stick them on top of it, colour it on your computer, switch the broccoli rocket for something else, cut it out and photograph it, animate it, whatever you like. The prize will go to the most creative entry. Have fun with it!

DOWNLOAD THE COLOURING SHEET HERE! (the first menu option!)




You can scan or photograph your entry and e-mail them to sarah(at)jabberworks.co.uk, using the subject header SUPERKID ENTRY. Or post it on your own blog and send me the link! Please try to keep your file size under 1 Megabyte, but also not so small we can't see it! The final deadline is Monday, 10 June. All ages welcome to enter! If you'd like me to include your name, age, and website link here on my blog when I display your picture, just let me know when you send your e-mail (but I'll post it anonymously if I don't get your permission).

And don't forget the other fun activities on my website! You can make a Superkid mask, learn how to draw Superhamster, read an interview with Superkid writer Claire Freedman and lots more!