I carry so many of my superpowers in my SUPERHERO HANDBAG.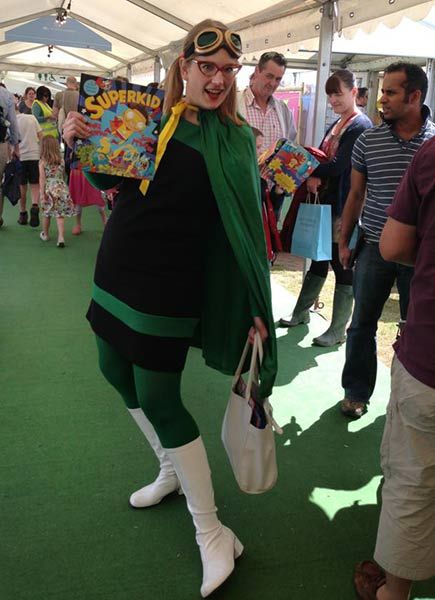 Photo by Hay Fever coordinator Mary Byrne

Festival Highlights! I am Lady X:





My work at the Hay Festival started as soon as Stuart and I boarded the train from Paddington, and sat next to chatty, book-loving Robyn. Who drew a very fine picture of Superhamster, as you can see.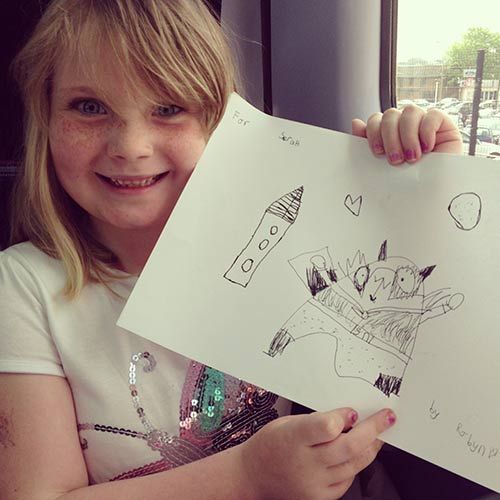 (The Superhamster Colouring Competition is ongoing, see details here!) I've seen less than brilliant weather at Hay, and invested in a new pair of wellies. Which were totally inappropriate as it was BLAZING HOT when we arrived.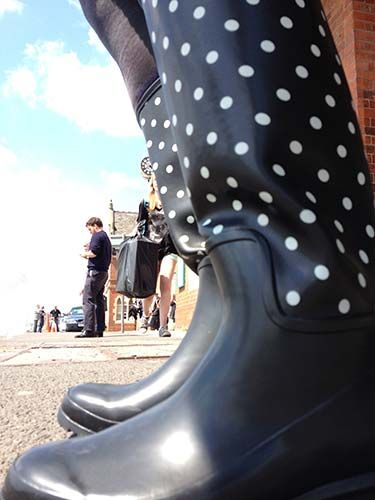 One of the best things about Hay is bursting into the rather serious, literary Green Room at Hay in full costume and looking like a total nutcase. Here's Simon Jenkins learning how to do superhero poses.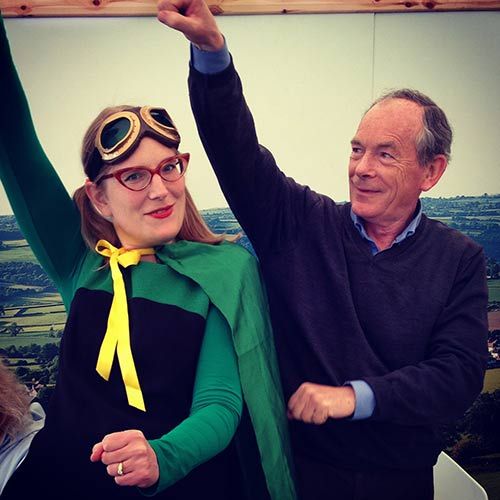 A bit thanks to fab Telegraph reviewer Martin Chilton (@MartinChilton) for the mention on Hay's blog reportage.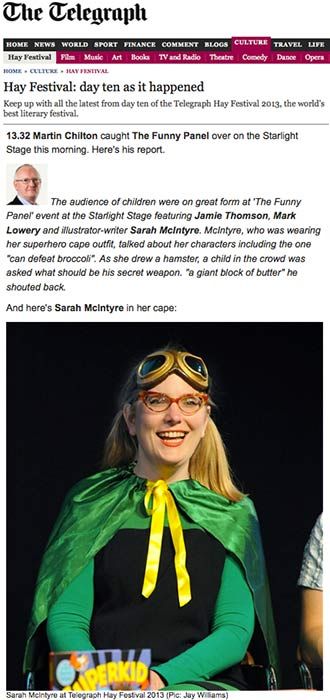 I chickened out about saying hello to Tony Hawks, but I did very much enjoy his book Playing the Moldovans at Tennis.




My first event was with excellent writers Mark Lowery (Socks are Not Enough), moderator Jonathan Meres (The World of Norm and Jamie Thomson (The Dark Lord: the Teenage Years).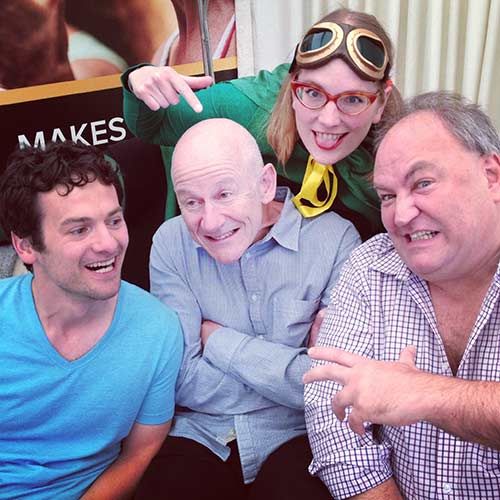 During our event, the audience helped us create a story; Mark helped us design a hamster hero (with me drawing), Jamie helped us create a villain, and then the audience helped us use the characters in a four-panel comic strip. Ah, I just found this video of Jamie, and you can get a sense of what it was like to have him teach us how to talk like a Dark Lord (MWA HA HA!):




Even when we had dinner the night before, he was talking like that. He uses the word 'puny humans' a lot. Here's a puny friend he made from the flower arrangement, but it is not human.




My second kid featured SUPERKID, my book with Aliens Love Underpants writer Claire Freedman, and everyone drew Superhamster. I had fun afterward at the signing, drawing portraits in books of lots of kids as superheroes. (If you were at the event and want more activity sheets, you can find them on my website here.)




A couple kids drawing Superhamster in the Green Room:




And then when we ran out of paper, I drew on the kids themselves. (Well, one is a kid, the other is Martin Chilton.)




Big kudos to Mary Byrne (standing next to me, @marysbookstuff on Twitter) as this was her first year of coordinating the children's part of Hay Festival (Hay Fever), taking over from Sophie Lording. And she was amazingly chatty and calm for how busy she must've been. Yay, Mary, well done!




The other two lovely chappies in that photo are Damian Kelleher (you see occasional photos of us splashing out for fancy afternoon teas at posh hotels) and my comics matey Dave Shelton. If you haven't read Dave's book, A Boy and a Bear in a Boat and Good Dog, Bad Dog, then you have a treat in store. Nice nautical gear, Dave! Damian interviewed him, Dave pulled out a ukulele, and the audience discovered that DAVE IS A GOOD UKULELE PLAYER.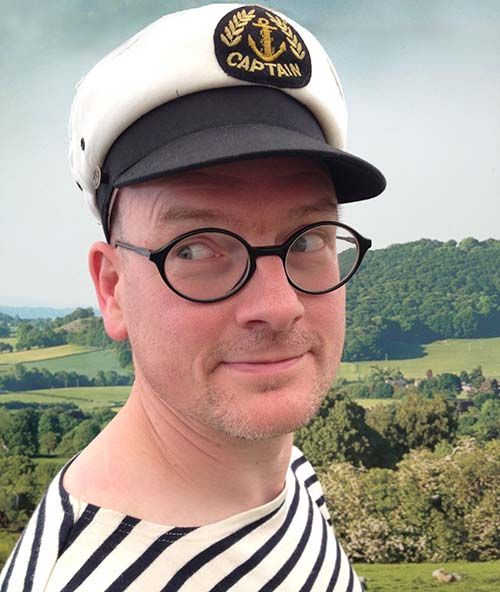 Last year I was supposed to do an event with writer-illustrator Cathy Brett, but she was unwell, so I missed getting to meet her. But this year I got lucky! (I like how there are two people in this photo but three pairs of glasses.)




There's a huge team making Hay happen, and here are some of the lovely crew in the kitchen who make sure everyone is well caked up. Thanks so much to everyone for making it a fabulous couple days!