*** Free poster! See below ***

Hurrah! I can't even tell you how pleased I am that Malorie Blackman is our new Children's Laureate!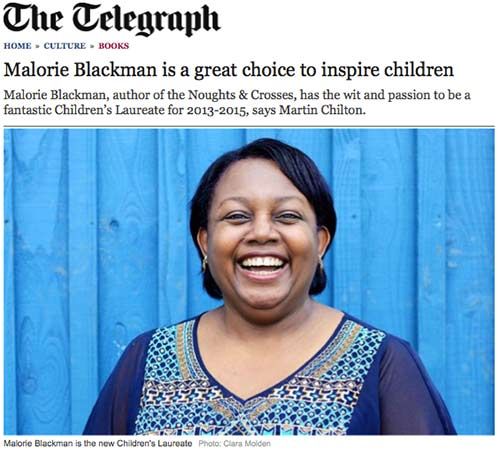 You can read Martin Chilton's article with its great photo of Malorie by Clara Molden. (They're @MalorieBlackman, @MartinChilton & @ClaraMolden on Twitter.)

Edit: I've had a couple people ask me if they could print out this image, below, to display in their libraries. So I've uploaded a free, printable poster online for you: the A4 file here (560kb) and the A3 file here (860kb). I never know what happens when I post things online, so if you could leave a note in the comments just to say the name of your school or library (and your name) and give me a wave, that would be ace! (Note: it's not a licensed Booktrust poster or anything, it's just my drawing I did for fun.)




One of the things Martin mentions is that Malorie is a huge Trekkie (she even has a Star Trek uniform!) so she understands cosplay and dressing up. And the thing that REALLY excites me is that Malorie grew up reading comics, loves comics and is having her Noughts and Crosses book made into a comic by John Aggs. Malorie gets it, she understands the idea of Reading for Pleasure, that kids who love reading will do better academically, even if they're not reading academic books. And she gets comics, that kids who read comics - comics of any genre, since comics are a medium, NOT a genre - become better reader and learn to love stories. What I find is that kids who read comics also want to MAKE comics in a way I don't see with other kinds of books; readers become authors and take ownership of reading.

...So what I'm saying is, COMICS FRIENDS, WE HAVE AN ALLY. Right now comics for kids is a small industry in this country, but there's massive room for growth, and it will totally give our kids one of the boosts they need. Give Malorie lots of support and help because, whew, being a laureate is no small job. Follow her on Twitter, keep an eye on what she says, and spread the word! The media don't give children's books and comics much space in reportage (as the last laureate, Julia Donaldson said here on her way out), but journalists almost always look to the laureate when something important needs to be said.

On another (slightly related note), I just got this awesome link from Ian McQue showing behind-the-scenes photos from the makings of Star Wars. My favourite is the two actors who play R2D2 and C3PO riding a mini motorbike together.

And one more thing, illustrator Cathy Brett has drawn this great picture of the day we met at Hay Festival! Thanks so much, Cathy, yay!!! She's @gingerdoodles on Twitter and you can read Cathy's write-up from the Hay Festival here and mine here.