First I have to show you this brilliant knitted Beegu, based on the character in the fab book by Alexis Deacon: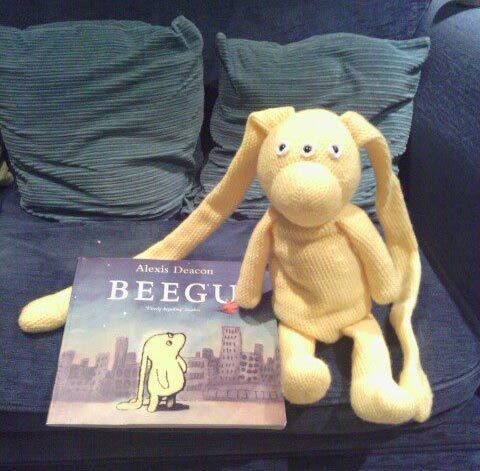 It's knitted by Alice Brewer, and if you don't know Beegu, there's a nice video interpretation by Matt Glover. Here's Alice showing off her Beegu in our book club meeting. Her daughter Juniper is rather obsessed and dressed up as Beegu for World Book Day.




And here's our book club. A happy scene, but also sad because it was our last meeting of book club, after meeting for nine years and reading lots of books together. People were busy, had moved away and it was getting harder and harder to get a decent-sized group. But almost everyone (who hadn't moved to New Zealand or gone off to school elsewhere) rallied for the last meeting.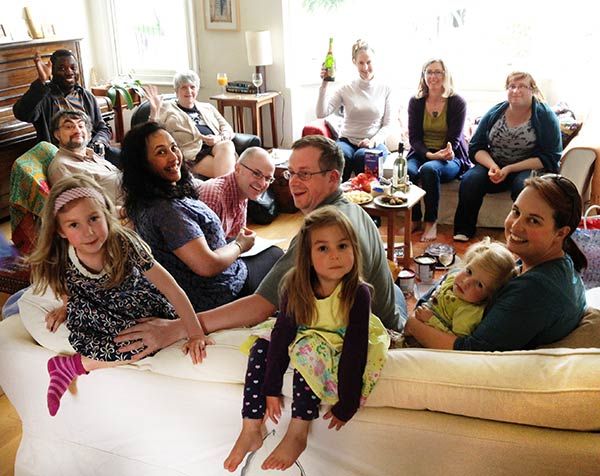 Franklyn Johnson, Maureen Prince, Heather Kilgour, Fiona Wells, Emma Edwards, Alice Brewer, Dan Brewer, Nicole Young, Stuart Pyle, Nick Prince, Anneli, Juniper and Myla (named after the author of one of the books we read)


Here's our lovely host, Fiona Wells, who looked after us so well and baked amazing cakes.




I think we had a pretty good model for book club. We took turns choosing the book; when it was one person's turn, they'd pick three books, and whoever was at the meeting would vote for one of the three books to read. Sometimes we'd play Ex Libris, which is this great game where you have to make up a beginning or ending for a famous book and try to trick everyone into thinking it's the real one. (I once posted some examples here.)




For the last meeting, we didn't discuss a new book, but went back through the list of books we read, reminisced about them and decided on which ones were our favourites and which were the hilarious stinkers. I'll attach the list of books here, partly just to remember them myself. I'm going to miss book club. It was a great way of seeing these friends and I hope we all stay in touch.




Camberwell Book Club 2004 - 2013, starting from our most recently read books:

Cutting For Stone - Abraham Verghese
Master and Commander - Patrick O'Brian
The Carhullan Army - Sarah Hall
Anna Karenina - Leo Tolstoy
The Hunger Games - Suzanne Collins
All Fall Down - Sally Nicholls
Pigeon English - Stephen Kelman
Hawksmoor - Peter Ackroyd
Cannery Row - John Steinbeck
The Help - Kathryn Stockett
Into the Storm - Taylor Anderson
Random Acts of Heroic Love - Danny Scheinmann
Vainglory - Geraldine McCaughrean
Alone in Berlin - Hans Falada
The End of Mr Y - Scarlett Thomas
The Tenderness of Wolves - Stef Penney
Disgrace - J.M.Coetze
Half of a Yellow Sun - Chimamanda Ngozi Adichie
The Road - Cormac McCarthy
Bee Season - Myla Goldberg
The Worst Date Ever - Jane Bussmann
Tommy Glover's Sketch of Heaven - Jane Bailey
Small Island - Andrea Levy
Empress Orchid - Anchee Min
The Road Home - Rose Tremain
Boy A - Jonathan Tregill
To Say Nothing of the Dog - Connie Willis
Tuesday's War - David Fiddimore
The Ballad of Peckham Rye - Muriel Spark
Midnight's Children - Salman Rushdie
The Pure in Heart - Susan Hill
The Bookseller of Kabul - Åsne Seierstad
Skellig - David Almond
The Interpretation of Murder - Jed Rubenfeld
The Secret River - Kate Grenville
Uncle Tom's Cabin - Harriet Beecher Stowe
Adrian Mole and the Weapons of Mass Destruction - Sue Townsend
A Month in the Country - J.L. Carr
When We Were Orphans - Kazuo Ishiguro
Love in the Time of Cholera - Gabriel Garcia Marquez
My Sister's Keeper - Jodi Picoult
American Pastoral - Philip Roth
Romanitas - Sophia McDougall
The Time Traveler's Wife - Audrey Niffenegger
The Kite Runner - Khaled Hosseini
These is My Words: the diary of Sarah Agnes Pryne - Nancy Turner
Spring Snow - Yukio Mishima
The Sparrow - Mary Doria Russell
Cloud Atlas - David Mitchell
Things Fall Apart - Chinua Achebe
Agnes Grey - Anne Bronte
The Women's Room - Marilyn French
Tuesdays with Morrie - Mitch Albom
The Eyre Affair - Jasper Fforde
A Complicated Kindness - Miriam Toews
The Lovely Bones - Alice Sebold
The Curious Incident of the Dog in the Night-time - Mark Haddon
The Shipping News - Annie Proulx