I brought my new book, Superhamster to Portway Junior School in Andover and, of course, Superhamster (who is every bit as awesome as Superkid even though the critter's not actually mentioned in the book). The kids came up with some awesome hamster superhero costumes and superpowers!




As visiting superhero, I got to open the brand-new fiction library, where they had framed photos on the wall of previous visiting authors, including Helena Pielechaty and Guy Bass. The library had formerly been a locker room, with a non-fiction library space nearby, but some teachers worked out a way to pile the lockers into a smaller room and create a lovely space for the school's fiction books.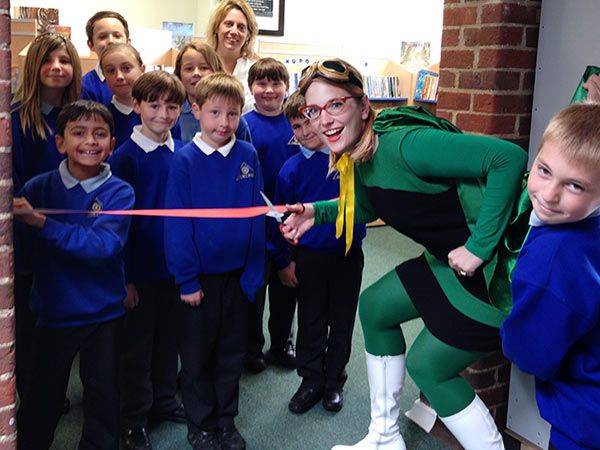 Check out some of the hamsters we drew in assembly!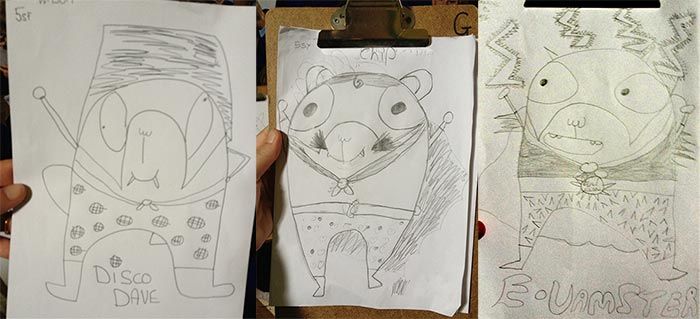 The Portway teachers did some great follow-up. After I'd done my second assembly, the kids who'd been in the first assembly had already done more work colouring their Superhamster pictures and some had even drawn full comic strips in that time! Here are some of the coloured pictures:




And some of their comic strips!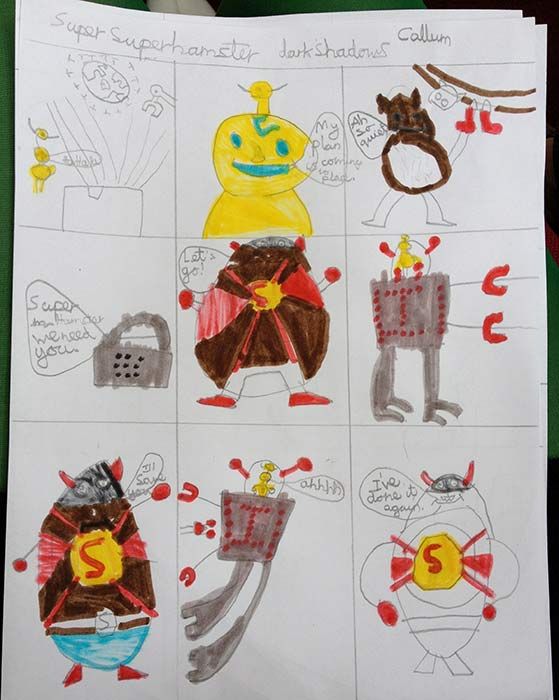 Here's one of the Comics Jams we did with the Year 6 group, where everyone writes and draws a different panel. So this comic's by four authors. Too funny, I love the random Shetland pony.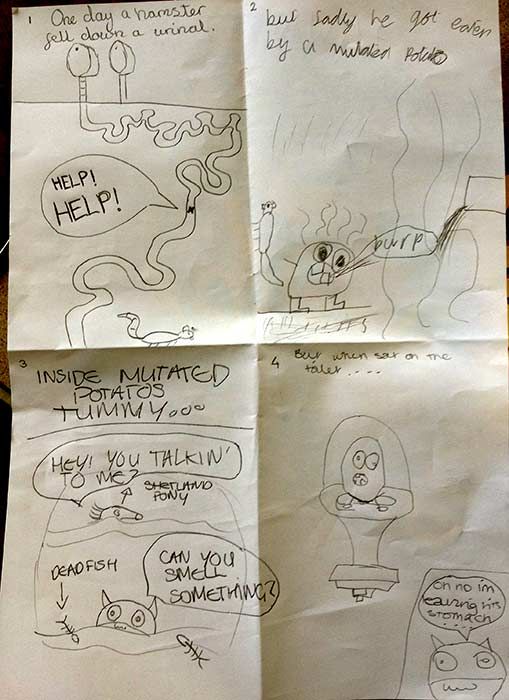 A lot of the kids had read Vern and Lettuce, so there were several comics featuring sheep and rabbits. This one cracked me up: Glue springs to your bums and pretend to hop. Hop! Hop! Hop! Oh no, it's Big Bunny Boo! ABANDON BUM!)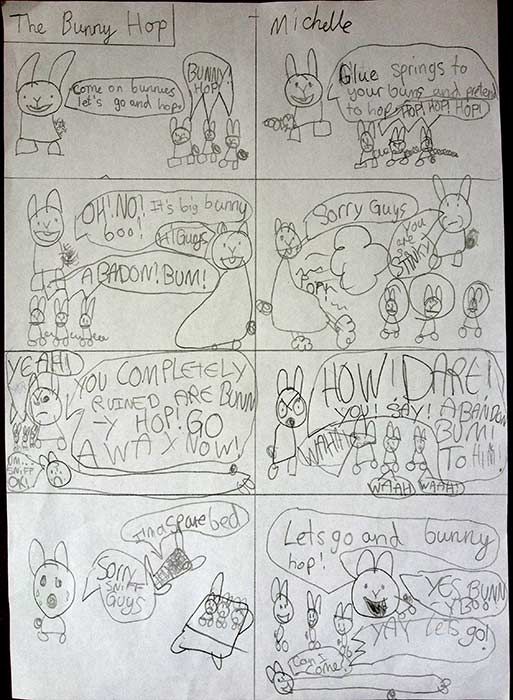 I got the giggles seeing this poor sheep sicking up in the toilet.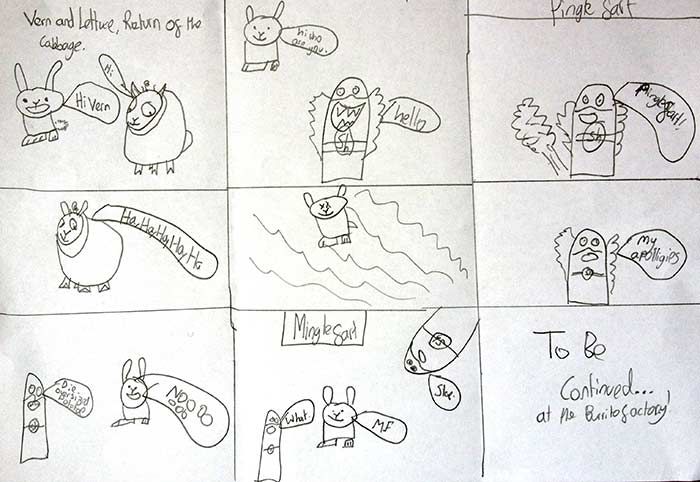 Here's a poem some boys wrote earlier for me, inspired by Morris the Mankiest Monster.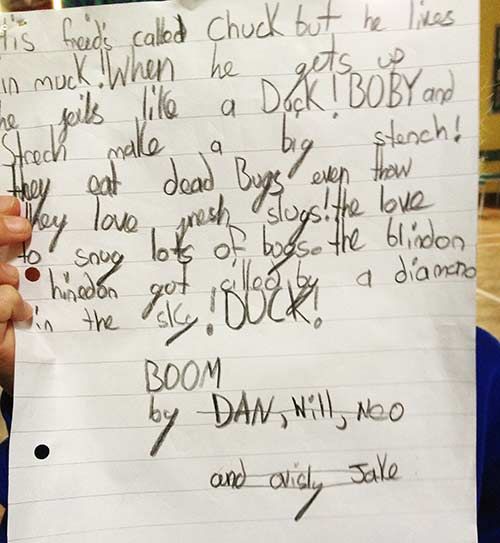 The boys also made a book, inspired by Morris! Here are all the pages: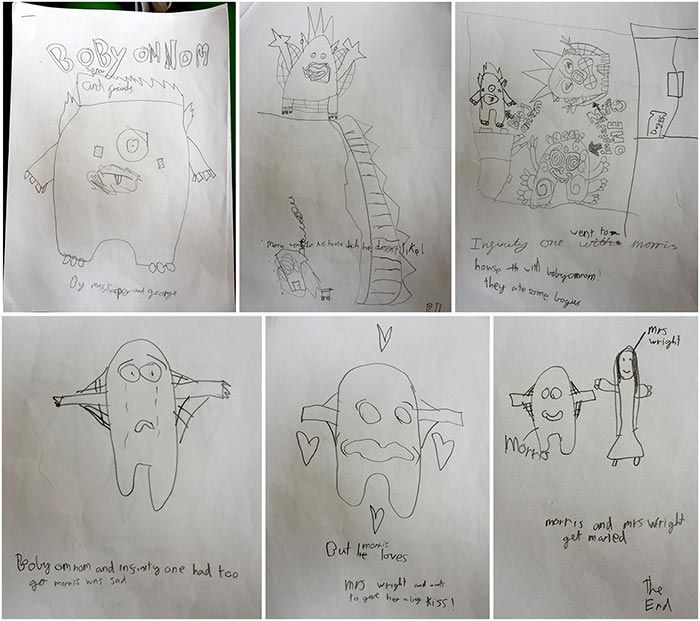 Huge thanks to Deputy Head Vicky Windross who organised my trip and made it go so smoothly and be such fun. To Head Teacher Tim Deary and Site Manager Maurice Barrett for lifts to the station, and thanks, Portway Junior School for all your enthusiasm, that was fabulous!