I love independent bookshops: I love browsing books, sniffing them, seeing amazing creative shop displays, going to and taking part in interesting events, having somewhere to launch new books, talking with owners who really understand what they're selling and have a passion for good literature. And, like almost all the other writers and illustrators I know, I want to support them.



Fleece Station studio mate Gary Northfield's Teenytinysaurs pre-launch party at Bookseller Crow, Crystal Palace

So I read a couple articles in The Bookseller this week which highlight criticism of authors for linking to Amazon on their websites:





And I first felt a sense of shame (because my links go to Amazon), then confusion about what to do, then I felt I needed to do something, because I can't see an easy solution. So I'm writing this blog post, posing questions.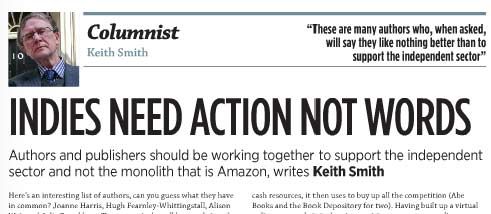 I asked my agent and one of my publicists about it, and my agent said, 'write a blog post about it, this is important!'. The publicist recommending linking to Indieboundbookrecommendations.co.uk. Which is a good idea, but it requires the visitor to my website who is interested in a specific book to do a lot of research, finding a shop, working out their online selling system (if they have one), and trying to find the book. I'm not convinced that people on-line have particularly long attention spans, particularly someone with a casual interest in a book, who might buy it on a whim. I don't want to make it hard for people to find my book. If I give them a direct link to the Amazon page, they can buy in a couple clicks of the mouse. I'm not saying I want to support Amazon, I'm just trying to figure out my alternative options.



Painting a Vern and Lettuce window at Gosh! in Soho

First, let me look at my own buying habits. If I want to buy comics, I love heading to Soho to Gosh! Comics to browse the latest titles and I make a point to buy them in the shop. But Gosh doesn't do online retail. I sometimes buy comics online from Forbidden Planet International because they have a wonderful book blog. When I've bought novels for book club, I've ordered them from Bookseller Crow's online shop. If I'm in central London, I make a beeline for Foyles because they sell such interesting titles and have been amazing about hosting events.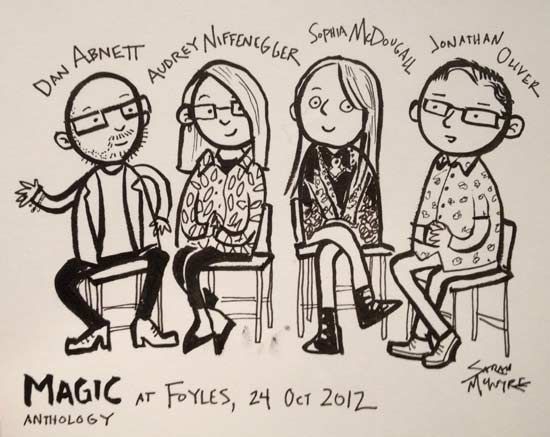 When my friends and I need a place to launch a book, we look to Gosh, Foyles Charing Cross and Southbank, Review Bookshop in Peckham, Bookseller Crow in Crystal Palace, Daunt Books in Marylebone and Holland Park. Blackwells Charing Cross has hosted some fab Kitshies Awards parties. And we always end up buying books in the places that host the events.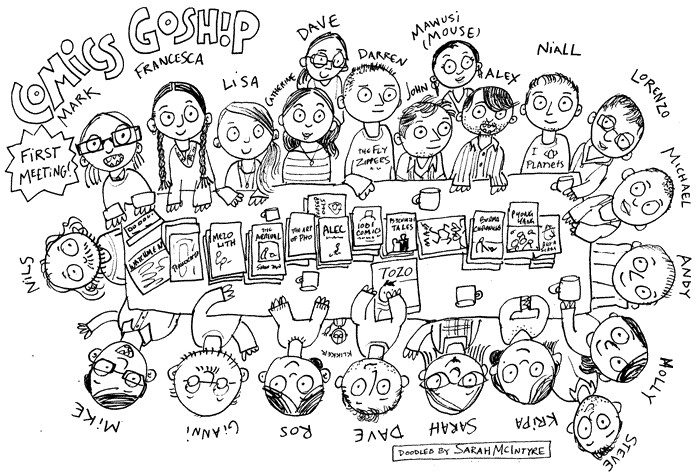 Doodle from a Gosh book club event

But if I need a slightly obscure title, or need something fast and I don't have time to pop out and get it, yes, I sometimes use Amazon. The thing is, it's easy to use and it gives lots of options. If they don't supply something, they'll link me to an indie shop who will sell it to me. If I need to find my book details quickly (such as my ISBN numbers), I'll use it as a database. Sometimes I'll look up a book on Amazon, read the reviews, then buy it elsewhere. I've asked my web designer (when he has a moment) to change my links to Waterstones for now, because I know they're struggling and could use more of a boost than Amazon. Although I notice Waterstones list several of my hardcover editions as 'unavailable', so I'll link to Amazon for those for now, so anyone in the world can buy them.



DFC Library party at Daunt Books, Holland Park

So what do I do? It seems crazy to link someone in, say, the Scottish book town of Wigtown to buy a book from Bookseller Crow in London, when they have Box of Frogs just down the road.




Authors could avoid the whole problem by linking to publisher websites instead of bookshops. But most publisher websites are run by some enormous, expensive, unnavigable engine that no one seems to be able to change, and often books aren't even listed, or are listed with strange pricing features or they might list the paperback but not the hardcover, etc. Once I even had one of my books listed as being illustrated by Nick Sharratt and it took nearly a year and desperate pleading to get this changed. (Apparently it had something to do with a faulty Nielson listing, but I never worked out the exact problem.)

Here's what Keith Smith from Warwick & Kenilworth Books recommended in The Bookseller:




I agree, this would be a great thing, if an indie bookshop could stock all my books, hardcover and paperback, and sell them online. Indies, would this be possible? Would you be able to stock even my hardcover books, despite lack of storage space?



Author event at Just Imagine, Chelmsford

So Keith Smith's given one option. What else could happen if people clicked on my 'buy the book' link?

When I send people to a link to buy my book, this is what I think they want:
* The book details (title, writer & illustrator names, ISBN, page count)
* A book cover image (this is reassuring, we know it's the right book)
* An easy way to buy the book with a minimum number of clicks
* Book availability
* A trusted place to give their personal information and bank card details
* speedy delivery

I think they quite like reviews, too, like you get on Amazon, but we'll leave that for now.

Here's my proposal: Perhaps there could be a page for each of my books that gives the book details, reviews, then has a world map highlighting all the places that stock it. That would be awesome. We could zoom in, a bit like Google Earth. That's what I would REALLY like. Who would build this website? It's a big job for an indie bookshop. Could The Booksellers Association build it? Here's a very rough idea of what might go on to the first page you get when you click 'Buy the book' on my website. Then you could search the globe for a list of sellers who provide this exact book. I'm probably missing important things, but I'm putting the idea out there.




So of course I'd advise everyone to walk down the road and get the book from their local indie. But they want to buy online, I need a quick, easy way for them, not just to find their local bookshop, but to find my exact book. Indies, we all want to work with you! But what can we do about this?