Somehow the British Museum got wind of the fact I love making travel comics (see my China comic and Alaska comic), and invited me to do some workshops. I wish, the first time I'd visited the British Museum, age 12, that I'd known I could make travel comics! I was too daunted to make comics then; I thought they had to be quick, funny jokes, like the comic strips in the newspaper. If I'd known they could be about anything, and that I could document a trip in comics, I would've had a blast with it. I was obsessed with Egyptology then (particularly the tomb paintings, which are basically comics), and going to the British Museum was a real pilgrimage.




And here's the second workshop group with our comics! The team in the Samsung Digital Discovery Centre were fabulous, making the technology all work incredibly smoothly. I was kind of nervous about having such a big digital element in a workshop, usually I keep to very simple materials (pencils and pens). But a fair-size portion of the group had never made comics before, and the Comic Life software made them much more instantly accessible.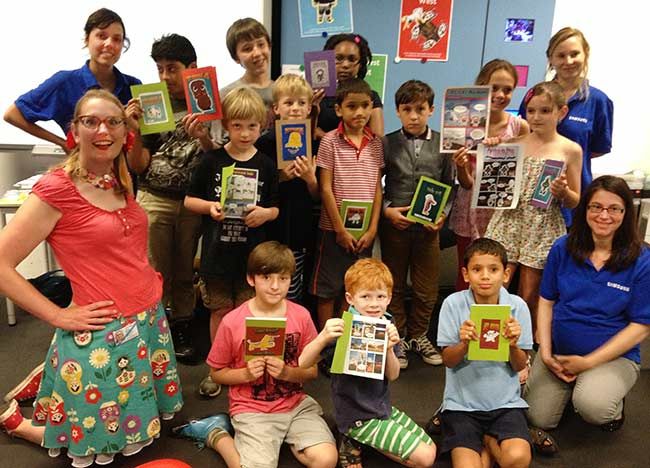 Here's the youngest kid - he's seven - and normally I wouldn't do comics with kids under eight, and even that can be a stretch. But this guy was the first one to finish, the author of a new, slick-looking little book!





Here's what we did: I talked a bit first about travel comics and being inspired by a location and the people I meet. I said that travel comics can be very factual (I did this, then this, etc), or they can make up characters and have them travel on parallel journeys. (Superhamster visited the British Museum, made poos in the Persian exhibition, flooded the loo, rescued the Sutton Hoo helmet from burglars, etc). Then we did a practice drawing on the tablets. Here I am, before the workshop, practicing character design on one of the tablets.




Then we took our tablets and went on our voyage upstairs into the North American collection, where they spent five minutes browsing, five minutes drawing on their tablets a character inspired by objects and masks they saw there, and five minutes drawing an object they wanted to feature in their comic. I also had them look for an interesting word in the display and create the character's name from it (for example, Rawhide Ralph, Pemmican Polly), which also became the title of their comic.

Then we went back downstairs to the digital centre and, in Comic Life, uploaded the tablet drawings to laptops and turned our drawing into comics. The British Museum team provided relevant photo backgrounds and objects that they could insert into their comics, and they had fun seeing their characters in 'real' settings. Here's the one I made (very quickly) in front of them, as an example: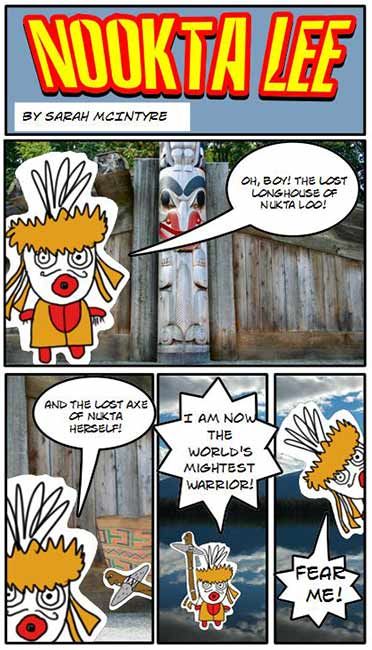 After they made a page or two of comics, I had them create a cover image with their character that the team printed out, and they could cut out and stick onto their new travel comics journal.




And the comics came out very well! Click here to the British Museum's Flickr set to read lots more of that day's comics!




A huge thanks to Shelley Mannion, Johanna Perez, and helpers Janelle, Clara and Didier for all their prep work and being so awesome on the day! And to the people who came along, you put in some great effort. :)




The highlight was getting to meet a 13-year-old kid named Lewis Wilkinson who's already making comics like a pro. He gave me a comic book made specifically for me (wow!) and brought a stack of comics he'd made. Check out this guy's covers, he has a great sense of design!




Lewis Wilkinson: comics people, remember that name, because you'll be seeing more of this guy's work popping up. He doesn't have a website yet, but he's working on it. And I'm hoping to do a more detailed blog post about him. (He's a fan of The Phoenix Comic and has already met Jamie Smart, Neill Cameron, the Etherington Brothers, knows all about my studio mate Gary Northfield and reads our blogs.)




Hooray, comics makers! My only complaint from the day is for parents who booked places for their kids and didn't show up, and didn't ring to say they wouldn't be coming so we could give their places to other people. The workshops were fully booked and we had loads of people who couldn't get in, so that was very inconsiderate. We still had a full afternoon session, but there were some spaces in the morning session that could easily have been filled. Anyone thinking about booking a future workshop at the British Museum, please keep this in mind; they deliberately don't overbook so that each person will have a computer.

Click here to see future British Museum family events!

And click here to find out about Comic Life software. (It's not very expensive.)