We had a Seawigs party! On a boat! Even cooler, a replica of Sir Francis Drake's boat, the Golden Hinde! Dress code was Wigs, optional, but YES, THERE WERE WIGS. ...GREAT BIG WIGS.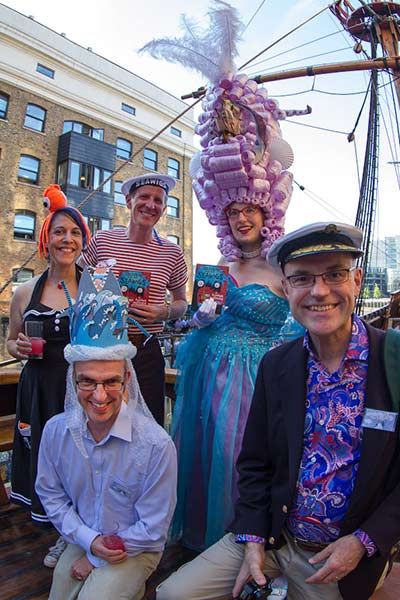 Photo by Blast Photo

Oxford University Press are so excited about the upcoming Oliver and the Seawigs book by Philip Reeve and me that they decided they wanted to hold a PRE-publication party, to let all the bookshops, libraries, bloggers, media, etc know about it. I was thrilled for an excuse to come up with an awesome Seawig. (Here's a short Vine video of our arrival.)



Photo by Blast Photo


Here's our publisher, Liz Cross, talking about how her crew at OUP made a video; she wore a seawig and everyone in the office dressed up as sea monkeys to convince us to bring our book to them. Working with Liz has been great; they've given us lots of support but also allowed us plenty of freedom to get on with making a good book.



Photo tweeted by Blast Photo

And news just in: Oliver and the Seawigs will be coming out in North America! Publishers Weekly wrote:

Mallory Loehr at Random House has acquired four middle-grade novels by Philip Reeve (the Hungry City Chronicles ), illustrated by Sarah McIntyre. The first book, Oliver and the Seawigs, follows a boy's adventures on the high seas as he teams up with a living island, a nearsighted mermaid, and a grumpy albatross, to rescue his missing parents. It's slated for fall 2014, with companion novels to follow. Anne-Marie Hansen at Oxford University Press brokered the deal for North American rights. ...Hurrah!

Liz dressed up, too! Check out this fab squid fascinator, worn by our Seawigs editor, Clare Whitston. Our book designer, Jo Cameron, designed three of these at her office desk that day, for Liz, Clare and herself. They looked smashing!



Photo by Booktrust's Katherine Woodfine

Philip and I did a short dramatic reading (I got to be Iris the mermaid), and then we sang a song! We've only just started learning how to play our ukuleles – I know four chords. But that's enough to write a sea monkey song and bellow it across a deck. And I had to change headgear; the wig isn't very mobile, so Emma Toft's tentacular creation was much better suited.



Photo by Stuart Pyle

We had party bags with copies of the blue uncorrected press proofs (with about 75% of the artwork), as the book doesn't come out until September. So you haven't missed out, come to our big launch event on Wed, 4 September at Daunt Books, Marylebone! And Philip and I will be happy to sign and doodle in your copy.




Right, let's have a look at some of the other headwear! David O'Connell (author of Monster and Chips) made this sea crown which took a medal later in the pub for Most Striking Seawig. (Details about his book launch drinks next Thursday here.)



Photo by my fab studio mate Lauren O'Farrell

On board, we had the excellent services of Dannie and Char's photo and props company, Blast Photo. Blast were amazing, they made all sort of amazing props and fun stuff totally specific to Oliver and the Seawigs. Yay! (They do parties, weddings, lots of stuff.) I love this wig they made, a Seawig with a sort of Marge Simpson flair to it. Helen Ward, OUP sales rep: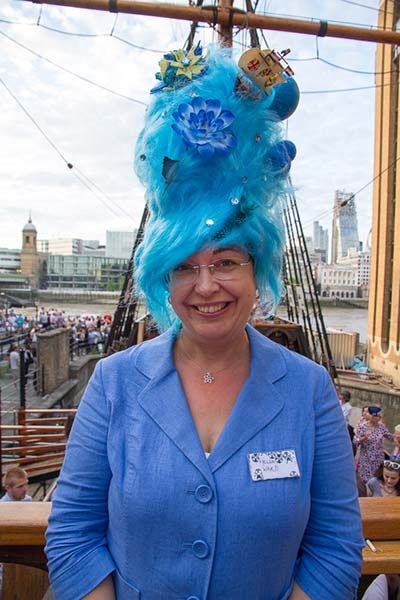 Photo by Blast Photo

My web designer, Dan Fone, is wearing Mr Culpeper (a cranky albatross from the story), and writer Hayley Campbell nabbed the sea monkey head.



Photo by Stuart Pyle

Of course, I couldn't be selfish and keep the biggest wig all to myself. Stuart looks smashing in it, don't you think?



Photo by Blast Photo

Earlier in the day, we'd be interviewed by Louise Ellis-Barrett from Armadillo Magazine for the autumn issue and she looked very chic in the Sarcastic Seaweed wig. (You'll find Sarcastic Seaweed in the Sarcastic Sea, where it directs hurtful comments to passing ships.) It's another Blast creation; such a great idea for something to do with all that brown packing paper!



Photo by Blast Photo

Here's Louise with my fabulous studio mate Lauren O'Farrell (aka Deadly Knitshade) and The Lion & Unicorn bookshop's Camilla Williams.


Photo by Blast Photo

Check out the squid hat Lauren knitted! She's the author of the Stitch London and Stitch New York books, which teach you how to knit lots of great little characters.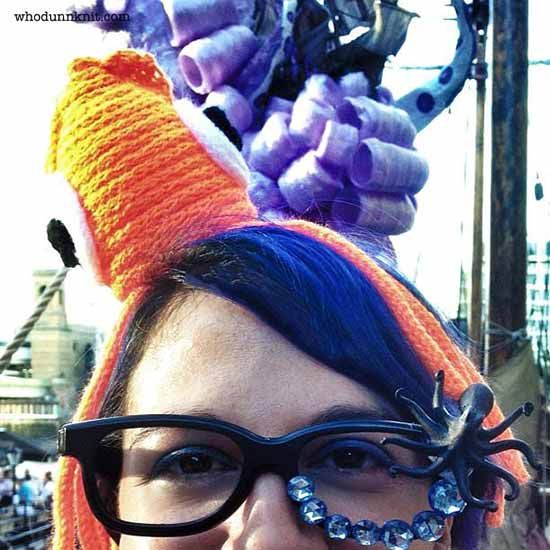 Photo by Lauren O'Farrell

Check out this tentacle top hat, worn by Clare Poole from P&G Wells Bookshop!



Photo by Blast Photo

Some more fab headgear from The Lion & Unicorn bookshop's Tony West and Daunt Books' Julia Harrison.



Photo by Blast Photo

I did not design that big wig by myself! I got lots of good structural help from my sculptor friend, Eddie Smith. (We used to run an art gallery together, along with Dan Fone.) ...But wait, you cannot see Eddie here, only a sea monkey and Eddie's wife Caroline. Well. I will tell you more about Eddie and the wig making in another post soon, but in the meantime, you can get clues about Eddie by browsing his website.



Photo by Blast Photo

Ha ha! Check out Albatross Boy and Geek Monkey: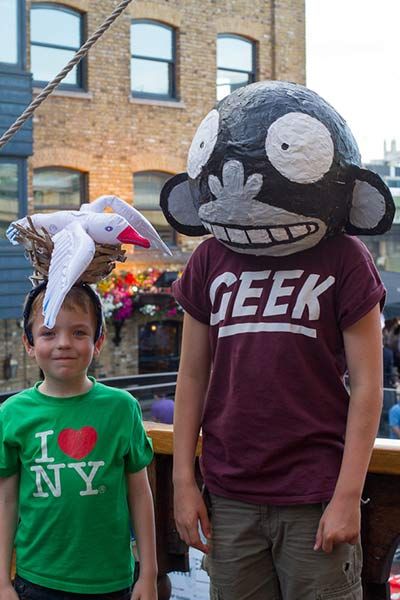 Photo by Blast Photo

It was great fun exploring the ship, what a cool place! Here Hayley and I are taking over the captain's quarters.



Photo by my excellent studio mate Gary Northfield

But, oh no, there was an albatross trapped in the poop deck! That is, I don't know if it was the poop deck, but it surely is now.



Photo by Blast Photo

It was amazing how good everyone looked in the wig! Here's Hayley (who would still look good with a nappy on her head):



Photo by Blast Photo

And my tiny OUP publicist, Hattie Bayly! I think the wig was about three times larger than her, but she supported it bravely.



Photo by Blast Photo

Great to see librarians out in force! Here's Youth Libraries Group Chair Karen Robinson, School Library Association's Tricia Adams and YLG's Joy Court with Sean Edwards from Haringey Libraries.



Photo by Blast Photo

Ahoy, booksellers! Here's Melissa Cox from Waterstones, Adam Clark from Daunt Books (trapped in a sea monkey) and Julia Harrison from Daunt.




Hurrah for indies! Here's Georgina Hanratty, manager of Tales on Moon Lane, in Herne Hill, and Laura Main Ellen from Under the Greenwood Tree, in Clapham.




Hayley from Gosh! Comics and Jennifer Bell and Jo Ann Cocadiz from the children's department of Foyles, Charing Cross. (Hey, did you hear that they're opening a new shop in Waterloo Station?!)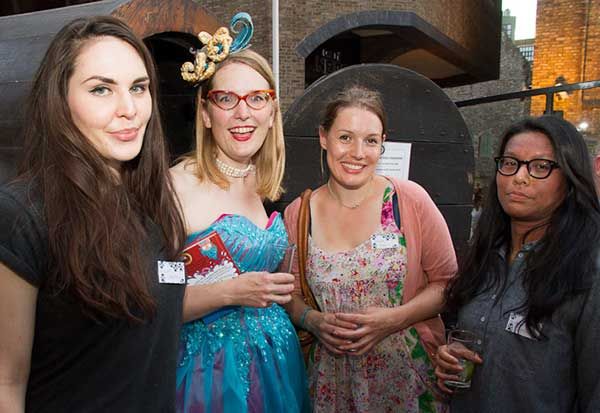 Mermaid fish pouts:



Photo by Blast Photo

And some of our OUP team! There's Liz, our editor Claire somewhere in the sea monkey, Hattie, our designer Jo, and Matt Ager.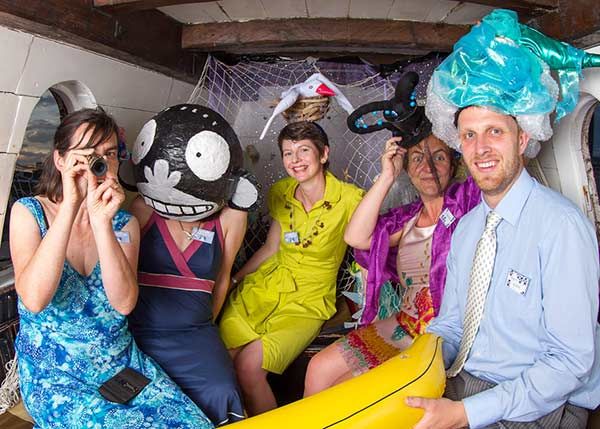 Photo by Blast Photo

I don't even know what Gary Northfield (author of Teenytinysaurs) and his girlfriend Nicky Evans are getting up to here.



Photo by Blast Photo

A huge thanks to Liz Scott, our awesome freelance publicist who headed up the planning of this party! OUP brought on two publicists to tackle Oliver and the Seawigs - Liz and Philippa Perry - and it's loads of fun working with them.



Photo by Blast Photo

Liz had lots of help from OUP's Alesha Bonser, who's wearing one of my homemade Seawigs sailor hats.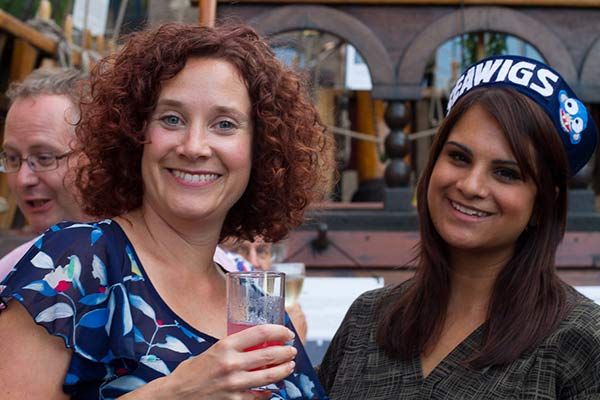 I'm not quite sure when the giant banana came out. There are no bananas in Seawigs.



Photo by Blast Photo

Here's illustrator Heather Kilgour, who took home the late-night pub medal for Most Fabulous Seawig.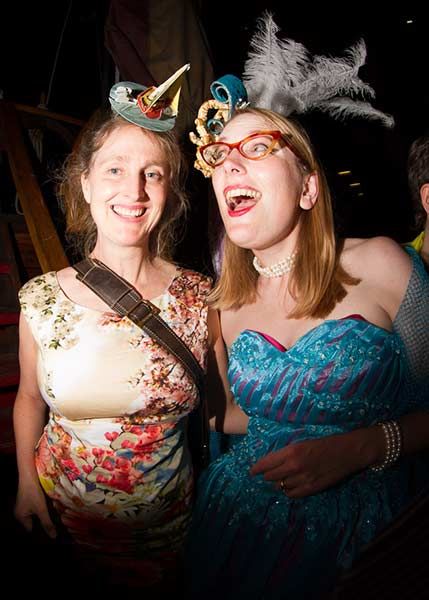 This was the most fun book launch (or pre-launch) we've ever had and Philip and I were quite overwhelmed by it. And we have at least three more books together! The books won't have the same characters in them - we want to try out new things and have a play around with them - but they'll be in a similar one-colour format, adventure stories, and make up a lovely four-book Reeve & McIntyre library. We're really excited about it all.



Photo by Blast Photo

You can see a lot more photos over in this Facebook album, The Seawigs are Coming! and all the pictures Blast Photo took in their online photo gallery. Do join us on 4 Sept for the launch of Oliver and the Seawigs!




Oh, one more thing! We had party bags with Make-Your-Own-Seawig sheets, and Caroline and Eddie took two home for their kids. Check out these awesome Seawigs! Want to try making one yourself? I'll post the templates on my website soon, but in the meantime, if you have access to an A3 printer, you can download the basic wig shape here as a PDF, and download the wig accessories here. Please let me see a photo if you make one, I'll be so curious!