So what are this rabbit and sheep getting so excited about?



Thank you for holding my props, Gary Northfield

Today's the day that the DFC Library launches six books in paperback! Which means two particularly exciting things for me:

One: Vern and Lettuce get themselves a new cover! I wasn't quite satisfied with the first one and asked to do some more work on it when the book went to paperback. I hope you like it! The book's a lovely, carryable size, slightly smaller than the hardback but not so small it affects the reading experience.

And two: There's a whole new book out by Jamie Smart!

This one never came out in hard cover, but Jamie's work is some of the best comics on the planet. You are going to LOVE Fish Head Steve. It's ridiculous and clever and the best thing ever. Go read the Forbidden Planet International's review of it and see more Jamie's artwork!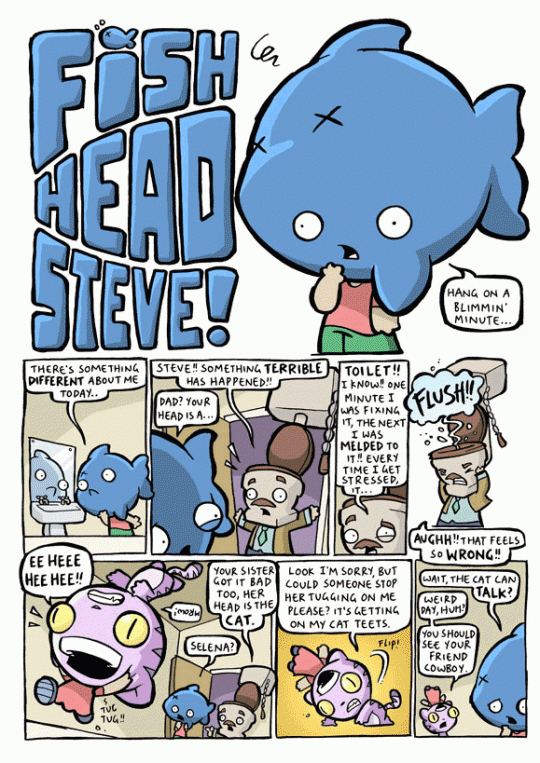 So why have I called you all here? Well, of course I want you to go buy copies of the books for all your friends. But I also thought you might be curious about how these lovely comics are drawn. So I asked the creators:
What was your favourite thing to draw with while you were making the comic?
And here are the answers!

Jamie Smart of Fish Head Steve: "You professionals and your 'pens'. I use a Daler Rowney brush (the D77 size 1) and a big pot of ink. As you can see from my desk in the photo, I may as well be putting the ink on my hands for all the delicate care it's applied with."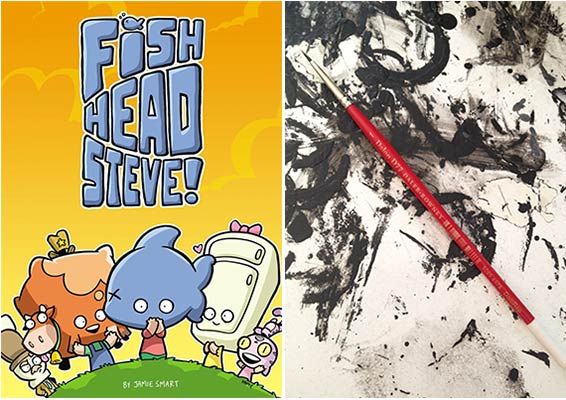 James Turner of Super Animal Adventure Squad: "Probably the tool I use most of all is a crummy old HB pencil for when I am noodling out ideas in my sketch books. I know they are terrible, but I enjoy drawing with them more than anything else (tooth marks optional)."




Neill Cameron of Mo-Bot High: "Here is mine! A Pilot V-ball 0.7. I do a lot of my finished comics work digitally, but probably my favourite stage is the early, lots-of-messy-scribbling-with-ballpoints part. (Stegosaurus included for scale.)"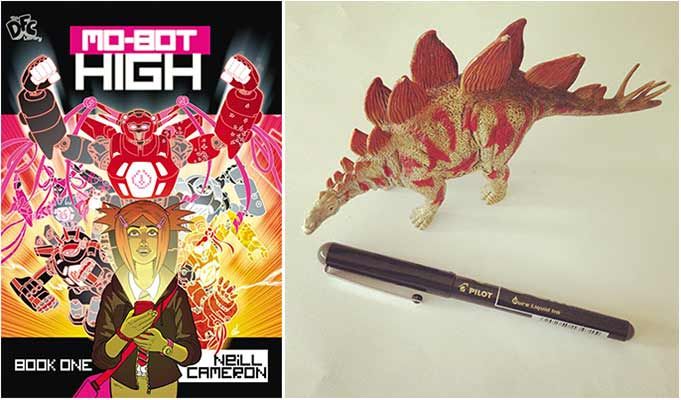 Dave Shelton of Good Dog, Bad Dog: "Here's mine: a Pilot DR Drawing Pen (0.3). I dally with others occasionally but I always come back."




Lorenzo and Robin Etherington of Monkey Nuts: Robin (writer): "Here's my real pen of choice (the humble biro - this version an eziball medium) and my actual pen (a wireless keyboard). Both in black. Like my coffee. Actually that's a lie, I take it white with half a sugar."

Lorenzo: "Hey Sarah - sorry, I'm snowed under with work ahead of our BBC show at the mo - will try to get round to this if I can before I head off to Scotland!" (But he has posted some lovely artwork here!)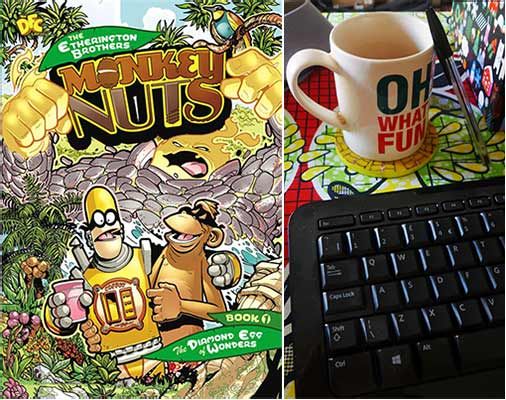 And ME! Of Vern and Lettuce: I used a Deleter dip pen (with a G tip) and ink to draw Vern and Lettuce. I've only ever had one major spillage disaster but you can find lots of inky fingerprints in odd places around the studio.




And Forbidden Planet International has blogged about all six books here. Thanks so much for your support, guys!