And what are these lovely items we are holding, David O'Connell?!





They are Michelin five-star tasty books! Look at these yummy things Master Chef Dave has drawn into them. Phlegm 'n' Lemon Dribble Cakes are going to all the rage in London's monster bakeries, just you wait. Morris the Mankiest Monster has already tried phoning in his order for a tray of slug pies.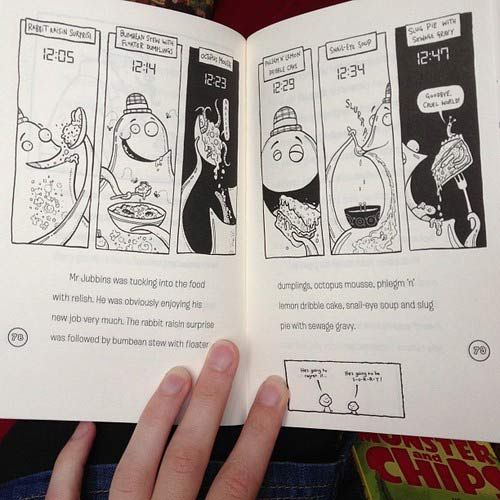 A big congratulations to Dave on the launch of the second M&C book, Monster and Chips: the Night of the Living Bread at The George Inn. You can read about it here and see fab photos from the night by Dave and James' friend Kim Haddon over on his blog. (And a few more here on Facebook.) I wore my new dress! And didn't think twice about sitting on the pub floor in it because, gosh darn, Dave's dog Treacle is just SO CUTE. Puppy cuteness overload.




Here are some of the fine folk who turned up at the George Inn last night: From left, Dave, our fab agent Jodie Marsh, Jodie's most excellent assistant Julian Dickson (the guy who hollers and thumps until we get our money), Laura Ellen Anderson, Alex Milway, and in front, Jamie Littler. And I didn't get a photo of them, but Mike Medaglia, Tanya Meditzky and Richy Chandler were also tucking into the fine monster chips with us.




Keep an eye out for Dave's work, he's got lots more things in the pipes, including a project with me. He has upcoming events in Edinburgh, Bath, Crystal Palace and Leeds and you can follow him on Twitter at @davidoconnell. If you spot him signing comics at conventions, be sure to go up and say hello!