I hope you're getting lots of chances this summer to chill out with good books. (Iris the mermaid is completely absorbed in hers.)




Exciting news, Oliver and the Seawigs is having a special pre-launch event at the Edinburgh Book Festival where you'll be able to get your own copy of the book before anyone else! Philip Reeve and I are going to muck about on stage, draw, talk about how the story came about, and get everyone drawing. If you're in Edinburgh on Sunday, 25 Aug from 2-3pm, please do join us! And tell all your friends! You can book tickets here.




Our event is part of the Stripped series of events, with loads of amazing comics artists taking part, including Posy Simmonds, Chris Ware, Joe Sacco, Gary Northfield, Jon McNaught, Emma Vieceli, Stephen Collins, the Phoenix Comic gang, Garen Ewing, Neil Gaiman, Rutu Modan, Glyn Dillon and loads more. Oliver and the Seawigs isn't a comic - it's a highly illustrated chapter book - but Philip and I have both drawn and love comics, and we're excited to be a part of it. Plus, you should be able at the shop to get a copy of my new Vern and Lettuce paperback, and I can give you a little drawing in it.

Here's a peek at last year's Edinburgh, it's an absolutely brilliant festival. And where I first met Philip, so a very appropriate place to give people the first look at our finished first book.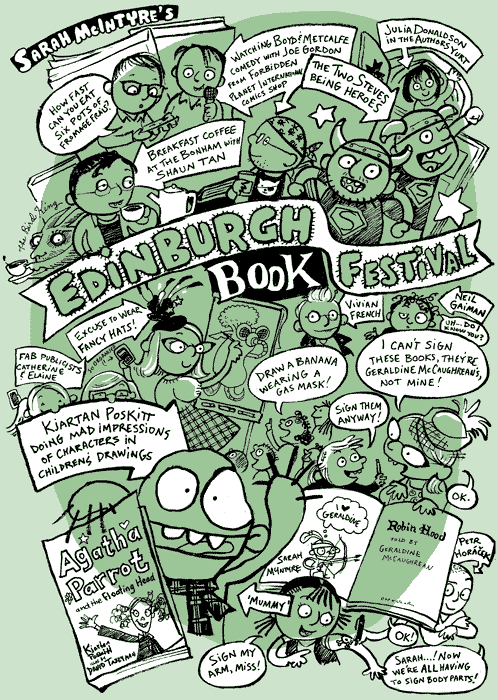 In the meantime, my neighbour friend is busy styling me for the big stage. It's a work in progress.