To say Philip Reeve and I were excited about taking Oliver and the Seawigs to the Edinburgh Book Festival is a bit of an understatement:




Here's a doodly recap of some of the amazing things that happened while we were there.




I didn't bring The Giant Seawig - it's a bit tricky for travelling - but I did make another wig which was smaller but more tentacled.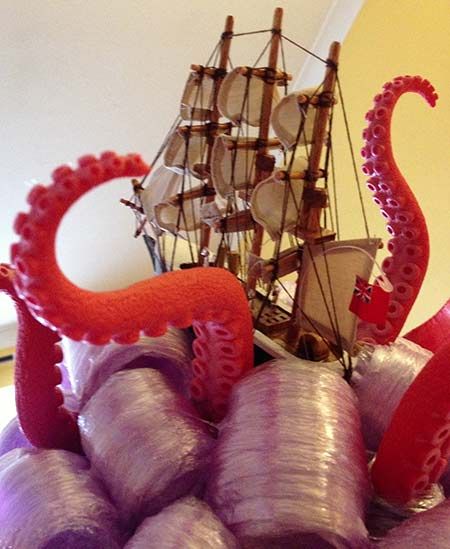 And when we arrived, I discovered that Neil Gaiman is rather fond of tentacles.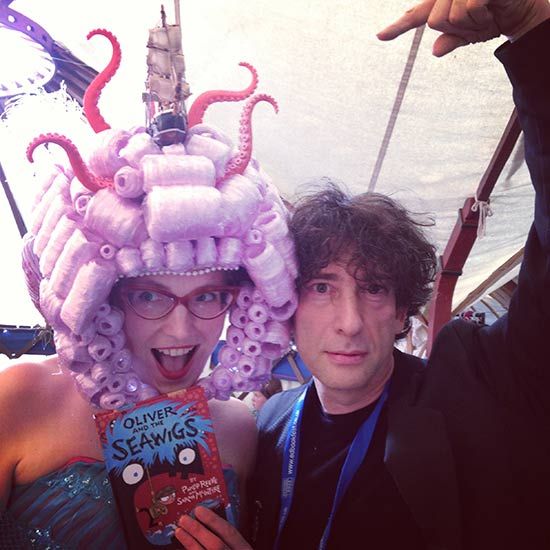 Enough to let them sprout on his own head. Awesome.





We're not really supposed to take photos in the Authors' Yurt, but Margaret Atwood beckoned me over for some snapshots and I couldn't resist getting one of my own.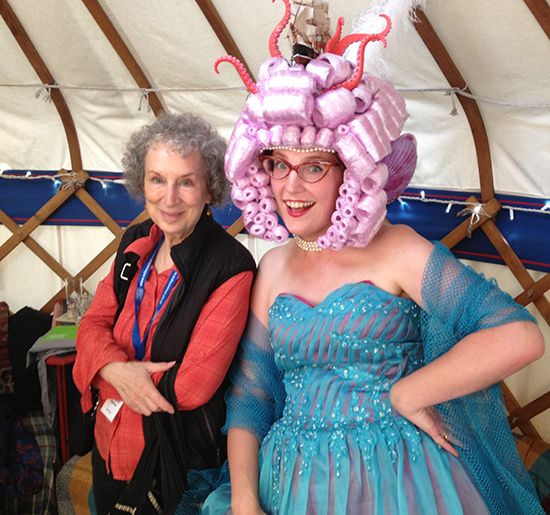 Festival photographer Chris Close had us do some star jumps and things...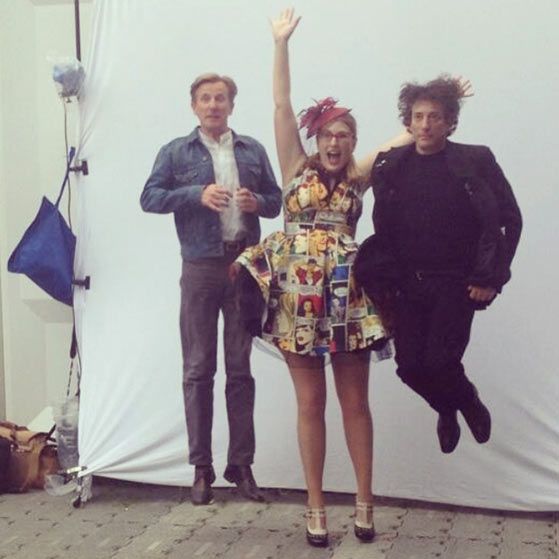 ...and Philip got fan-boyed by Patrick Sproull, who had a copy of Philip's Doctor Who story, The Roots of Evil.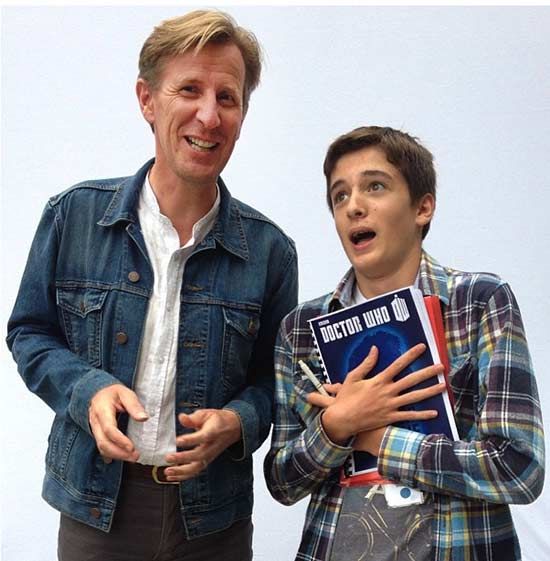 Meanwhile I was flying around in my TARDIS with my excellent assistant, Stuart.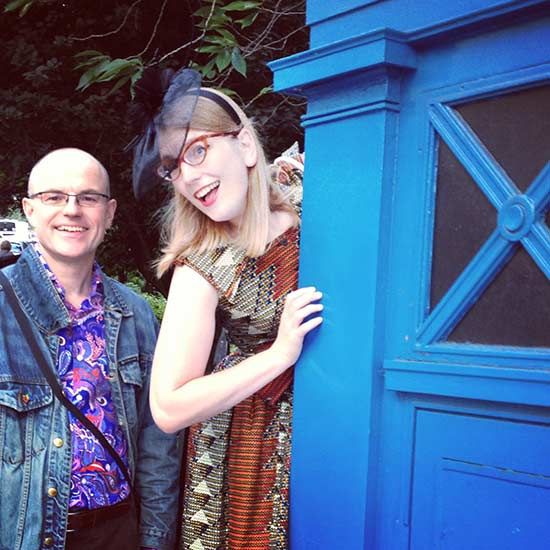 More silly photo making. Oh look, it's Caro Fickling and Nick Sharratt, with a duck on his head!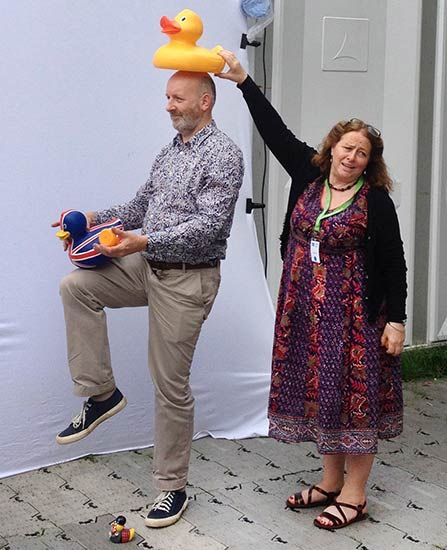 And what is Neil doing with that pile of sand... oh, yes, of course, The Sandman.




I was dead chuffed to see our photo had been hung up next to Judith Kerr's! The photographer had us do this funny body-slamming thing. Quite a feat in high heels, let me tell you.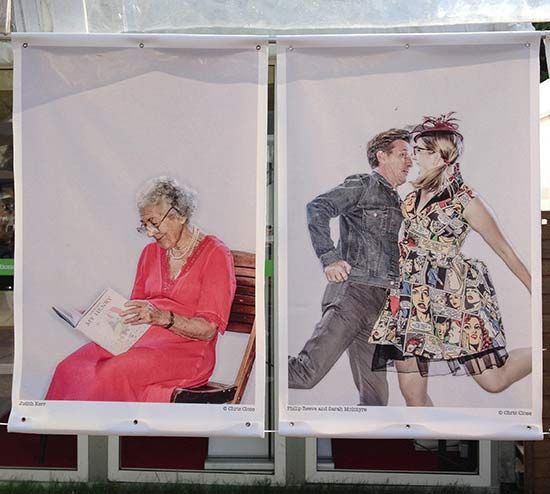 And look, it's Steve Cole in his Spider-man suit!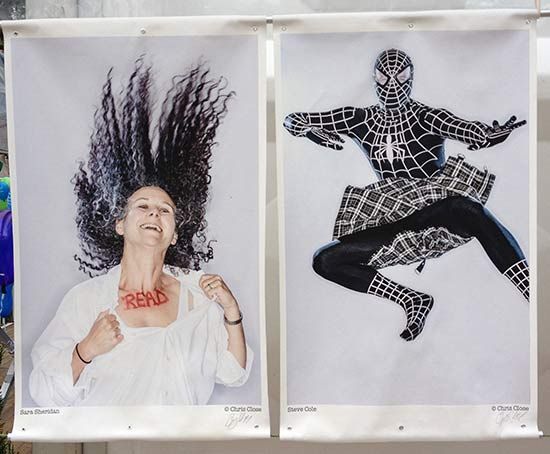 Ah, here's the man behind the camera.




I don't have any good photos of my two Seawigs events with Philip, but they went swimmingly. We talked about how we first met at the Edinburgh Book Festival, became friends through drawing, and eventually made our book together. Then we taught everyone how to draw Sea Monkeys and sang them our own Sea Monkey sea shanty! They all joined in with the rowdy chorus, it was something to behold.




Here are a couple of the Scottish Sea Monkey drawings I managed to snap at the big signing. We ran out of books after the first event, but our team from Oxford University Press ran around the local shops and Blackwells helped fill the gap. (Thank you!!)




It's so amazing getting to see all these people whose work I admire so much. Here's Vivian French, doyenne of Scottish children's books.




Philip and I put in a special dinner request to meet writer (and very funny tweeter) Gillian Philip and were so thrilled when she said yes!




Here I am bookended by men in denim. 'Why is Philip not wearing one of his nice suits?' you ask. Believe me, it is just as strange for me as it is for you. He says he has regenerated. Keep an eye on this one.




Breakfast was an exciting occasion when we were served little poos with our eggs.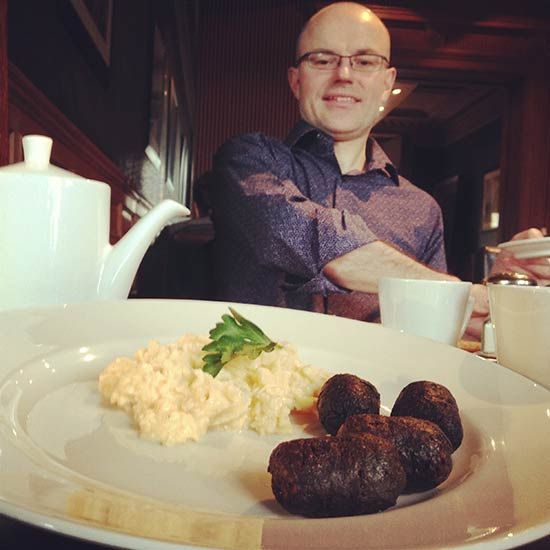 Speaking of regenerating, here's another Doctor Who chappie, Paul Cornell, with one of my favourite comics people, Emma Vieceli. I think she should be the next Doctor.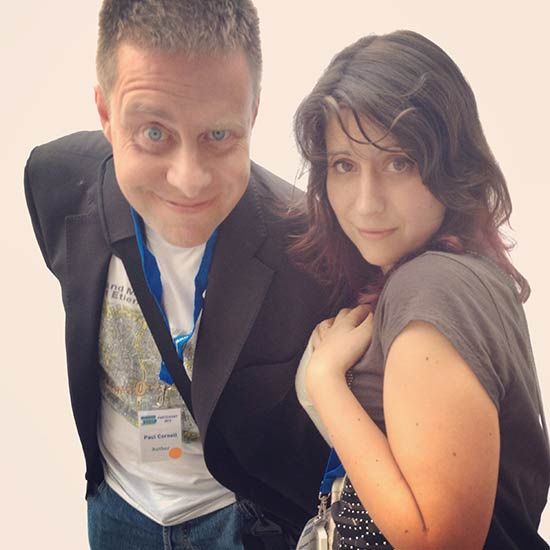 Emma and Paul did a great live drawing gig in the Speigeltent; Emma drew seven days in the life of an illustrator. And she did it with an injured arm, so I was her drawing back-up in case something went ping.




I think the best thing about the festival this year was the Stripped Fest, with its special emphasis on comics. I loved seeing comics and children's book people mixing so sociably, this sort of thing needs to happen more often. I hope comics will be a big part of the festival every year from now on. And I love that people are learning how comics are more than just superheroes. ...Although, saying that, I dressed up as a superhero to promote my picture book, Superkid, which is not a comic but wishes it was. I think of it as a comics gateway book for little kids. So I donned my boots, wings and cape (yes, I know, capes are DANGEROUS) and zoomed about.




And look, it's Stuart Kelly as the Riddler, and he is NOT WEARING TWEED! It must've been something in the air, Kelly and Reeve both falling from the heights of fine suit-dom.




And I was most certainly not the only superhero! Look, it's Tiny Spider-man!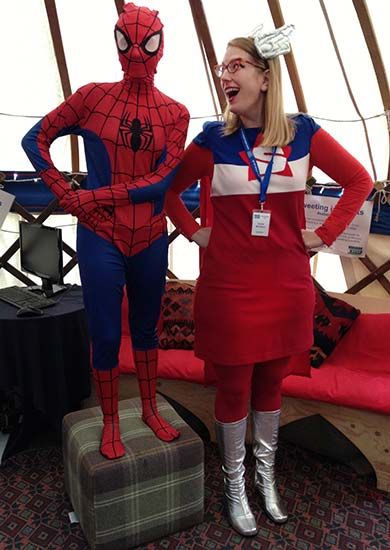 Francesca Simon has a new book out about Norse gods and borrowed my silver wings.




On the last day of the festival, the audience was made up totally of schoolchildren, and almost all the team was kitted out in superhero gear. Looking fab!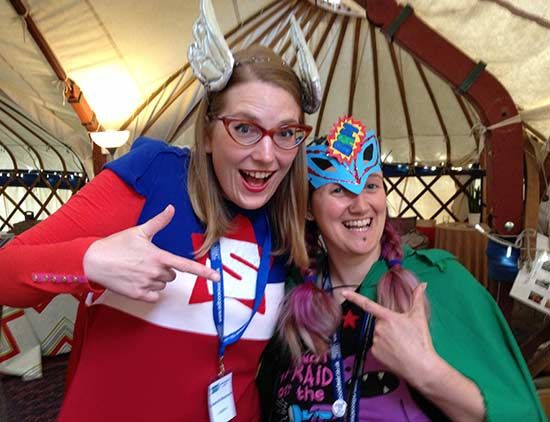 I had the kids in my sessions draw Superhamster (the silent partner of Superkid) and think up a silly superpower, costume and name for their character. Here's one teacher's lovely drawing!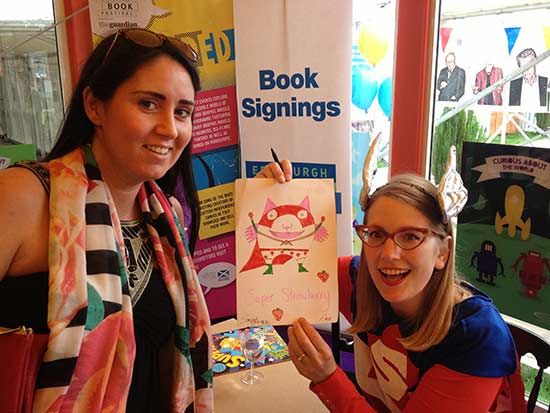 Philip sat in on one session and did this excellent drawing of Kevin the Superhamster.




I did another session in the school next to Craigmillar Library. Here are a few of the drawings!




Even Corinne, my Scholastic UK publicist, got into the swing of things with her own Superhamster.




Another one! They were awfully cute.




Here's Margaret Bell, who chaired one of my events, and her Super Slim.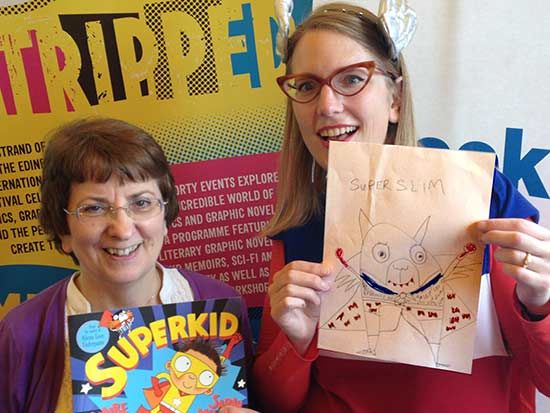 And the team who helped me with the Craigmillar Library school visit: Gaynor Bowers, Corinne and Steve Souter. I remember Steve well from the last visit to the library, before it moved to the new premises, and was amazed by how well he'd engaged with the kids and made the space a safe haven for the community.




Anne Sarrag at The Reading Agency also organised for me with Simon Radcliffe to do a visit to Leith Library to get ideas from the kids for next year's Summer Reading Challenge artwork. I must confess that I was slightly skeptical about how useful it would be, but the kids came prepped and ready and full of ideas, and amazed me with all their good suggestions. I kept all my notes! Here's Lindsey Fraser, who helped me get there. It's a beautiful old rotunda building, very cool.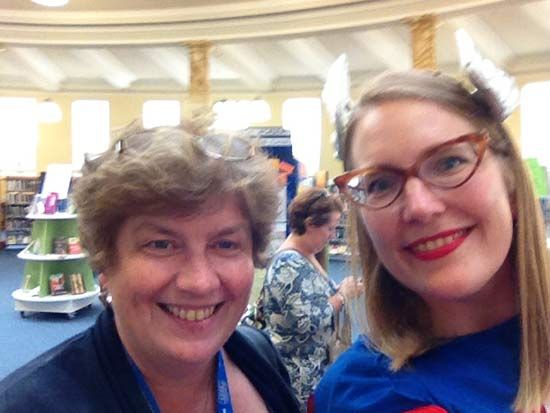 Back at the festival on Charlotte Square: Here are some of the drawings left on the walls by illustrators who did events in the weeks before me! One by Rebecca Cobb: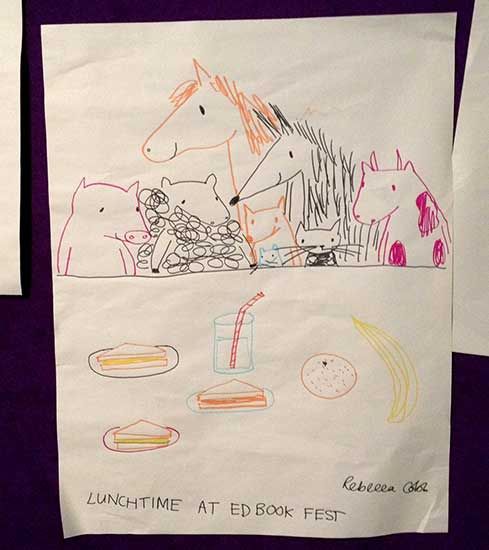 By Ireland's Chris Judge: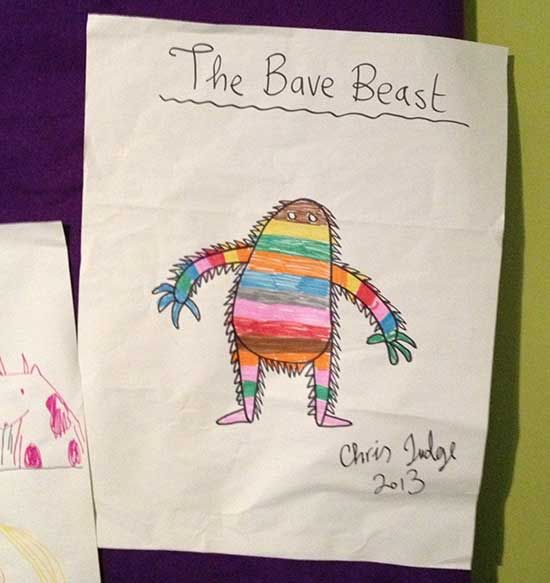 And by Jez Alborough: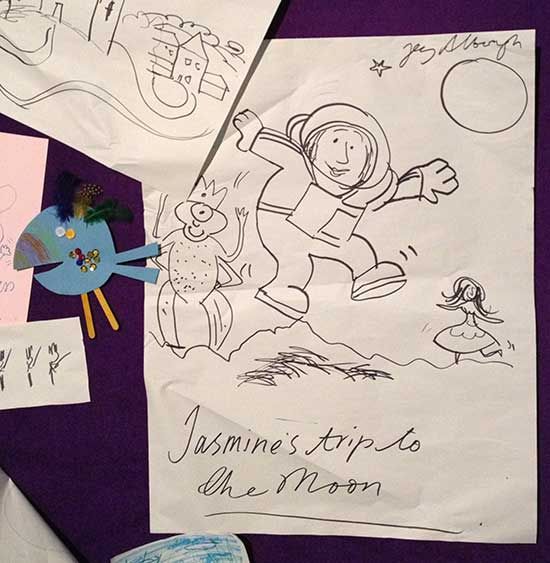 With five events, I only had time to go to one other event (a shame, as there were quite a few I wanted to see). But I was very pleased that the one I could attend was with Rob Davis, adapter and illustrator of the brilliant Don Quixote comics, a novel in two volumes.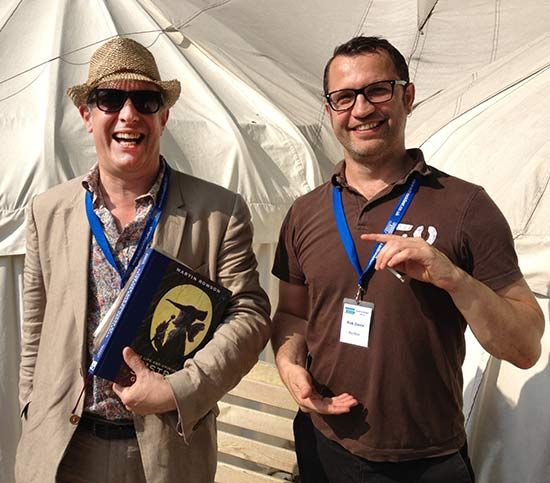 Rob and Martin Rowson both talked about adapting classic texts, chaired by Stuart Kelly (who had changed out of his Riddler outfit).




More web links for you... Here's lovely novelist Sara Grant. (We're part of a triumvirate of American Sarahs who meet up every so often.) I know Sara from the Society of Children's Book Writers & Illustrators, which I always recommend people join if they're interested in getting into children's publishing.




And Liz Pichon, who wisely dressed to match the Seawigs covers.




Look, she even has Tom Gates fingernails! Until I met Liz, I'd never thought of painting my book characters there.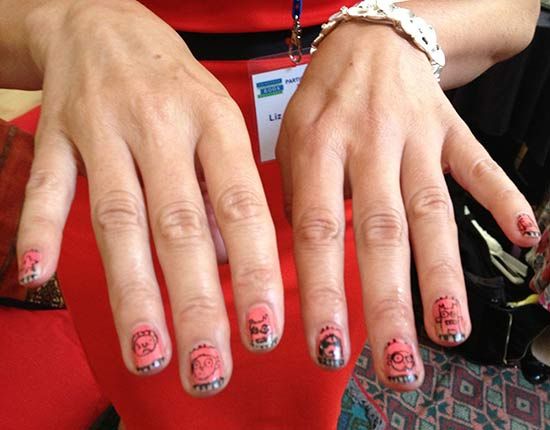 It's the Nobrow gang! Jon McNaught who, along with Gary Northfield (my studio mate), led SIX-HOUR COMICS WORKSHOPS. Six hours. Wow. Here's Jon with Nobrow's Doug Wallace.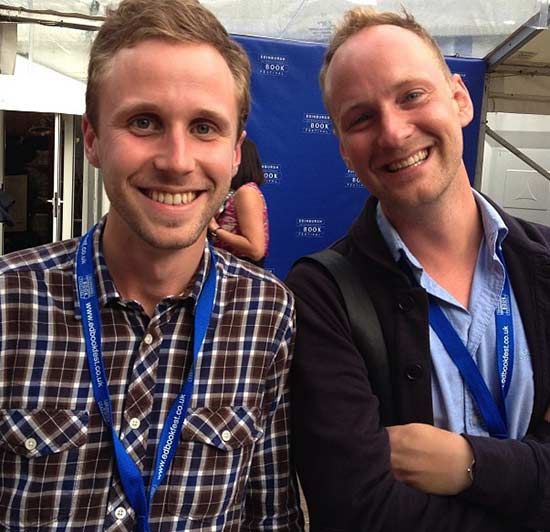 HUGE thanks to Janet Smyth, who organised and directed the children's book part of the festival. She did an awesome job and even managed to look cheerful and relaxed during the festival itself. For her very last event, she got to don the Seawig.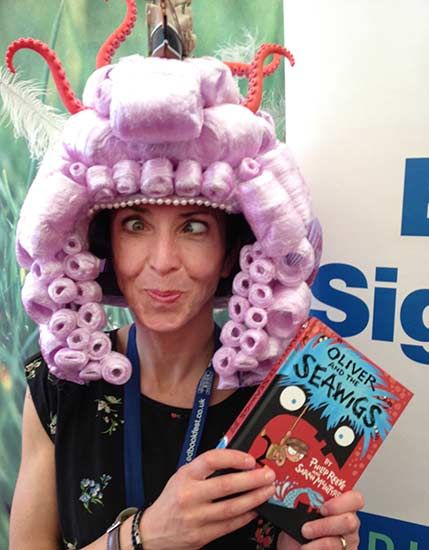 And here she is with her daughter, unmasked, who was also a big help on the Schools Gala Day.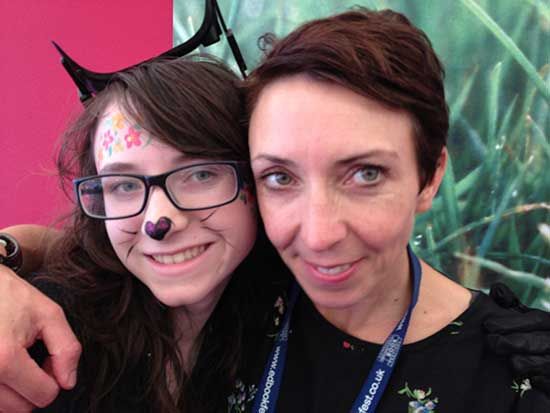 Here's comics artist Hannah Berry, who was a bit nervous about interviewing Neil Gaiman on the big stage. But all the reports I heard said she did a great job.




Philip and I gave a nice long interview to Hande Zapsu Watt from The Istanbul Review.




Here's writer Gillian Cross, who's also the mother of my Seawigs publisher, Liz Cross, and was chairing the CWIG committee when I got the 'Seawigs' idea.




All reports of The Etherington Brothers comics duo said the kids treated them like rock stars!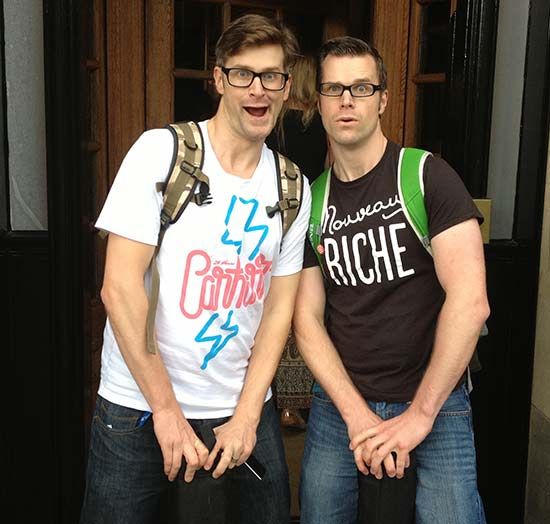 With writer Eleanor Updale and Radio 4 presenter Jim Naughtie:




Here's Frankfurt-based writer Lenore Appelhans: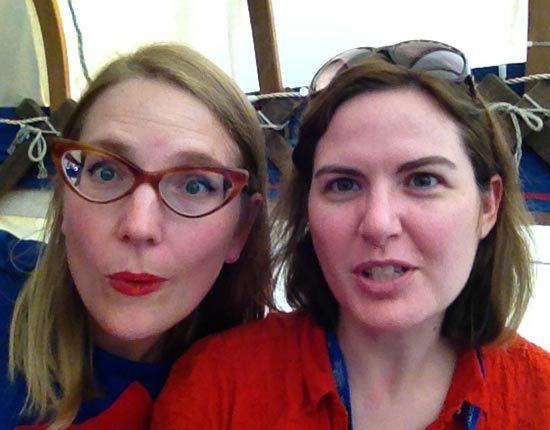 Comics dude Bryan Talbot with Emma:




Our Oxford University Press publicists were amazing. Here's Elaine McQuade hoisting me into my Seawigs dress:




And Harriet Bayly hosting the amazing Seawigs dinner:




Philip and his cheese balls:




Philip taking cheesy tourist photos.




Getting in a punch-up with Philip for being such a cheeseball.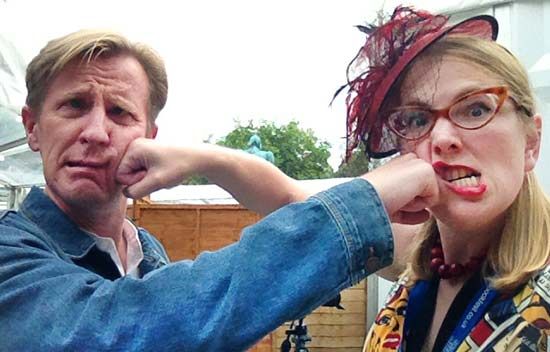 So, a wonderful festival, a wonderful trip. My only regrets are missing a few people who were there and I didn't see much of (Garen Ewing, Metaphrog, Stephen Collins, Tom Gauld, Gary and others). You can see a video of Tom and Stephen here:



And my other regret was not getting to Fabhatrix before closing time. Boo!




Here's my post-festival tired face.




Edinburgh's such a beautiful city. I'm thrilled to have been able to visit. Thanks so much for inviting me, and to the team for all your help.




Packing, a stray Seawig curl on the hotel table, and home.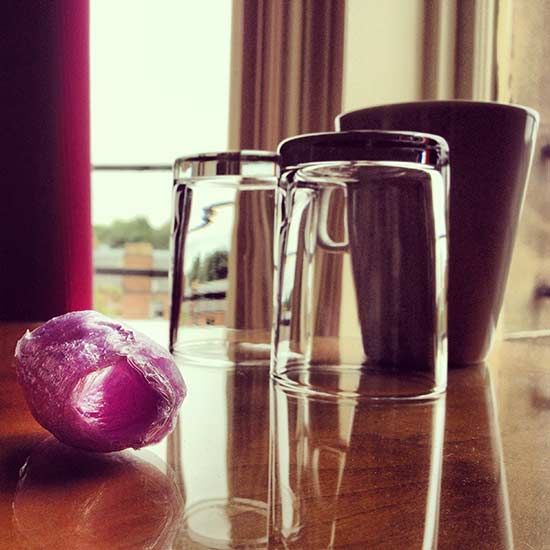 Philip's also written a blog post about the festival, which you can read here.