After all this build-up, Oliver and the Seawigs is well and truly live! And Seawigs are being released into the wild! Have a look at these two with Philip Reeve at our launch, made by Nicole Young and Sue Eves!




My studio mate Deadly Knitshade took this photo of gorgeous Daunt Books, Marylebone. There aren't many bookshops prettier than this one! Big thanks to Julia Harrison and her team for making the evening go so well.




Philip and I talked about how we met and started throwing around ideas for Seawigs, and then did a reading. I got to say the mermaid bits. Here's a photo by writer Candy Gourlay (whose new novel, Shine, came out the same day as our book)!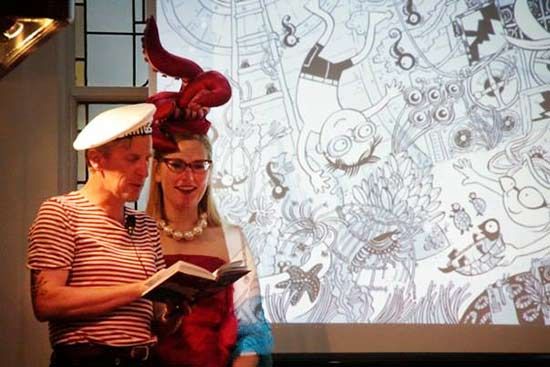 Look at all these great Seawigs people wore! That's Deadly Knitshade in the orange squid hat.




Daunt Books did an amazing window display. At the end of the night, everyone was trying to make me go home and I kept delaying to take photos of it, I was so chuffed about how nice it looked.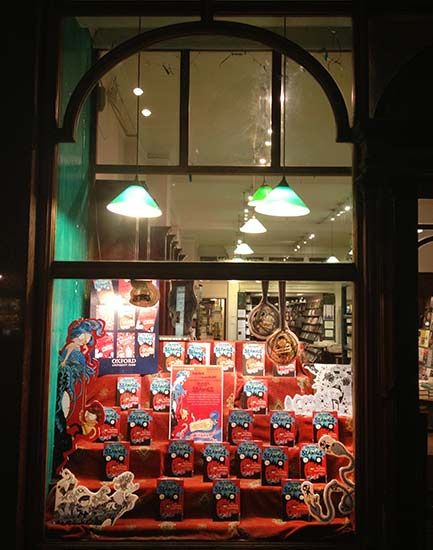 Susannah Northfield (sister of Gary Northfield, my other studio mate) made the cakes for the night. Thank you, Susannah! And you can see that the Giant Wig from the Golden Hinde pre-launch also made an appearance.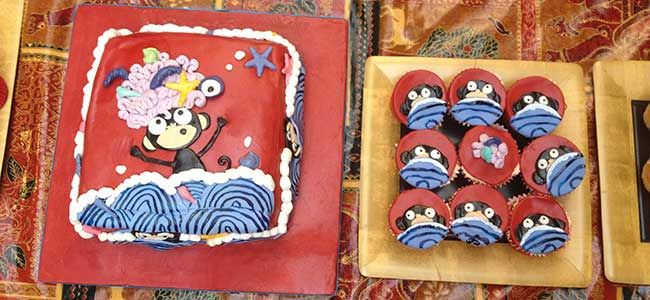 There's Deadly Knitshade's knitted Sea Monkey! You can stitch one, too; here's a free pattern on my website.



Photo by Deadly Knitshade

I was really hoping to get a group shot of everyone wearing awesome Seawigs, but the evening was actually a bit overwhelming, trying to do lots of things all at once, and I didn't manage to rally everyone. But here's are some of the great wigs on display. Check out this wild Seawig by Fiona Dunbar! Love the ship!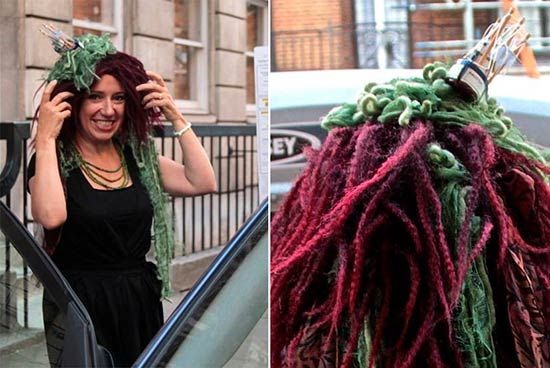 Photos by Candy Gourlay

And this amazingly polished one by Sami Teasdale:



Photo by @teasemade

Ha ha! Some great parrot-and-bubble-wrap action from David O'Connell! (You can see his earlier Seawig here.)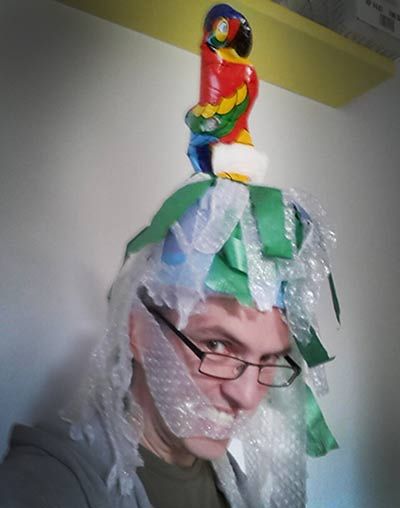 Photo by @davidoconnell

Babette Cole looked ravishing in her Crab Seawig and red dress (I knew she would, that lady knows her frocks and hats!):




Here we are, teaching everyone how to draw a Sea Monkey:



Photo by Candy Gourlay

Lots of busy scribbling! (And you can download a How-to-Draw-a-Sea-Monkey sheet here!)



Photos by Candy Gourlay

We talked about how we came up with the idea of our island giants, and showed some development artwork that didn't actually go into the book. (Here's one of my early drawings of Cliff, wearing an old submarine on his head.)



Photo by Candy Gourlay

Here's a peek at the Explorermobile, that I got a little obsessed with drawing. (You can see on my blog some of the early Explorermobile sketches here.)



Photo by Candy Gourlay

And then we led everyone in singing the chorus of our Sea Monkey sea shanty.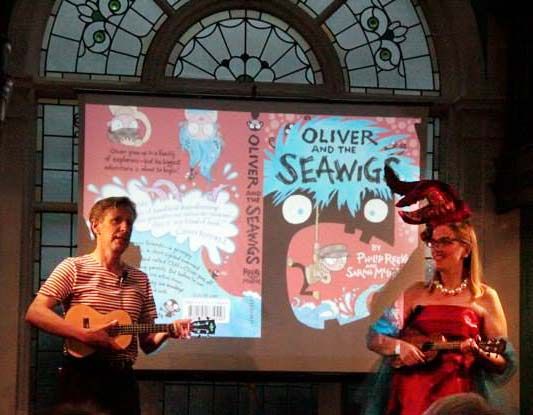 Photo by Candy Gourlay

Candy shot a video of our song! Keep in mind that we are writers and illustrators and don't normally sing or play instruments. One must always try new things.



I quite like the tattoo effect in this photo.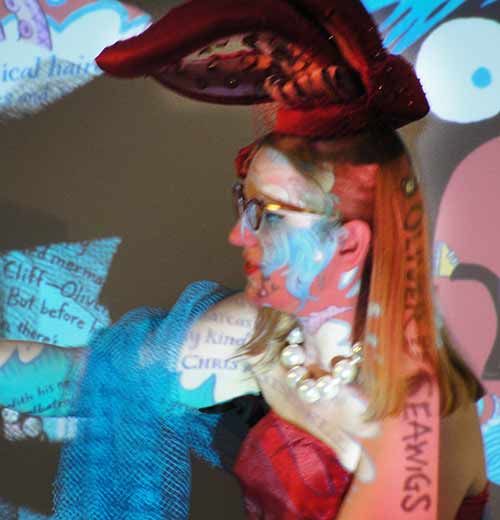 Photo by Stuart Pyle

Here's our Oxford University Press publisher, Liz Cross, who talked about how she came on board for the project. Liz and the team have been amazing, really understanding what Philip and I wanted to do and going beyond our wildest hopes for getting behind the first of our four books. Thank you, Liz and everyone at OUP!



Photo by Stuart Pyle

OUP brought on board freelance publicist Philippa Perry who, together with Manchester-based Liz Scott have been so forward-thinking and supportive about how to get the word out about our book. Here's Phil with our excellent editor, Clare Whitston (in the hat).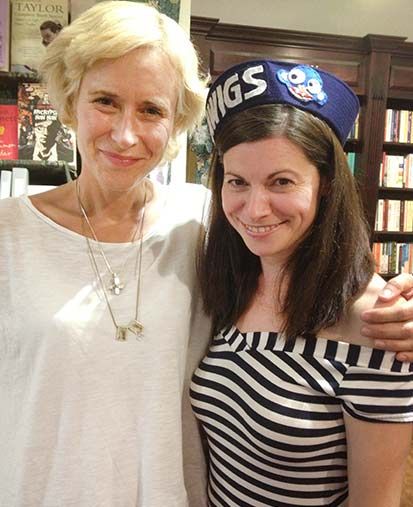 We had a quick interview with Reasonance FM radio host Alex Fitch after the party and, of course, we had to get a picture with him in the squid hat, designed by Emma Toft. The hat's still a bit wobbly, but Emma promised me she'd attach a headband to make it more sturdy.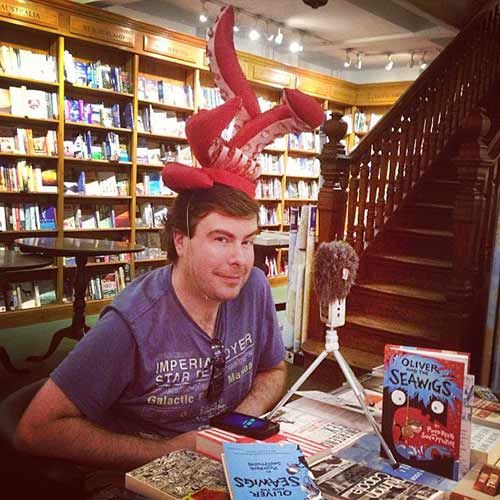 This photo is just plain freaky but I had to show it to you anyway, ha ha.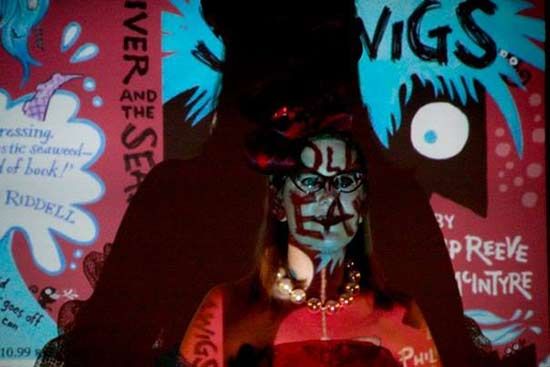 Photo by Candy Gourlay

Oh, one more thing about the dress: I only spotted it the evening before our launch, while Philip and I were walking down Portabello Road, on the way to Natasha Ngan's launch of The Elites. We popped into a retro second-hand clothing shop and there was this enormous red ballgown hanging from the ceiling that I knew would be perfect for our party. And it was only £30! When I tried on the dress, tragedy; it was about six sizes too small, with at least a six-inch gap in the back where it was supposed to zip up. But I still had some leftover metal hole punches from making the belt on my Space Princess costume, and so I made it a lace-up dress. Designer David Fielden would most likely be APPALLED if he saw what I've done to his handiwork but, hey, IT FITS. Hurrah! I love it.




Thanks so much to everyone who came, and apologies if I didn't get a photo of your wig. Please feel free to tweet a photo of it at me, and you can download a sheet about how to make your own paper Seawig here.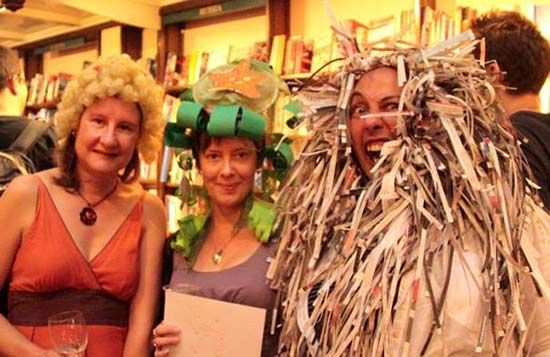 Photo of Jackie Marchant, Sue and Nicole by Candy Gourlay

Wearing something awesome on your head is the ultimate rush, I totally recommend it. I hope you like the book!