Hi, Manchester children's book and comics creators! I'm going to be coming up to Manchester on Thursday evening (12 Sept) and was wondering, do any of you want to meet up at the pub for a Comics Jam session with me? Say, 7:30 - 9:30? (Or you can stay later, I just have to get up early.) We can have a bit of a lark making silly, scrappy comics; no pressure to draw anything polished.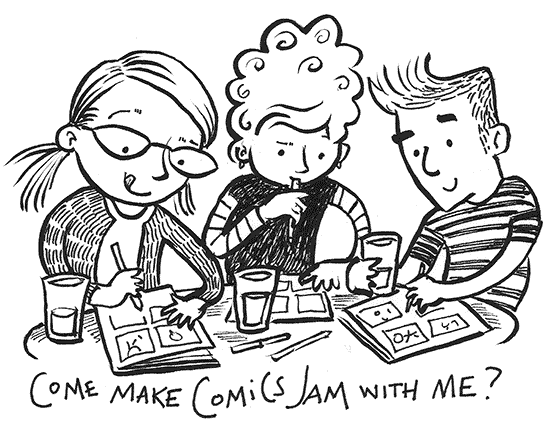 I don't know much about Manchester pubs, so advise me if this pub's a stinker, but there's one called The Sawyer's Arms (138 Deansgate, M3 2RP) just around he corner from where I'm staying, where perhaps we could meet. (Or do you know a better one nearby?) They do pizza, too, if you fancy a bite. Leave a note in the comments here if you want to come along, so I can look out for you, and bring your sketchbook and drawing stuff. It'd be great to meet you, hope you can make it!

(I'm coming up to Manchester to talk on BBC Radio 4 Woman's Hour on Friday morning and then giving a talk about blogging on Saturday at the Tots 100 Autumn Blog Summit.)

*Edit*: Phew, Adam Cadwell said he's coming, and maybe Bevis Musson, too, so it won't just be me and some sweaty stranger. Relief!