Today was my first-ever visit to Manchester's Media City, to go speak on BBC Radio 4 Woman's Hour. Super exciting!!! Before I got a studio, I spent my first ten years in London working from home, and I listened to Radio 4 CONSTANTLY. A lot of my understanding of Britain has been shaped by Radio 4. I listened to everything, Gardener's Question Time, the Shipping Forecast, you name it. So I was particularly aware of Jenni Murray and her programme, and to be invited to BE on the programme felt like walking through some sort of weird and wonderful time-space portal. You can listen again to my bit of the programme:


Direct YouTube link

Here I am with the excellent Liz Scott, my Manchester-based publicist who's looking after me so well on this visit. (Tomorrow I'm giving a talk at the Tots 100 Blog Summit.) She's been to Media City loads of times, but going there still gives her a buzz.




And here's our Woman's Hour team! That's Jenni Murray in the centre, and from the left: Assistant Producer Jane Worsley, Producer Bernadette McConnell, me and fellow guest Hannah Thompson.



Look how long my right arm has grown!


So if you ever go on Woman's Hour, here's what it's like! Liz is showing you the front desk, where you get your name badge. (They knew my name when I walked in, without telling them; I was so chuffed! The receptionist must have a little face booklet at the desk or something.)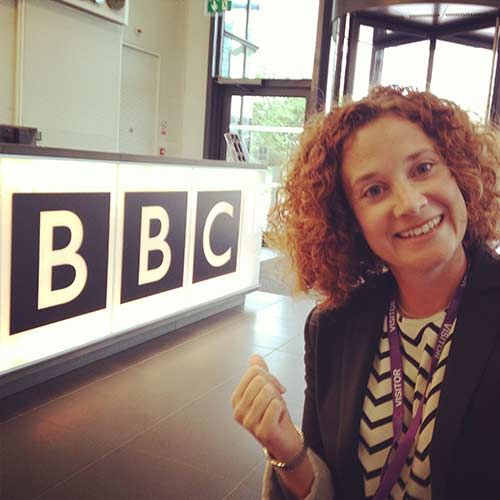 The colour schemes are very comprehensive. The lobby is GREEN and even the door man wears a matching tie.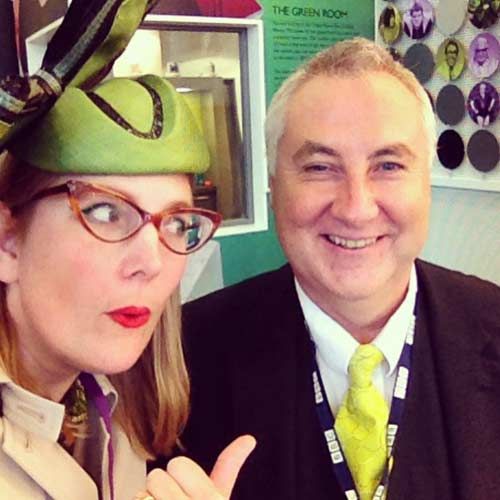 When Liz and I first got there, Researcher Caitlin Crawford took me into the studio to have me practice my reading and see how long it would take. (Two minutes, on the dot, as it turned out.) I asked her about the coloured microphones, and she said it's so if there are guests on the show who don't know each other, they can quietly refer them to 'that woman at the red mic', 'the bloke at the yellow mic', etc.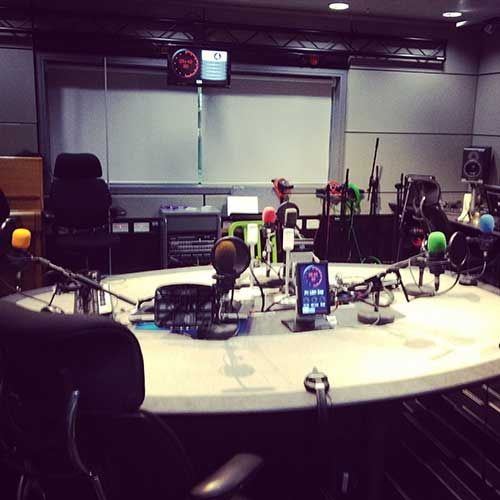 And here we are in the waiting lounge! Me, Hannah Thompson (Senior Lecturer in French at Royal Holloway, University of London), and musician Katie Melua. Hannah, in the purple, was representing the What I see Project (together with Edwina Dunn, who was ringing in from London). The project involves video recordings of women telling us what they see when they look in the mirror, and generally talking about their self image and how they've grown and changed as people. And on the right is Katie, originally from the former Soviet republic of Georgia but living in Britain. She did a beautiful job singing live in the studio, Hannah, Liz and I were quite gobsmacked.




When I found out I was going to be on the programme with Katie, I asked my Facebook friends to tell me about her and a friend of Philip Reeve, named Justin Hill, told me about how she set the Guinness World Record for the Deepest Underwater Concert. How cool is that?




So of course I looked it up on YouTube and found this video. Katie was surprised when I mentioned it and said she did that ten years ago, so be sure to look for her more recent videos. (I just thought this was pretty awesome.)



We got called into the studio individually and then sat in the control room working area, so after my segment, I could see Hannah through the glass. She recently blogged about her response to the What I See Project, which, as a partially sighted person, was different to most people because she can't see her own face in the mirror. She talked about the way our society sets a 'hierarchy of the senses', putting sight at the top, and how she takes in reality in an equally full way, without sight. Go read her blog post, it's a good 'un.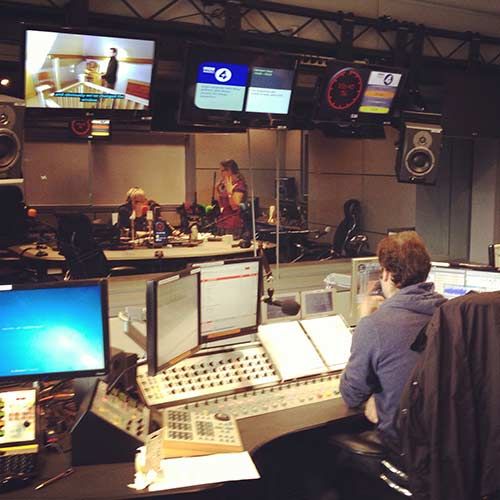 I got to read a section from Oliver and the Seawigs, my book with Philip Reeve, which was exciting; usually Philip does the reading and I just chip in with the mermaid voices. And... special treat! While we were in the waiting lounge, the fabulous Frank Cottrell Boyce walked up! With his dad! Who is also named Frank. Frank Junior had to go do a recording elsewhere, but Frank Senior stuck with us and watched Woman's Hour from the control room.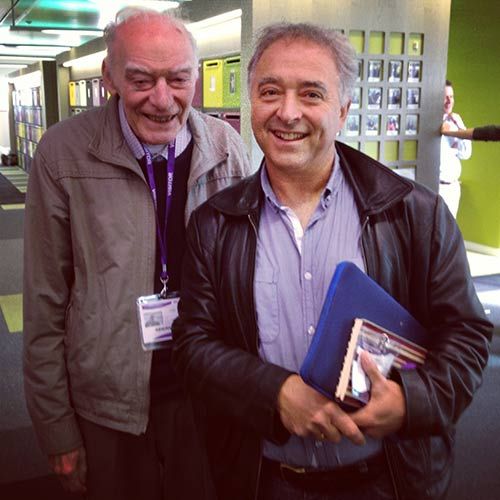 Thanks so much to Bernadette, Jenni, Jane, Caitlin, Rachel, Hannah, Katie, Liz and the BBC team for making the morning so exciting and fun! After our programme, Liz took me to visit the owners of Urmston Bookshop, Frances and Peter Hopkins, who had heard I was going to be in town and sent me a message promising tea and cake. And very nice tea and cake it was, too!




I signed lots of copies of Oliver and the Seawigs and then did a little drawing for them before I left.




Lovely shop, and I even managed to get a copy of Laika the Astronaut, a new picture book by Owen Davey, nicely wrapped up in my new Books are my Bag.




I have loads more I want to blog about: our evening Manchester Comics Jam evening and hey, I've been announced as one of the judges for the Roald Dahl Funny Prize! But I will blog about that later because Stuart's just about to arrive in Manchester and we must EXPLORE.