Hey, look at the huge hat I got for the Tots 100 #BlogSummit! Ha ha, I wish. When I arrived to give a talk at the studio venue, it looked like a Google office playroom or something, with lollipops and toys everwhere, I loved it.




The first thing I did was draw a Sea Monkey on their flipchart, but since I drew a much nicer Sea Monkey yesterday, I'll show off that one instead. (This one's for a display piece at the Cheltenham lit fest.)




I couldn't help but notice this quotation on the wall, but the great philosophers that are Take That. Ha ha, hello Manchester.





Here's Tots 100 founder and editor Sally Whittle, explaining how complicated blog ranking systems work and giving tips for more effective blogging. To be honest, I don't check my blog stats, except for the rather rubbish LiveJournal ones occasionally. My blog seems to work best if I write it for myself - mostly as a jog to my terrible memory - and don't worry too much how it comes across. But I could be wrong about doing that. Tots 100 is a supportive network of parent blogs and it was fascinating to hear how it worked.




Here's a photo that @nyssapod tweeted of me giving my sepia talk. One thing that came up on Twitter after the conference is that people wished they could draw and make comics for their blog, but felt they weren't really up to the task. One tip I have is that you don't necessarily need to be able to draw to make comics. You can make them using photos and collage using easy-to-use, inexpensive software called Comic Life. You can see some examples of how I used it with fairly young children at a British Museum workshop here.

Also, if you can write witty dialogue, you don't need anything more than stick men. Or you could even reuse the same comic and rewrite the speech bubbles, like Ryan North does with his Dinosaur web comics.

The other tip I had is that drawing well comes through practice, and the blog is a great place to post updates on daily exercises. I think I'm better at drawing than I was when I started blogging in 2006, and I think my blog is largely responsible for that, because it made me want to set lots of challenges for myself. Don't let drawing badly stop you, just keep drawing badly and eventually the drawings won't be so bad. Maybe even good! (...Ha ha, you can start by learning how to draw a Sea Monkey over on my website.)




On the left, that's my fabulous Oliver and the Seawigs publicist Liz Scott (@LizScottPR), who looked after me so well on this trip. Ha ha, I asked a guy what his Twitter name was, and he replied, "I'm not actually on Twitter". Note our expressions of shock and horror. (Thanks for taking that photo, @juliadelish!)




But everyone was friendly and there were very few moments of discomfort, except for the poor icons near the toilets.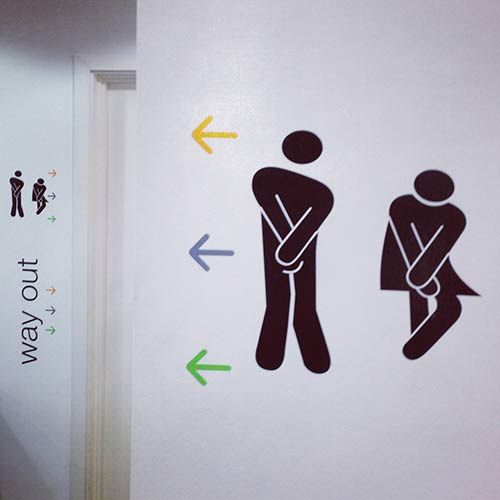 This is such an amazing dessert they had, I can't even tell you how awesome. Real fruit, hollowed out and filled with gelato made from the fruit. The chestnut ones looked very weird but were pure heaven.




And a photo of me with Tots 100 Administrative Mangager Lindy DeMelo, and Sally Whittle. Big thanks to the Tots 100 team for inviting me! You can find out what other bloggers are saying about the day on the #BlogSummit hashtag.




Stuart came with me to Manchester, we had the rest of the day to play and stayed for an extra day to take in some of Manchester's many diversions. We like hotel breakfasts!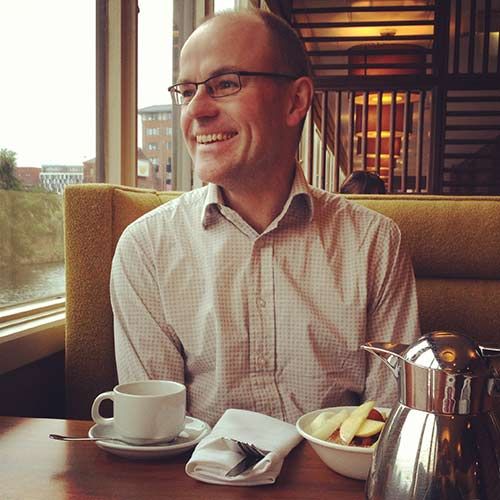 While I was at the conference, Stuart visited Manchester University, where he studied Russian a very, very long time ago. He hadn't been back since graduation and was bowled over by how much Manchester had changed. I hadn't been to Manchester since I was 18, and I vaguely remembered having visited Afflecks Palace, a huge emporium of vintage clothes, costume, goth gear, what have you. It was still great! And this time I had a little bit of spending money, which made a nice change.




The following day, we started at Manchester Art Gallery. I didn't know much about it, and it turned out to be absolutely brilliant, one of the best museums I've been to in ages. I loved the mix of great artwork with artwork that was deeply unfashionable but still amazing and things that were downright kitsch, but jaw-droppingly so. Like this Minton Prometheus vase, most likely designed by Victor Étienne Simyan in 1875. I found I kept bursting out laughing at things, it was such a good day out.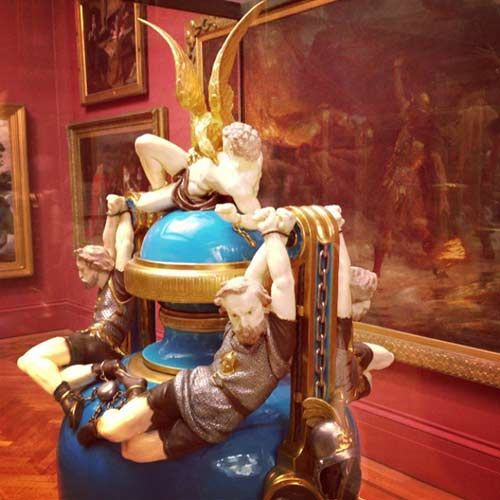 The museum also had some interactive displays. This one involved drawing in a completely dark room, then seeing how it came out. When I went in, this pair turned on the light for me, and with the dramatic effect of the lighting, looked like some sort of Dutch painting. They let me photograph them but I was wishing I could have made a painting of them.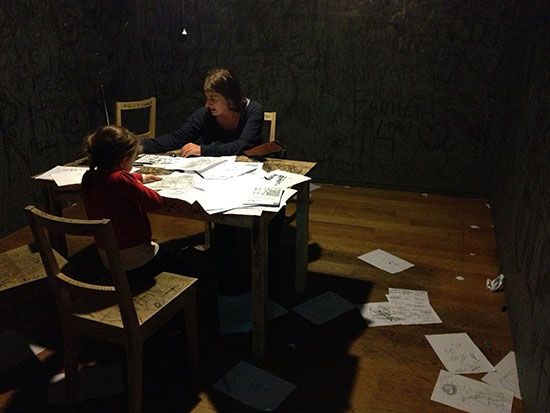 This one was a bit more weird: the cooler was full of ice cubes of water with red ink in it. People had to sit across from each other, holding the red cubes, and see whose melted first. The floor was very sticky with red dye. The boy was very bored, with cold hands. Right.




Speaking of deeply unfashionable, I can't imagine any modern design purists liking this writing desk, designed by WIlliam Burges and made by Gualbert Saunders sometime between 1865-67. But I loved it so, so much. The detail painted into it was astounding.




You have to walk around to the side of the desk to see this priest forcing a boy to work on his letters. A different era in education.




Such intricate patterning! And it's like a little house on top.




I liked this dude, I wondered what his story was.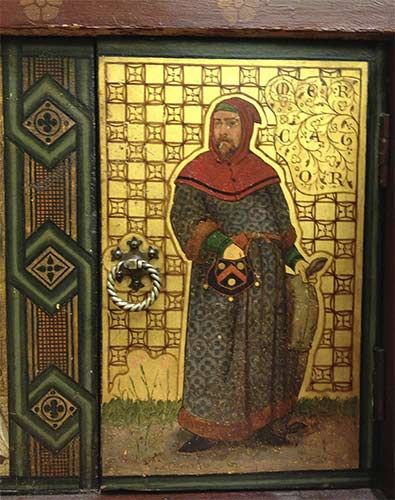 And just below that guy was a tiled ledge with this mad professor tile. Ha ha!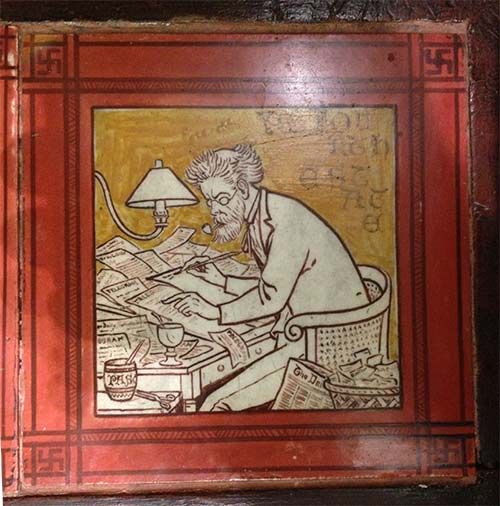 Moving on from the desk, here's a gorgeous Grayson Perry vase, depicting Jane Austen-type scenes on top of collage with more modern stuff Grayson found around his studio; ticket stubs, magazine photos, lottery adverts, etc. I love the textures and old-fashioned drawing style he uses.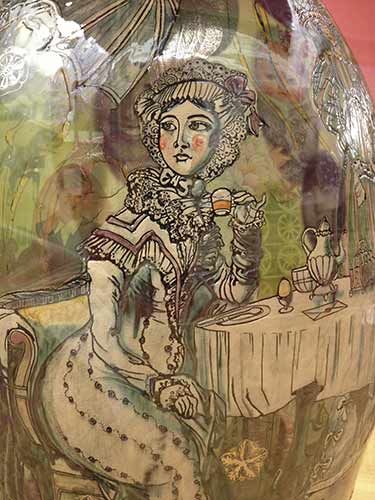 If you asked me if there's any modern art I wish I'd made, it might be Grayson's vases. The guy's a proper hardworking craftsman, huge respect.




I'll blog more about The Lowry museum later, because I want to do some drawings based on stuff I saw there. But here's the tram we got out there. We got off right across from Media City, where I'd done the Woman's Hour interview two days before.




Notice the train destination is 'Eccles'. Which immediately make me think of Eccles cakes. I said, 'Stuart, do you think we'll be able to get some Eccles cakes here?" And there was a farmers market right in front of The Lowry, selling just that. They were so good that we want back and bought a whole bunch more. The market lady gave us the choice of lightly baked or more darker baked, and we pronounced the darker ones much nicer.




Our hotel was very near the Opera House theatre, so on a whim, we popped in and got some tickets to see Will Young in Cabaret. It was SO GOOD! Will made an awesome compere, camp and saucy, and the audience was so obviously loving everything. Definitely recommend it if you're in Manchester (but it's not really kid-appropriate).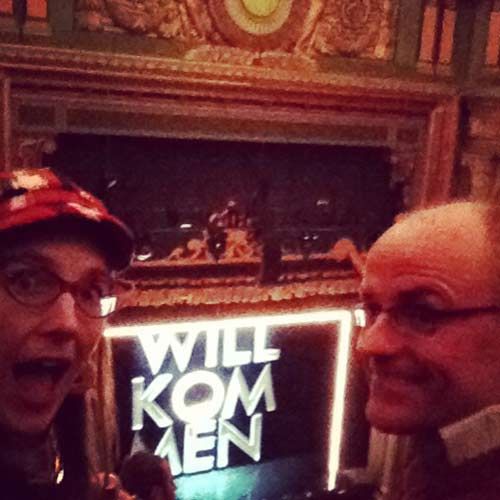 And then it was time to go home. Here's Stuart with our new Books are My Bag from Urmston Bookshop, full of Eccles cakes.




Thanks so much for inviting me up, Tots 100 and the BBC! We're big fans of Manchester. I definitely want to get back to those galleries and do some drawing.