Last night I met up with comics artist Woodrow Phoenix - in his brilliant yellow mack - at Shoreditch High Street station in East London and we walked over to Hoxton Square, where London Design Festival was in full swing.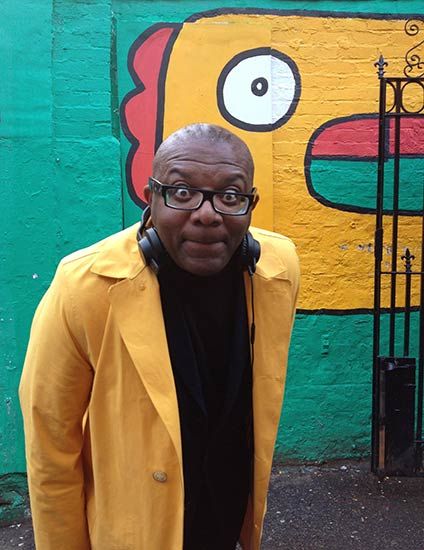 A bunch of us are taking part in an exhibition of comics art called Sequential City themed on our relationship with London, and set up in the beautiful loft studios of Baxter and Bailey. You know all those little creatures in the margins of The Phoenix Comic, the cartoon editorial team? Well, those are the creation of Matt Baxter, half of the studio.
NEWSFLASH: They're hosting a COMICS JAM CHILDREN'S WORKSHOP this Sunday, 11-12:30pm, ages 6+, children to be accompanied by a parent or guardian. To book, e-mail studio@baxterandbailey.co.uk.

And videos! Baxter and Bailey (Matt and Dom) worked with film artist Rob Chan of Bokeh TV to interview four of the artists involved in the exhibition: me, my studio mate Gary Northfield, friend and former DFC colleague Woodrow Phoenix, and Robert Ball, whom I follow on Instagram but only met for the first time last night!



Baxter and Bailey Sequential City 2 from Baxter and Bailey on Vimeo.



You can visit the show (and lots of others in the area that are participating in the festival) from 14 - 22 September at Baxter and Bailey's studio, 6 Hoxton Square, London, N1 6NU. (Details here.)




Baxter and Bailey Sequential City 3 from Baxter and Bailey on Vimeo.


Click here see all the videos!




We did a large-scale Comics Jam on the night. Here are Robert and fellow exhibitor Rian Hughes working together on their entry. (Rian penciled it and Robert inked.) This photo is in no way staged.




And the whole Comics Jam...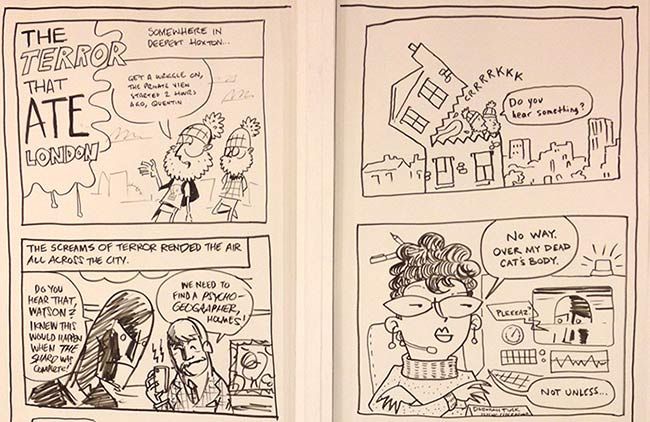 ...Does it make no sense to you? That's okay, it didn't make sense to any of us, either. Here's exhibitor Neill Cameron, trying to work out where he's to jump in, and very nearly confounded. (He's just spent an entire day drawing comics for a school event in Sussex, so we were impressed he was still upright.)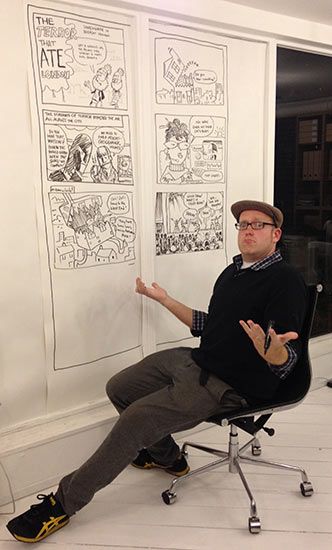 Not to worry, because there was ACTUAL JAM at hand. Matt presented each of us with our own special Baxter and Bailey branded jam pot.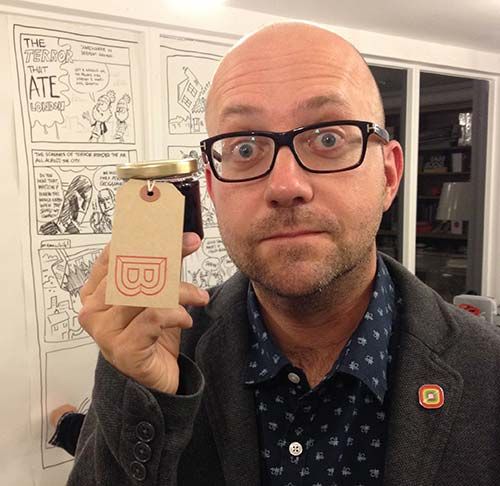 Ah, here's the illustrious studio team I keep talking about. You can follow them on Twitter at @baxterandbailey. (And I follow Matt at @mb_tweets.)




A group shot!




Oh wait, I hafta get in there... From left: Faz Choudhury, Rian Hughes, Matt Baxter, Gary Northfield, me, John Aggs, Woodrow Phoenix, Garen Ewing, Patrice Aggs and Neill Cameron. Other exhibitors include Kate Brown, Hannah Berry, Adam Murphy, Bryan Talbot and Paul Duffield.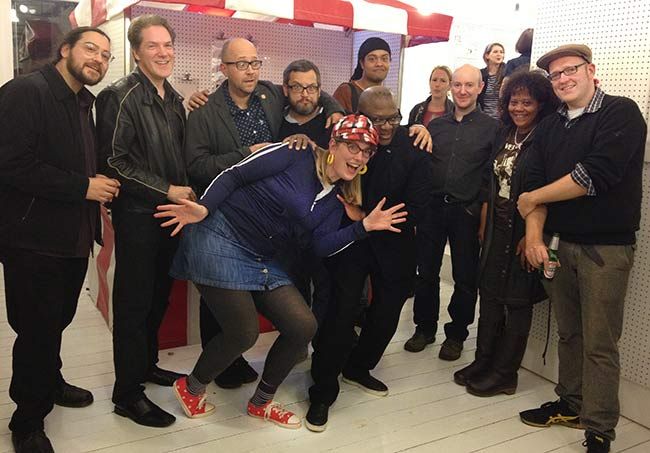 And here's my part in the exhibition! It's one of the only comic strips I've watercoloured instead of colouring digitally, called Thames Reach, from the Birdsong/Songbird anthology. And next to it is one of Gary's pages in our NELSON anthology, set in Dagenham, east London.




Here's Rob Chan, who made the video, with his partner: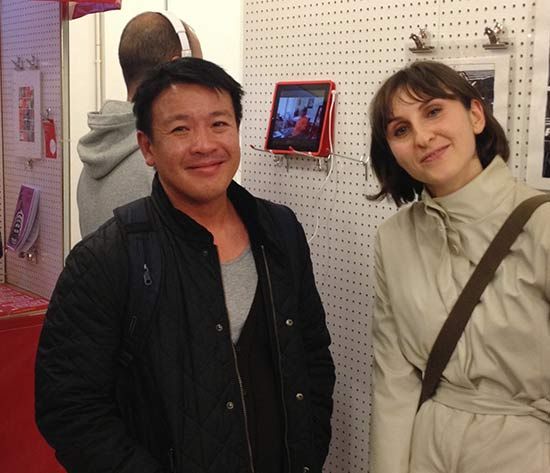 A fabulous evening, thanks so much to Matt and Dom for hosting, and London Design Festival for linking us in!




Edit: Hey, Neill Cameron's just blogged about the evening here!