So much has been happening this week! One of the highlights was getting to see top writer Geraldine McCaughrean launch her new book, The Middle of Nowhere, set in the Australian outback. I love Geraldine's books; The White Darkness is one of my all-time favourite reads, and I can't wait to dive into this book which has some similar themes: A girl stranded on dangerous frontier territory with everything going mad around her.




Nicolette Jones interviewed Geraldine and Philip Reeve about writing and creating books for children with carefully crafted language, giving them a vocabulary with rich subtleties to think critically about their world. Geraldine's daughter, Ailsa Joy, graduated from RADA drama school last year and did an impressive reading from the book, complete with a researched Afghan-Australian accent! There's Ailsa, on the right: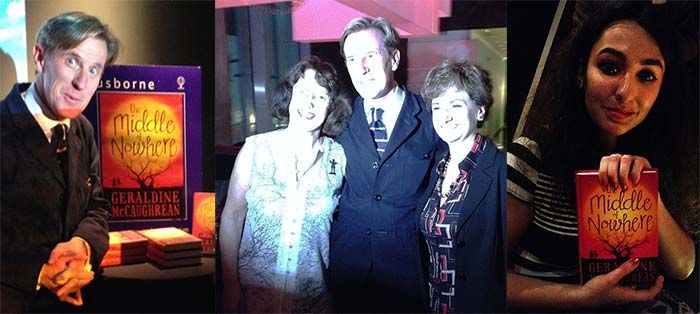 There was a massive scrum at the end to get books signed, and I wasn't sure if I'd be able to get Geraldine to write in mine. So before I reached Geraldine, I asked Ailsa to sign my book and give me some good gossip about her mum. I definitely got the best book of the night.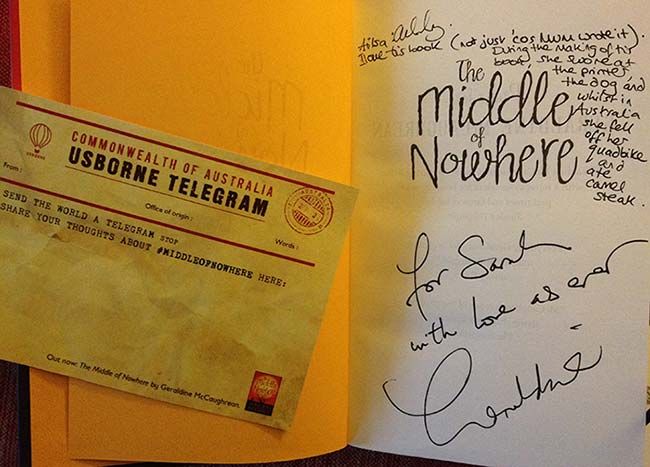 Then Philip and I swanned about, playing with the fantastic disco balls at the swish venue, the W Hotel by Leicester Square. Huge thanks to Usborne for a great party! Geraldine's recently joined Twitter and you can follow her at @GMcCaughrean.




I wasn't able to go to the 10th-annivesary celebration at the Discover Children's Story Centre the same night. But a huge congratulations to them; they're the ones who hosted our Monsterville exhibition and loads of other amazing installations and events. Bravo!