Hey, Booktrust has just posted the video from the fab party they threw with their blogger-in-residence, Laura Dockrill! I wore my new hat: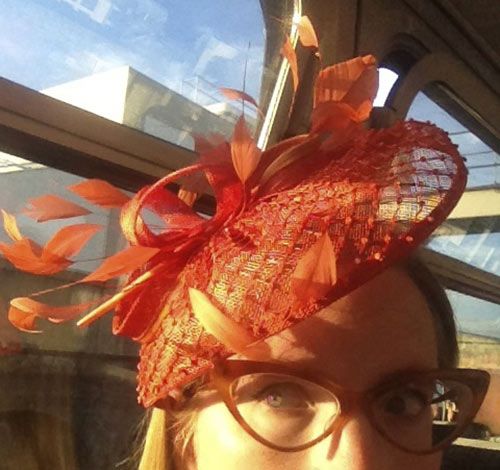 ...you can spot it a few times in there. The party came at a good time, as everyone's talking about 'strong female characters' and we're all wondering if that gets a little boring. Sophia McDougall wrote a great piece about it for The New Statesman: I Hate Strong Female Characters. Women come in all shapes and sizes, strong, weak, complex, clever, stupid, and they all have a place in books.




The video makes us look super-swish, but this is what it was really like. (That's Geek Girl writer Holly Smale and me.) Gosh, we ladies love our pizza. There's another photo in the Booktrust gallery where I look like a proper rabid varmint. It's pretty awesome, I am weirdly proud of this photo. ...RAWR!!!




Laura and Booktrust pulled in an amazing line-up! Here's writer and columnist Caitlin Moran, Children's Laureate writer Malorie Blackman, TV-presenter-turned-author Dawn O'Porter, writer-illustrator-performer-lots-of-things Laura Dockrill, chaired by Mel Giedroyc from Great British Bake Off.

One of my favourite things was something Malorie said, that when she was younger, she always thought she had to write a book like other books out there. And she only later came to realise that what she has to say is unique, and because it's not out there, that's all the more reason to PUT it out there! Down with copycat publishing, let's let our girls tell their own unique stories from their own experiences.




Oo, look, it's writer (and Shine author) Candy Gourlay there in front! Candy recently said something similar to Malorie at her Shine launch: that she'd always written about white English people in her books, and only more recently felt she could start tapping into unique experiences from her own cultural heritage of the Philippines.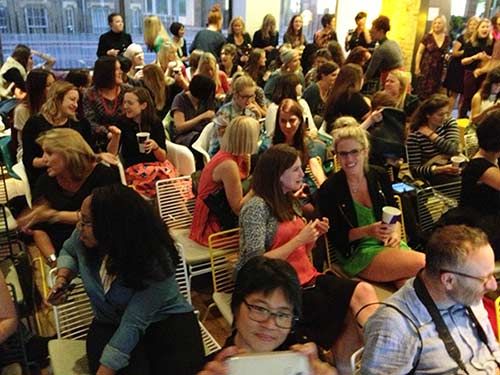 The room was abuzz with authors and Booktrust provided samples to look at, which was great. Sophia McDougall brought along her proof copy of her upcoming children's space book with Egmont, Mars Evacuees. Which I somehow managed to wrestle off her, take home and read right away. It's great, a really good space adventure and coming-of-age story! A bunch of kids get taken to a new settlement in Mars to escape war against alien invaders on Earth. But things go very wrong with their adult guardians and robots, and their living compound descends into a Lord of the Flies situation. Disaster doesn't stop there, a few kids and a robot break away and have to navigate a strange new world and the beings they encounter in the wild. Fabulous stuff, and not just for kids. The annoying educational robots are hilarious. I think people who loved reading (or watching the new film of) Enders Game will really enjoy this book. You can read an interview with Sophia about it over on her website.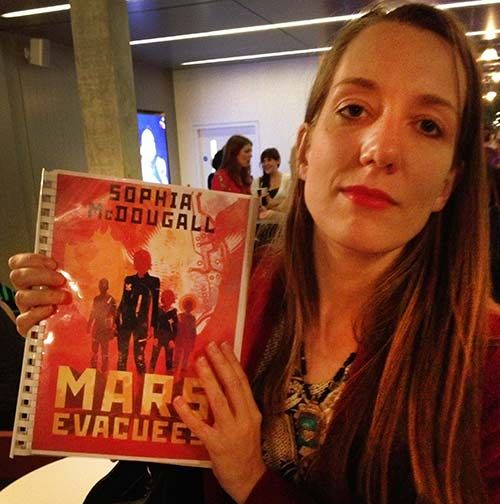 Big thanks to Laura, the speakers, Booktrust and Red Bull studios for hosting the fab party! Read the full Booktrust blog post about the night and keep an eye on the Booktrust website to find out what Laura's blogging about.