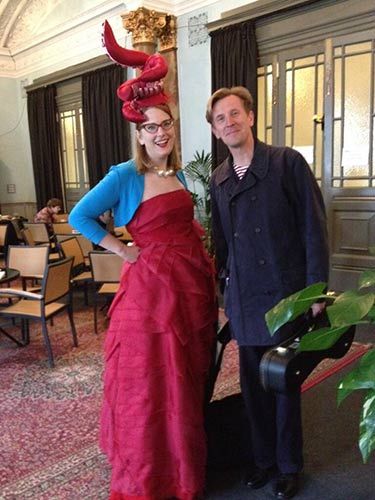 Photo by Horrid Henry writer Francesca Simon

Next stop on the Oliver and the Seawigs tour: The Times Cheltenham Literature Festival. Where my co-author Philip Reeve, the Oxford University Press and Scholastic gang had a kraken good time!




We were joined by this excellent Sea Monkey, knitted by Jo Morris, the mum of our OUP publicist Charlotte Morris. (You can download the knitting pattern from my website.)




Big thanks to The Times for sponsoring; here we are with children's book journalist Nicolette Jones, who chaired something like sixteen panels. (And it's much harder to host someone else's event than do your own; anyone can talk about herself for an hour - we all know ourselves pretty well - but talking with someone else about their work requires a great deal of HOMEWORK.)




I saw today in The Sunday Times that she listed Oliver and the Seawigs as Children's Book of the Week! Thanks, Nicolette!




I love dressing up for festivals and I always look out for Tom Gates author Liz Pichon, who adds the most amazing personal touches to her outfits. I'd seen her signature fingernail painting before, but check out these great shoes! Liz said she did it just with a Sharpie pen; I totally want to try that.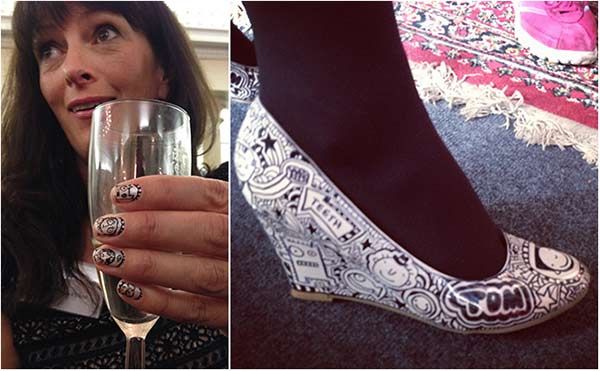 I hadn't made my hat this time; I'd drawn these sketches for Emma Toft, who'd then made it.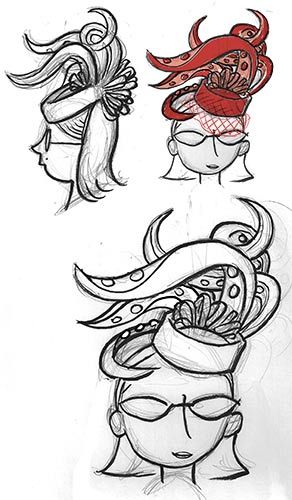 And here's the Kraken Hat, with write Anne Fine! One of the great things about these festivals is meeting so many other interesting book people.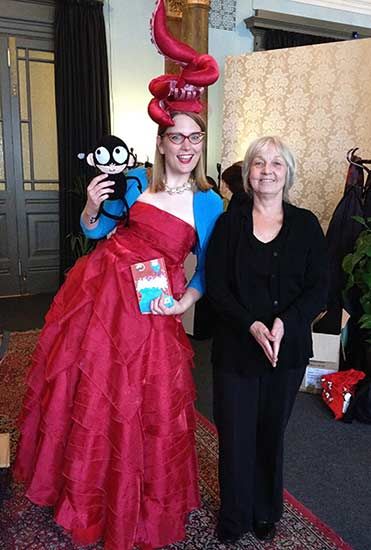 Philip and I went to a reception at the Queen's Hotel, hosted by Readathon, a charity encouraging children to read, which has set up a new initiative called ReadWell, which provides brand-new books and comics and storyteller visits for children in hospital. It's a great project; children in hospital get lonely and bored, their siblings also spend loads of time there, and children in isolation units are only allowed to read new books. So far ReadWell operate in four UK hospitals but are hoping to get into many more.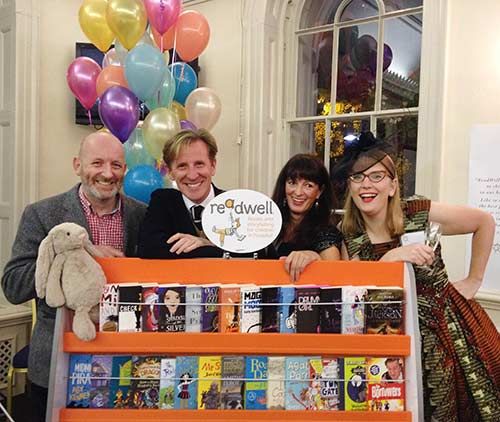 Nick Sharratt, Philip Reeve, Liz Pichon, me being all posey with the bookshelf

Actor and historian Tony Robinson is the new ReadWell patron (you'll know him as Baldric in Blackadder and the narrator of just about every video in historic site visitor centres) and he gave an impassioned speech about how reading made him who he is today. He didn't like school much and mostly bunked off, but to go to the library to read. Here's Philip and me, modeling with Tony's history books.




Tony's wife, Louise Robinson, also came along, and we got to catch up with our former publicist Alyx Price (who's shockingly moved to Macmillan, noo!).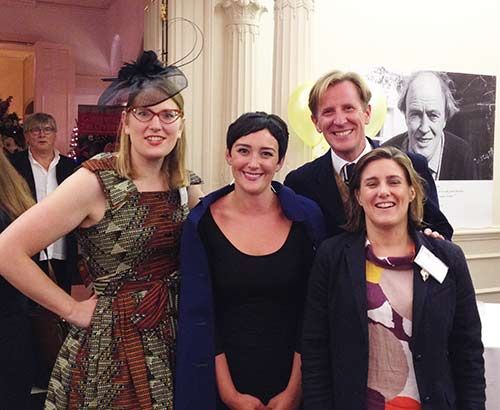 We also got to meet Christopher Edge, and Wendy Meddour, also published by OUP, whose super-talented 11-year-old daughter, Mina May, illustrates her Wendy Quill books. Jon Dougherty interviewed several of us for a video for the school where he's Patron of Reading. Here's Tony, about to jump through the camera lens.




And here's Jane Churchill who runs BookIt!, the whole children's book part of the festival. Talk about a massive job! Hurrah for Jane, the festival's been ace.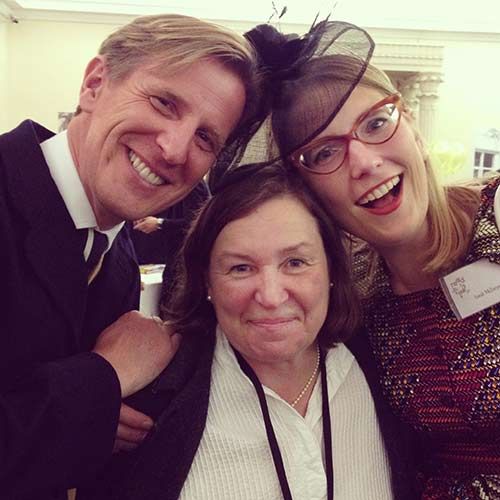 Back in the Green Room, we got to see amazing illustrator Emma Chichester Clark and writer Michael Morpurgo (who wrote War Horse). I love Emma's colour palettes and I switched from watercolours to inks when I found out those were what she was using.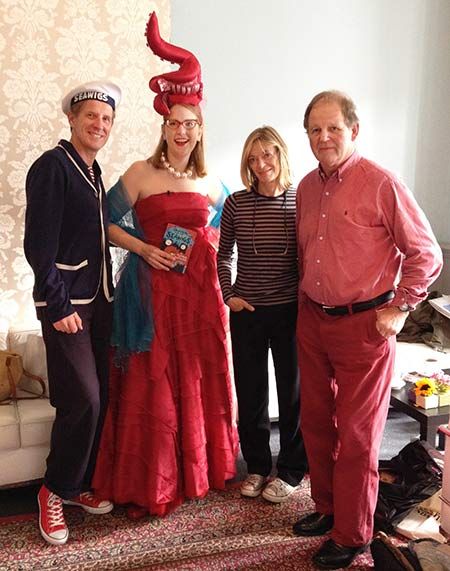 I caught a glimpse of a gorgeous new book she had with her: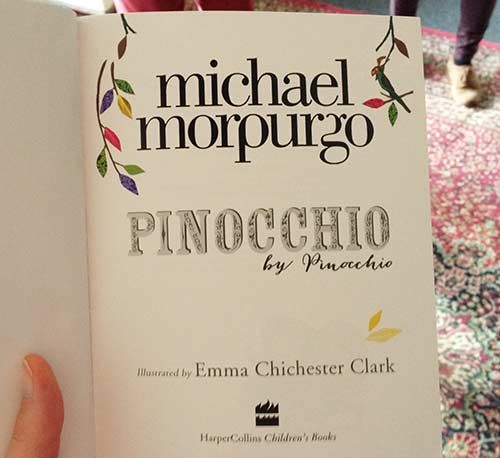 Check out this gorgeous double-page spread! I totally have to get a copy of this Pinocchio book.




Here's a video about how Emma made it:


Direct YouTube link

After my Oliver and the Seawigs event, I led a Create Your Own Book two-hour workshop (still in full ballgown, there wasn't really time to change). I don't do this workshop very often because it's quite hard work and I have to bring along a lot of special supplies, which makes my suitcase quite heavy. Here are some sample covers I made the night before, so the participants could get an idea of what we'd be making.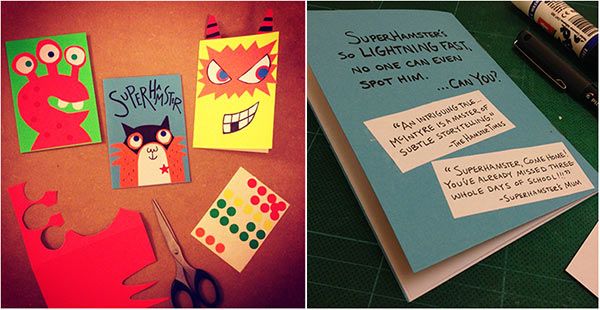 We had a mixed group of children and adults and the results were great! The main focus of the workshop was FINISHING a whole book; lots of people get ideas for books, or start books, but very few people actually finish them. Here's one new author and me with our books.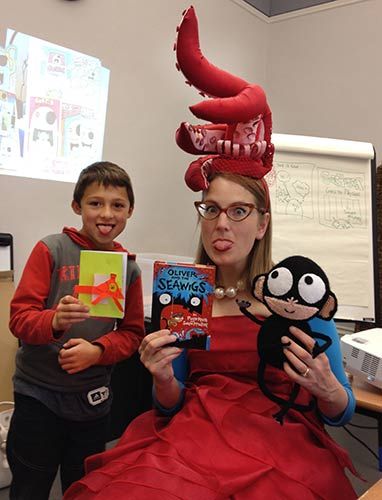 We also talked about book design, and making our books jump off the shelf. Check out these bright front covers!






It's quite a big thing to ask people to come up with a whole book on the spot, so we did some character development, using my Superhamster from my SUPERKID book with Aliens Love Underpants writer Claire Freedman, as a jumping-off point. Then I led them in a 20-minute Comics Jam, to give them ideas for their story. (They created the first panel, then everyone passed their comic to the next person, who'd pick up the story and continue it for another panel, and so on. Like Consequences.)




After we'd finished and passed back our papers, I asked everyone if they liked the way their story had turned out. Surprisingly, most of them did. I do this in schools sometimes, and very often people will get quite heated up about the way other people finished their stories. Which makes them immediately want to go and do it DIFFERENTLY. Which is the whole point, really! Sometimes it's easier to work from something you don't like, rather than work from a blank piece of paper. But sometimes working with other people can give you great ideas you might never had thought of.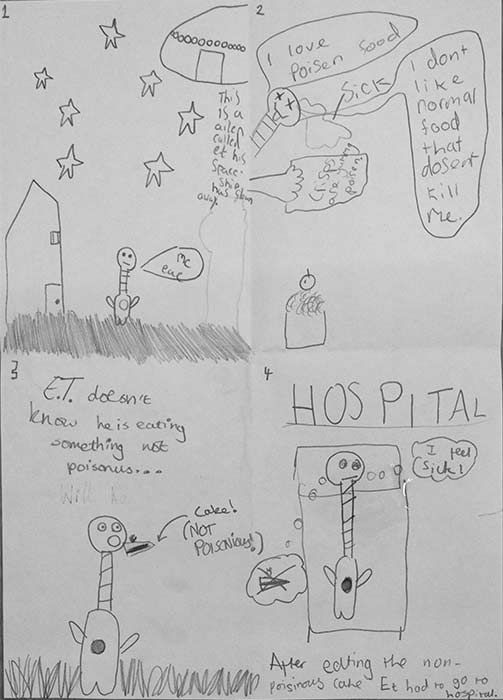 I hope some of the participants will go away and try more Comics Jams with their friends and family, it's a fun game.




Ha ha, I'm always giving myself hiccups, I like this: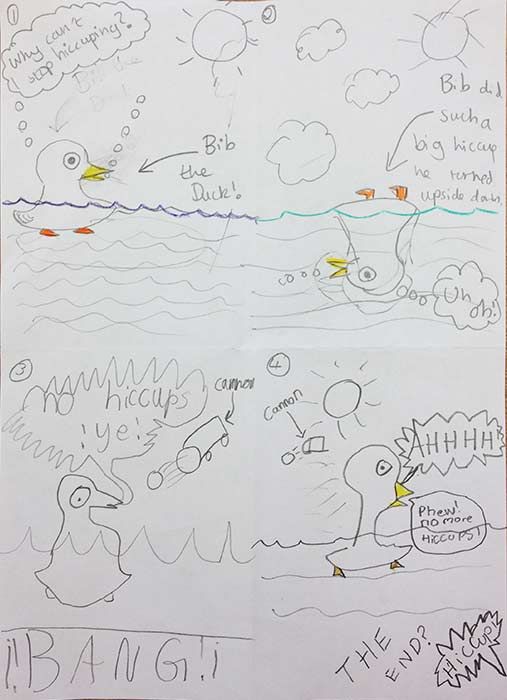 After the workshop, the OUP team and I went over to the Waterstone's bookshop tent (@WaterstonesFest), where we had a craft table and made paper Seawigs with kids and their families there. Don't they look fab? If you like, you can download a free Seawig to print out over on my website. I think adults would like them, too, for fancy dress parties; you could get quite elaborate with them.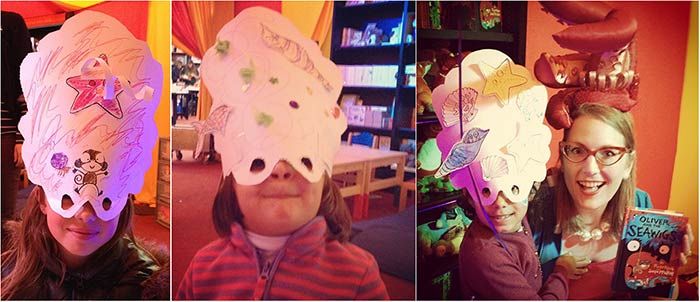 Here's our publicist Charlotte Morris (@charlieinabook on Twitter) and one of OUP's editors, Helen Bray (@Hellzapop, who helped us for the day. Thanks, Charlie and Helen!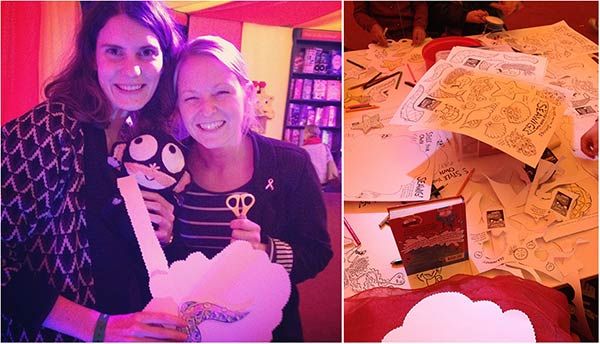 Oh, and let's not forget the Sea Monkey drawings! Philip and I led children in a rousing Sea Monkey drawing session during our big stage event, then had the newly formed Sea Monkey army help us sing the Eep Song.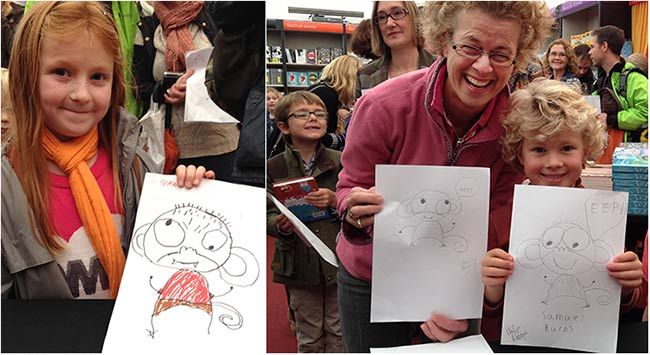 And a few more snaps from the Green Room! Here's actor and animal welfare activist, Virginia McKenna, who set up the Born Free Foundation. She did an event with writer Lauren St John, who had a pet giraffe as a kid and has zillions of fascinating true stories from her life up her sleeve.




And look, it's writer Jonathan Mayhew! Just for my friends Philip and Candy Gourlay, who groan that I always do the exact same 'Smiley Thing' face, this is, um, a different Smiley Thing. Yes.




Huge thanks to Jane, Charlie, Helen from OUP, my publicists Penelope Beech, Corinne Gotch and David Sanger at Scholastic who liaised with them, and all the festival workers who made the festival such a wonderful experience. Ah yes, one last snatched photo, having a well-earned drink with Penelope and Horrible Histories' Martin Brown before heading to the railway station.