Books are My Bag
conveyance.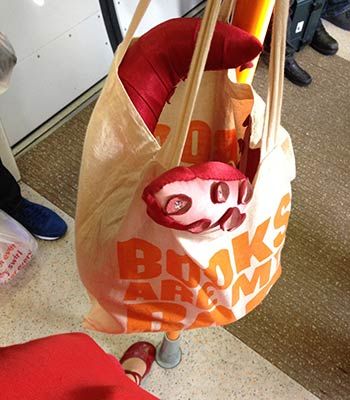 But I haven't been taking much time to do my morning sketches, and I really hope to get back into them. So here's one I did this morning:
If you're stuck for an idea of something to draw today, try making up a character and show them read out a passage from one of your favourite books. (This passage is from
GOBLINS by Philip Reeve
.)
So Monday evening, I did NOT talk to monsters (except for the squid), but with some very friendly, well-read children who have completed the
Summer Reading Challenge
through
Sutton Libraries
, in Surrey. Here's the
Creepy House
poster
Chris Riddell
designed for this summer's challenge, and I was able to tell the kids and their families that
next summer, I'll be the one doing the art
. (Exciting!)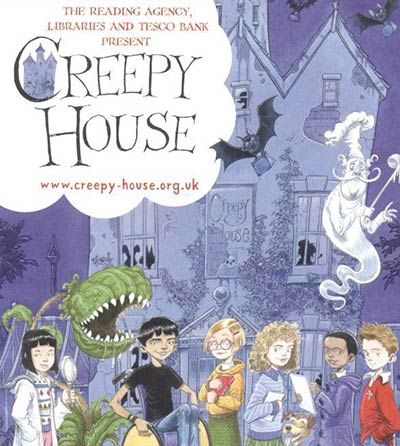 Look at them, aren't they a great bunch?
And of course, the squid couldn't just stay on my head. Here are some of the awards ceremony presentation team: councillor
Jill Whitehead
with squid, Sutton's head of libraries
Angela Fletcher
, libraries coordinator
Rachel Levy
. And then we managed to wrangle the squid onto
Lord Graham Tope
's head. (The House of Lords really needs more squids.) Sutton's children's librarian was there, too, and I must hunt down her name, as she's a real library hero.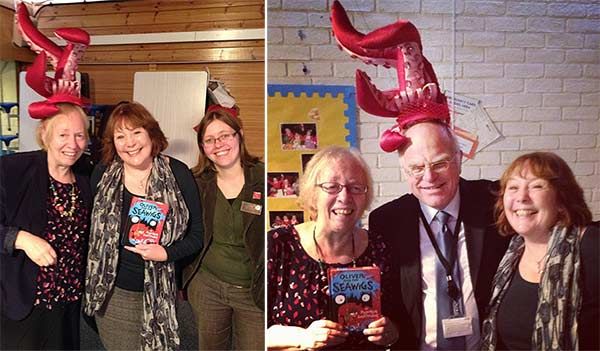 A big thanks for inviting me, Rachel, and congratulations to all the young readers who completed the challenge!
I've been doing quite a lot of travel these past few weeks. The squid has been protesting its mode of transport, although it should feel HONOURED to ride in a super-stylish