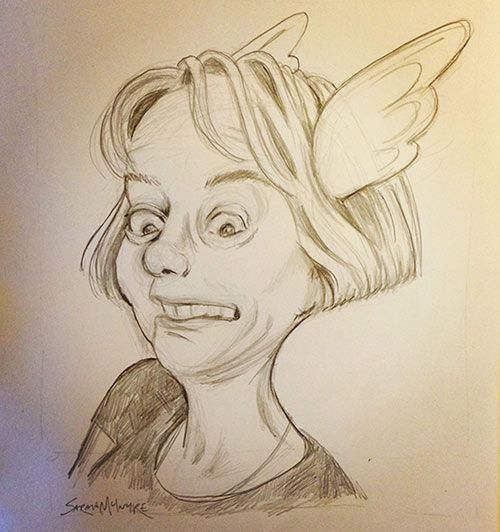 Hey, do you want me to draw a portrait of your family? I don't normally take commissions, but for the Tots 100 competition, you can win a drawing of your family. (Not a pencil drawing like the one above, more of a pen and ink drawing, like in
Oliver and the Seawigs
.)

The rules are very simple: Paint, draw or collage your own Seawig with your kids (using my
free downloadable online template
, if you like), then blog about it and post it on Twitter or Instagram with the hash tag
#Tots100Seawigs
, or e-mail it to their address. Be sure to check the
Tots 100 website here
for more details.
Other news: My fab studio mate
Gary Northfield
has just set up
an online shop
and is selling some of his original artwork.
And
Page 45
comic shop in Nottingham
reviews our Tiny Pencil colouring box set
(scroll down). I think this box set is actually more for adults and teenagers than kids (it has two tiny sweary words in it) but it's incredibly lush.
Today's morning sketch. I don't normally work from photos, but this one was so expressive.