Elissa Elwick
has just blogged about WHAT IT'S LIKE working in the same space as
Gary Northfield
and me.
It must be quite traumatising, actually. You can see photos of her desk set up
over on her blog
.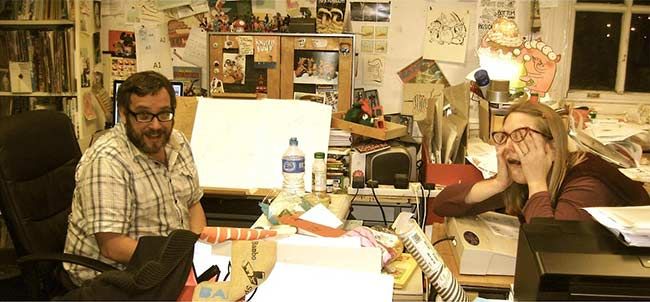 And look at this lovely new Sea Monkey! Knitted specially by amazing writer Gillian Cross. (There's a free pattern
on my website if you'd like to make one
!) Gillian just happened to be the chair of the CWIG committee when I joined it (yes, there IS a CWIG-Seawig connection). Gillian was very strict about keeping to the minutes and such, so at first I was a little bit scared of her! But I got to know her more, she's wonderful.
And I'm really excited to read her new brand-new book,
After Tomorrow
, about our society, where all the banks have collapsed, and the main characters' only hope of escape is through the Channel Tunnel. Gritty dystopian stuff, you can find out more about it on
Gilian's website
and over at
Bookbuzz
.
Our new studio mate,