Yesterday I was terribly unwell and closeted myself away - just like this - in my eight-poster bed, with potions, hankies and smelling salts. And a good book, which cheered me to no end.




That good book: have you read Chris Riddell's latest work, Goth Girl? It's lushly packaged. Look at these gorgeous black and foil endpapers. In my illness-addled state, I read this book and watched some Lady Gaga videos and something struck me: Goth Girl and Gaga's new Artpop album are trying to do almost exactly the same thing!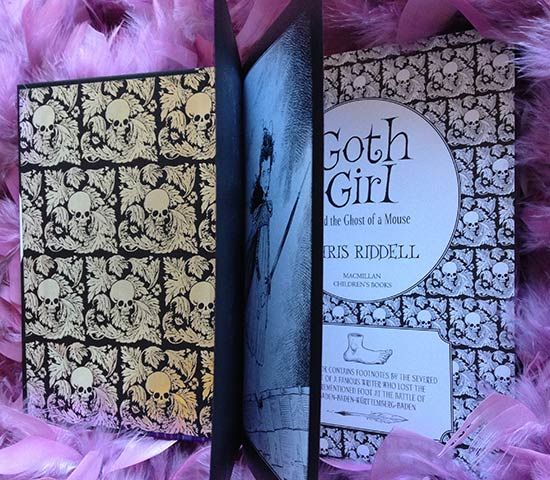 Gaga's new Applause video revels in wild, slightly arch, costume, and creates a mishmash of over 40 pieces of iconic artwork. She's trying to entertain, make people think a little bit and want to look stuff up. She wants to come across as very clever while being a bit tongue-in-cheek, and make some decent money while she's at it. Even the look of her, she's thin and spidery and pale. Now go through that list again, apply it to Goth Girl, and everything stands.




First, the costumes. Chris has such a great eye for details of clothing, pattern and how the outfits looks overall, in silhouette. Goth Girl, Ada, has a new themed outfit laid out for her every day by a lady's maid named Marylebone, who's so shy that the most she's ever seen or heard from her is a low growl emitting from the wardrobe. Here's Ada in her Wednesday clothes.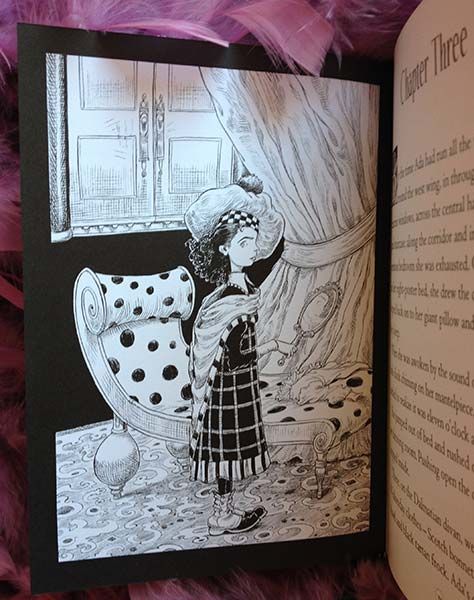 And the art references, Chris takes the reader on a mad romp through endless literary, cultural and art references, sometimes just redrawing things in a slightly funnier style, and sometimes turning them into a hardcore joke or jibe at someone. This probably falls into the first category, but I loved this fresco. Is it Leda chasing the swan?




I love the way he revels in references to some of my favourite childhood reads, taking them one step further. Here's a detail of his map to the Goth estate, with The Secret Garden and The Even-More-Secret Garden. As a kid visiting Britain for the first time, I was also very taken with the idea of silly rich people building follies, and, what would you know, there's The Sensible Folly.




I struggle with drawing masses of trees and plants all together, and here's Chris, showing off like mad, ha ha. This is The Back-of-Beyond Garden and just the sort of thing I would love to explore. Chris is a master of spidery lines, and I think he's really in his element when he works in black and white, because it gives him a chance to set off the thin lines with heavy areas of cross-hatching and solid areas of darkness, which give the shapes and figures added weight and oomph.




I always loved the exploration in The Secret Garden classic, both in the garden, but also when it's a rainy day and Mary Lennox decides to see if any of the rooms in the house have been left unlocked. Here's my treasured paperback that my dad bought and read for me. Whenever I see a different cover, I always think, Nah, not quite right, because this one's so ingrained in me.




Often as a child, if I had to sit somewhere, being terribly bored, I'd pretend I was Mary, exploring even more rooms of the house. Which is exactly what our Goth Girl, Ada, does; her house and grounds are so big that she hasn't even seen them all yet. But her father doesn't particularly want to see her (shades of The Secret Garden again) and believes children's should be heard and not seen. So he insists that she clump around everywhere in big heavy boots, so he can hear her coming and slip away.




Chris assembles a very funny cast of visitors to the house, based on people mostly deceased (but not all!). Even if a child didn't understand but a few of the references, I think they'd love the book's drama, pageantry and fascinating setting. But I think adults and savvy teenagers will enjoy it even more, which makes me a bit melancholy to think of this book being stuck only in the children's book section, and missed by a large segment of Chris's adult fans. (Don't miss it, adults.) Chris has been drawing cartoons or ages, and he writes like a cartoonist. You can see him taking an ordinary gothic thing - such as a four-poster bed - and thinking, let's ramp it up by making it an eight-poster bed. This makes it a very good lesson in comedy writing.

Goth Girl is lots of books within a book, both with its references and an actual smaller book within the book; the voice of a ghost mouse ('Call me Ishmael'), who struggles to be noticed throughout. We can all relate to that. Well done, Chris! A cracking good read.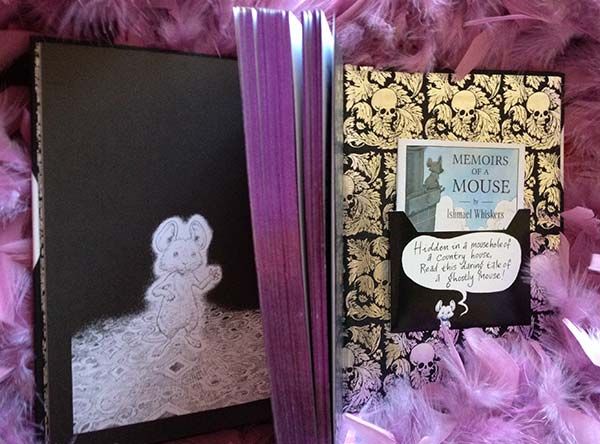 You can find out more about Goth Girl over on its website here, and there's even a little video!



Oo, and here's how he draws Ishmael the Mouse with his Pentel brush pen and Pilot V5 pen:



Follow Chris, who's fairly recently joined Twitter, as @colinthealien. You can also read an earlier blog post I did, about visiting Chris's studio and looking at his amazing sketchbooks.

Hint: For Christmas, why not give your aged-7+ kids/illustration-loving-adult friends a twin pack of Oliver and the Seawigs and Goth Girl together? They'd be a great combo! Tie the brush pen and pilot pen into the ribbon on top, and... perfect. :D