Yesterday felt like a bit of a dream. Or a film, a sort of rom-com jobbie. First, it started out with a big hat, as these things usually do. I've finished my three-year committee stint at the Society of Authors, as part of the Children's Writers & Illustrator Group. To mark my last meeting, our chair, Helena Pielichaty, decreed everyone would wear hats to the meeting. Here's my hat:




The committee's acronym, CWIG, was the word that made me think of 'Seawig', and Philip Reeve and my initial inspiration for Oliver and the Seawigs. So it felt a bit odd and wonderful to being going to my last CWIG meeting when, as the tube train doors opened at St James's Park station, there, right in front of me, was our Seawigs poster!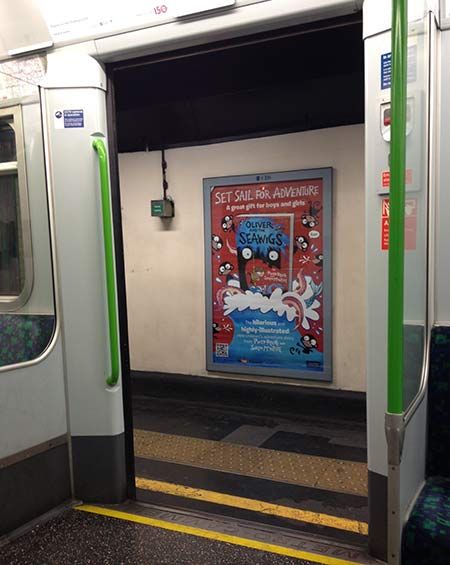 It honestly felt like a film, or like I was being set up or something. Of course, I had to get out and take photos.




And there it was again, at the next station! I almost got a bit choked up.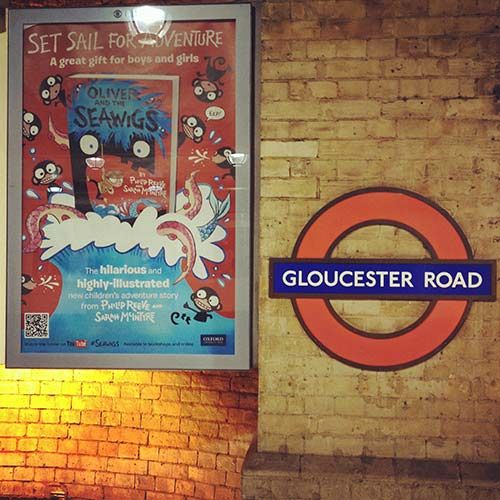 And when I arrived at the Society of Authors, there were my fellow CWIGgers, all hatted up. Yay! Here we are in the meeting room (gathered around the painting that is not Philip Ardagh, but everyone calls it 'the Philip Ardagh painting' anyway, because of the beard).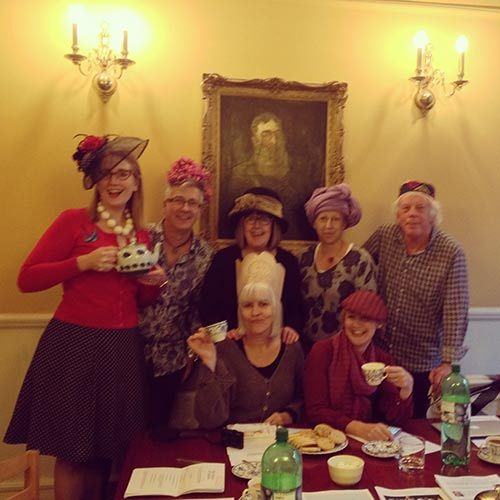 Me, John Dougherty, front row: Nicola Smee, Jo McCrum, back row: Helena Pielichaty, Nicola Morgan, Mal Peet

And I did a very careful drawing of everyone, making sure to get all the details just so. (Ha ha, maybe not.)




If you're a writer, illustrator or translator in Britain with at least one published book, you definitely, definitely should join the Society of Authors. The fee isn't that huge - £95 per year (£68 if you are under 35) - for what you get out of it: legal and contract advice, representation on pressing issues, a collective voice that the media can go to, events, networking and much more. Also, if you see an area where they need to grow, there's room to build, with new voices and fresh ideas. Right now the SoA has started setting up new Members Profile pages, partly so that when they get approached by the media for people to speak on various subjects - and they often do - they can go write to the database and find people. At yesterday's meeting, we were visited by Katherine Woodfine and Abigail Campbell, who are Malorie Blackman's Children's Laureate Booktrust support team, and they were quite excited about this database; they're always getting contacted by people who want someone in children's books, and they go straight to Malorie because they don't know who else to contact. But of course, Malorie can't do everything. So Booktrust will be glad to be able to point some of these people to the Society of Authors and their database. So writers, illustrators, translators, have a think about it. Here's my profile, which I can edit myself any time.



Click here to read the rest. And here's Helena's page and John's page

After the AGM, we got to hear a thought-provoking talk by writer and academic Catherine Butler; I'd love to read more of her articles. Huge thanks to everyone on the committee for being so welcoming and supportive when I felt like such a newbie. Especially to Jo McCrum at the SoA, who facilitates all our meetings, Helena, for being such a fabulous chairperson, and John Dougherty, for stepping up to be the new chair. You people are fabulous.