The UK grows more and more great comics festivals every year, but I'd have to say that Thought Bubble in Leeds beats them all so far.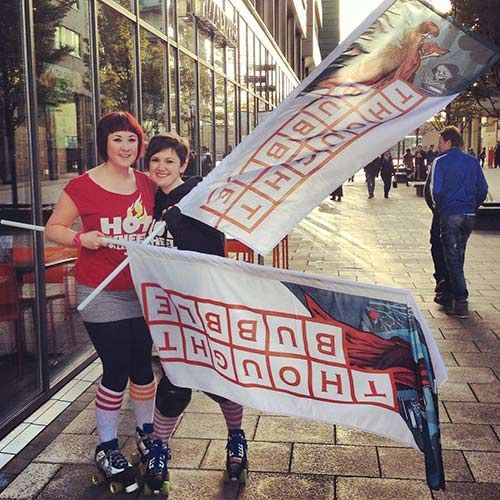 First of all, congratulations to Garen Ewing, this year's winner of the Young People's Comic Award for The Complete Rainbow Orchid! As a previous winner (for Vern and Lettuce), I got to help British Comics Awards Founder and Committee Chair Adam Cadwell. No one can doubt how much work Garen has put into his painstakingly researched three Rainbow Orchid books, combined now into one volume. Hurrah, Garen!




The cool thing about the Young People's Comic Award is that all the votes come from kids. And it was great having a big room full of them there for the ceremony at Leeds Central Library.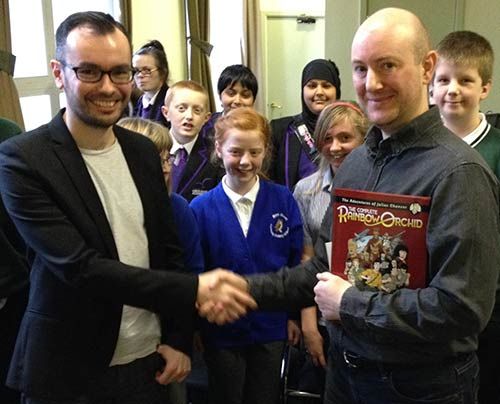 The shortlist was a strong one, including (from left): Playing Out by Jim Medway, Cindy and Biscuit by Dan White, The Sleepwalkers by Viviane Schwarz, The Complete Rainbow Orchid by Garen Ewing, and Hilda and the Bird Machine by Luke Pearson (last year's winner, who couldn't attend).




All of us gave a little talk, and it was a nice mix, particularly in the way the kids got to hear both about the complicated, slick production of some kinds of book work (particularly Garen's talk), and the low-tech possibilities if you have access to a photocopier and a stapler (as Dan made his book). Jim talked about his cat characters and anthropomorphism in comics, and Viv talked about how she's tapped into her own recurring dreams and those of her friends to come up with a stage for her characters to battle nightmares.




Viv had also prepared a hand-sewn mini comic for Thought Bubble, which I showed to the kids. Rabbit Stew is a '24-hour Comic', which is a way of forcing yourself to make a whole book in 24 hours. (In fact, Viv split her 24 hours in half, 12 and 12, but some people stay awake the whole 24 hours.) It's about a family who accidentally run over a rabbit in the car, and trauamatise their daughter. But as he parents try to turn the experience into a healing, learning experience, the parents get more traumatised than the kid. It's twisted and very funny.




One of the great things about the event was that I got to hear everyone talk and see their work, which I don't often get to do when I speak at festivals. Here's Jim Medway looking at Rabbit Stew.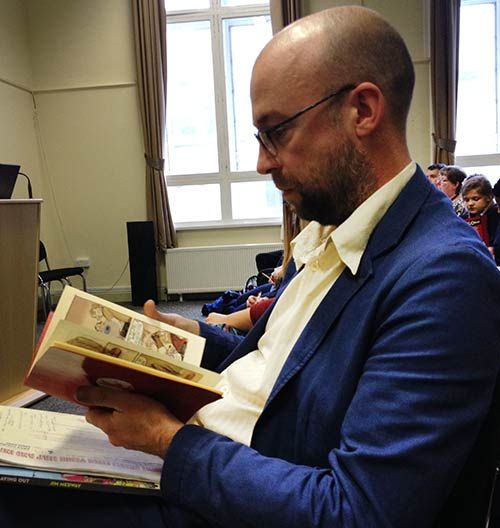 Here's the Leeds Library team who made it happen! Special thanks to Adam and Deborah Moody (on the left), who's been running this competition since it was called the Leeds Graphic Novel Award.
Edit: You can read Garen's blog post about the event here.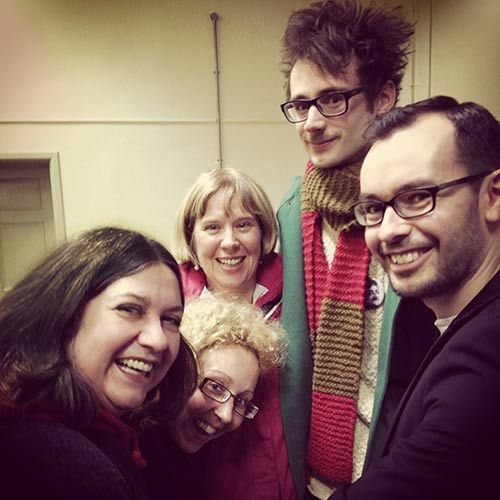 Viv and I did a bit of drawing before the event started, and this guy bagsied the picture: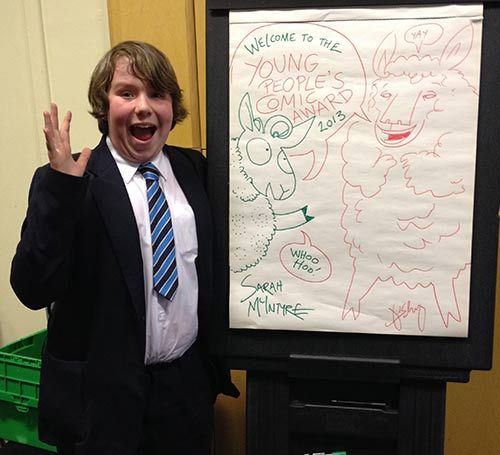 In my talk, I encouraged the kids to make their own comics and gave them several ideas about how to format them, including doing a Comics Jam. But first, I said, it helps to come up with a character. So I led them in drawing a Sea Monkey, which is surprisingly easy to draw. This girl, Beth, was thrilled to take home the drawing and also had some good questions from reading Oliver and the Seawigs.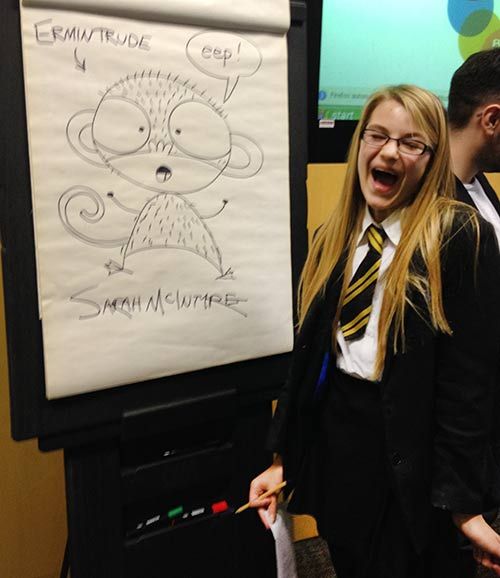 And I was thrilled that some of the kids did go away and create comics! Here's a Sea Monkey Comics Jam, tweeted to me by @AlixCoughlin.




This girl had already prepared a comic and gave it to me! I've scanned it and you can read a larger version of it here.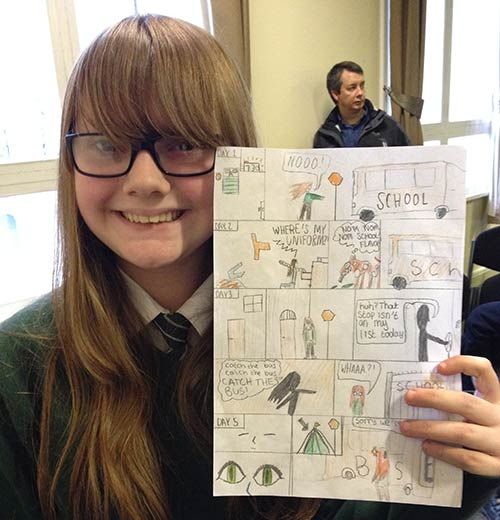 In fact, Viv and I were quite inspired by the kids, and we made our own Leeds Comic Jam that night in our hotel room. It made us laugh a lot.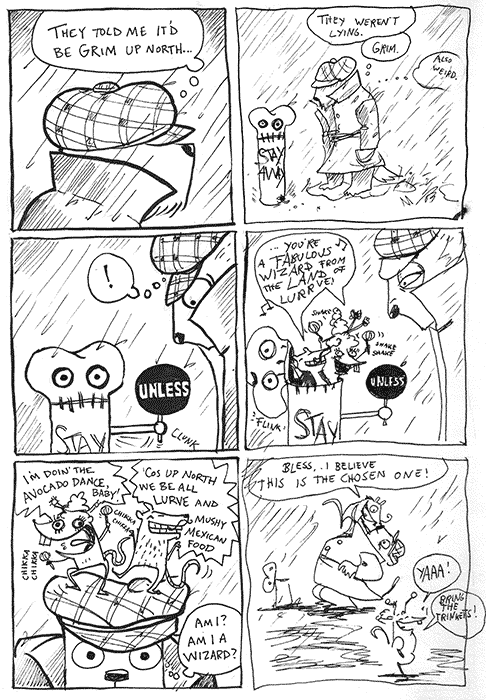 The next day, Saturday, was the big day for the rest of the British Comics Awards. Adam Cadwell said it was very British, the way everyone clapped the loudest about the logo-themed biscuits. Fellow judge Jamillah Knowles and I decided they were very tasty. (Click on her name to read her blog post about being a BCA judge.)




Here are some of the judges for the comics long list and shortlist. From left: Zainab Akhtar, presenter David Monteith, Jamillah, me, Vicky Stonebridge and Richard Bruton.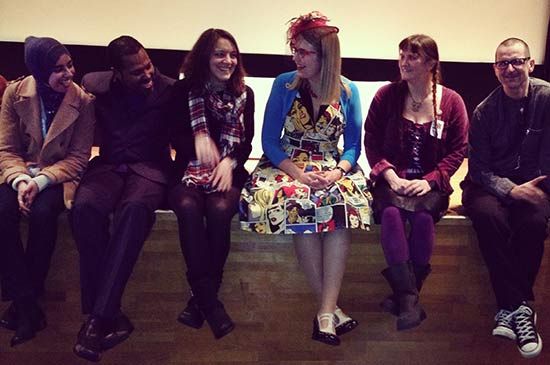 And here are our winners! Adam's holding Garen Ewing's award for The Complete Rainbow Orchid, published by Egmont. (Garen had to leave on Friday.) Glyn Dillon won Best Book for The Nao of Brown, published by Self Made Hero, Will Morris won Best Emerging Talent with The Silver Darlings, pubished by Blank Slate Books, and Robert Ball won Best Comic with Winter's Knight: Day One, self-published through Great Beast. Leo Baxendale's friend Jacky Fleming accepted his Hall of Fame award. (He's best known for his Beano strips Minnie the Minx and The Bash Street Kids.)



(Click here for a facing-front shot. Feel free to use these on your own blog, as long as you give me a little credit and link back to this post. Cheers!)

Jamillah and I were the two short-list judges who came along, and we were super-chuffed to be there.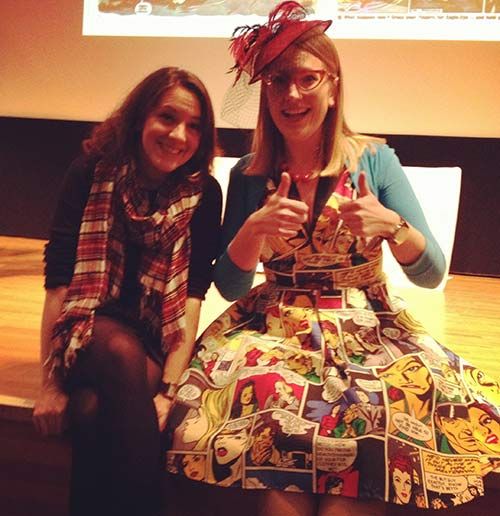 Now, onto more comics! The two other years I went to Thought Bubble, I ran several tables in the family area, but it was wonderfully freeing not having a table this year because I could run around and see everyone else's comics! And here are most of the things I bought: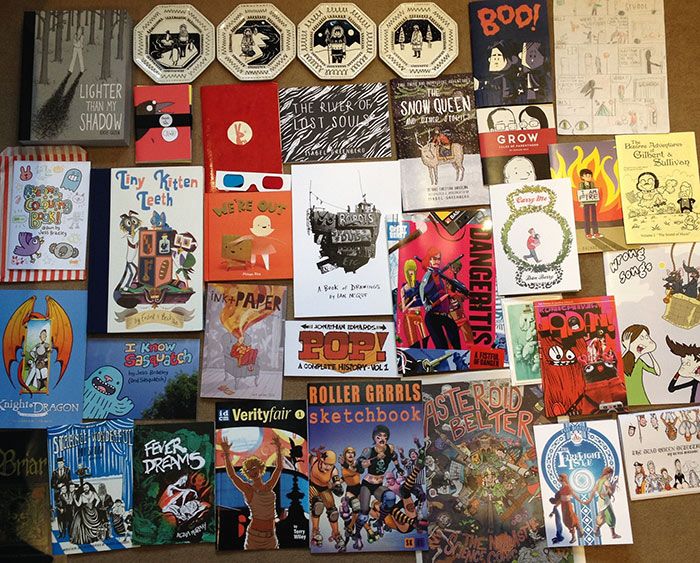 While the cosplay element ('dressing up', for non-comics people) wasn't huge, there were still lots of good costumes. This one just barely fit through the door. Respect.




And there were Roller Grrrls everywhere! Gary Erskine has been busy drawing lots of them:



Simone O'Donnell, Mhairi Stewart, Gary Erskine

I made a bee-line for the table of one of my very favourite comic creators, Philippa Rice. She always has brilliant little tableaus on her table: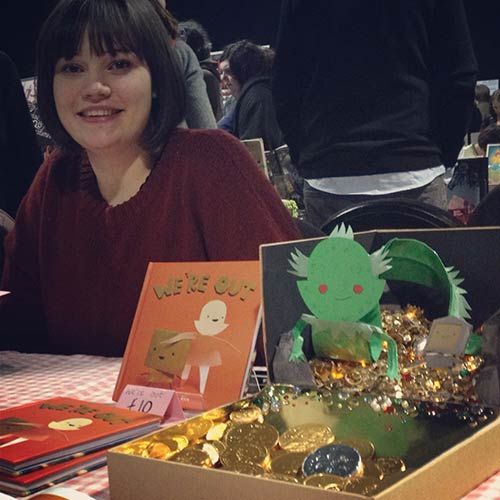 I bought her new book, We're Out and read it on the train home. Guys, this book is brilliant! It has a wonderful make-it-yourself aesthetic to it, with her use of collage and photos, but it also does some sophisticated storytelling. This one started off with an exploration of different dimensions, very similar to Edwin A. Abbott's classic Flatland (which I love).





This is so different than most of the comics you see at comics fairs. I love how Philippa brings together craft and traditional comics format to create something fresh and wonderful. This scene's so fabulous, where Pauline and Colin have broken out of their flat comic and built a hang glider:




I think every school and public library should stock this book, it's such an inspiration for making your own stories out of the bits and bobs of paper and scraps lying around you. It's warm-hearted, funny and stretches the borders of comics. And it makes a great gift, even for people who might not normally read comics. (You can buy it through Philippa's website.) Here you can see Nanny slipping back into the comic: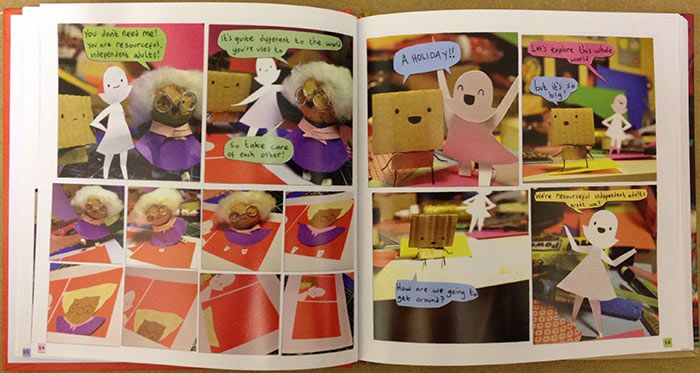 One of the things I love about Thought Bubble is that people come up with all sorts of wonderful book formats. Here's an adorable little mini-comics library box set, in the shape of a bear, made by Richy K. Chandler. He assembled the whole thing himself, which means the £12 price probably doesn't cover the amount of time he's put into writing/drawing/scanning/printing/cutting/folding/pasting/travelling, but it's a wonderful thing.




It was great to see all the examples of self-published comic newspapers printed by Newspaper Club. If you're thinking you might want to make and print your own newspaper, check out their website.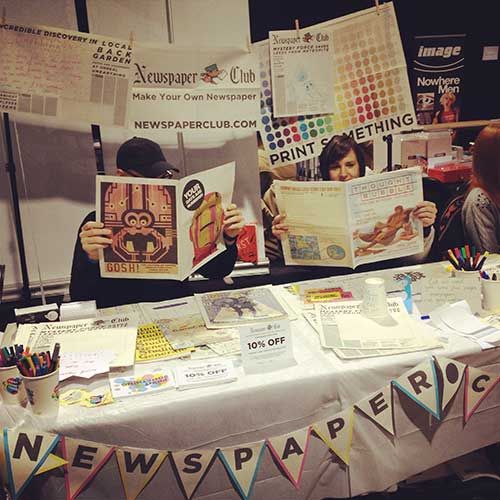 I'm always seeing Joe Decie's family in his comics, including The Accidental Salad and this year's BCA shortlisted The Listening Agent. So it was fun to see how they look in real life! His son Sam loves Oliver and the Seawigs and he made a point of giving me a picture he's drawn, and I drew him a Sea Monkey in his sketchbook.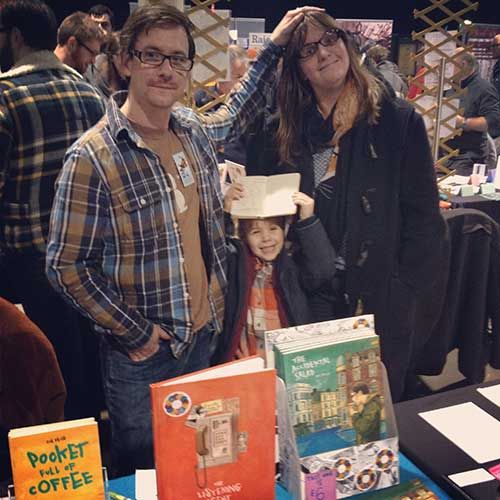 I only managed to get to one talk, although there were LOADS, and it was one on Funny Comics, chaired by Woodrow Phoenix, with Donya Todd, Jim Medway, Lizz Lunney and Joe.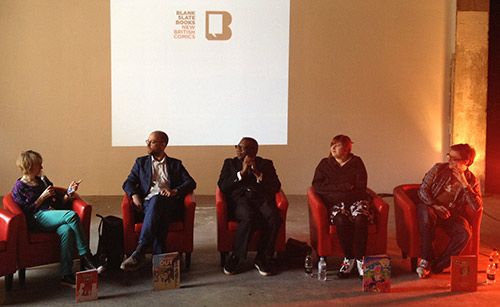 There's been a lot of talk recently about female comic artists not being included in comics festival events, or marginalised, and it was nice seeing women having a real say here.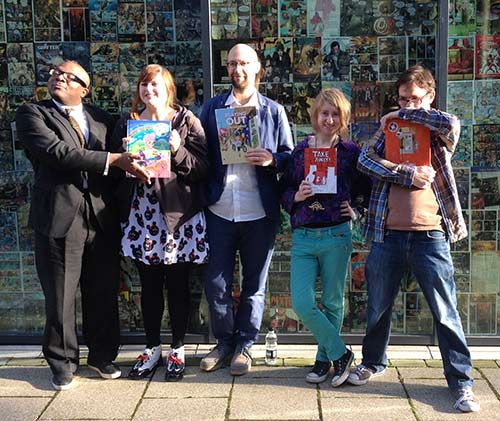 I joked on Twitter that Thought Bubble is getting so female-friendly that its female speakers get TWO microphones.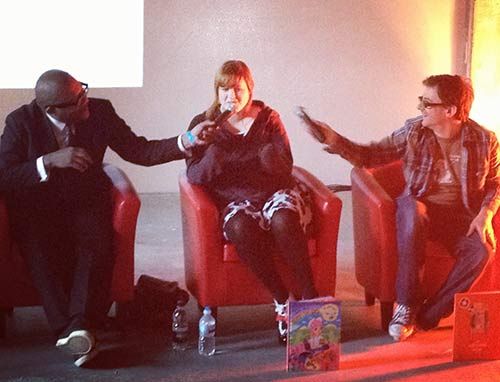 I went to the panel to support friends, but it was great to get to hear from a comics artist I'd never heard of, Donya Todd, and get a peek at her new book, Death & the Girls. Woodrow's been a big help to me in the past and she mentioned that he'd helped her redo the lettering in her book.




I wrote a short list of the top people I wanted to find at Thought Bubble, and Ian McQue was one of them. I'd only ever talked with him on Twitter, so I had no idea what he'd look like, how old he'd be, if he'd be friendly or surly, etc, and it was great getting to meet him and watch him draw in the sketchbook I bought from him, Robots & Space Dudes. Ian does lots of concept design work and is an expert in creating wonderfully atmospheric landscapes. If you haven't seen his work, be sure to browse his website.



Thanks for taking the photo, Ben Gatewood!

Ian's so good at digitally painting chunky, rusting metal hulks, or dilapidated buidings, with lovely colour palettes. But I also love his sketchbook inked line work, he has a wonderful way of building up lines on a page. You can follow him on Twitter as @ianmcque and Instagram as ianmcque. Here's a drawing from the back of the sketchbook: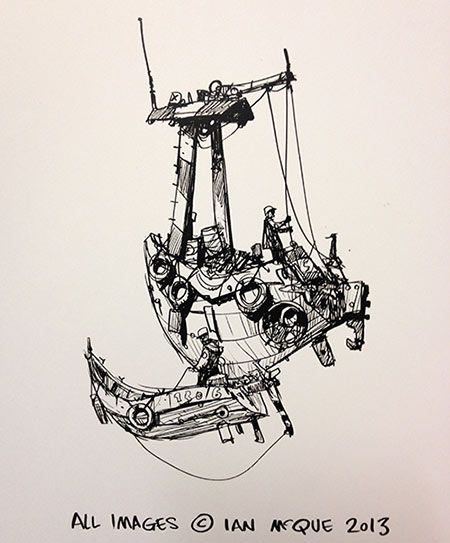 Another person who's drawing (and watercolouring) I love is Dan Berry. He had his sketchbook with original watercolour art lying out on the table and I was fascinated by the way he can draw a mess of similar-toned shrubbery and make it look beautiful. Whenever I do that, it just looks like a mess, so usually I have to vaguely hint at it with a bare outline, or turn it into a sort of textile pattern. Dan's new comic about a father and daughter, Carry Me is beautiful and haunting. Dan also runs a regular podcast called Make It Then Tell Everybody and has an amazing archive of interviews (including one with me, if you fancy a listen.)




I've just recently become a big fan of Isabel Greenberg's work (you can see my rave at length about her new Encyclopedia of Early Earth in this blog post). So I was super-excited to see her new comic, The Snow Queen and other stories, published by Great Beast (recently set up by Adam Cadwell and his friend Marc Ellerby). I love the way she uses very old-fashioned looking techniques to retell folk stories, but then puts in little changes and modern twists that made me laugh on the train. This comic is two stories - The Snow Queen and The Emperor's New Clothes - and it will be great if she adds more folk tales to the collection in future volumes.




And I couldn't miss the table run by Jonathan Edwards (Jontofski) and Louise Evans (Felt Mistress). Jonathan constantly inspires me with his drawings, and Louise amazes me by the way she turns his drawings into beautifully tailored felt creatures. Here they are with Craig Conlan (Kraigula), visiting from his table.




The problem with Thought Bubble is that there's so much there, I end up missing things, or vowing I'll come back for something and then realising, after the great rush, that I've forgotten to buy one of the main things I've come for. And I didn't manage to get lovely Darryl Cunningham's two volumes of the Uncle Bob Adventures. This photo is a bit of a cheat, because I took it when Darryl and I went to see the Paul Klee show at the Tate a few weeks ago. But Blank Slate Books aren't officially bringing out the second book until April, so I'm going to have to pester them to see if I can bag review copies. Darryl's written these books to be accessible to child readers as well as adults, and I'd be very curious to know how children respond to them.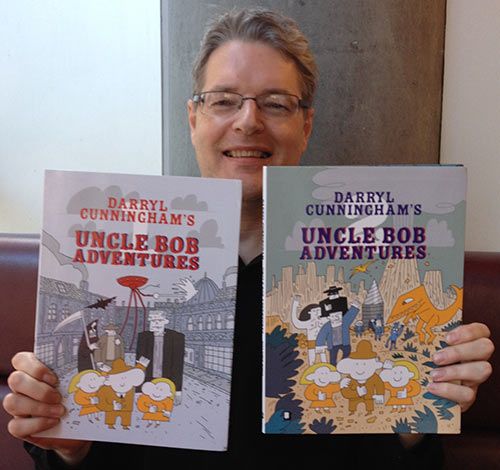 Some fab reviewers! I'd met Richard Bruton and his reviewer daughter Molly Bruton a couple years ago at Thought Bubble, but it was great to get to meet the whole family! Here's Louise, Molly and Richard with another reviewer, BCA committee member Zainab Akhtar. Richard, Molly and Zainab all write for the Forbidden Planet International Blog, and it's the blog I go to most frequently for what's happening in comics. Zainab's recently started writing for The Comics Journal.




More comics! It was great to see Frank & Becky (Frank Gibson and Beck Dreistadt), over from America. (The last time I saw them was MoCCA festival in New York.) They do loads of these comic fests and they told me that of all the ones they've been to in the world, Thought Bubble's in their top three, along with SPX and TCAF. I bought they're big new book, Tiny Kitten Teeth, which has a lovely retro look, reminiscent of the old Golden Treasury books.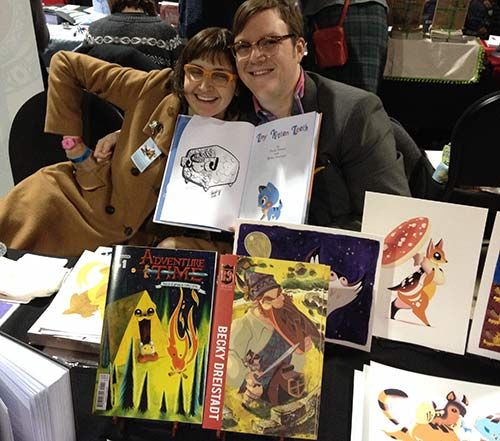 Check out this fab headgear by Swedish comic artist and costume designer Jenny Gyllblad!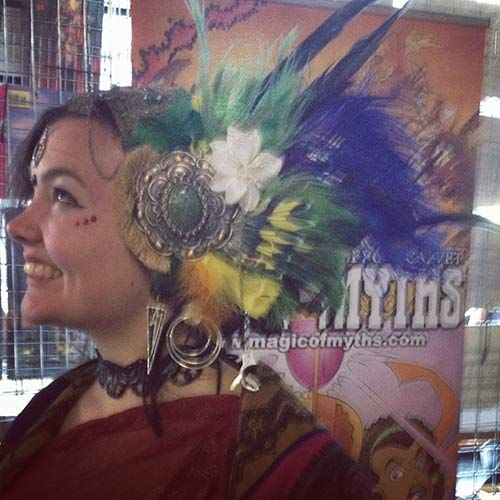 I love seeing families who all dress up. Here's a steampunk mother-son team at Katie Green's table. I bought Katie's new book, Lighter than my Shadow (which is a slightly misleading title as it was by far the heaviest thing in my luggage).




And another family who dress up! I've been seeing Steve Tanner's kid in cosplay outfits since she was practically a newborn. She always looks like she's having a whale of a time.




I bought Rachel Smith's latest comic, I Am Fire and I'm very curious to read it. Jamie Smart also got a copy and is telling everyone on Twitter to go read it.




Publisher Self Made Hero had a proper Artist Alley going on; here are Ed Hillyer (ILYA), Ian Culbard and Rob Davis, not yet flagging too badly.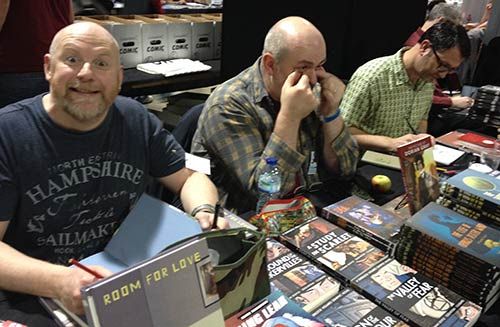 I absolutely love Rob's Don Quixote. I have it in two volumes, which are ideal for bathtub/bus reading, but he's coming out with a big beautiful hardback, combining both volumes. He's such a good storyteller and his use of line and limited colour palette astonishes me.




I have no idea what this newspaper comic, Astroid Belter, will be like. But the people at the stand said their comic artists teamed up with scientists, and it all sounds rather exciting. You can check them out at The Newcastle Science Comic. Here are Lydia Wysocki, Paul Thompson and Brittany Coxon.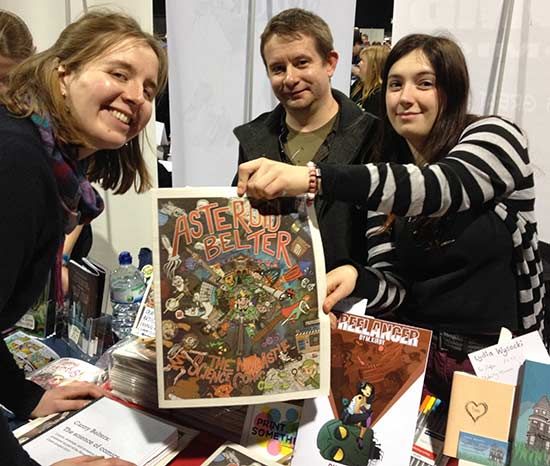 I've been running into veteren comics legend Terry Wiley for years at Caption comics festival in Oxford, and read snippets of his work, but I finally bought one of his comics and I look forward to getting stuck in.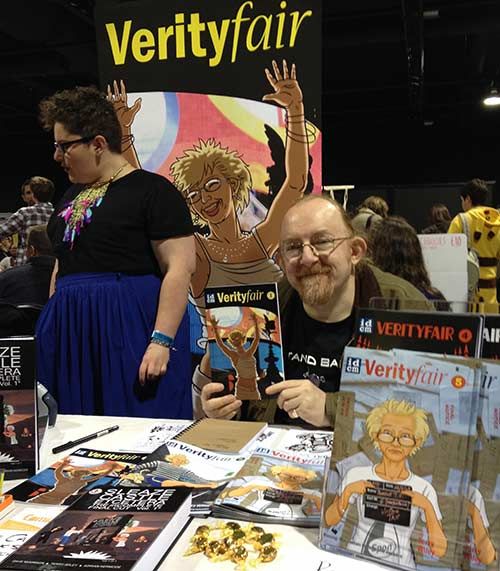 And here's Beano artist and former fellow DFC contributer Laura Howell with her partner, Tim Overton, with her new second volume of The Bizarre Adventures of Gilbert & Sullivan.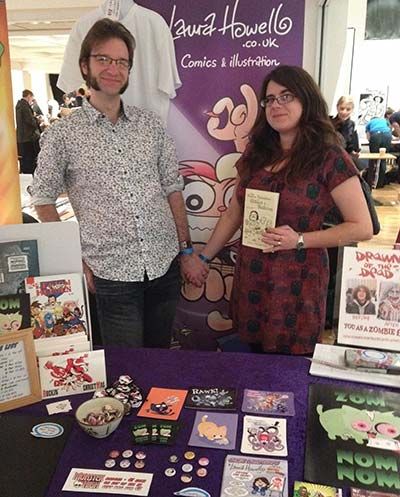 Adam Murphy and his wife had matching his and her badges! They were right across from Will Fickling at one of The Phoenix Comic tables, and I mostly know Adam's work from his weekly Corpse Talk strip in The Phoenix. But he had a new, very blue, comic out called Fever Dreams, forays into his subconscious, and he drew me a NSFW dedication drawing that had me gasping laughing.



Beardy writer Dan Cox and John Riordan (who recently won a big AOI Illustration prize):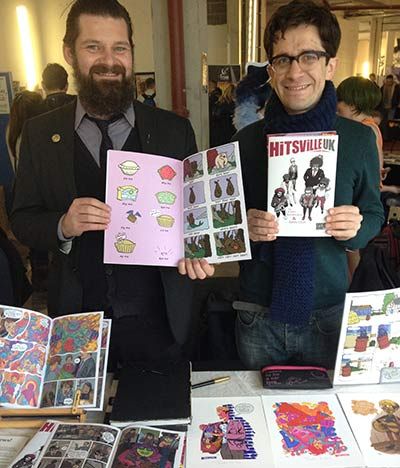 It's the excellent Paul Duffield and Kate Brown! They had a preview issue promoting Paul's upcoming comic with David Ficking Books, The Firelight Isle.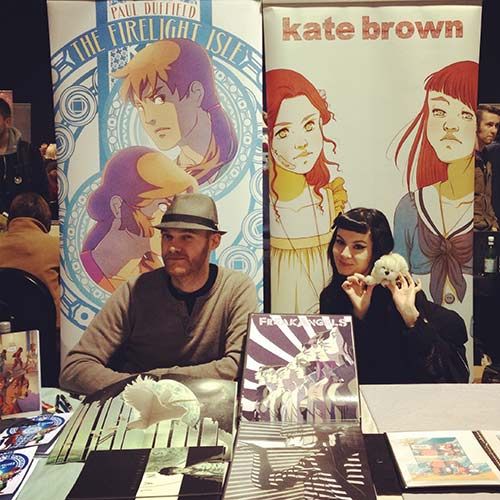 You can see a little artwork preview here:



When I'm in Leeds, I get to catch up with the writer of two of my Princess Spaghetti picture books, Gillian Rogerson.




Here's some sketchbook artwork from Mark Stafford, whose The Man Who Laughs was shortlisted for the British Comic Awards:




And here's the gang who are gearing up for next year's World Con in London! I only know Maura McHugh, but I got to meet James Bacon, and I can't quite remember the other woman's name (anyone?), but they sound like they have BIG PLANS.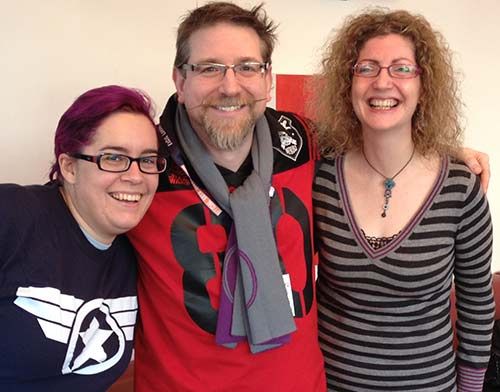 The Newspaper Club put out a tweet, asking for someone to invent an app like Shazam, that would help people identify cosplay characters. I need this app very much.




A HUGE thanks to the hardworking team who ran Thought Bubble this year! I somehow didn't manage to find Festival Director Lisa Wood (Tula Lotay), which I'm sad about, but here is Assistant Director Clark Burscough, with comic artists Biz Stringer Horne and Matt Brooker (D'Israeli).




My camera phone ran out of juice right before Saturday night's party, so I couldn't capture the beautiful interior of the Corn Exchange, with all its swirling staircases and sparkling lights. You'll have to keep an eye on the #TBF13 hash tag to see other people's photos pop up. But someone dressed as Doctor Who took this photo with his Polaroid, and Viv found it in her pocket in the wee hours. I'm pretty sure we were having fun.