Look, it's a felted Iris the mermaid! Isn't she the cutest thing ever?!




It was created by Alison Mutton of Alene Illustration in Australia, and you can see more photos over on her blog here! I'm totally smitted, she got Iris JUST RIGHT: her chubbiness, her hair, even her expression. And she even has a tiny Colin the crab in her hair!




So much Seawigs loveliness on the Internets! Check out these two excellent stitched Sea Monkeys by Jo Morris (@jannamar58 on Twitter). (You can download the free pattern from my website if you like.)




Calling everyone near Cambridge: the fabulous Emma Vieceli is starring in the Cambridge Operatic Society's performance of South Pacific! Its running for three more nights (tonight, Fri and Sat), don't miss it! Emma has an amazing voice, besides being brilliant at drawing. Book your theatre tickets here!




And now, asking for help from book bloggers: my lovely Yorkshire friend Darry Cunningham has written lots of thought-provoking comic books about science, medicine and mental health. His book Psychiatric Tales has touched, and helped inform, a lot of people who struggle with mental illness or have friends or relatives who do.




Psychiatric Tales is great for adults and teenagers, but for the first time, Darryl and Blank Slate Books have come out with comic books that are also suitable for children, The Uncle Bob Adventures. But since Blank Slate's a small (but high-quality) indie publisher, and Darryl hasn't done children's books before, he doesn't have the contacts to submit it for reviews. If you're a book blogger, would you be interested in reviewing the books?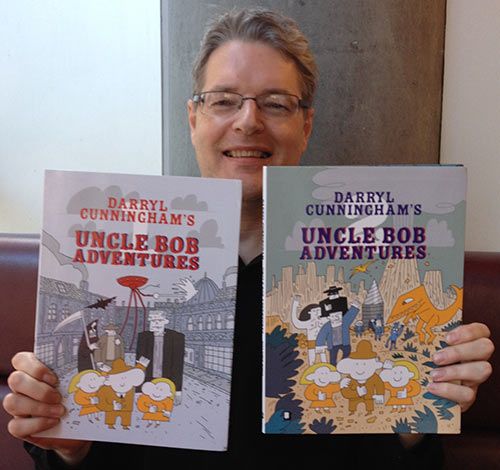 You can either contact Blank Slate directly to discuss it through their website, or email them at blankslatebooks dot co dot uk. Or get in touch with Darryl on Twitter at @AcmeDarryl or Blank Slate at @BlankSlateBooks. Blank Slate also publish our NELSON collaborative book (for grown-ups) which is, if I say so myself, rather fabulous.