First things first. Whenever the subject of Angel Delight comes up in conversation - and it does, more frequenly than you'd think - British people always widen their eyes and gasp at me: WHAT?!! You've never had Angel Delight? This is astounding! How can this be?!! And on questioning them, the word 'naff' will often come up, teamed with 'childhood memories', and very few people admitted they actually liked it. But this kept happening, and I needed to know. So when I was at the supermarket yesterday, confronted with an astounding array of Angel Delight flavours, I tweeted for help.




And these two flavours - strawberry and butterscotch - were most definitely the best rated. You'd be amazed how many people care about this.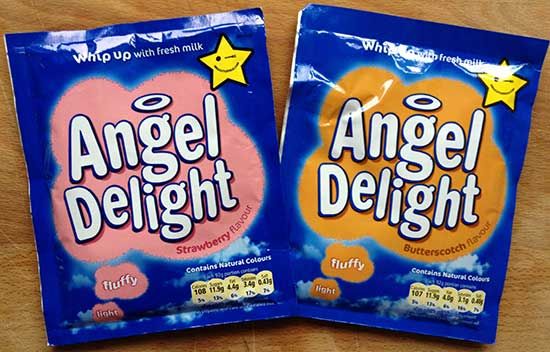 So here it started, in the name of scientific cultural research. Oops, after I started adding the milk to the powder, I realised I was supposed to add the powder to the milk. (How could I mess up a recipe this simple? Would it still turn out all right?)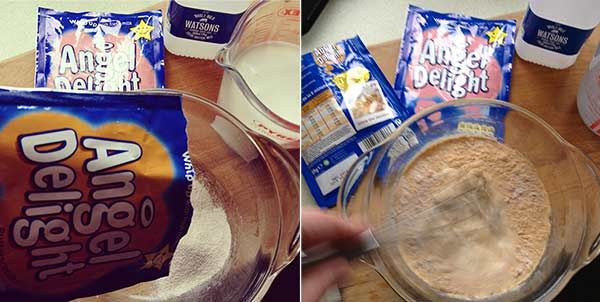 Five minutes in the fridge, then the moment of truth. And it was.... very tasty! I couldn't figure out why everyone talked it down so much after their initial flutter. I had more suggestions from people on Twitter, to chill it with custard creams, pieces of Mars bar, or even mix in a spoonful of peanut butter. (That last one was Dave O'Connell's suggestion; he was the final astonished person who finally set me off on my Angel Delight quest.)




We tried the strawberry flavour this evening, also very yummy. Stuart hadn't tried it in 30 years and was VERY skeptical, but then he liked it, and gave it a 6.5 on a scale of 10 for tastiness. So thank you, lovely Brits, for your assistance on this pressing matter!




So Christmas is really coming to south London. I saw this nice festive jumper on sale in Deptford Market, while on a coffee break from the studio. Twitter people say it's available on eBay, but come on, beat £8.99 in Deptford, people!




Other festive things, the newspaper Christmas book round-ups! Yay, here's a peek at Saturday's Guardian Review section. (Oddly, Oliver's been renamed 'Alex', but hey ho, he quite likes that name, too.)




You can read a more extensive review of Oliver and the Seawigs in The Guardian by SF Said, who also happens to have a book next to us in the list! (Phoenix, illustrated by Dave McKean). Thanks for the mentions, Michelle Pauli and SF! (You can follow them on Twitter as @michellepauli and @whatSFSaid.



And speaking of Angel Delight, the hat I wore to last night's Booksniffer Christmas party was more Turkish Delight than Angel. The Booksniffer gorgeous children's book blog and The App Puppy are run by Emma O'Donovan (@maybeswabey on Twitter) and she threw a party for fellow bloggers, illustrators and writers.




And here's the hat! I love seeing pictures of Dame Edna around London, she is my future. Neither the hat nor the feather boa had been given a chance to have an outing (other than as a backdrop for my Goth Girl review) so it was well time. I found the hat at a wonderful vintage shop with Sarah and Philip Reeve, after doing our school visit in Lyme Regis. Ah, look at me, one of the first people to dive into the bag for the prezzie swap.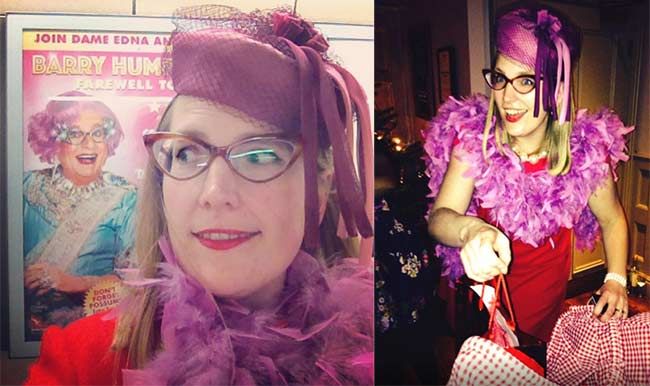 Photo on right by Sarah Yewman

And I totally scored! I got this Animation Studio activity kit, created by animator/illustrator Helen Piercy and Walker Books (Candlewick Books in the USA). I've opened it up, it looks amazing!




I got to meet Helen at the party and she said I could get easy apps for my phone to do stop-motion animation, and said I could get in touch with her to find out which one she'd recommend. (She's @HelenAnimate on Twitter if you want to get in touch with her.) Here's a video trailer:



Another person I was mega-excited to spot across the room was fab writer-illustrator Alex T. Smith! And then we both had a squee moment when Emma Chichester Clark came in with Plum, who stars in her Plumdog blog comic strips. Ah, and it took me awhile to figure it out, but then I realised that was Benji Davies in the back, writer-illustrator of The Storm Whale, SUCH a beautiful book. And one book I accidentally left out of my Christmas round-up list (how could I do this?) was Alex's Claude on the Slopes, the first time Claude's had his first hardcover book! The Claude books are gorgeous, such lively, funny illustrated tales, perfect for kids who want to read a book with a few more words than a picture book, but not commit to huge page of text. (And for adults like me, who love Alex's work.)




I hadn't seen writer-illustrator Chris Mould since I had coffee with him and Nikki Gamble at the Bologna Book Fair in 2008, so I was VERY happy to see him! (He's one of those people I feel I sort of know from the Internets, but never actually see.) And look, it's Emma Dodd! And Guy Parker-Rees in a very festive jumper! (There were a lot of festive jumpers that evening, and then it got hot and there was a big pile in the corner of festive jumpers.) I got a peek at Emma's beautiful polar bear Forever picture book, which Booksniffer has recently included on her blog here.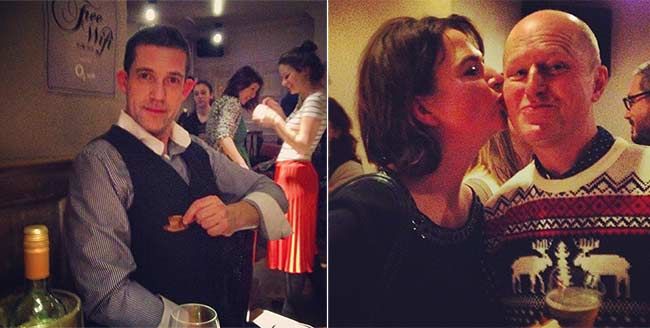 More up-and-coming illustrators, Amberin Huq, me, Grace Sanford and Chloe Douglass. And the Booksniffer Emma herself, right there in the middle with the mascot pooch! Plus Sarah Yewman on the left and Helen Boyle (my excellent tea party companion) on the right.




Huge thanks for a brilliant party, Emma! (Do go read her blog!) And I met so many amazing people that I was quite overwhelmed. And even those I found out I hadn't met, who were there (such as Paul Thurlby, I LOVE his alphabet book). Hope to meet you next time!