Going as a judge to the Roald Dahl Funny Prize was a perfect excuse to dress up like a loony. But a perfectly colour-coordinated loony!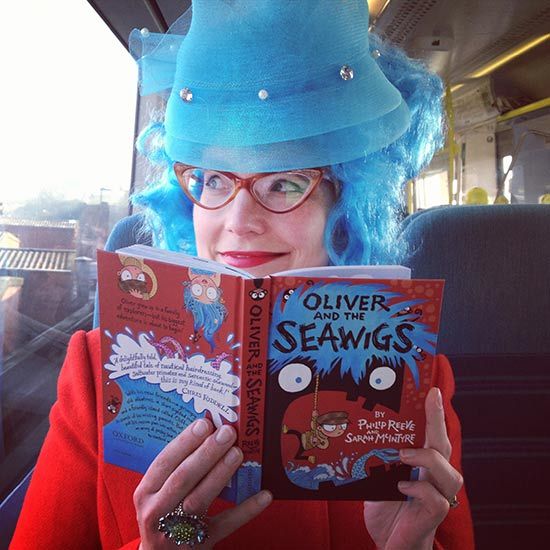 Last year, Booktrust held the ceremony at the Unicorn Theatre, but this year, we got to hold it on the amazing stage set at the Cambridge Theatre for the Matilda musical. Very appropriate! Here's former Children's Laureate Michael Rosen giving the introduction. (You can see earlier photos from our Judges' Meeting here.)




This photo's by Mike Richards and I apologise to any people sitting behind my enormous hair.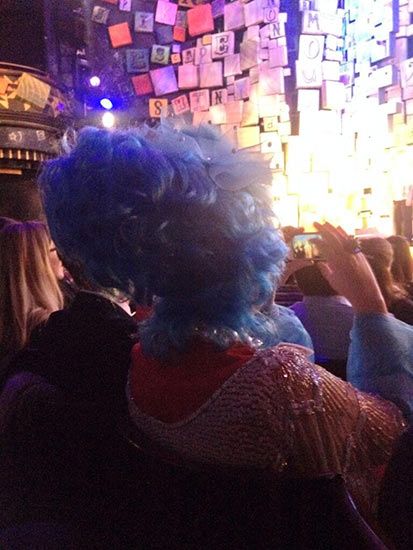 Here we go, all the shortlisted writers and illustrators! Let's see, I might need some help here identifying them all. In the chair on the left is Michael Rosen and Philip Ardagh (The Grunts All at Sea), and from left: Pete Johnson (My Parents are Out of Control, Jim Smith (I am Still Not a Loser), Mark Chambers (Noisy Bottoms), Holly Smale (Geek Girl, Simon Rickerty (Monkey Nuts, Jamie Smart (The DFC Library: Fish-Head Steve), Elys Dolan (Weasels), Lee Wildish & Charlotte Guillaine & Adam Guillaine (Spaghetti with the Yeti), in the right armchair: Sara Ogilvie & Amy Sparkes (Do Not Enter the Monster Zoo!) and on the floor from left: Mark Lowery (Pants are Everything), Axel Scheffler (The Grunts All at Sea), Leigh Hodgikinson (Troll Swap). You can find out more about all of these fine folk and their books over on the Booktrust awards page.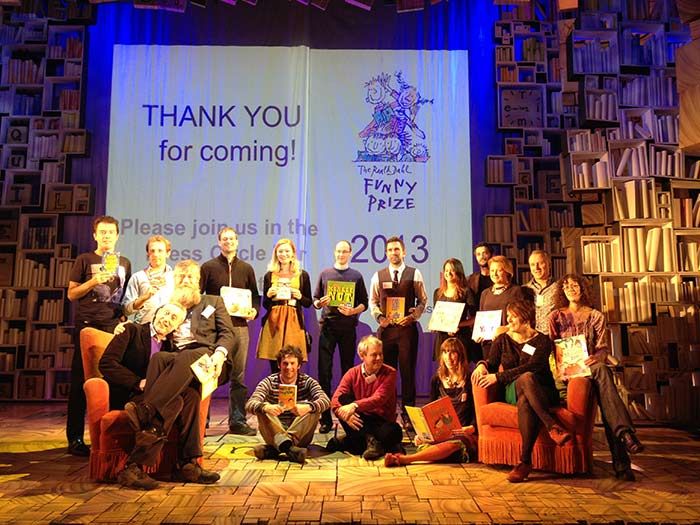 And our wonderful presenter was Melanie La Barrie, the librarian from Matilda! Melanie announced the prizes, going to Simon Rickerty for Monkey Nut and Jim Smith for I am Still Not a Loser. Congratulations, guys! Both wrote and illustrated their books, and there's a wonderful sense of unity in both books between the pictures and text; they very much work together and both rely completely on their illustrations to be funny. Simon's book features two spidery blob characters who play and fight with a peanut, has unexpected twists and ends with excellent headgear. Jim's book made me laugh out loud with its diagram of a dog's bum pushing out a 'hoverpoo' and a picture of how old people's mouths and noses look when they kiss.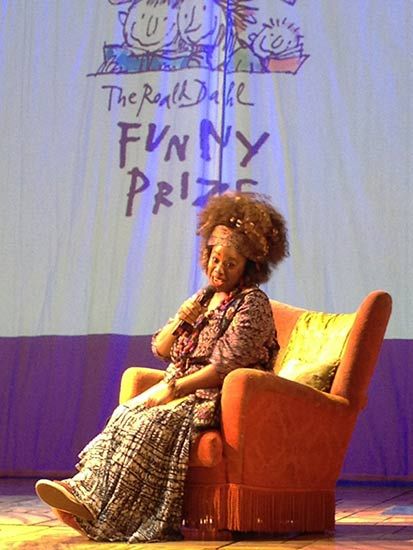 We were treated to an excellent performance of snippets from Dahl's stories by kids from Newchurch Primary School, who'd come all the way from the Isle of Wight:




I manage to nab a photo of Fish-Head Steve (I mean, Jamie Smart) after he'd been mobbed by kids with autograph books:




Here's Liz Pichon, writer-illustrator of the amazing Tom Gates books, and Holly Smale (Geek Girl), who'd brought her grandad as her plus-one guest!




And here's Leigh Hodgkinson, writer-illustrator of Troll Swap, the book I raved about in my Christmas Top 20 prezzies list.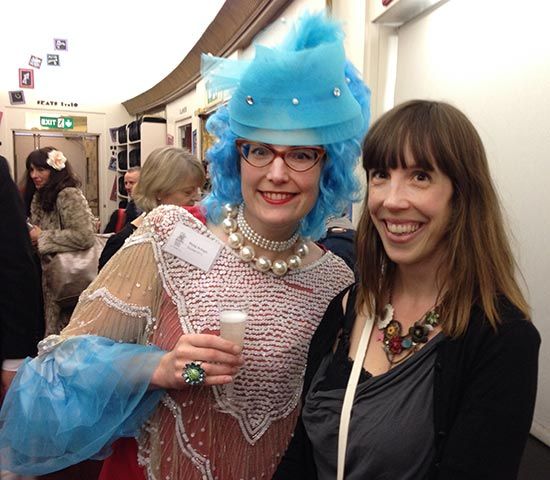 Here's fellow judge Jamie Thomson (the Dark Lord's minion) with Joe Berger, who draws the funny Berger & Wyse cartoon in The Guardian Weekend.




I had fun introducing these two fine gents as 'my men', as I'm doing books with both of them: Oliver and the Seawigs with Philip Reeve (already out) and Jampires picture book with David O'Connell, launching in October. (Dave also writes and illustrates the Monster and Chips books.) Philip's Goblins book was shortlisted for last year's Funny Prize (which you can read about here).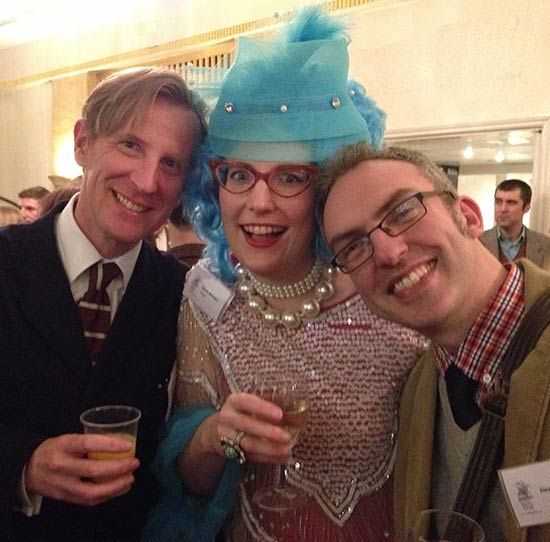 Julia Eccleshare from The Guardian, Booktrust's Viv Bird, and my Scholastic publicist Penelope Beech.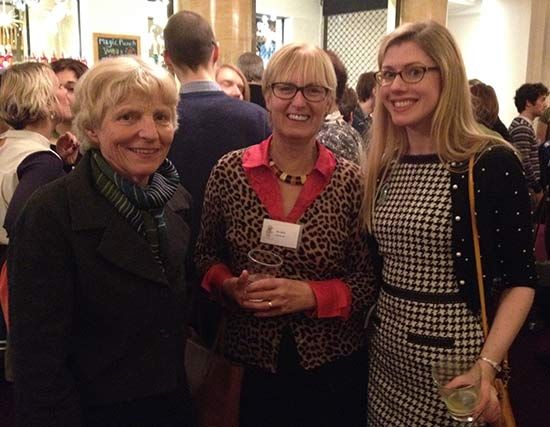 And here's fiery writer-illustrator Babette Cole, who proves it's not all about size: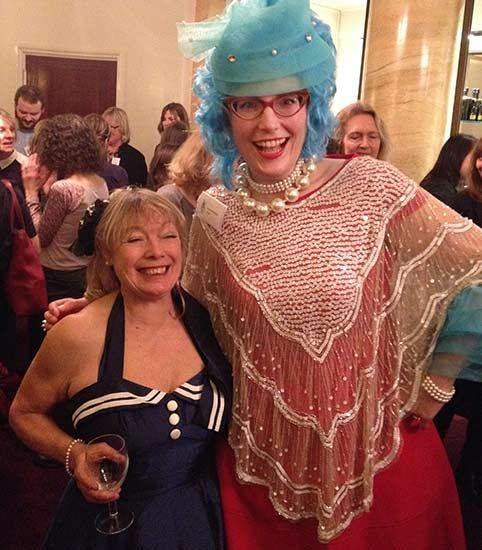 You can read about the Roald Dahl Funny Prize ceremony over on the the BBC website, The Telegraph, Reuters, The Guardian and The Bookseller.

After the ceremony, Scholastic UK took David O'Connell (my plus-one guest), Philip Reeve, Liz Pichon and a bunch more of us out for afternoon tea at the Covent Garden Hotel. Here's shortlisted Mark Lowery with his partner. (Mark's such a lovely guy; I did an event with him at last year's Hay Festival and he's very kind as well as funny.)




And here's my wonderful Scholastic designer, Rebecca Essilifie! I love working with this woman.




MORE CAKE, MCINTYRE? I'm worried this is going to become my new name. Carrots and water in January, oh yes.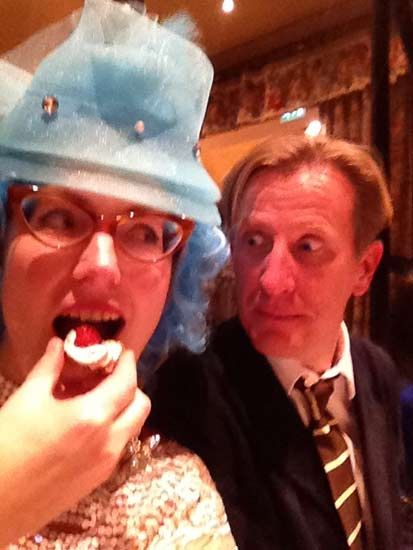 In the evening, quite a lot of us went on to the Nosy Crow Christmas party at their offices. I'm not actually published by Nosy Crow, but they don't tell me to go away when I show up at their fab parties, so I am very grateful to them. (I think I was technically Philip Reeve's plus-one; he goes way back with MD Kate Wilson from Mortal Engines Scholastic days.) Philip Ardagh decided he needed fancy headgear, too.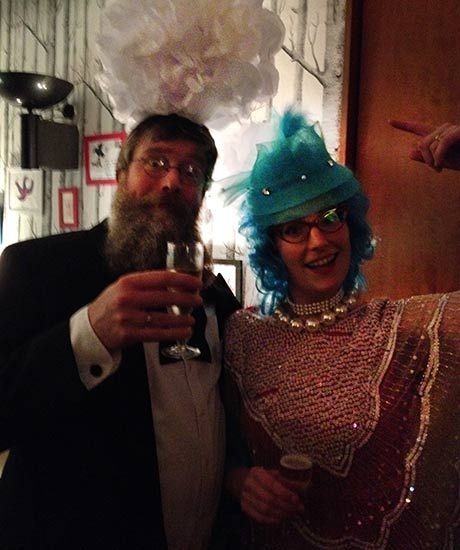 A selfie with Michael Thorn from Achuka book blog, who took some great photos that night.




Check 'em out on the Achuka blog!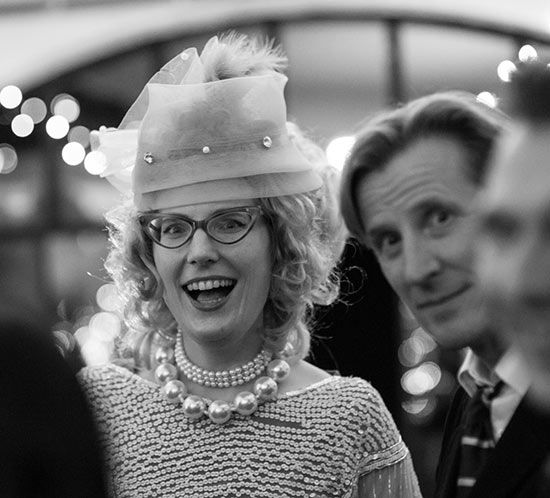 Photo by Michael Thorn on Achuka

Okay, now I'm going to be super-vain and include some of Michael's photos here, in case you haven't clicked over.


Photo by Michael Thorn on Achuka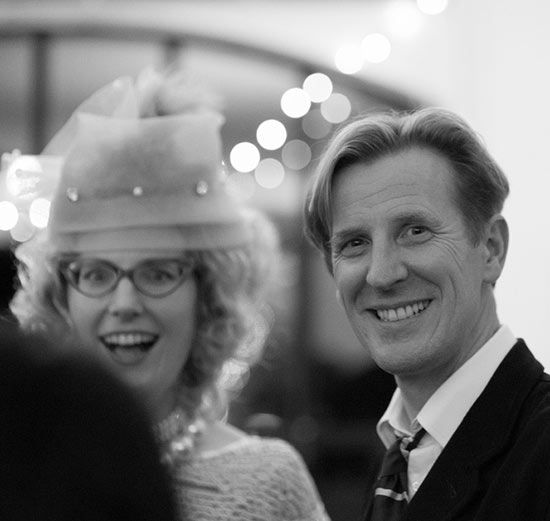 Photo by Michael Thorn on Achuka

Nosy Crow did a great job making their office look festive with white pom-poms, home-made canapés and a forest of white trees. The fairy lights made the photos look all disco-flash. Look, it's writers Lucy Coats, Andy Stanton and Francesca Simon!




And through the sparkles, you can just barely see Elys Dolan, RDFP shortlisted for her book Weasels.




Of course, the highlight of the party was watching Philip Reeve do the pom-pom dance to the Beastie Boys.




A huge thanks to Booktrust for inviting me to take part in the judging process, Michael Rosen for chairing our judges group, and to Rosi Crawley, who organised the ceremony yesterday. Also thanks to my fellow judges, Scholastic for the cake, Nosy Crow for the party.

Gosh, this has been an exciting December. My studio mate Lauren O'Farrell posted another photo of the Seawigs tube poster:




And it was exciting to see our book in two more newspaper roundups. Thanks, indie bookseller Wallingford Bookshop, The Guardian and Metro! (I've read three of the five Metro books and really want to check out the other two.)