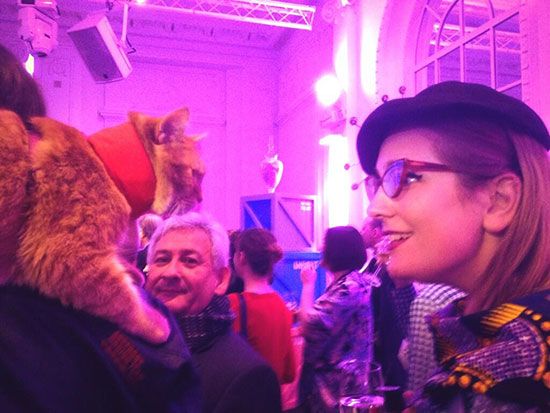 Photo via Barry O'Donovan on Twitter
What, a CAT at 8 Northumberland Avenue? Ah, but this is a famous cat, apparently! It's
Street Cat Bob
and his owner and he has about a zillion Internet friends. I was amazed by the cat's composure in such a crowded room, while MD
Philippa Dickinson
gave her speech.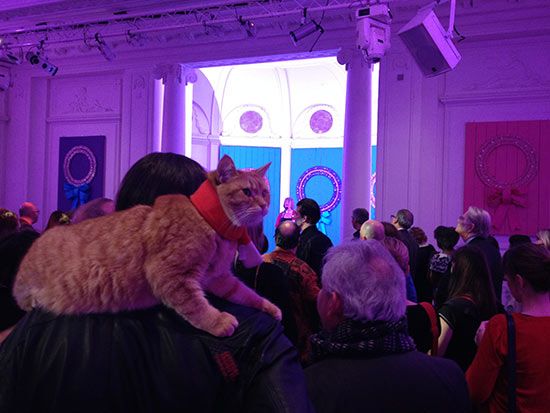 Now THIS guy writes and draws some of the best comedy in Britain. I'm a huge fan of
James Turner
's comics, including
Star Cat
in
The Phoenix Comic
and his
Super Animal Adventure Squad
book, which David Fickling and RH co-published. (I included his book in my
Top 20 Christmas Prezzie Tips
.) James is
@eruditebaboon
on Twitter, go follow him if you're not already! Oh, and giant Tunnock's, look at that. And giant McIntyre.
Look, it's legend
Shirley Hughes
! With her fab daughter
Clara Vulliamy
!
They're working on books together, here's a little peek:
And here's the editor and designer for the book I've been working on with David Fickling and David O'Connell,
Jampires
, coming out next October. It's great working with these ladies -
Alice Corrie
and
Ness Wood
- and we have another book in the works. (Here are
portraits I drew of the two of them
.)
Hey, it's
SF Said
! I've been wanting to meet this guy since he wrote such an amazing
review of Oliver and the Seawigs in The Guardian
. And he was sporting a Blue Peter Badge! He says I might get one if Philip Reeve and I win the Blue Peter Award, but he tipped me off, that I'll
still have to ask
. Good to know. I also got to talk with the illustrator for his book
Phoenix
,
Dave McKean
, (but I didn't get a photo).
Here's top writer-illustrator
Babette Cole
, looking fabulous as always, in red. Babette has recently set up
Inky Sprat
, publishing children's books for tablets.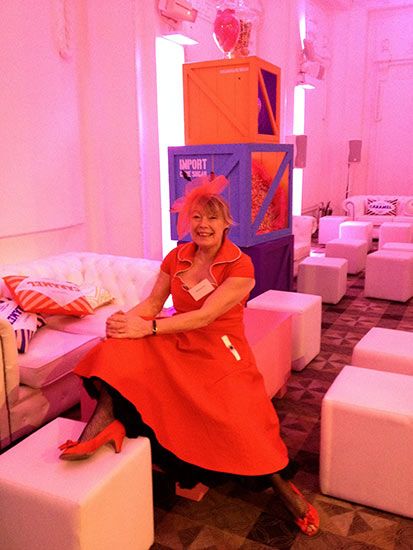 The ballroom had a yummy sweets theme, but with many of them hidden safely behind glass or chicken wire, ha ha. Here's writer
Peter F Hamilton
,
Nick Sharratt
in the middle, and
Adam Stower
on the right, up from Brighton.
Lovely Louise Yates, who won the
Roald Dahl Funny Prize in 2010
for
Dog Loves Books
. (See photos from this year's Funny Prize
here
.)
Here's writer
Joyce Dunbar
(
Polly Dunbar
's mum!) and writer-illustrator
Alexis Deacon
.
Lino-cut printmaking genius
Chris Wormell
and writer and
Girls Heart Books
blog coordinator
Jo Cotterill
.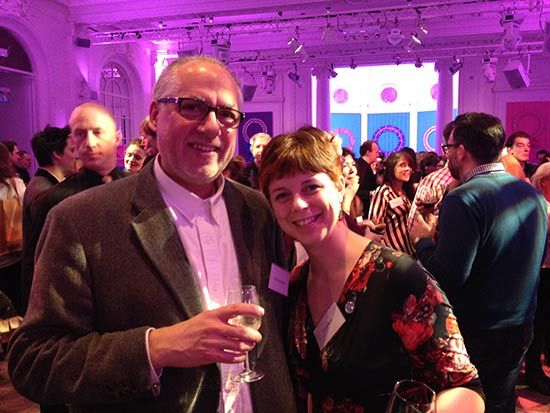 Printmaking legend
John Lawrence
, publisher at RH imprint Anderson Press
Klaus Flugge
and reviewer
Nicolette Jones
.
Fab ladies, writer-illustrator
Mini Grey
and writer
Teresa Heapy
(love that skirt!).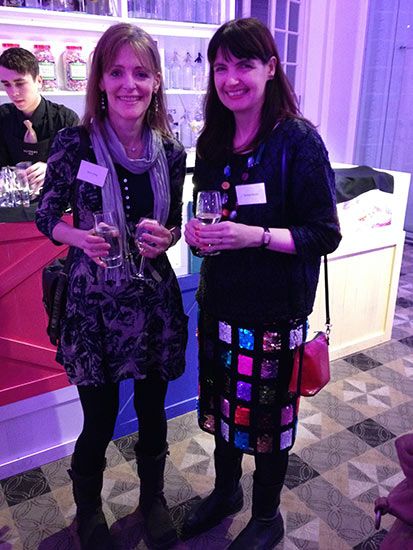 Hey, it's
John Aggs
! He's scheduled to draw the graphic novel of Malorie Blackman's
Noughts and Crosses
(as soon as he finishes the one he's working on now).
Double-trouble writers
Matt Haig
and
Anthony McGowan
: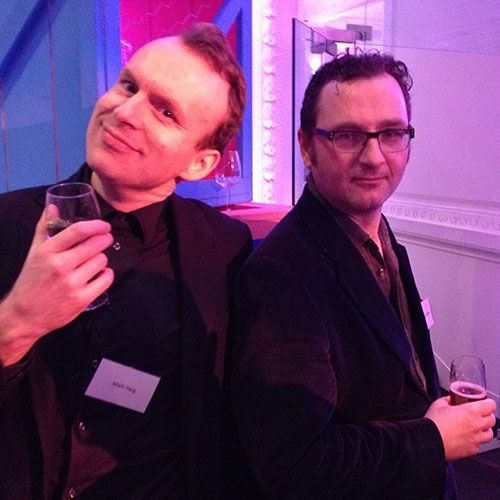 \
And back on the Tunnock's train with James and
Steve Cole
, who's getting ready to write the
Young James Bond
books.
One of my all-time favourite people, wonderful writer (and occasoinal cartoonist)
Candy Gourlay
! She's looking slightly peeved here because I insisted on standing
behind
her so she wouldn't look so tiny.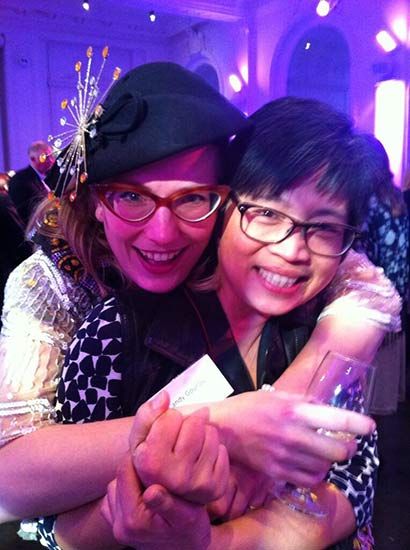 Photo via Jo Cotterill
One more with Babette...!
Photo via Babette Cole
So that's it! Sadly, I think this might be my last Random House Christmas party for awhile because David Fickling has set up his own publishing house now, and my new books will be with him. (He commissioned them ages ago, and worked hard on me with them; it's only right.) And Random House only invite people who've had a book come out that year. So this year's book was the
paperback edition of Vern and Lettuce
, of which I'm very proud. (And unusually, I think I prefer the paperback version: the cover's better and it's an easier size to read on the bus.) Thank you, Random House, it's been great working with you, and a lovely party!
I think this is my last party until Christmas; my feet are sore, all the yummy canapés have expanded my waistline, and I need to go do some work now. But in the meantime, some photos. I think I preferred my big blue wig party outfit, last night's looked better in the mirror at home than it does in pictures, where it's a bit big and baggy. (Getting dressed is such a hit and miss sport, eh?) Great to catch up with some excellent book folk.