In case you missed this when we first posted it, here's the first story on which Philip Reeve and I collaborated, set in his Mortal Engines world. (I dared him to include a severed head in it, such a traditional Christmas element.) He's running Mortal Engines week over on his blog, so pop over there to read In the Bleak Midwinter.




Ha ha, here's a cartoon that Steve Lenton sent me after Tuesday's Nosy Crow party. After appearing all over the Achuka blog coverage of the party, I saw Nosy Crow quite rightly kept their own blog post carefully about their own authors, even though my turquoise froth kept photo bombing their snapshots. I do hope I wasn't too attention-seeking in my big wig. ...Okay, sorry, yes, I was. So now I have to say lots of nice things about Nosy Crow all year to make up for it, even thought they are not my publisher. Starting with their illustrator Steve Lenton. He is a lovely chap, you should follow him on Twitter (@2dScrumptious).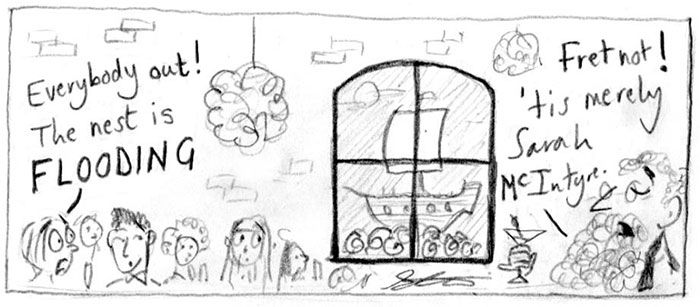 If there's any way you can get over to the Wales Millennium Centre in Cardiff between now and 5 Jan, you absolutely MUST check out their Hiber Nation exhibition of work by Felt Mistress and Jontofki. Felt Mistress sews incredible 3-D monsters from drawings by Jontofski (aka Jonathan Edwards).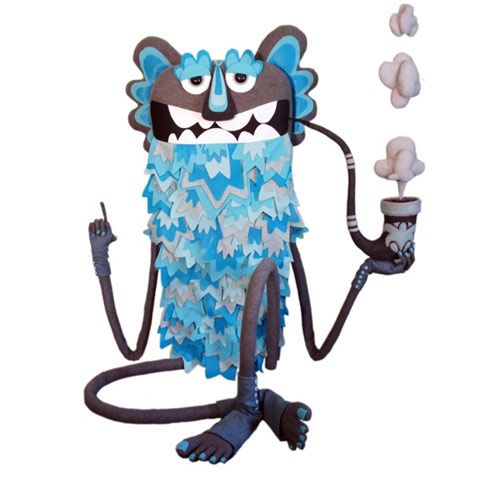 And I always get excited about the ways Jonathan experiments with patterns and shapes in his drawings. Check out this beautiful landscape! You can read more about the exhibition over on Design Week, on Inkygoodness and BBC Wales.




And very exciting, for the first time, The Bookseller has picked its top 32 Books of the Year, and included Oliver and the Seawigs! Most of the books are for adults, but I'm pleased to see some books for children and teens in there: Liz Pichon's The Brilliant World of Tom Gates, Patrick Ness's More Than This, Holly Smale's Geek Girl (Wow, is that book doing well for a debut author!) and David Walliams' Demon Dentist. One comic (a cracker of a comic, read my review!): The Encyclopedia of Early Earth by Isabel Greenberg. And one all-ages picture book, Maps by Aleksandera Mizielinska and Daniel Mizielinska.