I'm getting really into silly sea life these days.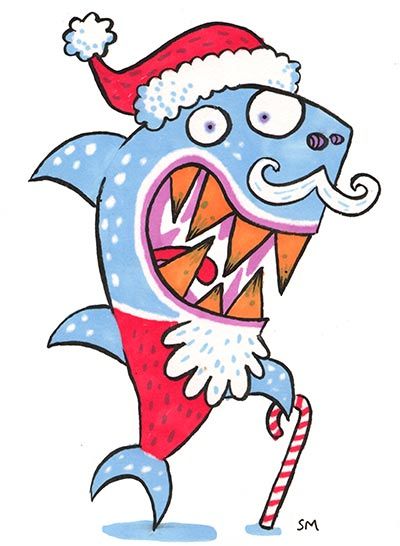 One of the tricky things about having a studio is that I leave most of my art supplies there. So when I want to draw things at home, sometimes I have to scrabble around for bit and bobs to colour things. Last weekend I cleaned out my desk and found a pack of Letraset Promarkers I didn't know I had. I think I bought them because Posy Simmonds had told me she used them to add the blue tone to her book Tamara Drew. And they work beautifully! I had fun colouring these Santa Sharks.




There's a Shark in the Bath doesn't come out with Scholastic UK until 2 January. (...But I hope all the shops are putting in their orders now!) In the meantime, I've made up some Santa Sea Monkey gift tags, which you can download as part of the Seawigs Perfect Prezzie Pack. (They're free, and you can use them for prezzies other than my book, that's okay.)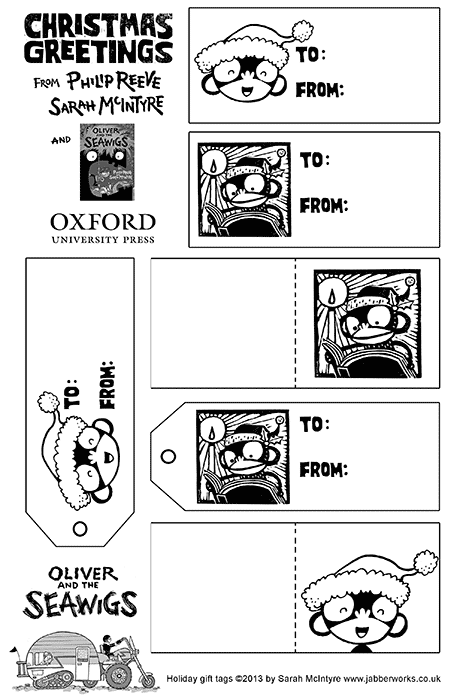 If you still haven't seen the interior pages of Oliver and the Seawigs, Jonas Anderson has tweeted a Vine video with a little peek:



Last week Philip Reeve announced Mortal Engines Week, and posted a fragment of the fourth book in the Fever Crumb quartet, the Mortal Engines prequels. You can head over to his blog and read it here! And don't miss some of the other posts, there's some fascinating Mortal Engines inspired artwork there.