It's time for a story!!! Are you sitting comfortably?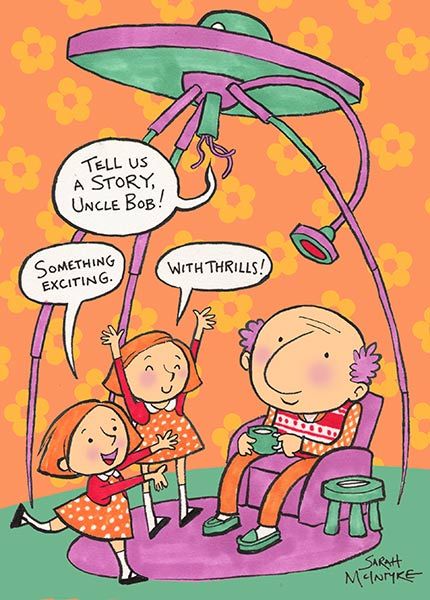 Then let Darry Cunningham begin. Actually, it's Uncle Bob, Darryl's wonderful elderly gent who just happened to be on-site when so many famous stories were playing out. These stories include a particularly Uncle-Bob take on War of the Worlds, Frankenstein, Tarzan, King Kong, Journey to the Centre of the Earth and Dracula among others. Here's Darryl with the two volumes of Uncle Bob Adventures, short stories in comics format, beautifully published by Blank Slate (who also published our NELSON anthology).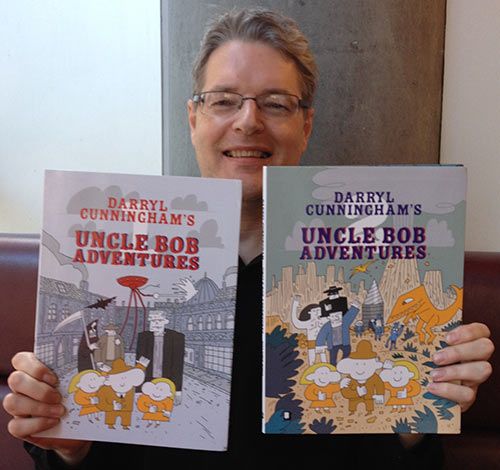 Volume One of the Uncle Bob Adventures is already out, and you can buy Volume Two this spring. Darryl's mostly known for his controversial science and politics comics (gosh, does he get FEEDBACK!) and his insightful comics about mental health issues, including Psychiatric Tales (which I blogged about here). But this is his first foray into child-friendly comics, and I'm curious to see how they'll be received. (I know many adults will enjoy them.) Darryl's aesthetics are very much shaped by printmaking - woodcut and lino cut in particular - the works of L.S. Lowry and British wartime artists. His images have a spare, graphic quality, with carefully chosen, limited colour palettes.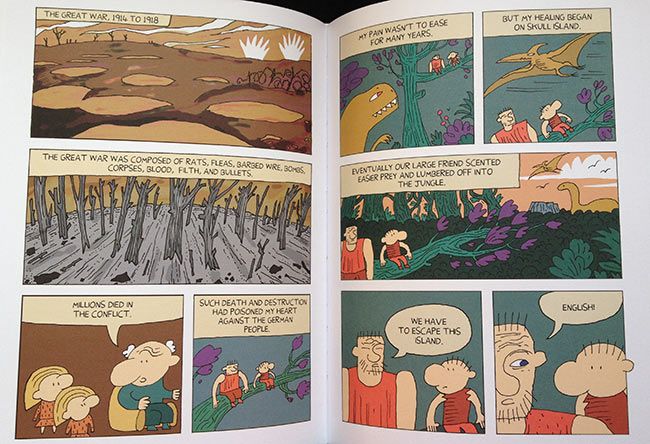 Some children may find them a bit cold, but others might be inspired by a deceptively simple style; the pictures are actually quite sophisticated, but I can still imagine a child looking at them, grabbing a pencil and thinking, I could do this. The storytelling is also very straightforward, almost deadpan at times, and easy to follow.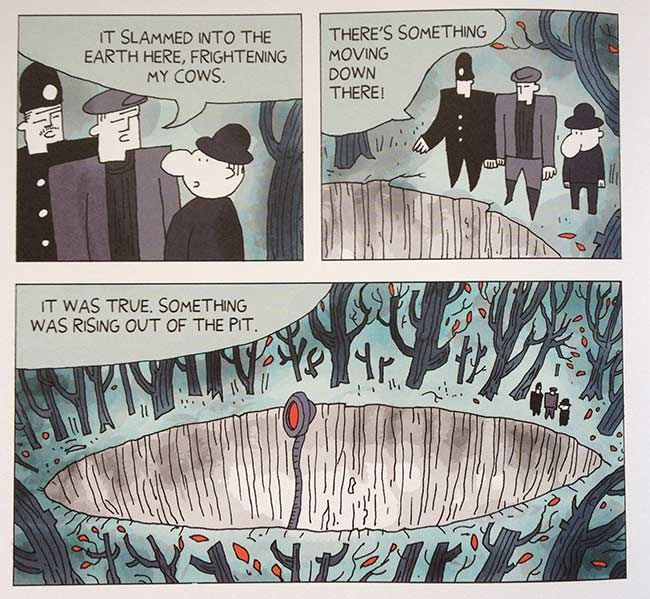 I found the animal fight scenes and Western gun battles to be a wryly amusing, simplified take on the way they're more often portrayed in comics. Some of the stories, like the Frankenstein-inspired tale, had a very raw, sad edge, while others were more jovial, such as when the Grim Reaper pays Uncle Bob a house call and Bob sends him packing. Adventure, laughs and the occasional scare.




I got my first look at the books after Darryl had come down from Yorkshire and we'd gone to see the Paul Klee exhibition at the Tate Modern. At lunch afterward, we had a good chat about drawing and comics. I was super-chuffed when Darryl said he'd gotten the idea of colouring his speech bubbles in the Uncle Bob Adventures after reading my Vern and Lettuce comics. (My speech bubbles are barely coloured there, but they're not as pure white as the page margin.) I also find Darryl's artwork inspiring, particularly the way he draws rows of houses in townscapes. The scenes have a lovely flat quality, not entirely bound to rules of Western perspective, with a distinctive northern feel to them. He also has a way of writing that, as I mentioned, is terribly deadpan, but belies an underlying warmth and has a way of laughing out of the side of its mouth. Sometimes it's very funny, sometimes I'm not sure it's funny, and often those not-sure moments are the funniest.




Please do leave a comment if you've read The Uncle Bob Adventures; I'd be curious to hear what you think! You can read a review over on the Forbidden Planet International blog.

And, of course, Darryl understands one of the greatest life truths: how wonderful Sarahs are, yes yes.