Last night I was feeling a bit tired, and cheered myself up by drawing myself with a big woolly mammoth.




I found the inspiration for this earlier in the day at Foyles bookshop on the Southbank, where I found this lovely copy of How to Wash a Woolly Mammoth by illustrator Kate Hindley and writer Michelle Robinson. Kate draws a beautiful mammoth, and the story isn't completely unlike There's a Shark in the Bath; both feature bathtime chaos and silly bubble hairdos. I think kids who love sharks (and there are lots of them!) will go for mine, and anyone who loves a big furry playmate and a cuddle will love Kate and Michelle's book. (Oh, go on, it's bath party time; buy them both.) I love mammoths, I had to get this book.




I love Kate's work, I think she's set to be one of our top picture book illustrators. She manages to combine elegant, sophisticated line work and colour palettes with a warm cosiness and fun sense of play that so few illustrators ever achieve. (And she's repped by the same agent as me! Party pics here...)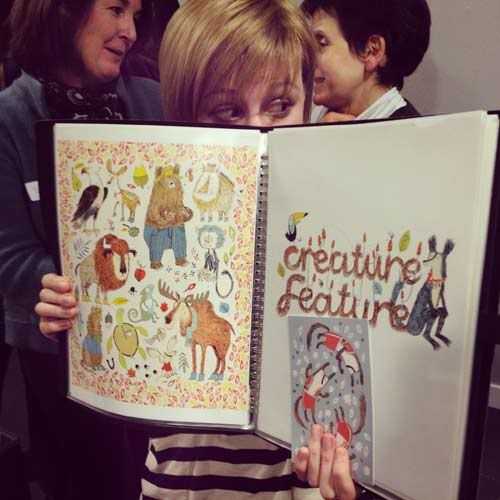 My other pachyderm adventure was yesterday, to the National Theatre, to see The Elephantom. I work upstairs from theatre designer Sam Wyer (@Woodenfingers on Twitter, studio photos here) and he's been putting in loads of time getting ready for this production. I stopped into the studio to say hi, found out the play is on RIGHT NOW, and managed to get the last tickets for the next morning. And I'm glad I did!





I'd never been in The Shed venue at the National before (the red wooden extension on the front), and it was larger inside than I'd been expecting. I thought it was some sort of rough workshop space, but it's a beautifully equipped theatre. Here are Sam's sets (and one of the team in the corner, about to tell me off for taking this photo from my seat in the upstairs gallery; no photos!).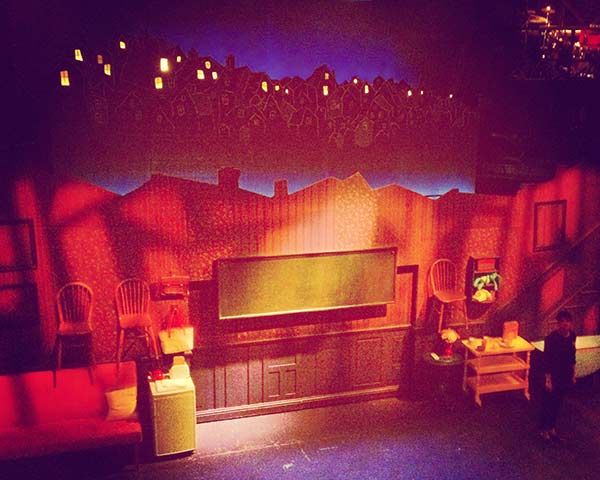 The programme costs £1, but you get this great make-your-own Elephantom puppet inside, a nice touch! I had two girls of about six years old sitting next to me, and they gave a running commentary all the way through. And because of the nature of the performance, I absolutely loved it - they really added to the show - because they were paying absolute attention, and I could hear exactly what was going through their minds about the play at every moment, and what sort of questions the play made them come up with. It was brilliant.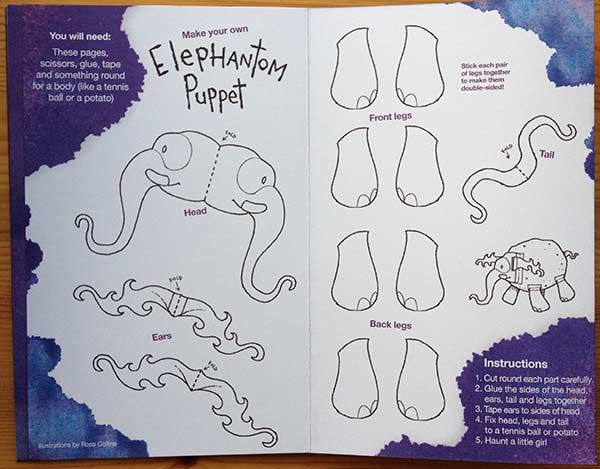 The play's based on Ross Collins' picture book of the same name. When I first got into illustrating, I was really into his work, and I studied his illustrations very carefully. He's great at simplifying complicated objects, such as a pair of trainers or, as you can see here, an old television. The way he plays a bit with perspective reminds me of the work of Satoshi Kitamura, Mini Grey and David Roberts. But I think for the elephant ghosts, the play actually enhances them, they're even better than in the book. Huge, inflatable puppets that hover, bob, breathe and fart noisily, they're fantastic. We get to meet the main Elephantom when the little girl goes to bed, and her sheets puff up to alarming levels, until they can't contain the phantom any longer and he pops out, ready to play.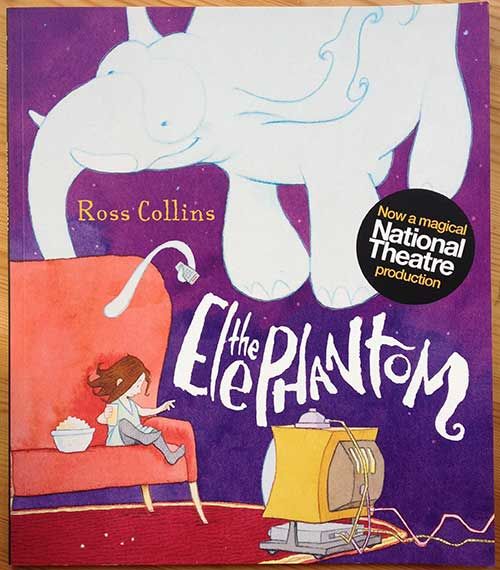 There's no actual speech in the play, it's all physical theatre, which makes for a lot of amusing moments when the girl's parents are fussing around with breakfast or trying to work out why their house is turning into a disaster zone. Elephantom is VERY playful. And the girl is getting all the blame for the mess until her more understanding granny shows up. When all the elephantoms come out to boogie, they entirely fill the stage, bumping up against whoever's lucky enough to be in the front rows. (I could see kids happily stroking their sides as they bounced and bumbled past.) The elephantom puppets were designed by the clever Toby Olié (@TobyOlie on Twitter).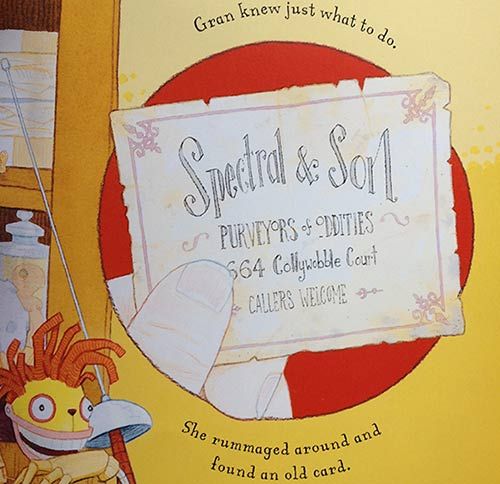 Besides the floating ghost elephants, one of my favourite scenes was with the shopkeeper at ghost removal service Spectral & Sons, who sprouts extra hands when he needs them. A simple trick, but SO funny. For the set pieces, Sam's played with back-room crates and cardboard boxes that move about, instead of stuffing a shop full of the objects you see in the book. It's an interesting choice because it leaves more to the imagination (what's in the boxes?), but also gives room for lots of on-stage movement.




I loved the understatement of the final scene, when we see the ousted Elephantom at work in another part of the neighbourhood, it's a beautiful piece of design. The actors were excellent - grownup Audrey Brisson is very convincing as the little girl - and the music and sounds by Adam Pleeth (@PleethMusic) and Alma Kelliher had the girls next to me dancing before the play had even begun. ("It's going to start in one hundred hours", one commented, not seeming terribly concerned by this.)

You can read Libby Purves's review over here on her blog, and the show runs until next Saturday, so you still have time to get down there! Booking details here.

Ah, and Elissa Elwick spotted one more pachyderm connection here...