I've been to two very crowded parties in the last two evenings: the first was the excellent United Agents' Illustrators Evening, where we wreaked havoc on the hat stands. (That's David Lucas, hunkering down behind them.)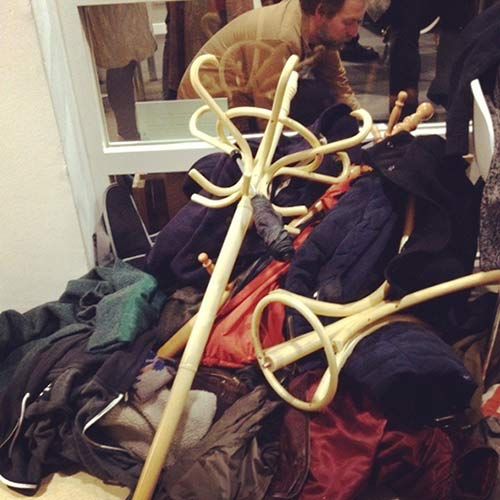 The second was the launch of a picture book by Katherina Manolessou called ZOOM ZOOM ZOOM. It's a lovely story, about a bird and a monkey who can't sleep, and travel to the moon. They're met on the moon by a four-armed alien ('who is so welcoming that you ought to read his voice in a Greek accent', said Katherina. Who happens to be Greek.) They play there, have a creative counting game, then build a rocket to travel back home to Earth and at last go to sleep in their colourful forest.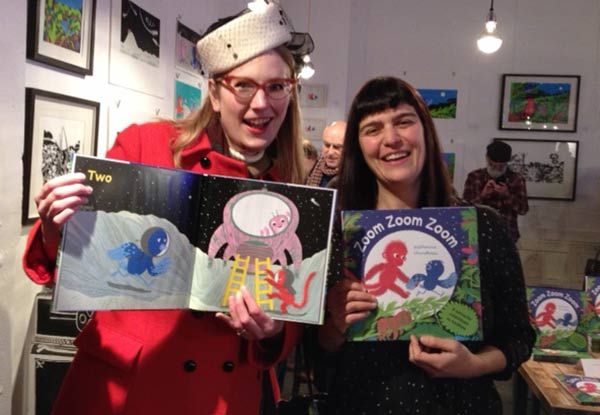 Here's publicist Catherine Alport, live tweeting the speeches. Catherine used to go on wild adventures with me when she worked at Scholastic (but then she migrated to Macmillan. (How very dare she!)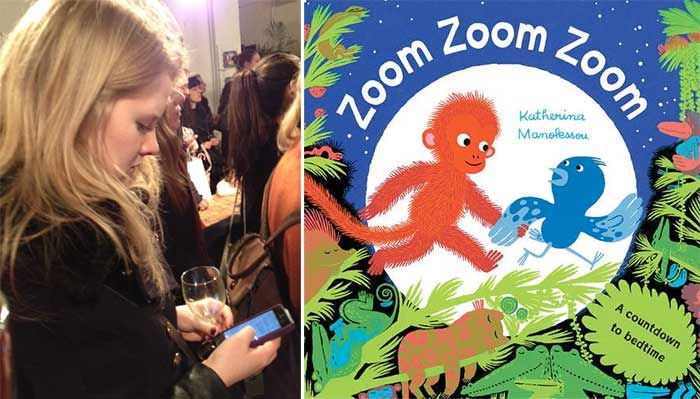 The reason I was so keen to see Katherina's book and exhibition was that she was one of the very first illustrators in Britain to inspire me. I went to the London Artist Book Fair, something like ten years ago, possibly even twelve. And I bought a copy of her screenprinted Parasites, which delighted me in the way it worked beautifully folded as a little book, but also unfolded, as a poster. And I was just starting to get my head around the idea of using limited colour palettes (instead of every colour in the rainbow), so I was very struck by her use of red and orange, without any black outline. It was only later that I got into comics and realised that making little books and selling them at fairs was something I wanted to do.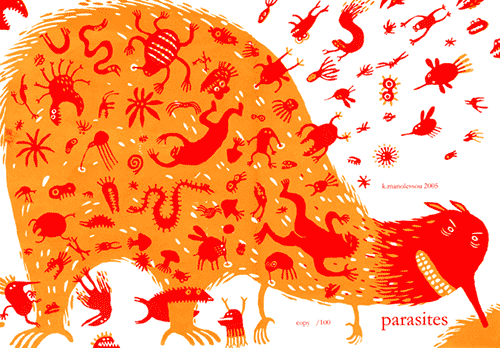 Look at the screenprint below, isn't that a wonderful, cheeky little monkey? Every once in awhile I try to do artwork without black lines, and it doesn't always work. Jon Klassen is another illustrator who resists using dark outlines. I like to keep peeking over the illustration fence at them both to stretch myself and not get too reliant on colouring in lines, instead of using shapes and colour to create my image. And it's amazing that Katherina screenprinted the whole book. Traditionally, screenprints are a way of making lots of copies of something; to make a print for a one-off image is terribly time-consuming. But this way Katherina gets lovely multiple pieces of artwork to sell after the book is finished. Although I noticed some of the limited-edition print runs are very small, four prints or so. The Zoom Zoom Zoom exhibition runs at Material gallery until 16 Feb if you want to pop along. (It's near Old Street tube station in London, just down the road from Nobrow Press, where you should also have a peek.)




Here's Katherina's course leader, Martin Salisbury, from her studies at Anglia Ruskin art college in Cambridge. Martin was one of our visiting tutors at Camberwell art college, so I know him a little bit. She also studied under Morag Styles, and mentioned both of them as being very supportive and influential to her career.




And here's my animator-illustrator-writer friend An Vrombaut (creator of 64 Zoo Lane on CBeebies) with Derek Brazell from the Association of Illustrators. I love the AOI, they helped me a lot when I was first getting started in this job.




And here are An and Martin with John O'Reilly, editor of VAROOM! magazine, the AOI's beautiful quarterly publication. Here's a copy of VAROOM, and two books by Derek on illustration, which look interesting. Becoming a Successful Illustrator has only just come out, so I said I'd give him a plug for it. I'd like to have a look at it, and I notice it has Steve Simpson artwork on the cover. (Steve's from Ireland, and he's been on the most amazing tour of Russia last week; I've been following him on Instagram. You can watch him on Russian TV here.)




Here's another one of Katherina's prints. I love the playfulness, very simple colours and her wonderful sense of pattern.




Hey, see that bearded guy in the reddish checked shirt with the camera? That's excellent photographer Michael Thorn, who runs the Achuka children's book blog. Michael's photos from the evening are way, way better than the ones I took on my iPhone, so go check out his blog post about the evening here. And do explore the Achuka blog, with its great visuals, it's one of the best children's book blogs out there. (Here are the lovely photos he took of Philip Reeve and me at the Nosy Crow party, I was so chuffed about those.) Michael's @achuka on Twitter.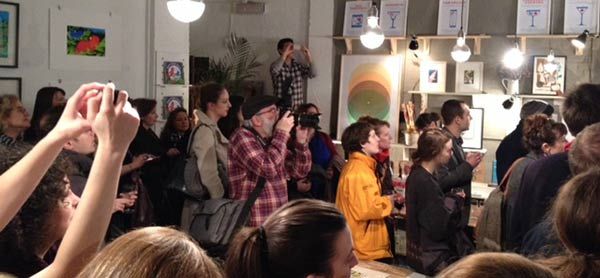 Big congratulations to Katherina, and I wish her the best of success with her book! You can follow her on Twitter as @kmanolessou.