I remembered last night when I saw Dan Berry tweet it: today - 1 Feb - is Hourly Comic Day! Lots of people all over the world (well, mostly in North America and the UK from what I've seen, but you never know) will be drawing a comic for every hour they're awake, then posting them on their blogs. Why not try it? The comics don't have to be polished, they can be as rough as you like. You can see some of what's going on under the Twitter hashtag #HourlyComicDay.




Here's the original Hourly Comic Day home page, and you can see thousands of examples in the archive. (Mine's there, in 2008, or you can read it here on my blog. I was still eating porridge then.) Check back late tonight or tomorrow morning to see if I managed to do it all day.

I was reluctant to do it today because I'm pushing a tough Monday deadline for making up the proof copy of a book that Oxford University Press is presenting at the Bologna Children's Book Fair. (The proof copy isn't the final version, but the publisher tries to get as much artwork in it as they can. This was my Oliver and the Seawigs proof copy.) So I reserve the right just to draw an object per hour if Hourly Comic Day is too distracting. Here's a peek at what I'll be working on:




It's the follow-up to Oliver and the Seawigs, with Philip Reeve, but it stars entirely new characters and is set in space. And the title will be....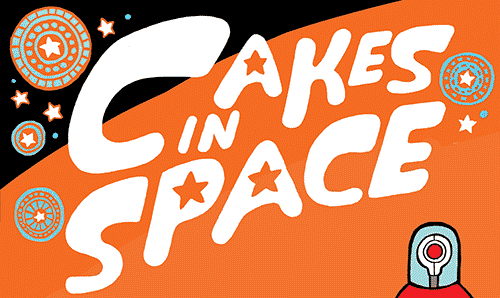 Those cakes are VICIOUS! Be prepared for battling battenbergs, robots, cryonics (oh, yes), and general mayhem.

Philip's mostly been taking a holiday from the Internet, but he's done a blog post here with some updates.

And EVENTS. Londoners, mark your diaries: we're appearing at the Imagine Festival on the Southbank in London on Sun, 16 Feb. Details here!.
Oxford: Philip and I are appearing at the Oxford lit fest on Sat, 22 March. (Book your ticket!)
And more events here! Check if I'm in your area and come say hi. :)