I've always, always, always wanted to visit Norway, and when Heather Salisbury asked me at last year's Hay Festival of Literature if I'd like to go, as an exchange with schools in Wales, she barely got half the sentence out before I'd agreed to accompany her.




I had big plans to make a travel comic (like the one I made in Alaska last summer), and I began it on the way to the airport, on the Stansted Express.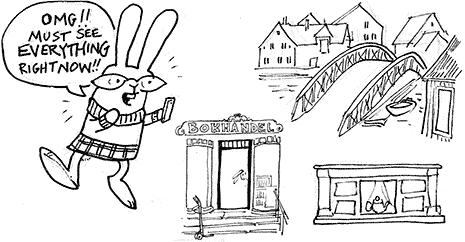 ...But as you see here in the comic, I had situation overload when I arrived in the beautiful town of Skudeneshavn with all these interesting people. I just couldn't keep up. When I had to choose between drawing or running around looking at things and talking with people, the latter always won.




I managed to settle down on the last day and do one basic drawing, but I'd have loved another few weeks to paint and draw.




The white house was where we stayed. Isn't this place amazing?




And this was the view right outside our door. The sudden shifts between stormy and crisp weather meant we got to see all sorts of light.




Our visit even got a full page in the local paper, the Haugesunds Avis. (You can read the whole article here if your Norwegian's better than mine.)




The school visits were loads of fun! The pupils in the first visit, to Eide Primary School, were my most enthusiastic and full of ideas. And I knew their English would be good, but holy cow, they're amazing. I introduced them to Oliver and the Seawigs and took a slight detour into the world of over-the-top headgear. So this girl showed me her awesome hat before I left.




The headmaster was rocking his Norwegian jumper. I love those sweaters so much.




The new building at Mykje Primary School knocked us over with how well designed it was. And the kids had such great art materials! I could see them helping themselves to wood pieces, paint, felt, some were knitting nice wool... British art teachers would be super-envious. (An art teacher friend in London once told me he had to get by with 17p per child per year for art supplies, which wasn't enough to buy them each a decent pencil.)




They had loads of fun wall displays:




We all drew Sea Monkeys together, and they customised theirs. Then I borrowed one of their Sea Monkeys and they helped me turn it into a four-panel story comic on the white board.




My last school visit was to Skudeneshavn Primary School. The kids were a little more cautious with their ideas than the first group, but we had good fun and I hope they go on to make more comics.




One of the interesting things about that school was all the cool stuff they could do on the playground. The school was surrounded by little wooded areas, full of forts and hideaways, even an English-language fort (a policy decided on by the kids). The whole attitude in all the schools was so practical, and they weren't scared to let kids run around, fall down, and learn from their accidents. I was allowed to take photos of all the kids, find the bathroom by myself, and there weren't any gates; dog walkers would stroll across the playground. The kids ran up to the playground monitor and gave him hugs, it all felt very warm and natural, a real contrast to our hyper-vigilant British schools.




I didn't get much time to check out the books, but every time we had a library tour, I would nip away and see what I could find very quickly. These ones looked intriguing:




I saw lots of familiar stories:




And some that looked funny and rather bizarre.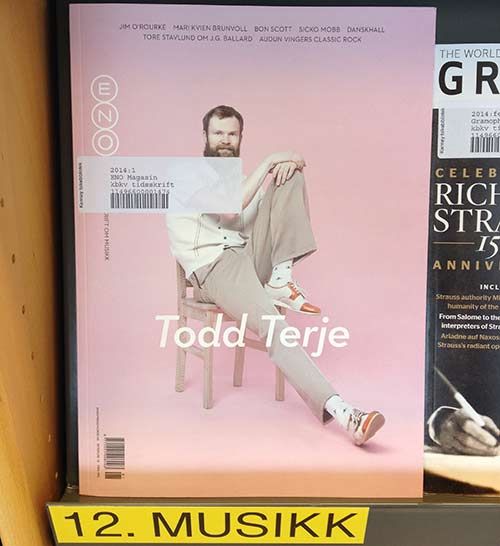 After our visit to Mykje, our host, John Rullestad, and his friend took us up the hill by Haugesund to see the view. Ha ha, guess who's inappropriately dressed for inclement weather: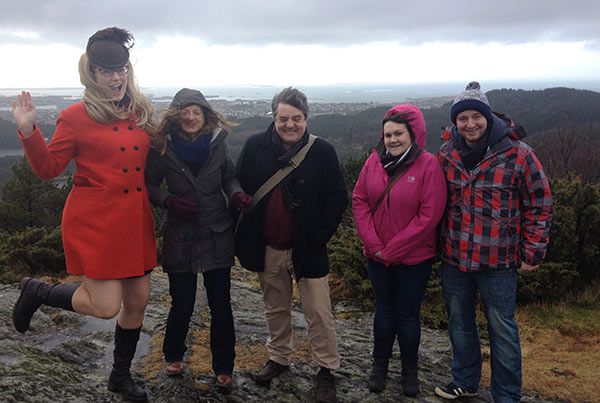 We also went on a great trip with the Head of the Department of Culture, Jan Arve Hveding, to the Historical Centre at Avaldsnes. It gave us a fascinating look at Viking culture, and I think Jan Arve was a little surprised at how we took to dressing up with such gusto.




Hannah Davies and I made awesome shield maidens. Hannah teaches Reception year in Ysgol y Bannau and actually thinks in Welsh instead of English! She's sung several times in the Welsh national singing competition and was definitely our best Welsh Ambassador. (My only Welsh connection is making trips to the Hay Festival.)




James Griffiths teaches right in Hay-on-Wye and looks bad-ass with a battle-axe.




And Powys librarian Rob Davies seems mild-mannered until you give him a sword, and then all hell breaks loose.




We couldn't help but be on the lookout for links to Nordic crime fiction, and after one school visit, we had at least one dangerous-looking menu option:




While we waited for our lunch, I got everyone to draw a Sea Monkey.




We managed to visit the beach after one school visit, and the wild waves were so much fun to watch. We tried not to think too much about the storms ravaging Britain, although even the Nowegian news was full of reports of UK floods.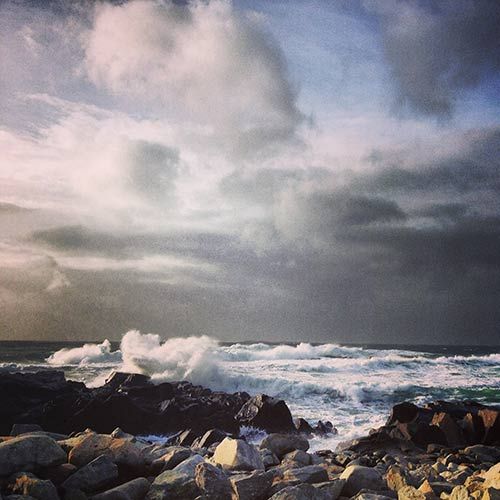 I drew this portrait of Jan Arve during a meeting with Elisabeth Aarekol Johannesen and Roald Østensjø about pedagogy and promoting arts and culture in Norwegian schools.




When I first got to Skudeneshavn and was running around like a happy but headless chicken, I spotted a little sign for a cosy little cafe, and thought, I must bring everyone back here.




It's a wonderful little place, run by a man named Johannes, in his front room. He makes hot drinks and waffles all day for people who visit from all over the world.




I saw a painting hanging on the wall that someone had painted of Johannes making waffles, so I had a go at it:




Here's Heather Salisbury, our Hay Festival trip leader, with yummy waffle:




Curator Ørjan B Iversen gave us a tour of Mælandsgården Local Museum, a lovely big house near the waffle cafe, supposedly still haunted by its former owner, Agnes. It has lots of quirky stuff in it, like this mad-looking monkey, a foghorn (invented in Skudeneshavn and honked by Ørjan), and old cans of fish balls.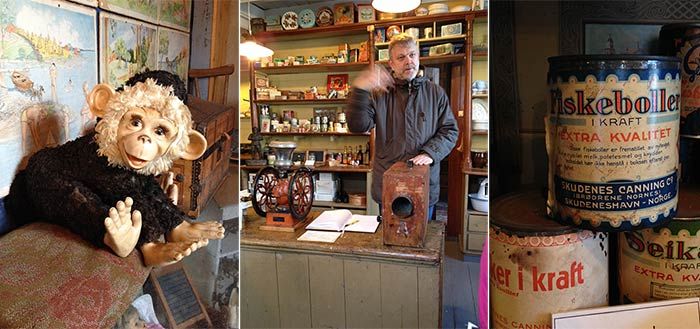 I took about a zillion photos, so humour me by letting me take you on a little photo tour...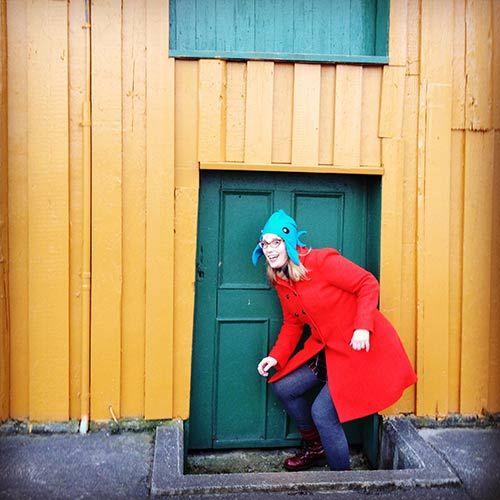 I was surprised to find out that almost everyone on Karmøy has a relative in Seattle, most likely in the neighbourhood of Ballard (near where my sister lives). I'd always known Ballard was Scandanavian-themed, but I didn't realise just HOW strong the link still is. So I ran into a lot of people who'd been to my birthplace.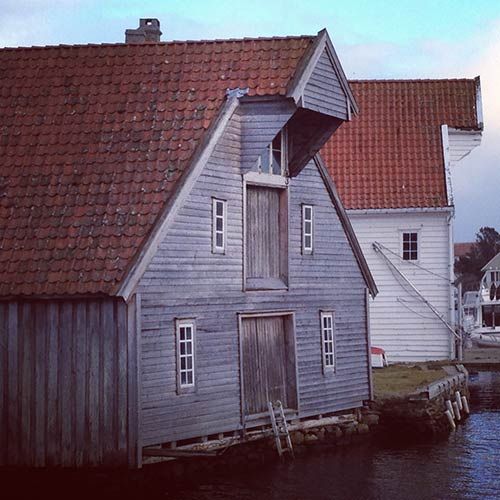 Rob and I both ran out to sketch the same view; maybe he'll post his drawing.




We had fun running around the local Coop market, looking for interesting foods. I bought a bunch of Norwegian chocolates for Stuart and some brown cheese for me. I love Norwegian brown cheese so much. ('Brunost', they call it.)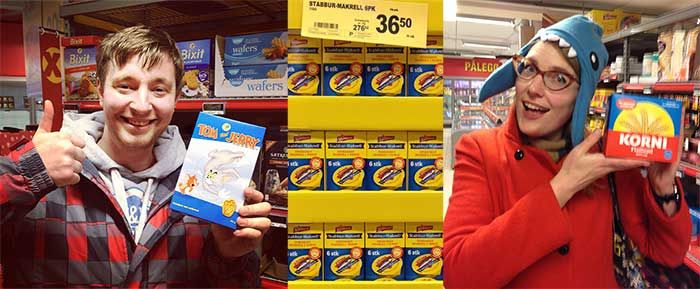 In fact, my Norwegian improved slightly during the trip because I can now say this sentence:




(That's: I'm smuggling brown cheese in my underpants. You never know when you might need to say this.)

On the last night, we had a lovely dinner party with our hosts, John Rullestad and his wife, Helga, Ingunn Tjørve, Ellen Skaadel and Silje Skaadel of the autumn's local SILK lit fest, Head of Skudeneshavn Primary School Wenche Thomassen and librarian Anne Lise Karlsen. It all started as a very civilised affair, and Karmøy's Head of Public Libraries Hanne Mulelid presented us with copies of this lovely book about Norway:




But it was after we had a pudding called 'Dronning Maud' (which I can only remember as 'Drowning Maude'), things all started to go a bit hairy.




I miss Norway already. Huge thanks to the wonderful John and Helga for making our stay so comfortable and interesting. They're amazing, both of them, and I look forward to seeing them again at the Hay Festival this spring.




And another big thanks to Heather for being such a brilliant trip leader and making everything go so smoothly. And to the EU, for funding the STORM Project to promote Lifelong Learning. I think some good conversations happened and everyone learned a lot. And thank you, Hay Festival! You can see some of my past Hay blog posts, from 2013, 2012 here and here, and 2011.




And Stuart got some mighty fine sweets; he's a happy guy. We're home, I'm blogging and he's ironing and listening to prog rock.