I've been to the desert! And taken far too many glam sand photos!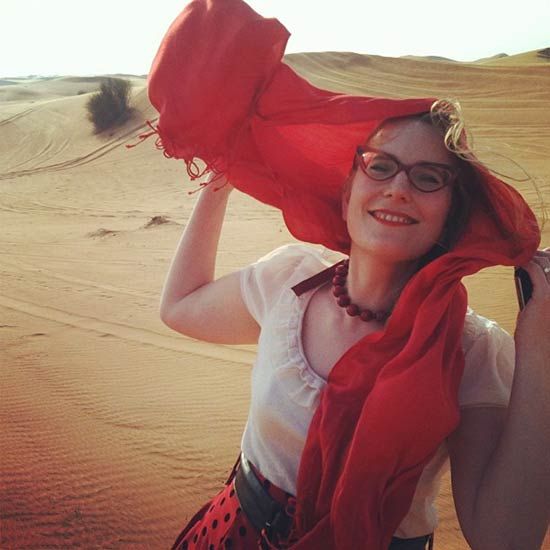 Also, I have met a camel. Did you know their noses are so hairy? When I got an invitation to come out to Dubai for the Emirates Festival of Literature, I talked with writer Philip Ardagh, who'd been in previous years and he said, 'YOU MUST GO, IT IS AMAZING' (or something to that effect). And Geraldine McCaughrean told me such intriguing stories from her visit that I was absolutely bouncing with excitement to see if all myself.




And it WAS amazing. I think the authors of books for adults were slightly surprised just HOW popular the children's events were! The kids there - both Emirati and expat - were falling over themselves to get books, read books, talk about books, write and draw. My Oliver and the Seawigs co-author Philip Reeve went out, too, and we got completely caught up in the excitement.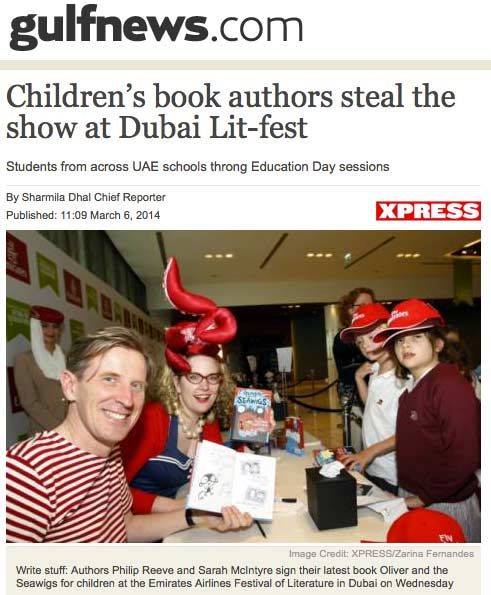 (Read the rest of the article here.)

I mean, how many times do you get to see writer-illustrator Sally Gardner and journalist Kate Adie riding a camel together?





Or even better, getting off a camel? Watching other people dismount from camels is by far the most funny part of the camel riding experience.




Here's Horrid Henry writer Francesca Simon bonding with her camel.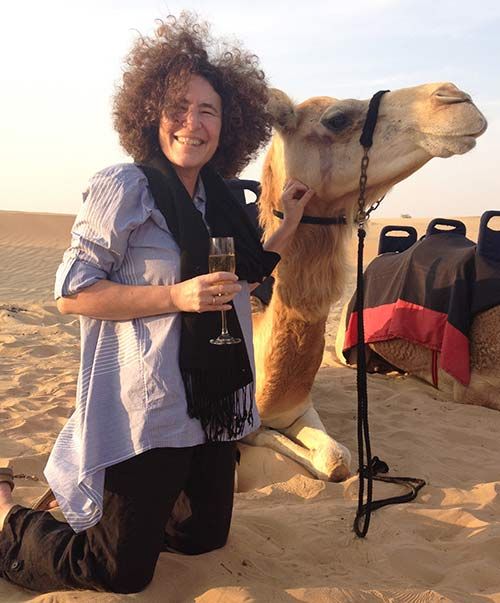 But that was nothing like the way her theatre director son, Josh Stamp-Simon, bonded with that camel. I have about twenty pictures of Josh and his camel snogging.




I thought at first that the camel and I were getting on beautifully, but she just wanted my drink. *sob* By the way, look how big her head is. Camel heads are HUGE.




I took even MORE photos of performance poet-musician Walter Wray trying to take a selfie with the camels. I don't think anyone else was watching, but he was going at it with such dedication and gusto that it had me quietly bent over with dry-heave laughing. He was like some Hollywood comedy film from the 1930's.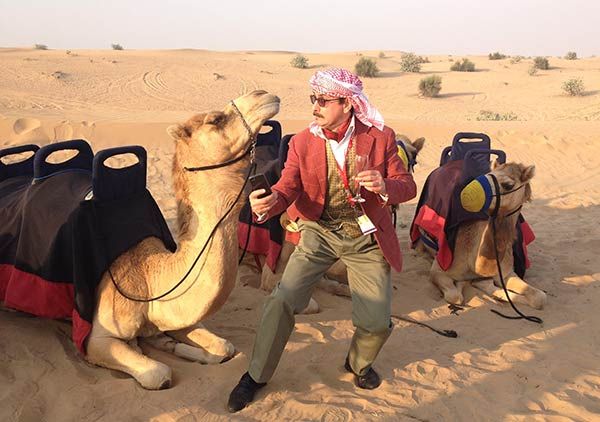 Performance poet Pam Ayres got into the swing of things and before she left, drew a camel on the signature board in the festival Green Room. A camel drawing by Pam Ayres, how cool is that?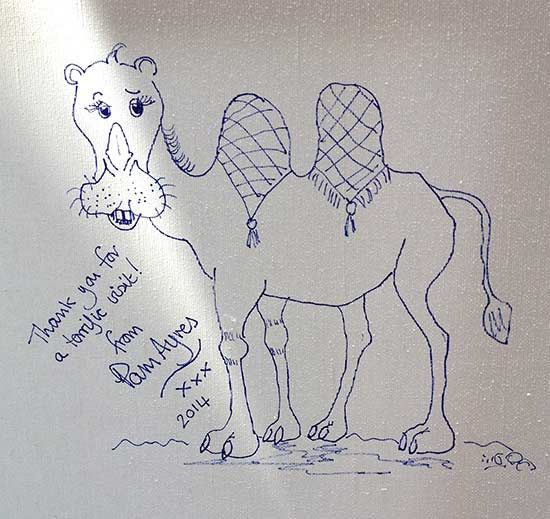 Reeve nearly had a fanboy meltdown, he loves Pam Ayres. My one festival mission from him was to get a photo with Pam Ayres. But she insisted he come in, too. We love Pam. Reeve even made a brief return to Twitter for her: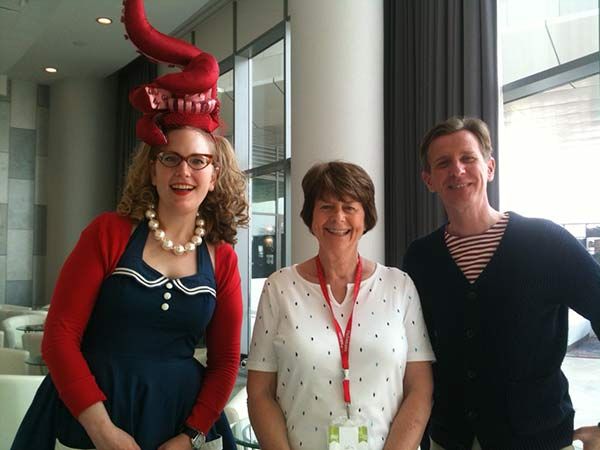 Pam read some very funny poems at the festival Opening Ceremony. Here's one I found on the Internet. I was also hoping to find some Seventies footage of her in her Holly Hobbie dresses, but no luck yet.

)

On the Opening Night, we had a great performance from local schools, with a song commissioned just for the evening on the theme of 'Metamorphosis', the children all dressed in colourful Middle Eastern garb: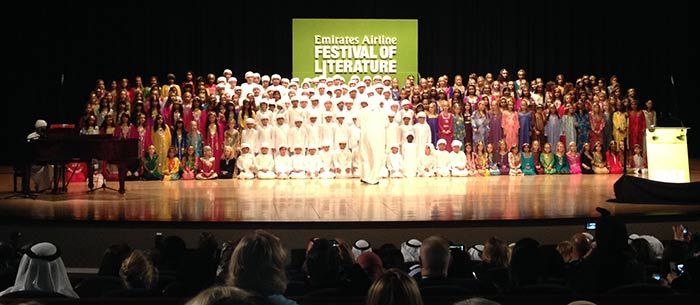 Speaking of Metamorphosis (think butterfly, not Kafka), costume and dressing up played a big part in my week's activities.





In fact, some of the fancy headgear was improvised on the spot: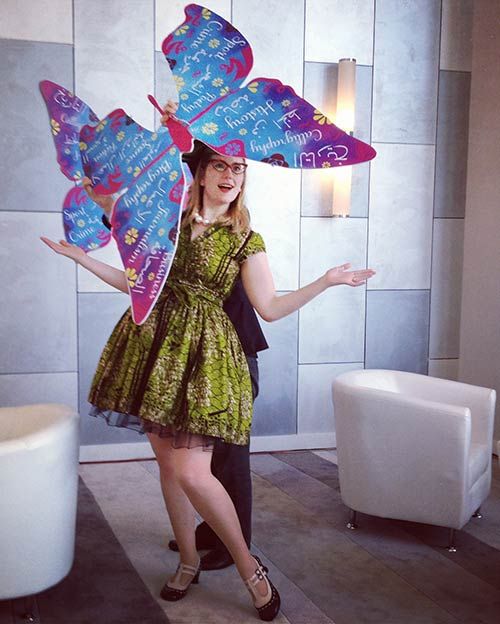 Reeve joined me in the efforts, note his swanky crystal crown.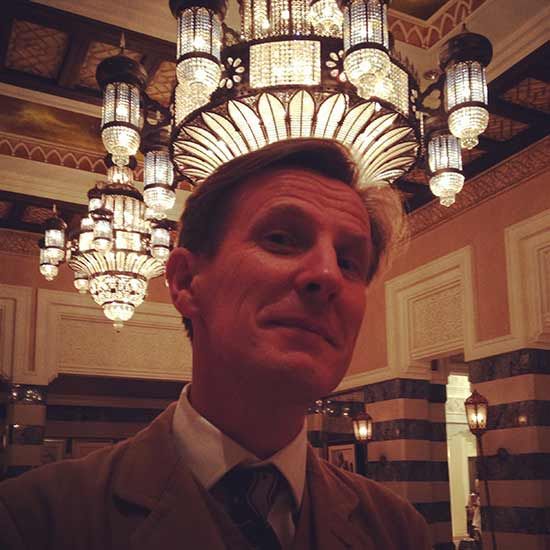 Even the volunteers got into the swing of things! Here's a two-pronged Jennifer Martin:




I've always envied the Emirates Airline flight attendants their red pillbox hats, and we did a brief Emirates-Pirates swapsies. (I failed in my mission to acquire a red hat full-time.)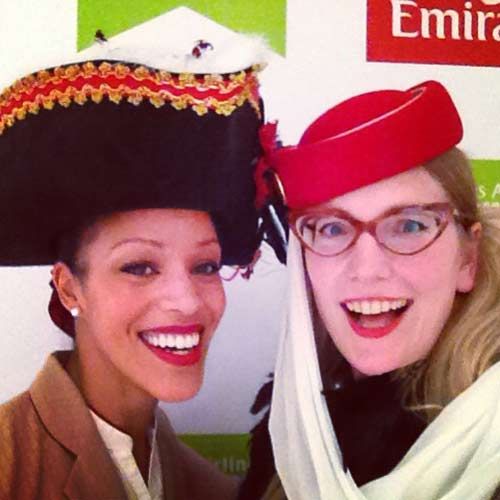 At the desert picnic, everyone got a lovely headscarf. Reeve likes this picture because he thinks with the sunglasses that it makes him look like a Tough Dude. Don't mess with the Reeve.




Actually, I think it looks better on him as a necktie. We took way too many desert selfies. I could post them all here but you'd never read my blog ever again.




Paul Blezard (who once chaired my Giant Comic Jam event with Reeve and Martin Brown at Hay Festival) didn't want anything to do with head gear but sported an excellent skirt instead. (Check out his Saving Grace book crowdfunding project.)




And this couple, Deon Meyer and ____ (oo, can someone help me with her name? I'm trying to remember! She's very nice!) looked amazing in their desert garb. I never saw any Emirati women wearing white, just the men, so I was wondering if they might look at her a bit askance. But she told me that a woman in the lift said that she looked 'very Persian', so that was okay. Knowing which clothes to bring on this trip was a bit challenging, I didn't want to cause any cultural offense. But I never had any problems, everyone was very relaxed about short sleeves and stuff like that.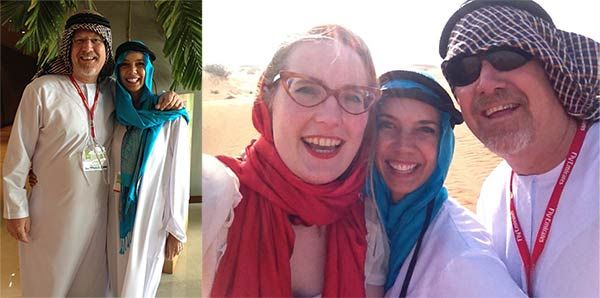 Just an hour before I left, I found this BRILLIANT shop called Alyashmac, in the Gallery mall connected to the InterContinental Hotel. I had to catch my plane, which was such a shame because there were so many amazing dresses in there. If I ever go back, I'm going to make such a beeline for that place. The shop owner said that the styles aren't the kind that Emirati women wear, but he gets a lot of customers from Egypt and other parts of the Middle East. So swish.




One of the great things about the festival is that it's nearly a week long, so we all get far more time than most festivals to meet the other guests. While I was looking at the programme before I flew out there, one of the people I was most curious to meet was Darcey Bussell, one of Britain's all-time best-loved ballerinas. I was a bit shy about even asking for a photo, but Darcey insisted I sit down on the sofa between her and Lea Sellers, and we went all happy-snappy on the cameras.




Later I watched this video about her, and I was struck by the fact that she had retired at almost exactly the same age that I felt my career was starting as a 'proper job', something I could live on. I look to illustrators such as Shirley Hughes, Judith Kerr and Quentin Blake, who are in their 80s and 90s and still working, and it's strange to think that in ballet, I would be finishing my work and moving on to something else. But one similarity is that Darcey said it took her 14 or 15 years to get into her job, and I think it's taken me about that long, too. I started later than her, I wasn't focused from such a young age on making books.

)
(Direct YouTube link)

Oh, and the other similarity is that we both had books to talk about! Besides her Magic Ballerina children's books, I saw her signing copies of this lovely coffee table book, Darcey Bussell: a Life in Pictures.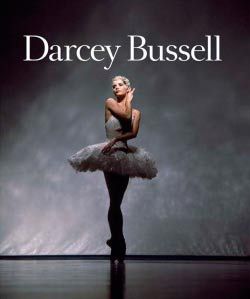 But all this retrospection, it isn't a whole 'life'; Darcey's still going strong, and... ha ha, we're still taking pictures of her. Also, the real-life 8-year-old Dulcie who stars in my There's a Shark in the Bath book (and loves dancing) was extremely jealous I met her hero. I got the tweet from her mum almost as soon as I posted the photo.




Another person I was thrilled to meet was Joanne Harris, writer of Chocolat (inspiring the film of the same name) and very funny Twitter person. (She's @Joannechocolat.)




Also, great food! Sometimes strange food! Like this Ghost Toast with dressing syringe at the Murder Mystery Dinner.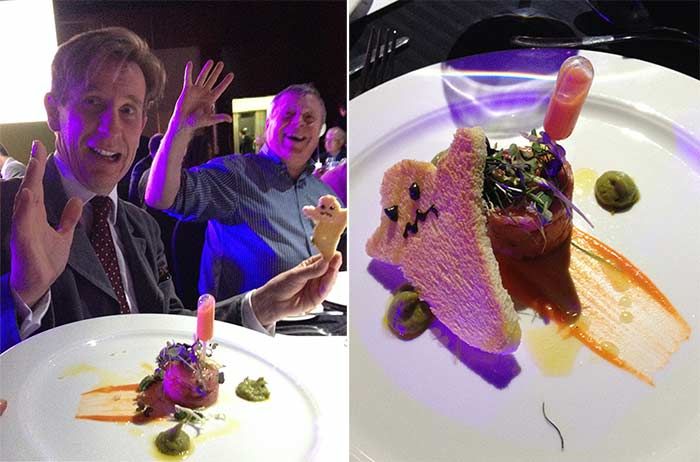 I was a bit nervous about the Murder Mystery Dinner, that we'd all have to act out cheesy roles or something. But it turned out to be great fun, we got to watch the performance, and our table mates turned out to be fascinating: one was a headmaster at a school attended mostly by children of the royal family, another couple frequently rented the house right next to Reeve's house. His alpacas graze in their field. Small world or what? Here's Reeve's sketch of one of the actors. And a picturesque pudding.




In fact, all the meals were so good that when I hit on a single item of food that was rather tasteless and indifferent (one lone, green, savoury jelly), it stood out most strangely. Note Joanne's deeply empathetic expression.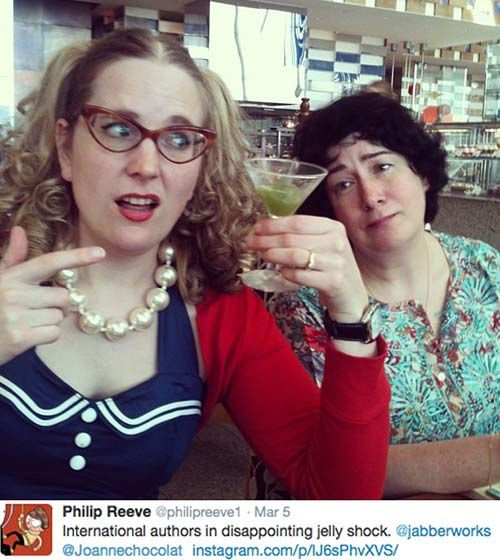 The festival asked me to do a Princess & Pirates event, featuring my picture book with writer Gillian Rogerson, You Can't Scare a Princess!. And quite a few of the kids dressed up! I didn't get many photos from my own stage shows, but here's a picture in the local Al Bayan newspaper.




They had good fun learning how to draw Captain Waffle. (I have lots more fun activity ideas here on my website if anyone went to the event and wants to do more related creative stuff.)




We didn't mention dressing up for my Oliver and the Seawigs event with Philip Reeve, but this girl came as an excellent mermaid. Yay! Look at the great drawings she made during the event:




One of the most exciting things about doing events is when we arrive and the children already know and love the books, and have done activities featuring them. And these kids had! Reeve and I both took walks over to the Gallery exhibition in the shopping mall to see our books featured in children's artwork.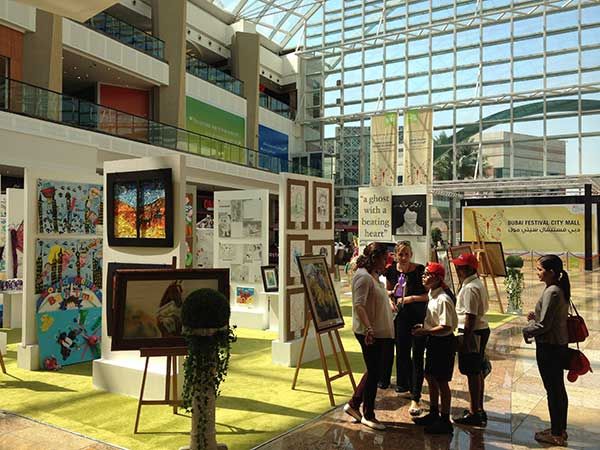 Here are some gorgeous paintings inspired by my book with writer Claire Freedman, Superkid:




And a painted copy of the cover of my newest book, There's a Shark in the Bath! While it's good to come up with new ideas, it's also sometimes very helpful – as an exercise – to copy the work of illustrators you admire, to find out how they did it, and get an overall sense of the colours, composition, and lettering.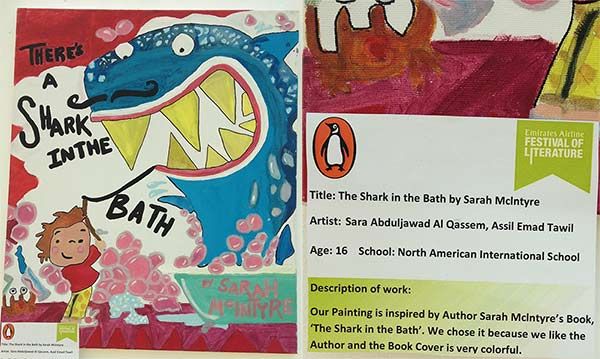 I like these new versions of the Oliver and the Seawigs covers, featuring bands of colourful sky.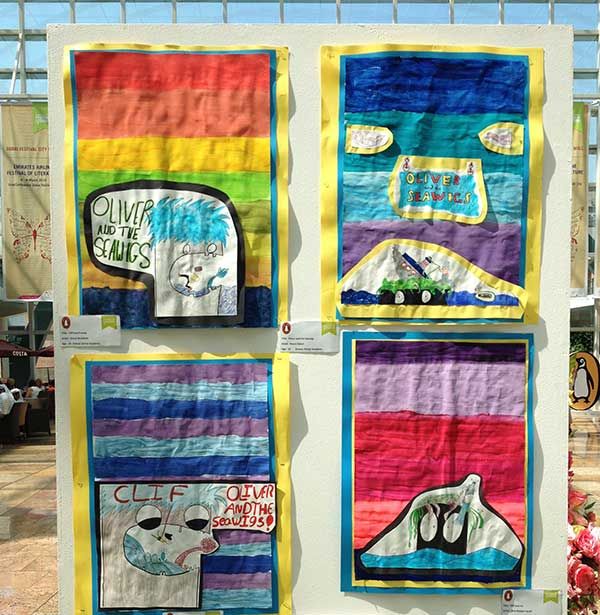 Here are a few close-ups of the characters: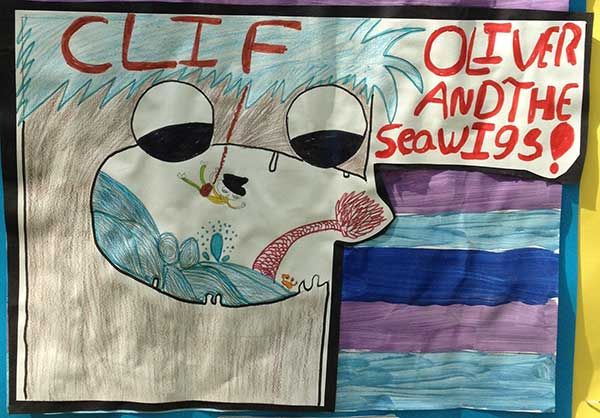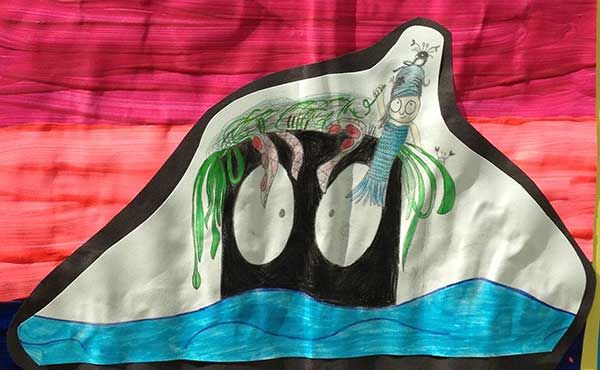 And a very cheeky Sea Monkey! Eep! :D




But we didn't spend our whole time in the hotel and mall, we also got to go on a tour of the old trading part of Dubai. Reeve shot this photo of me approaching the spice market: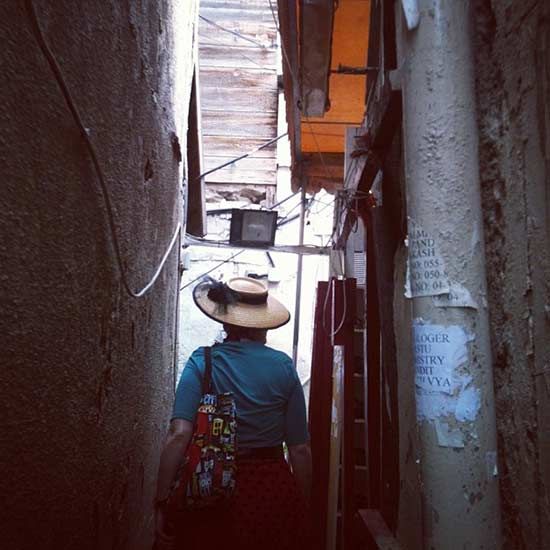 I love these old boats. Living by the Thames in London, I've had to come to terms with the fact that the old days of shipping are dead - the days when people heaved crates and barrels and shipyards swarmed with people - and container shipping has taken over. But these boats still unload the old way, and it was fascinating to see huge piles of boxes on the quayside. Someone could do a fascinating photo essay of these beautifully painted boats and their workers.




Amazing textiles and embroidered dresses in the market: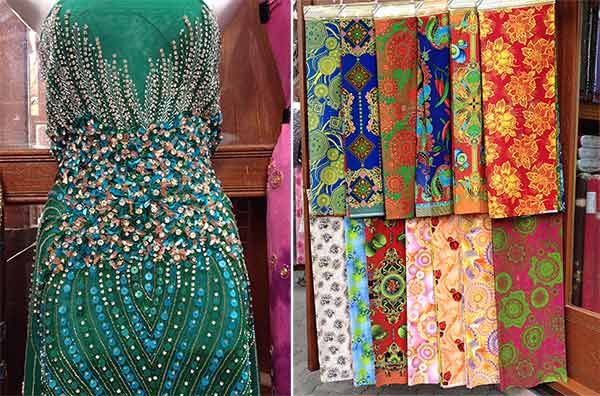 Exotic biscuits (I could have bought a Lexus!) and colourful spices. That's Georgina Walsh, the lit fest cultural and social programme manager, examining some sort of sponge with cooking expert Prue Leith.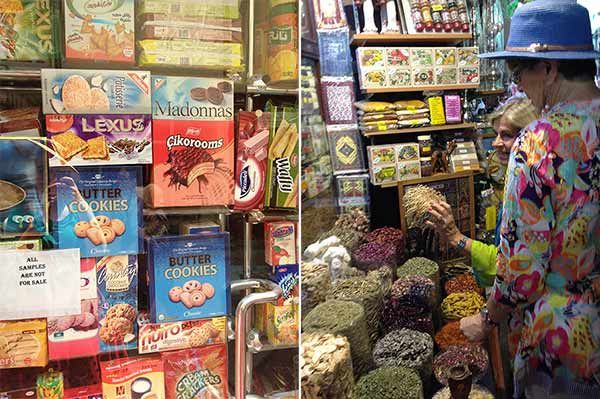 I'll have to ask someone for our local guide's name, but he was very funny; he relished his ability to speak English and come up with startling and often wonderful new ways of saying things. Our favourite phrases included:

* 'Give me your laser-like attention'
* 'Make your bladder gladder'
* 'Ginger up your steps' / 'Please walk gingerly'
* 'If you have any questions, I am disposable'
* 'I hope you enjoyed our intensive and extensive tour and that it lived up to your most utopian expectations'
* ... And another one that is so good, I won't tell you, because it will probably end up in a book.

I only remembered these because I got Reeve to help me write them down in my notebook on the bus ride back. We also quite liked this phrase from the House of the Poet:




When we next saw camels, we made sure that none of them footed on us. ...But in case people think I'm being critical, it's just like the food; the English people spoke was so excellent that the rare, slight variations only gave their speech extra charm.

While we were in the old quarter, we also visited a house hotel with lots of art displayed in it.




This photo made me laugh, because I always wear a lot of colour, whereas Reeve revels in different tea-stained tones of brown. I like to call it 'The Sepia World of Reeve'.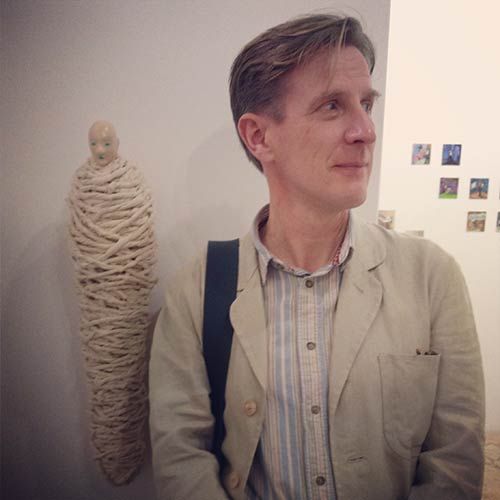 Our guide also led us to the Women's Museum, not far from the market. We were given a gracious talk by the museum's founder, Professor Rafia Obaid Ghubash. It was fascinating to see the focus on women, and it's great that the museum is a place for people to gather, remember historic women from the region, read their poetry and discuss modern culture. But I struggled to relate to many of the ideals the museum seemed to put forward. As a professional woman who has decided not to have children, I didn't understand how to appreciate the seeming emphasis on women primarily as childbearers and mothers, and that role seeming to define their value. What about women who choose not to bear children, cannot have them, or define themselves by other things?




Also, I had a hard time knowing how to feel positive in any way about the display of facial coverings, that looked very much like heavy moustaches or horse bridles. Our professor guide spoke positively about them giving women dignity, but I still don't understand how, in a hot climate, men could wear cool white and keep their faces uncovered, while women wear heavy synthetic black garments and obscure their faces with something that looks so uncomfortable and impractical.




Again, the Burq'a seemed very impractical for passport photos. It made me feel that women were interchangeable, in a way that men weren't. Perhaps I misunderstood the exhibitions, but it made me see the need for meeting together with people from different cultures so we can discuss, debate, question our own beliefs and take away the best things from each culture.




But we can all agree about PENS. Emiratis appreciate a good pen. Here's a lovely case from the a museum of Dubai's oldest school. I love it that Arabic culture totally appreciates that writing is as much a visual art form as illustrating.




In fact, all the authors were given a very good fountain pen at the festival, sponsored by Montegrappa. Here's my note of appreciation in their guest book.




Speaking of facial covering, I was glad for the chance to meet in the Green Room someone I would have passed in the hallway without seeing, picture book writer and illustrator Maitha Al Khayat. Here she is with science fiction novelist Noura Noman. Noura's also planning to go into publishing Arabic comics, which would be fabulous. (You can follow her on Twitter as @NouraNoman.) Maitha (@MaithaALkhayat) has worked in the past on a picture book with British writer Vivian French (also at the festival), and she has a book coming out about a child who can recognise her mother, covered all in black, by her colourful socks.




It was great being able to talk comics, but we also talked about facial covering, which Maitha does find gives her dignity and the ability to keep her looks from getting in the way of relating to people. I find that the veil itself gets in the way of me managing to connect with people at an event; I've led events in Leicester with rows of mothers in the back covered in black, all but their eyes. I've gotten used to it, but one of the things that inspires me when speaking to groups of people is the quick flash of smiles when they connect with something I've said, and I can gauge the talk by seeing how animated their faces are. Then again, I feel slightly disingenuous, since I'm not exactly in my natural state either; I hide behind big hats, lipstick and costume. But that's about choice, I choose to do it, and so does Maitha. I really don't like people covering their faces, but I'm much more against it if it's something they're forced to do, either by a husband or a culture. I'm glad Maitha let me see her face when there weren't men around, but I missed saying hello to her later when she passed in the hallway because I only later realised it had been her. I'm a visual person, I miss the loss of instant individuality. But I'm very glad to have met Maitha and Noura and listened to them talk about it. It would be nice to talk more about comics, I hope to see them again some day.

Comics! Most of my events at the festival were stage events, but I also led one smaller comics workshop.




Since the workshop featured comics collaboration, I was glad that Philip Reeve agreed to come along with me and do a Comics Jam with me in front of everyone. I did the first panel, he did the second, I did the third, he finished the story.




Here are a couple of the group's Comic Jams! Each page had four diffent authors working on it!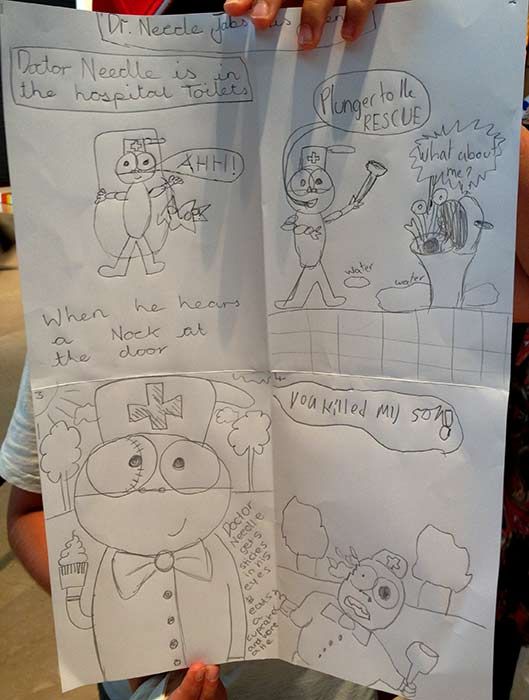 I was glad how much the group really got stuck in to it, particularly one dad, who came up and thanked me at the end and said how much he'd enjoyed the activity. I love it when adults get involved, for three reasons: 1, because comics are for all ages; 2, because kids take the session much more seriously when they realise they're working alongside adults, not being babysat; 3, kids realise adults can have a laugh and be playful, too, even when they're focusing and working hard on something.




I wish I could have gone to all the other authors' events; there were so many amazing choices on offer! Reeve and I did sneak into the back of Vivian French's Picture Book Masterclass before our comics session, and were able to stay for three-quarters of it. Totally ace, that woman is so clever, and she really got everyone thinking. I've run into Viv several times at the Edinburgh Festival, and one of the highlights of this trip was getting to have meals with her and get to know her better. (Viv's @fivekingdoms on Twitter.)




We had a good laugh at the Emirates display of a First Class airline compartment, posing like celebrities. Viv tweeted this photo I took of her in the paparazzi spotlight.




Another very cool thing about the festival were two Emirati women who attended some of our events and made murals about them, right while we were talking! I'm horribly disappointed I didn't get a photo of them, and if anyone can tell me their names, I'll write them in here. I didn't even realise they were doing it in our Seawigs session and was completely bowled over with amazement when I walked into the festival bookshop and saw this huge mural:




Some close-up detail: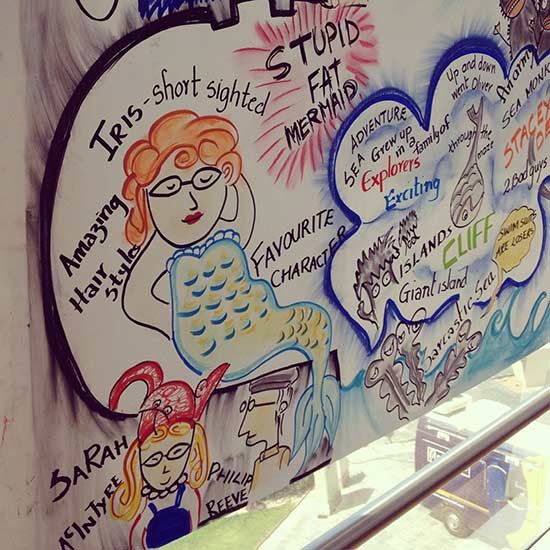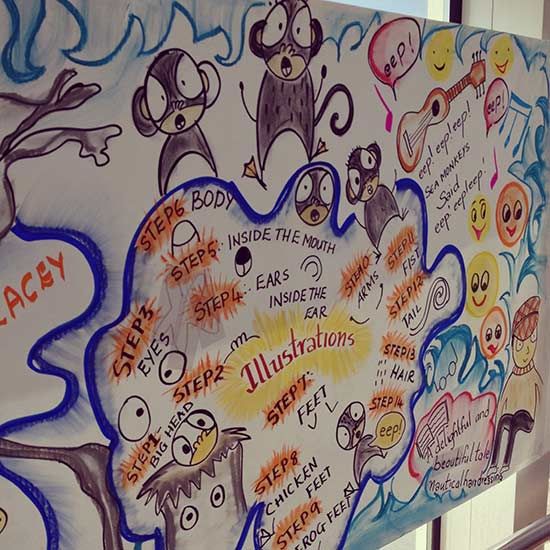 And here's the one they did at my Pirate event! Isn't that awesome?




Another event I got to attend was Philip Reeve's event with Charlie Higson. (Eoin Colfer was supposed to be part of it, too, but he was unwell.) Some of the schools had to leave early, and the guys signed a few books before they started. (You can read Philip Reeve's blog post about the festival here, focusing on the Science Fiction aspect of Dubai's architecture.)




So many of the children knew their work very well; the authors undoubtedly both felt very encouraged by that, and it showed, in a sparkling good session, touching on Charlie's Young James Bond books, the Doctor Who book for which both had written short stories, and Philip's Here Lies Arthur, Mortal Engines, and Larklight books. You can follow them at @monstroso and @philipreeve1 on Twitter. Send in Pam Ayres if Reeve's off Twitter for too long.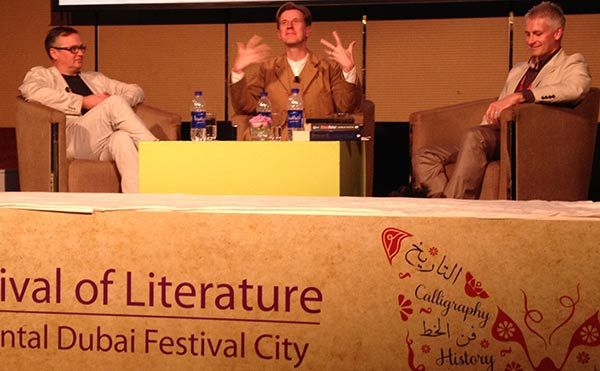 More excited fans: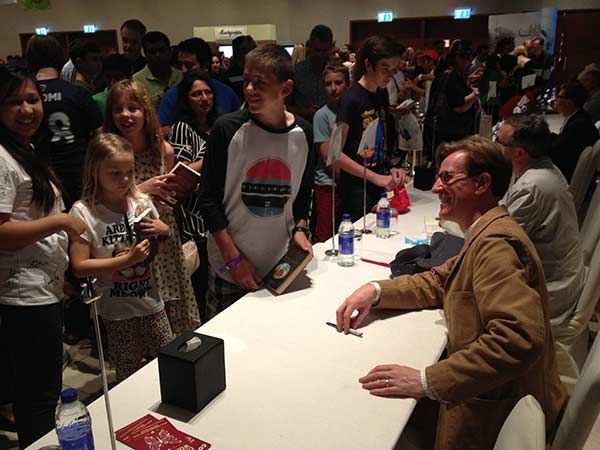 I even got to sit with the speakers at dinner and watch the amazing fountains at the base of the Burj Khalifa: highest tower in the world, world's largest fountain. They put on amazing musical water shows every half hour, they were brilliant to watch.




Here's Sally Gardner (a href="https://twitter.com/TheSallyGardner">@TheSallyGardner</a>) watching the display:




The restaurant with the great view was slightly disappointingly British, but, hey, you can't go wrong with a good PIE.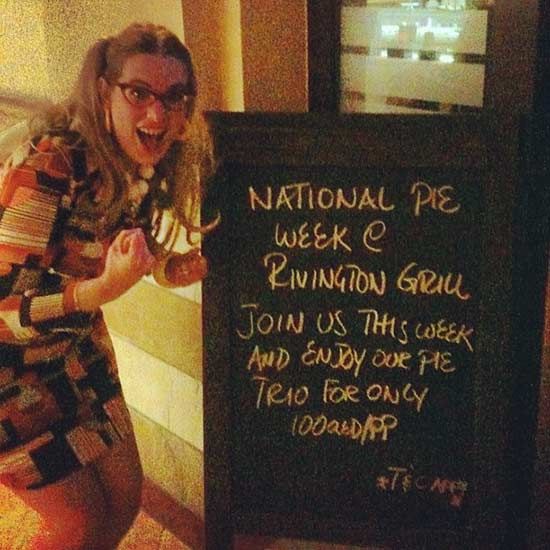 We had lots of wonderful dinners. At this one, I ran around being slightly obnoxious and papping people on my iPhone. Here's Francesca Simon with Christina Lamb, journalist and co-author of I Am Malala, which has been very much in the news. Christina gave a great talk at the Opening Ceremony about working with Malala as the girl was recovering from being shot in the head, and we watched on-screen a message that Malala had recorded for us. (Francesca and Christina are @simon_francesca and @christinalamb on Twitter.)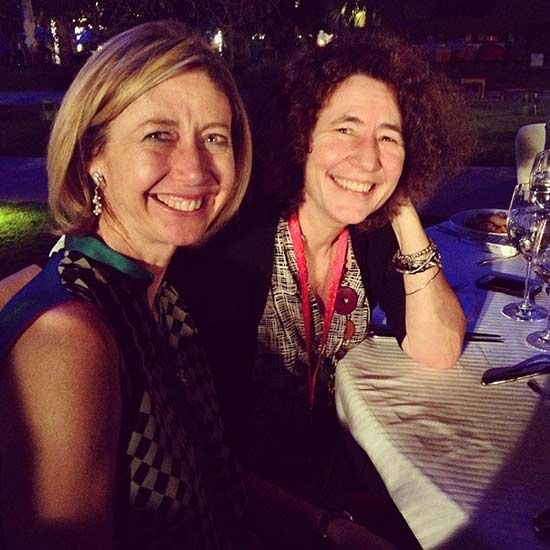 Oo, selfie with Jeremy Paxman! He liked my hat.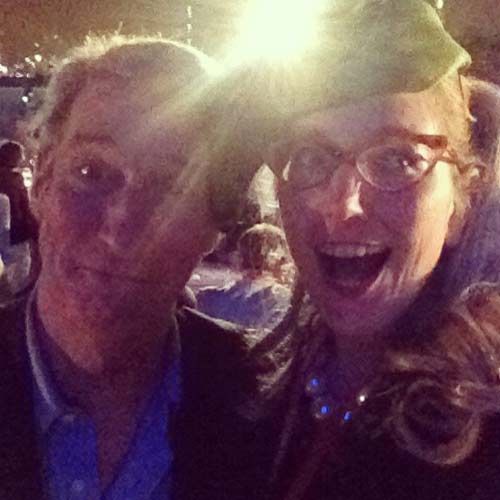 And here are picture book legends Helen Oxenbury and her husband, John Birmingham. I'd never met either of them before, so it was a real honour to get the chance to have dinner with them. I'm a big fan of Farmer Duck and Mr Gumpy's Outing.




Being all posey with Reeve and Richard Madeley from the Richard and Judy book show:




And here's journalist Rosie Goldsmith (@GoldRosie)! When I was in Norway last month, my hosts there (John and Helga Rullestad) raved about her and told me I MUST find her in Dubai. I'm going back to Norway in November for the SILK festival and I'll look forward to seeing her then. (That's Paxman again, photobombing us in the back.)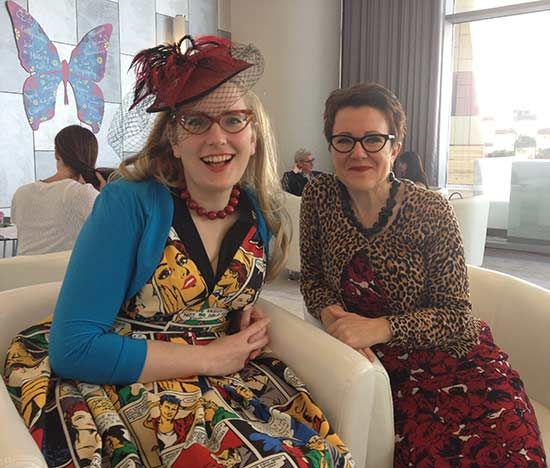 Here's reporter and interviewer Riz Khan, who kept us laughing with his jokes and impressions all through dinner at the amazing Madinat Jumeirah hotel.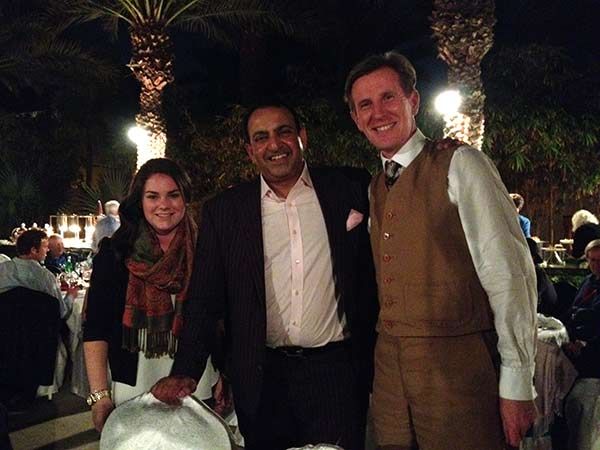 We got to do lots of media stuff. Here's my squid attacking Jeremy Bowen before a Dubai Eye radio interview.




An awards presentation, where I got to say a few words about making books, my lovely Seawigs publisher, Oxford University Press, and congratulate the winners of a top writing competition. (Read the full article here.)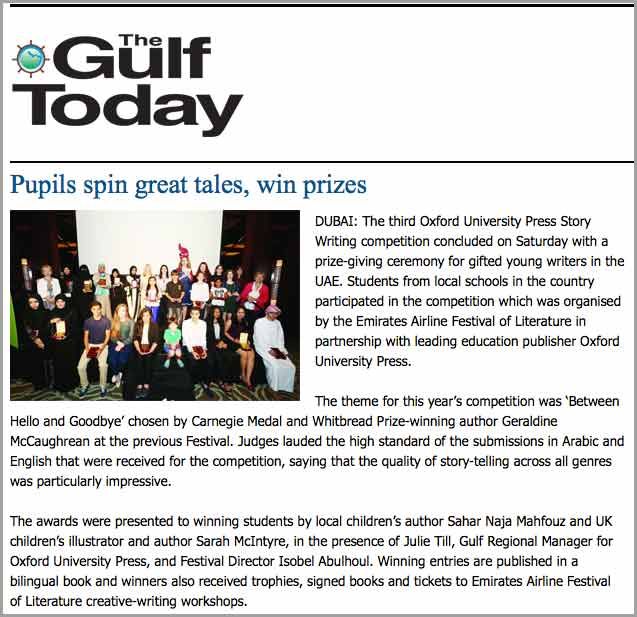 Also, an interview about making picture books in The National: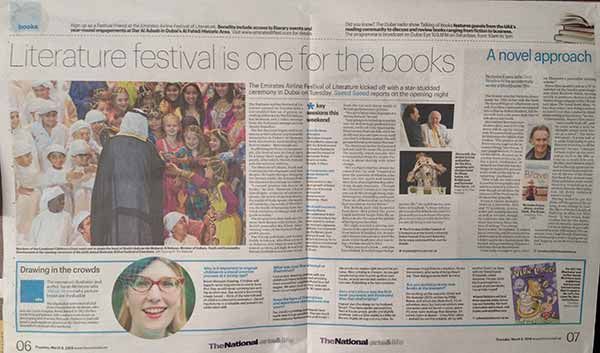 And in case it all seems too glossy, a quick look backstage. ...Okay, there are thrones backstage. Which reminds me about a very long joke my dad used to tell about glass houses and stowing thrones.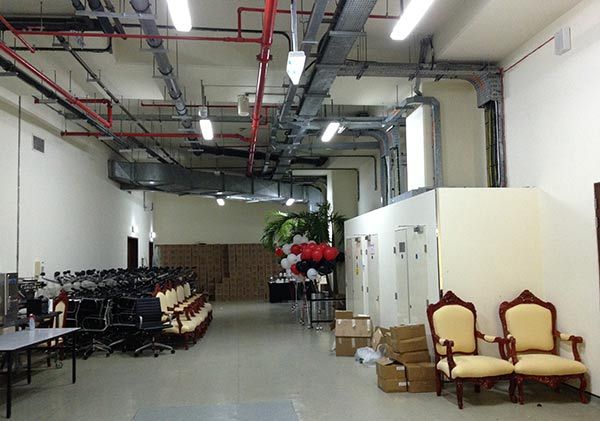 Here's a jolly picture of Philip Reeve and Joanne Harris dancing beneath the palm trees. You can read Joanne's write-up of the festival over on her blog.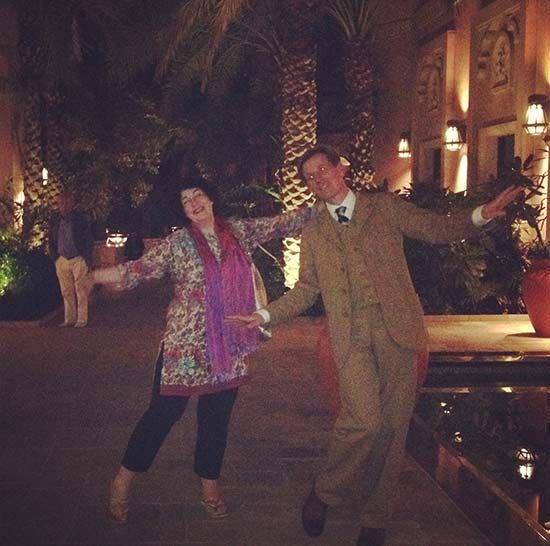 My only real regrets from the festival were not getting to meet Swiss cartoonist Philippe Chappuis (also known as 'Zep'), although I'm not sure what I would have said to him, probably just grinned a lot. And I only got to call greetings across the escalator to Lemn Sissay. He did a fantastic poetry recitation at the Desert Stanzas evening, which I couldn't really capture in a photograph, but which was magical, and set in a desert camp.



And I would have loved to have gone to more author talks, and seen Walter Wray, Steve Halliwell and Chris Hardy of LiTTLe MACHiNe perform on Friday night.




Here's a video preview of them, they're @L1TTL3MACH1N3 on Twitter and they're actually based in London, so I may yet get the chance to go along to one of their gigs.



This is LiTTLe MACHiNe (EPK) from LiTTLe MACHiNe on Vimeo.



Oh, and my last regret was not knowing in advance that a ballet troupe would basically be performing a Seawigs-themed ballet clip for us in the Closing Ceremony. If Reeve and I had known, we definitely would have roped them into doing our event with us. The crab was the cutest thing EVER.




THANK YOU!

Finally, a HUGE thanks to the team who ran the festival. They were incredible. The whole festival ran so smoothly, I had such fun, everyone seemed to be so well looked after, the kids were on fire with enthusiasm, we even got to sign a vast quantity of books.




Three cheers for Director Isobel Abulhoul (@ummansoor), the visionary person who set up the festival in the first place, with the generous patronage of His Highness Sheikh Mohammed Bin Rashid Al Maktoum (who is also an author). And that's fab intern Annabelle Corton standing with us!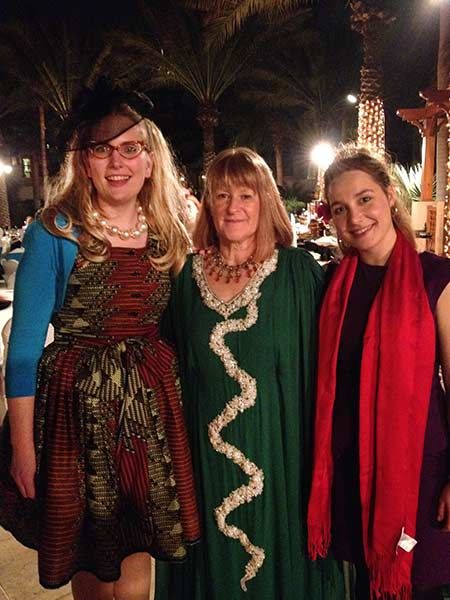 And a massive round of applause to Acting Director and hero Yvette Judge, who started out running the children's part of the festival and took on the whole thing when Isobel was unwell and needed to stay in the UK. Total star, that woman. (She's @lit_ed on Twitter.)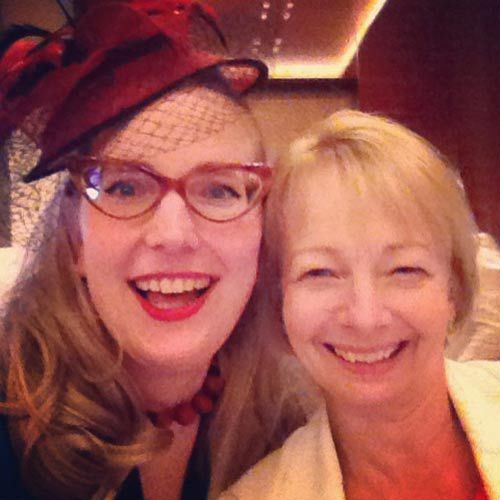 Here's Cultural & Social Programme Manager Georgina Walsh coming in style across the water to collect us by boat at the Madinat Jumeirah hotel dinner:




Thank you, Emirates Airlines, for the VERY COMFY ride there and back, and for your beautifully be-hatted staff:




Here's super Jo James, who remarked on my hats each morning and was always totally organised, letting me know exactly where I should be and when.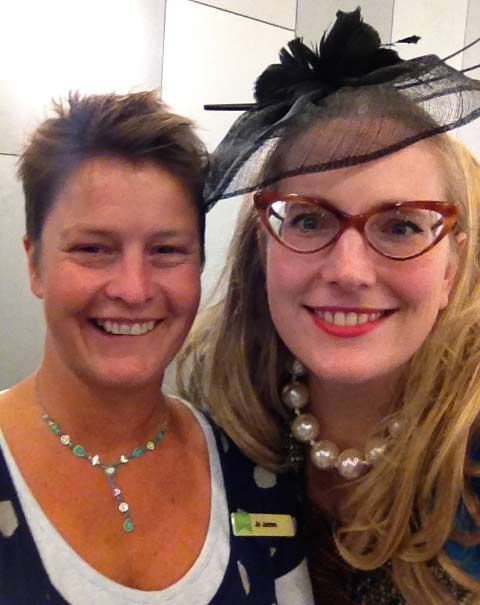 The team were kind, loads of fun, super helpful, and made me feel surrounded by friends. Here's fab Lucy Ward:




Monita Mohan and Ronita Mohan, two wonderful bursts of energy: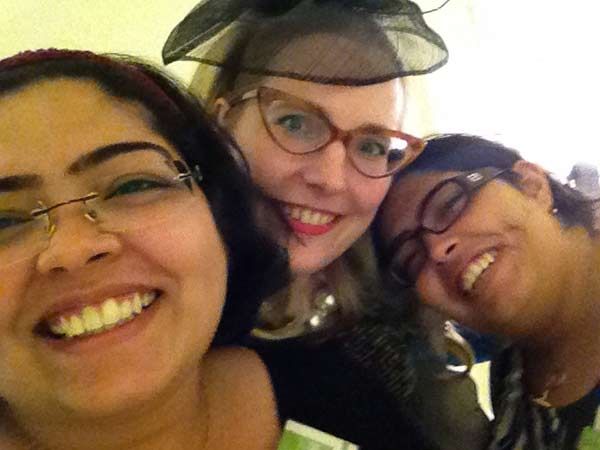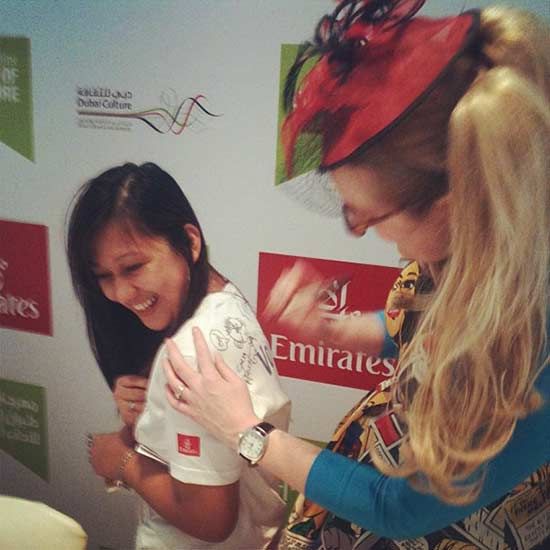 The Emirates Lit Fest has posted more photos on their Facebook page, if you want to check them out, you can follow them on Twitter: @EmiratesLitFest and see festival tweets on the hashtag #EAFOL. I miss it already.

Goodbye, sweeping hotel view.




Goodbye, lovely breakfasts on the Crown Plaza terrace with funny, strange little birds with bobbly heads.




Goodbye, weird and wonderful architecture: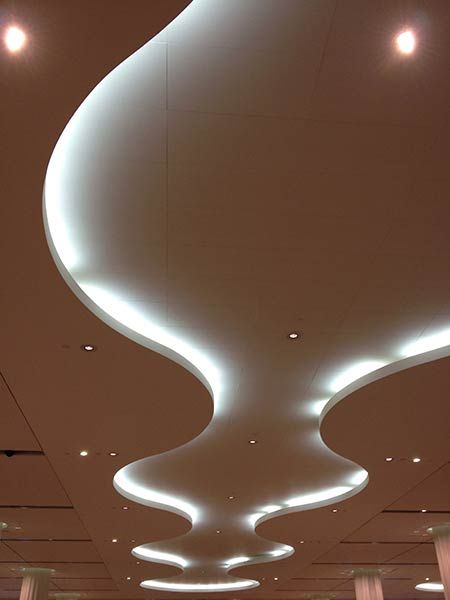 I'll miss how everything seemed to have such a heightened sense of drama about it:




And watching Reeve go off into the desert so far that all I could see was his hat bobbing along the dunes.




Thank you so much for your wonderful hospitality!




That was probably my longest blog post, ever. And here's where I make a dramatic fall into the sand, like Antoine de Saint-Exupéry's Little Prince.


THE END