Jampires
co-author
David O'Connell
and I have been out on a
heist
mission!
The
Discover Children's Story Centre
in Stratford, northeast London, has a fabulous new exhibition designed by writer-illustrator team
Andy Briggs
and
Peter Mac
called
SECRET AGENTS
. I've always loved London's
Cabinet War Rooms
, and they've captured a whiff of that sort of atmosphere. And unlike the Cabinet War Rooms, you're allowed to run around and play and dress up and generally muck about.
Yesterday our mission was to bring a drop-in comics workshop -
Codename: Comic Maker
- to the exhibition. Here was our team of agents: mission mastermind Agent
David O'Connell
with
Gary Northfield
,
Alex Milway
, and yours truly.
Here's Agent O'Connell handling a classic Matrix phonebox situation.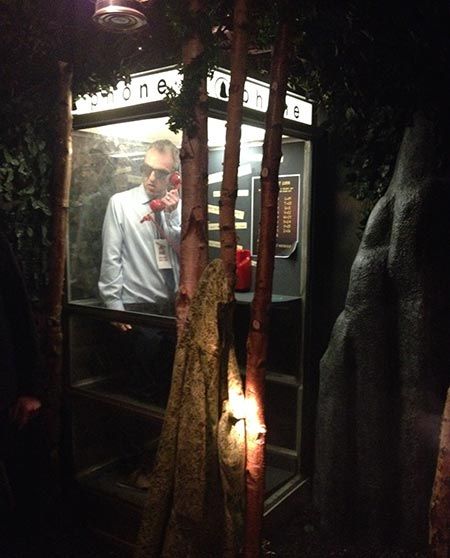 Oh no, I think the evil agents have discovered us, and the phone's not working! RUN, DAVE!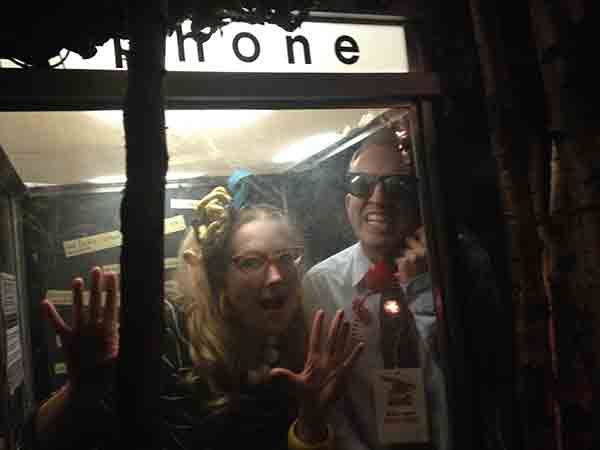 There's all sorts of fabulous stuff to explore, conveniently at kid height. Like this picture safe in the wall. Tip: you can also climb through the fireplace.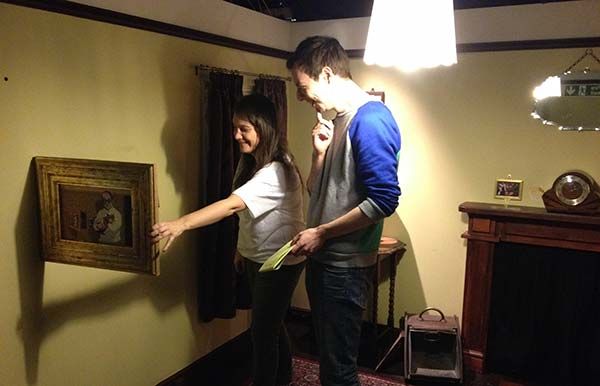 We had such gorgeous weather that we relocated outdoors, and then had our pens at the ready! I should add, I also had a
There's a Shark in the Bath
event, which is why my Secret Agent outfit has a tentacular twist.
Our team drew all sorts of things to order. Here's Dave taking on a Vampire Giraffe. Dave's a great friend and the writer-illustrator of the popular
Monster and Chips
books, and we have a book coming out together this autumn, called
Jampires
. (Exciting!)
And we did some Comics Jams, passing the comic around the table so everyone could draw a panel.
Some of the Comics Jams got quite dark and disturbing.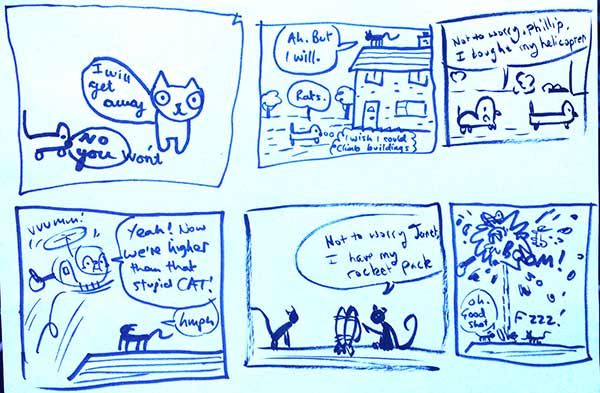 Very dark, indeed.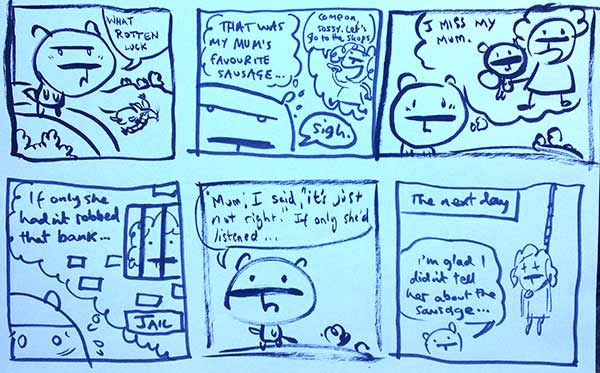 To lighten things up a bit, here's Alex Milway with his book
Pigsticks and Harold
, which comes out in May. It has pictures, some comic elements, and very jolly animals. I'm definitely going to get this book for kid friends who love stories but aren't so sure about tackling pages with lots of text.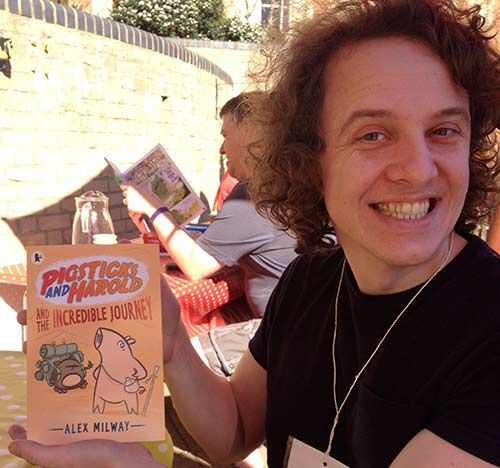 Here's a result of one of Alex's Drawing Challenges:
Making comics in the sun with my excellent studio mate Gary Northfield (creator of
Gary's Garden
in
The Phoenix Comic
and wonderful book
The Terrible Tale of the Teenytinysaurs
). (Photo by
Ben Stephens
.)
Dave and I both took the challenge to draw a Vampire Giraffe, and this kid copied them so expertly; they actually looked better in his drawing.
The Discover centre had been lucky enough the previous day to host comic artists
Laura Ellen Anderson
,
Jamie Littler
and
Richy K Chandler
, awesome. You can
read about it on Richy's blog here
!
There's so much fun built right into Discover. I'm always checking out the magic mirrors. Here's are stretched and squashed
Ben Stephens
and Discover's
Racheal Brasier
:
Oh my goodness, and SUCH a cool thing: I thought they'd chucked out all the stuff I'd designed for the
Monsterville
exhibition, but I spotted this sign over the toilets! I love it that the men's side is 'Beauty'.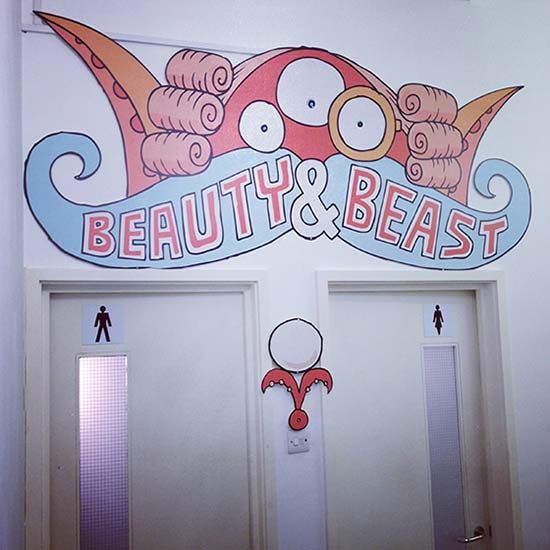 And this cupboard room is being put to MUCH better use now:
Before I did my Shark stage event, I did some vocal exercises with my lovely Scholastic publicist,
David Sanger
:
Big thanks to everyone who came along and drew sharks with me! I got to see some wonderful sharks with loads of personality.
And comics! A few kids really got stuck in making them; it was wonderful to see. This girl used themes from the exhibition as inspiration.
Adam
, who was running the tech stuff for my Shark event came with a very appropriate tattoo. Not a shark, but I give him a 9.5 for sharkish effort.
After my event, CBeebies presenter-turned-picture-book-writer
Cerrie Burnell
led another story session, and it was great to meet her.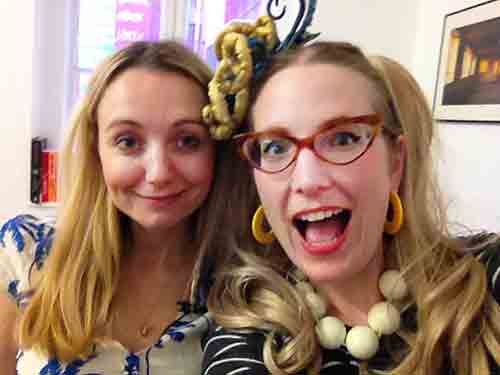 Hey look, it's illustrator
Guy Parker-Rees
! He had been doing a
Giraffes Can't Dance
event upstairs. Giraffes somehow became a bit of an overall theme for the day.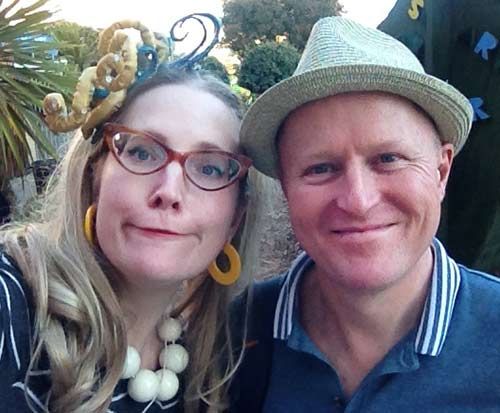 Big thanks to the Discover team, Dave (for organising the whole Comic Maker part of the day), Gary and Alex on the comics team, and David Sanger for looking after me. If you haven't visited the exhibition yet, it runs until
31 August
;
details on their website
.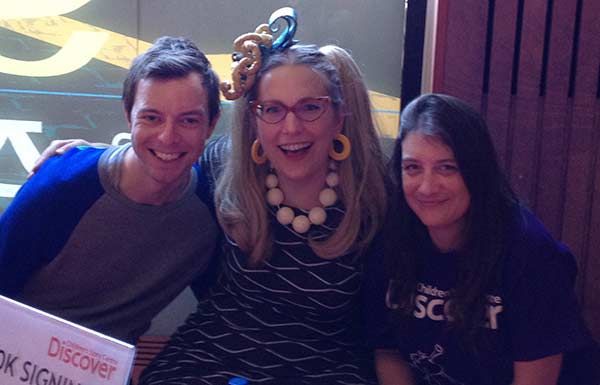 Look, my