So no, I've not been at the Bologna Children's Book Fair, but that didn't stop Canadian writer-director Jeff Norton and me today from PRETENDING. (After all, pretending things is our job.)




Now for the most exciting news to come from Bologna... I know the book won't come out for AGES, but I'm still geeking out about it:



(Original source: The Bookseller - @TheBookseller)


Other cool thing from today, I got to go to my first-ever Rehearsed Reading of a play, directed by Francesca Simon's son, Josh Stamp-Simon. (I met Josh a few weeks ago in Dubai at the Emirates lit fest.) A rehearsed reading is what people put on before they get a theatre to host a run of the play; no sets or costumes, just reading out the script. But it was fantastic. Josh had discovered a nearly unknown turn-of-the-century play and it was incredibly funny. And the acting made it come so alive that the lack of sets seemed irrelevant. I didn't take many photos at the Jermyn Street Theatre (I wasn't sure about Rehearsal Reading etiquette), but here's Josh introducing the piece, in front of actors Imogen Stubbs and Julia St John. (You've probably seen Imogen in lots of films, including her role as Lucy Steele in the BBC's Sense in Sensibility.)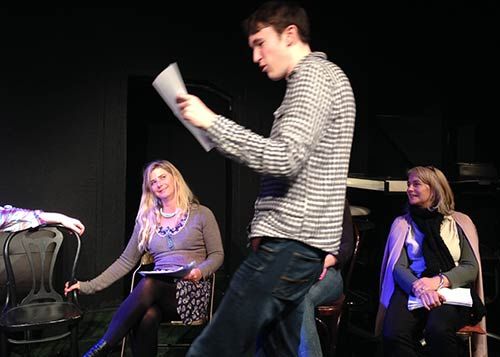 And here's the whole group. Spot children's book writer Steven Butler in the crowd. (Hint: maroon jumper, specs.) Best wishes for finding a theatre and getting the play on stage, Josh! This play's a cracker, I think he'll have several people vying for it at once.




Today was a day of discovering lots of people's talent I didn't know about! Until lunchtime, I had no idea that Jeff Norton is a film director, for example. Here's the zombie video that inspired his upcoming book, Memoirs of a Neurotic Zombie. I don't generally like zombie films, but this one is quite sweet.



The First Zombie from Jeff Norton on Vimeo.