And, of course, it was excellent and energetic writer
Steve Cole
and me, talking comics for Essex Book Festival!
Whenever I do stage events, I'm always a bit sorry that I don't get photos that I can use on my blog. But this great audience tweeted us a great selection! Here's one from
@LynneWheater
:
We invited people to dress up for the event and, hurrah! Some people did! Check out these great comics characters. Photo tweeted by
@sarahyewman
!
Steve brought a suitcase of costumes and two excellent volunteers came up and were transformed into superheroes, on stage and in drawings. Then Steve and I got the audience to help us turn them - Leopard Lady and Monkey Boy - into a comic strip! Photo tweeted by
@DianaMayoillo
: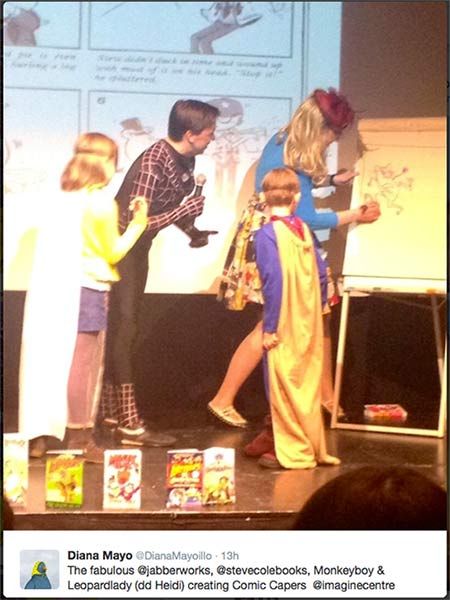 Then we led everyone in drawing Superhamster, from
Superkid
, and people customised them with their own costumes and superpowers. Here's a fab one, tweeted by
@LordSiBorg
:
And the grand artwork finale!
Steve and I both love comics, but he gets much more excited about the superhero side of things than I do. I don't like many superhero comics, but there are so many other kinds of comics out there that I have no lack of choice! So I was particularly pleased to see Lucy dressed up as
Hilda
, from
Luke Pearson
's Hilda comics. Isn't this a great costume? We had a costume competition, and the judge picked the Doctor Who (who DID have an excellent costume, big congrats to him!), but this one was pretty awesome. Look at the hair!
Check out the Hilda books
if you haven't already. (He's
@thatlukeperson
on Twitter.)
Sarah Yewman has written an excellent blog post about the day
, do go have a look at it! And
Steve Cole has blogged about the day over here on his website
!
Check out this fab Hamster Man comic one of the kids in the audience made! So awesome to see kids making comics on the spot. I sometimes get festival people sighing when we ask for pencil and paper for everyone in the audience (it's one more thing they need to organise), but there's something really special about adults and kids not just hearing about drawing, but actually DOING it. I mean, that's really what it's all about! (So a big thanks to all the festivals who have humoured me so far with this one.) :D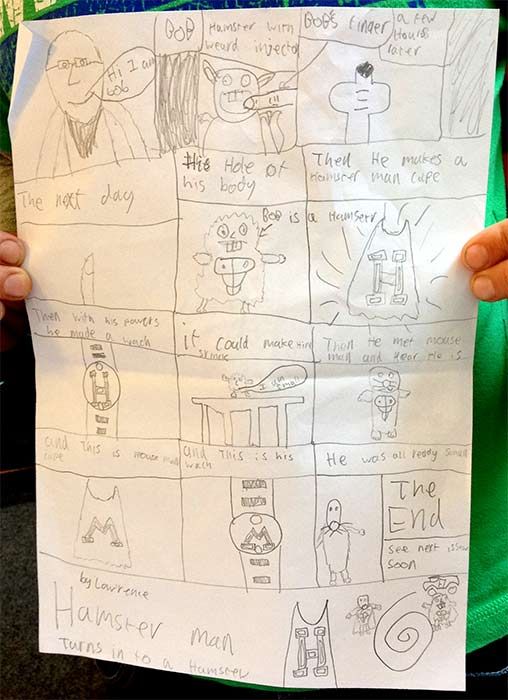 Yay, Lucy and her friend brought along a couple frisky Sea Monkeys, knitted by their granny! The pattern was created by my studio mate
Deadly Knitshade
and you can
download it free from my website
if you want to make one.
Another cool thing: I got to meet the writer of our book
Superkid
,
Claire Freedman
, for the VERY FIRST TIME! She had a morning
Aliens Love Underpants
event, and we were able to have lunch together and talk about
Superkid
, being on stage, tricky-to-manage hair, all that kind of stuff. I usually work closely with my writers, so it always felt a bit odd that I hadn't met Claire, and I'm glad that it's happened at last. (Great to meet you, Claire!) She's
@clairefreedman
on Twitter.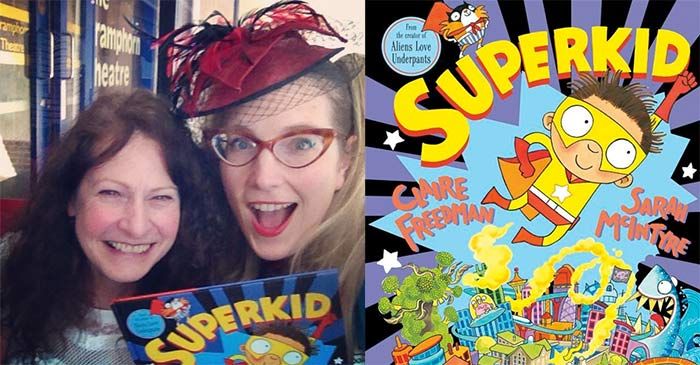 Huge thanks to Steve, who was awesome to perform with. And to the fabulous
Georgia Snelgrove
, who organised our event for the
Just Imagine story centre
and
Essex Book Festival
! Thanks to its owner
Nikki Gamble
, who came to our event despite having just flown in from events in Qatar. And thanks to the Cramphorn Theatre for the use of your lovely venue, that was a fabulous afternoon!
I just had to show you the
Berger & Wyse
comic strip late that evening that made me spit up my tea. (
Joe Berger
makes children's books and comics, too; you can follow him at
@_JoeBerger
.)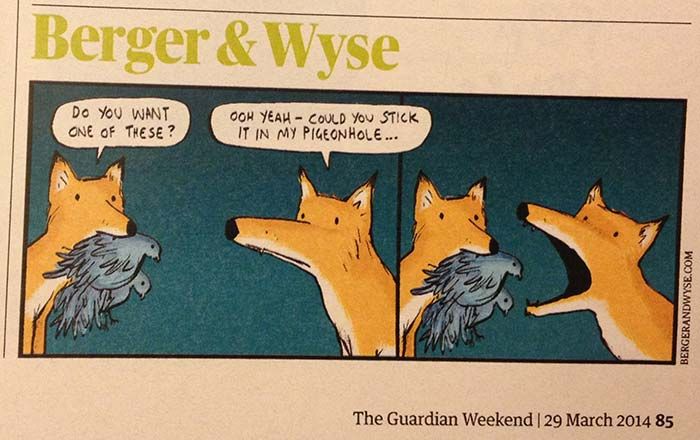 One more thing:
If you're getting today's copy of The Sunday Times, be sure to look out in The Funday Times for my Shark & Unicorn comic strip!
Edit: Comment from parent Jacqueline Farrow: It was a lovely afternoon. K continued practising his tail-whip yesterday. A was so thrilled at winning the costume comp (he had put a lot of thought into his costume so we were thrilled too) and plans to take his prize books into school for 'show and question'. Both were reading Vern and Lettuce yesterday and what was extra brilliant was how they were relating it to what they'd heard - 'Sarah did it like this because...' etc. Loads of enthusiasm (and as one of them is a reluctant reader that is so fantastic to see). Thanks both of you.
So yesterday Nikki Gamble was tweeting this from the dressing rooms at Chelmsford's Cramphorn Theatre... who could these people be? (Ha ha, we were half hoping someone would draw the top part of the photo.)