Confession: I'm actually very fond of school dinners. Maybe they're better than they used to be, but I've seldom had a bad one. And I get to share them with such lively company! It takes real guts to meet lots of new people in a Welsh school staff room.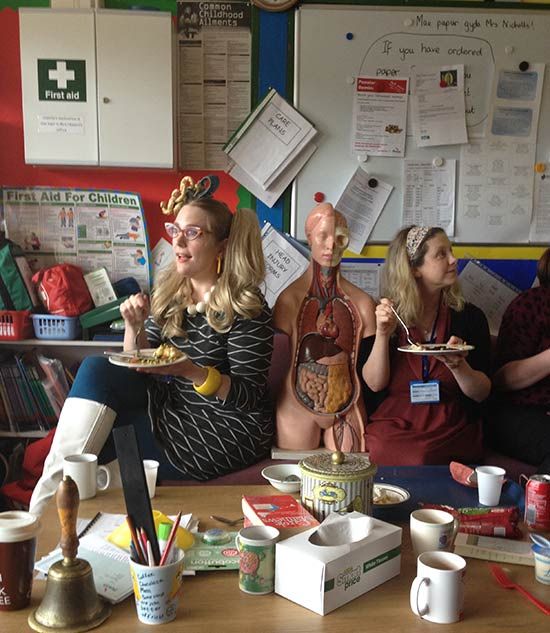 Ha ha, it was great to meet Welsh writer Fflur Dafydd when I made a visit to Hay Primary School as part of the Wales-Norway Hay Festival exchange, funded by the European Union's Comenius Project. (Read about my trip to schools in Norway here.) I was pleased to see the kids were very familiar with my picture book There's a Shark in the Bath, and we had a great time talking about the story and drawing sharks together. This was mine:




And here are a couple by the kids at nearby Clyro Primary School. We all customised our sharks to make them very silly. There's nothing as good as taking something scary and making it less scary by putting a moustache or tutu on it.




Sharks from Hay Primary. We had a real shark frenzy at the end!




I got to take the Year 6 class from my Norway travel buddy, teacher James Griffiths. (Cue happy reunion sounds.)




In James's class, we all designed our own Sea Monkey characters, inspired by Oliver and the Seawigs. Here's one:




Sea Monkeys are awfully hard to keep under control, so we let them loose to have their own adventures in a whole-class Comics Jam session. (Each comics panel is drawn by a different person.) It's interesting, every time I ask groups of kids, 'What's the most important thing to remember while making comics', the first kid always says 'To have fun?'. Which makes me laugh a bit, because, in one sense, they're right; particularly with funny comics, you do need to keep a sense of fun. Making comics CAN be terrific fun! But I also know that when people make comics for a living, they're often working under tight deadlines and they need to turn in that comic whether they're having fun or not. Many comics aren't meant to be funny, and great comics have been made by people who were miserable. Heh heh.




The second thing they usually say is 'To be creative?' or 'Use your imagination?' Which are also good guesses, but again, it's better to have a less creative comic than to forget the one main thing, which is... *drum roll*... CLARITY. I always bang on to the kids that the comic has to read very, very clearly.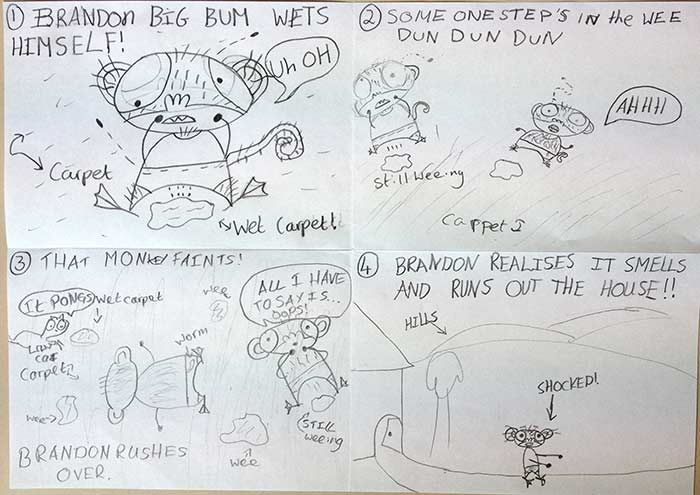 What does that mean? A lot of people, kids in particular, have to learn that just because something's in their head doesn't mean someone will look at their paper and know what they were thinking. We've all been there, watching a little kid give a detailed explanation of a scribble. I tell the kids that when they're authors, they won't get to be there beside every reader, that the comic has to stand on its own, and make sense.




So I work them quite hard, even though they have fun. They need to remember to add text if the images aren't clear. (A handy label and arrow can turn the same scribble into a spider, a pile of poo, a planet.) They need to give a sense of where the character is located, not just leave them hanging in white space. (Unless they are actually hanging in space, and they they need to show us that with stars, spaceships, etc.) I ask more than once 'where are they standing? Or are they jumping off something? They need to write the words before drawing speech bubbles, so they don't have to squish the text into impossibly tight spaces. Things like that.

It's amazing how much the game pushes them, but since they're writing about silly stuff, they don't seem to mind. And I get such a kick out of seeing what they come up with. The great thing about the Comics Jam is that it makes everyone go at the same pace: five minutes per panel, and everyone ends up drawing four panels. So if someone finishes their panel in ten seconds, it gives them time to look at it again and think about how they could make their panel easier for someone else to read. And it keeps kids who work slowly from being so precious about their comic that they never finish. I think this is quite helpful in making them think about storytelling generally, not just comics.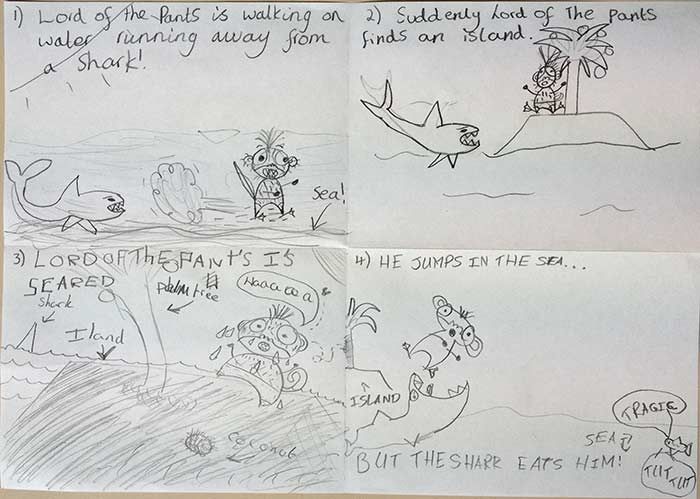 Big thanks to Hay and Clyro heads Fiona Howard and Dorothy Davies, the kids and teachers for being awesome, and to Heather Salisbury of the Hay Festival for organising my visit! Heather also came to Norway with me and I got to have dinner and a good laugh with her and the festival's Andy Fryers. I'm going to appear at this year's festival and really looking forward to it; keep an eye on the family section of the Hay Festival website for upcoming booking details! Here's a peek into the festival's headquarters:




(You can see some of my past Hay Festival visits here on my blog.)