Cambridge was all yellow and daffodils this morning for the Cambridge Lit Fest! Here's my Oliver and the Seawigs co-author Philip Reeve with me and Children's Events co-ordinator Sabine Edwards.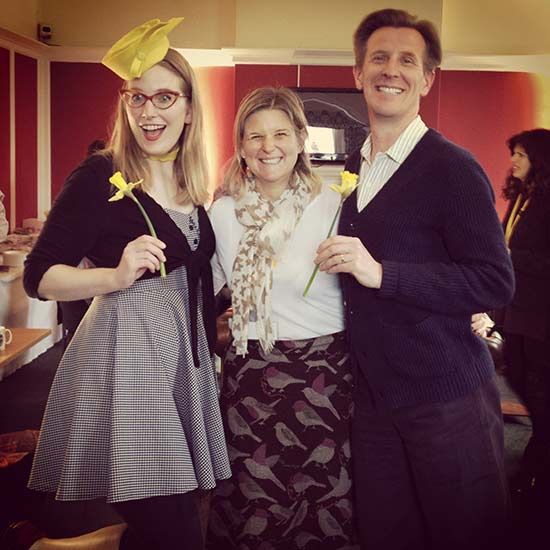 I got a lot of compliments on my hat, so I thought I would share its humble origins in case you fancied owning one, too. (Also, the bucket handle made a rather fine matching choker necklace.)





Cambridge is such a gorgeous city, and a great place to swan about with a ukulele, wearing a sailor dress and a squid on one's head. Here are Reeve and me leading the Eep Parade:




The audience helped us come up with things to draw to build a Seawig for a Rambling Isle:




And we led everyone in drawing their own Sea Monkeys!




I was surprised at the signing session that not only had people drawn Sea Monkeys, but a couple kids had also drawn their own Rambling Isles. Cool!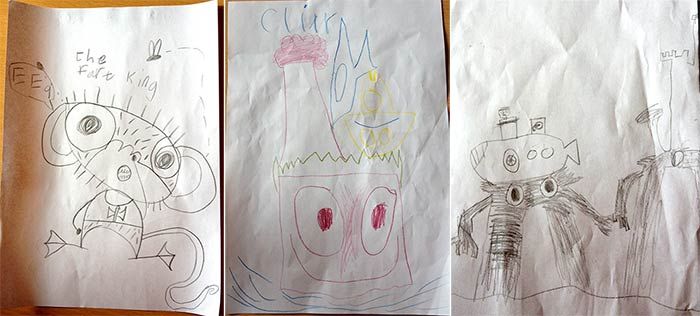 The culinary highlight of the festival definitely had to be these Chelsea buns. Chelsea buns are usually nothing like American cinnamon rolls - usually drier, with less icing and cinnamon. And I miss American cinnamon rolls. But an American would call these cinnamon rolls and I can honestly say they are better than any I have ever tasted in the USA. People on Twitter let me know that they were made by Fitzbillies on Trumpington Street. I may just have to pay it a visit on my next trip.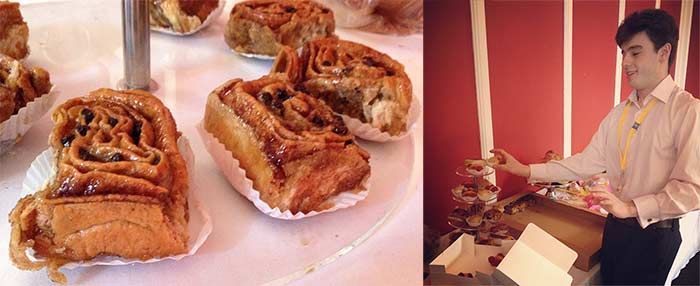 One of the fun things about a literary festival is bumping into other writers and illustrators in the Green Room. (That's what festivals call their hospitality room, even if it is not green. I'm not quite sure why that is.) Here's writer Tracey Corderoy and illustrator Steve Lenton with their characters Shifty McGifty and Slippery Sam!




We got to meet writer Helen Dennis for the first time, and she and Philip discovered that they had both gone to the same school in Brighton, Stanley Deason. It was shut down for being terrible, was dubbed by The Guardian as 'the worst school in Britain' and Reeve used to rather enjoy watching it be at the absolute bottom of annual Ofsted reports until it got shut down. Helen said the bus drivers used to get so scared of the students that they'd sometimes refuse to stop at the bus stops. Funnily enough, Emily Gravett also went there, so it can count at least three illustrious authors, a Carnegie medal and a Greenaway medal among its alumni, which is pretty good for any school. Helen and Philip both sounded rather proud of it, and said it was a good place because if you weren't busy burning down the bus shelters, they'd count you a star pupil, and leave you alone to get on with reading, writing your own stories, whatever you wanted, really.




On the way out, we bumped into writer Darren Shan (pictured here) and also Marcus Sedgwick (but I didn't manage to grab a photo because the cab was just about to pull away).




One of the other fun things was getting to stay in one of the college's halls of residence. (The students were away for half-term break.) I stayed in Christ's College, which is a gorgeous building with ancient courtyards, but the dorm was a big modern thing, which my friend Bridget Hannigan referred to as 'The Typewriter'.




The Typewriter had a Darwin Garden out front, so we mucked around with the guy, whom I wouldn't have recognised without his beard. (Yes, Reeve's pondering his origins here.)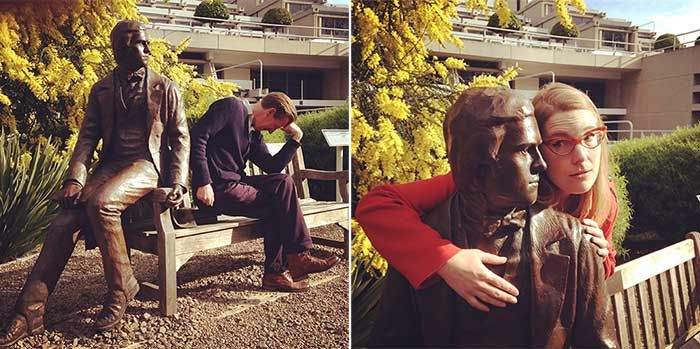 A huge thanks to Sabine, Festival Manager Susannah Gibson, young Greg for looking after us in the Green Room, the student who cleared all their stuff away so I could stay in his or her room, local friends who met up with us the evening before (including comics artist teams Emma Vieceli and Andrew Ruddick, and Woodrow Phoenix) and Bridget Hannigan, and everyone who came to our event and made it so much fun! You can see other tweets about the festival and photos over on the #CamLitFest hash tag.