My desk is a sea of paper, so yesterday I tried to tackle some of the mess and found these thumbnail roughs for You Can't Scare a Princess!, my picture book with Gillian Rogerson. Thumbnail roughs are called that because often they're very small, just a doodle that lets my editor and art director know how I plan to lay out the page before I draw a more complicated full-size rough in pencil.

If you know the book, you'll see that, except for pages 20-21 (the treasure digging scene), I pretty much followed these layouts in the final artwork.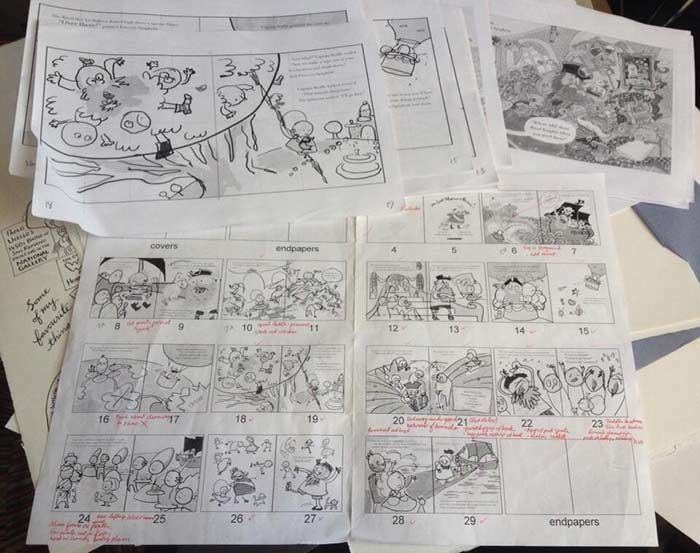 Top tip: the grid here looks a bit dull, but if you've ever tried to get a picture book published, you'll know this template is solid gold. It takes most aspiring writers and illustrators ages to figure out this basic layout. If you go into a shop and count picture book pages, they'll vary slightly, which is confusing. That's because publishers have a little leeway with how they engineer the endpapers, so you might get some extra pages. But if you want to get published, this is the most cost-efficient way of cutting one big sheet of paper into a book, so an editor will be far, far more interested in your book if you work to this format.




In some ways, it can make your job easier, because you think Here's the set number of pages I have; how am I going to fill them? I often print out the grid and write the story right into it. Don't forget, you'll need a title page and a page for all that small-print information, so the words in your story may not really start going until page 6.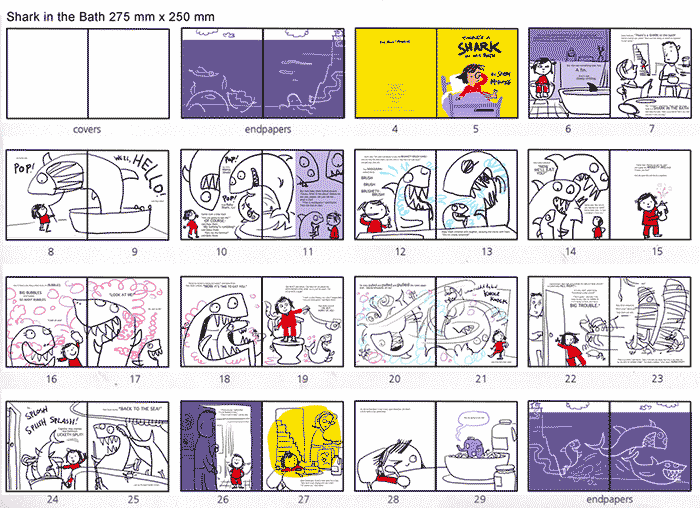 Often a paperback will have two more pages than the hardcover version because the endpapers aren't glued down to the covers. Here's There's a Shark in the Bath; you can see the paperback, top, has an extra page. In the hardcover version, bottom, this page would be glued down to the cover board, which holds the pages into the book.




You don't have to stick to the template exactly, with the title page on page 5. Sometimes people put the small-print information at the end of the book, and often the story starts right in the front endpapers, not after the title page. (I like to use the endpapers to set the scene for the book.) But if you stray from this format, it's good to have a well-thought-out reason why you've done it. Board books are usually shorter than this, since the pages are thicker. If you want to see the variations, get yourself down to your local bookshop or library and start counting pages.

Some useful terms:

Double-page spread: When you open a book and two pages look up at you, this is a double-page spread. You can either have a picture or pictures on each page, or you can have one big picture spanning both pages. These spreads can be very effective; think about the size of a child. When they're reading or being read to, the picture wraps around them, plunging them into the world you've made.

Gutter: This is the middle of the book, where the pages come together. Try not to put any very important things here, such as eyes, or text, because they might disappear down the gap.

Endpapers: the pages holding the book into its cover. These might be made of a single-coloured piece of paper with nothing printed on it (the cheapest method), decorated with pictures in one colour of ink (mid-price) or full colour (the most expensive).

Pagination: Anything to do with pages. Traditionally in a 32-page picture book, the front cover is page 1. Left-hand pages are always even-numbered, right-hand pages always odd-numbered.

Bleed: When you do the final artwork, you'll slightly need to extend the edges of the picture (let it 'bleed') if you're doing a picture that goes right to the edge of the page. So paint your picture a little longer and wider than the page itself, or if you're laying out the page digitally, give extra room around the edges. Talk with your designer; the bleed will be anything from 5mm - 15mm each side. This is in case the printer doesn't cut the paper exactly right, there won't be white bits showing on the edges of the pages. Or if there's a problem fitting text, your designer will have a bit of wiggle room to move things around. (I must confess the term 'bleed' made me smile while I was working on the shark book.)

Right, hope that might be helpful for a few people! I wish I'd been given the 32-page template when I first started making books; it would have saved me a lot of time. You can find a few more tips over on the FAQ section of my website.