Oliver and the Seawigs
would be fun.
I did a couple variations on the line art. Here's one with a bit of colour:
Other news: did you see the collaborative comic by
Audrey Niffenegger
and
Eddie Campbell
in last Saturday's Guardian Weekend magazine? Audrey drew it, Eddie adapted it into comics form, then they both drew elements of the final panels. You can
read it online here!
(It's really for adults; includes boobs and stuff.)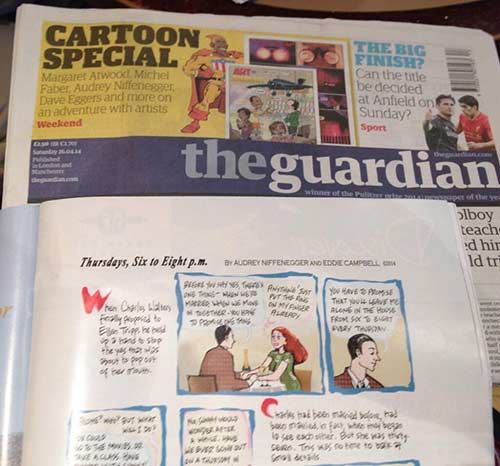 And here's an
essay by Audrey about how they made the comic
. You can follow Audrey on Twitter:
@AANiffenegger
.
Speaking of comics for grownups, there's also going to be an exhibition of British comics,
Comics Unmasked
, at the British Library, curated by
Paul Gravett
, from
2 May - 19 August
. Photo tweeted by writer-illustrator
Liz Pichon
. (I love the fact the exhibition are proudly calling it 'comics', not 'graphic novels'. Liz is a great example of someone who makes excellent graphic novels which
aren't
comics, in her highly illustrated
Tom Gates
books.)
I'm rather sad they haven't chosen pieces of work to display that would be family friendly, so they're not allowing in people under 16, and recommending parental guidance to accompanied people under 16. (
See the website
for further details.) But I'm still hoping it will be a good exhibition, and I'm pleased about how much publicity it (and comics) have been getting.
I don't normally design wedding invitations (please don't ask me to do one!), but I made an exception for an wonderful old friend from university days. Her Japanese fiancé is an avid fisherman and she thought a variation on Iris the mermaid from