So almost every English person I know has been to Spain at some point in their life, but guess what, not me; this is my FIRST VISIT EVER. Here's one of the first characters I met; I think it would make a good companion to one of the Poglites in my upcoming Cakes in Space book with Philip Reeve. I love how it looks like one of those Japanese warrior costumes you see in the V&A Museum, and it even has a shield.




I was slightly nervous about agreeing to spend a week touring with total strangers. For the plane ride, I'd brought along a Patrick Ness book called A Monster Calls. I was reading it, and suddenly we were landing; I was weeping copiously over the story and realised I had only a few minutes to pull myself together because I really didn't want my hosts to meet me while I was a sniveling wreck. (First impressions and all.) So I took deep breaths, got off the plane, and met Gary and Anny of Bookbox International, who turned out to be lovely. Big relief! They drove me from Barcelona to the smaller town of Sitges and we had Sangria de Cava on the beach front.


So we're going to be touring international schools all week, and a lot of the kids will have limited English skills, so it'll be interesting to see how much I rely on drawing and acting things out and stuff. I'll attach a few more photos of Sitges, just because it really is a lovely place. I took a very long walk around it after I checked into the hotel.




See those windows in the photo? They have amazing carved stone capitals, based, I think, on folk stories. Here's a close-up of one of them. It looks a bit like a Maurice Sendak drawing, I might draw it later, myself.




And another, I love the monkey.




Cool windows:




Some pretty tiles:




And a fairytale tower: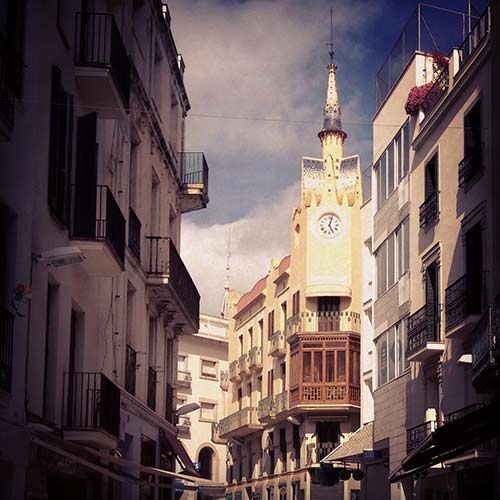 We're off tomorrow to Caxton College in Valencia, and I'll try to post more news soon!