So I'm back from my first trip to Spain, and wow, was the experience a full one! With school visits every day - four asssemblies at a time, with book signings - it was incredibly hard work, but also loads of fun. I'd planned to make a travel comic, but I was doing so much drawing in the schools that I mostly just flopped about like a fish when I had time off. Or a mermaid. That sounds better than a fish.




In fact, there were plenty of mermaids to be had; I felt right at home in Benidorm.





One of the people who most made my visit a success was librarian Maria Jose Sanchez, at King's College in Alicante. She was a perfect example of the way a librarian can prepare kids for an Author Visit; a librarian's groundwork gets the kids excited, they pay way more attention because they know who I am, and they come away inspired. (I was in good company; other authors who'd come on this Spain Book Tour with Bookbox International included James Mayhew, Steve Cole, Nick Sharratt, Ali Sparkes, Shoo Rayner, Ian Beck, Korky Paul, Caroline Lawrence, Guy Parker-Rees, Tony Mitton, the 2 Steves, Steve Smallman, Savior Pirotta, Miriam Moss, Julia Golding, Paul Cookson, Brian Moses and Kay Umansky. Lucky schools!)




Sometimes great people come in small packages. Oh, and Maria Jose's son had great specs and loved to draw; I wanted to take him home with me.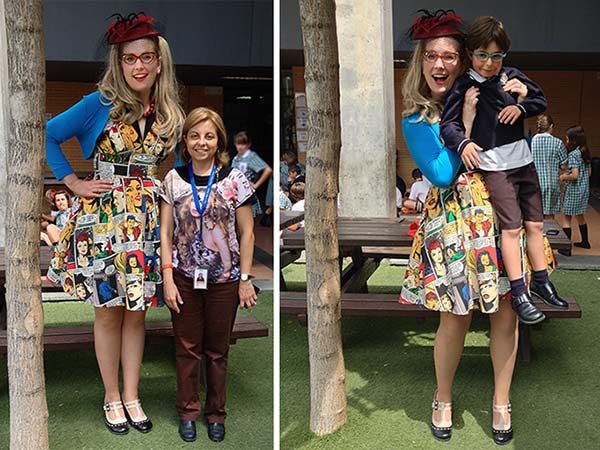 I led the different year groups of kids in drawing different characters. Here are a couple sharks from There's a Shark in the Bath and Superhamster from Superkid. I started them off with the basic character and then they'd customise theirs.




Some more fab staff at British School La Cañada! I had lunch with Sarah, the school's head (in the centre), and wow, do they put on a good lunch for the kids and staff alike. I had shellfish paella, freshly squeezed orange juice from local trees, salad and fresh strawberries and cream. That's when I really knew I was not in Britain!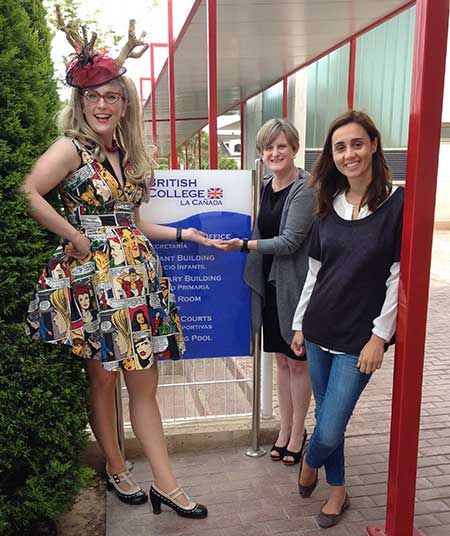 Ha ha... I can't even remember now which school I was at when I drew this comic, but it almost went terribly wrong. I was having the kids help me by telling me what to draw in each panel, and the competition for the best sea banana started to get more and more risqué. The teachers were howling, some of the older kids were grinning away, and the little kids had no idea what was going on. In the last panel, little kids were suggesting I make the Sea Monkey kiss the banana, hug the banana, and my eyes were streaming, trying not to lose it. I think I resolved it as well as could be hoped. It's hard to draw when you're silently shaking with laughter.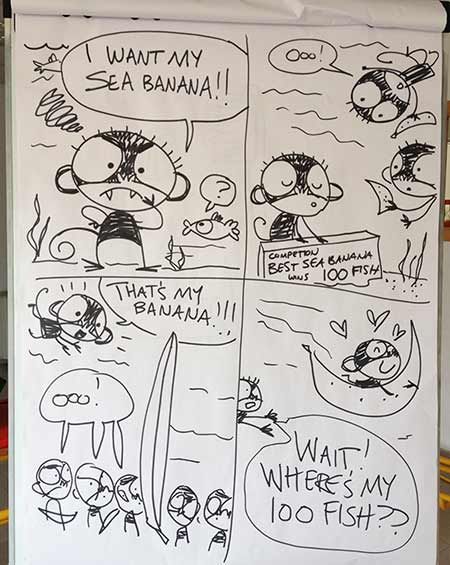 When I draw quickly in front of assemblies, my drawings tend to be terribly slapdash, so while the kids are coming into the hall, I try to draw something slightly more polished, that they can keep and remember the day.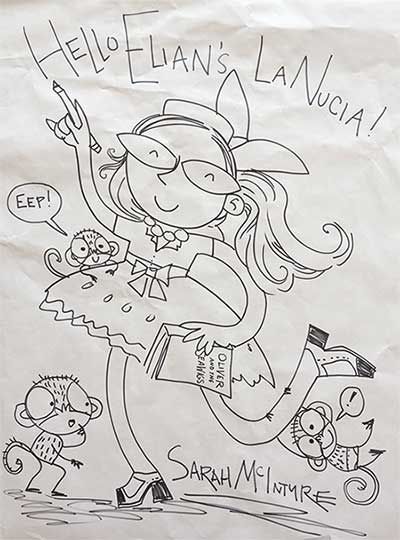 One of my favourite things is when teachers draw along with us. They usually really enjoy it, and it gives a good signal to the kids, that drawing is something everyone does, not just a school exercise. Check out this teacher's Captain Waffle from You Can't Scare a Princess!:




I was drawing Captain Waffle with kids who were awfully young - kindergarten, I think. It stretched them, having to pay attention to each step, but they still managed some great results, and I loved all the variations.




Speaking of pirates, here's a lovely wordless pirate comic I found at a book fair in Castellón, Barbosa el Pirata by Jorge Gonzalez. The cover sticker suggested it was appropriate for kids 3+, and I hope I can find a version in English. It's published by Mamut, and the more I see of their comics for kids, the more I love them. (I first saw their books at Angoulême comics festival.)




And now for some sharks! I taught the assembly hall full of kids how to draw a shark, and then they customised to make them as SILLY as possible. We talked about one way to get an idea for a story: pick something kind of scary, then make it silly and see what happens. It's a great way to counter fear; if you're laughing at something, it can't be quite as scary anymore.




When I was signing books, I found out very quickly that I needed to have the kids write down their names; I had no idea how to spell a lot of them, names like Álvar, Jimena and Maritxell. Most of the kids were Spanish, but there were a fair few Brits, Russians and some Chinese.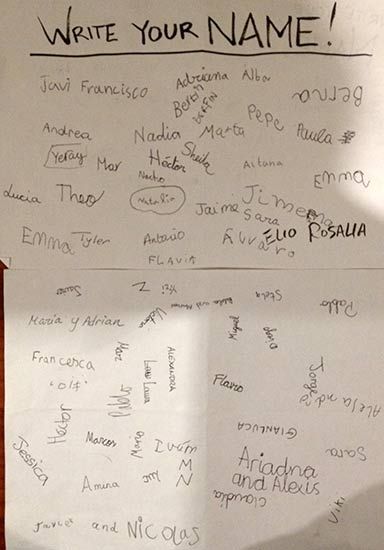 While I did the last three days of school visits, I stayed in Benidorm. When I told people in England I was staying there, they tended to laugh and raise their eyebrows. Benidorm used to be THE package holiday destination for Brits, and there's more highrise buildings there - mostly hotels - than anywhere in Europe. But it's gotten quite chavvy; there's one area that's full of drunk, sunburnt Brits and the British-themed bars that cater to them. (There's even an ITV series now called Benidorm.)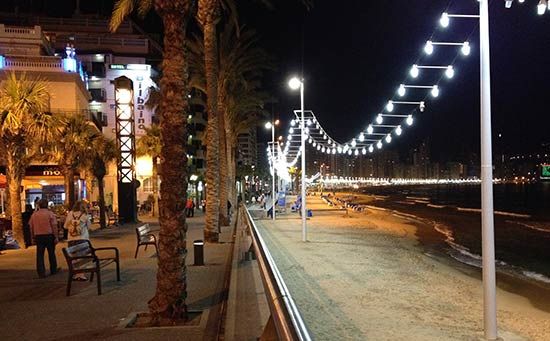 But my hosts, Gary Carton and Ana, took me to the older part of Benidorm, which is rather charming.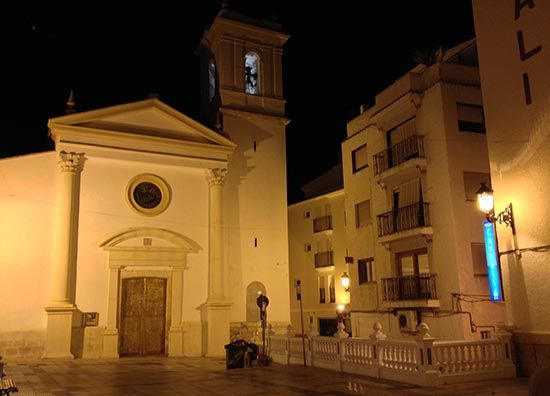 There were lots of Spanish families there, and groups of elderly friends strolling around together.




This group was standing in the street listening to a guy singing a Paso Doble, it was very blood-stirring.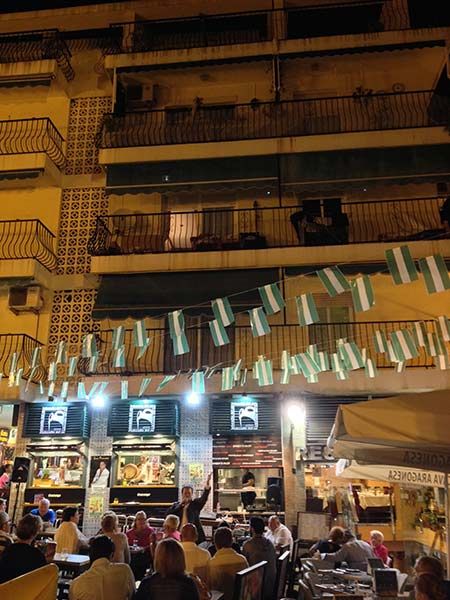 Our hotel was near this remarkable building: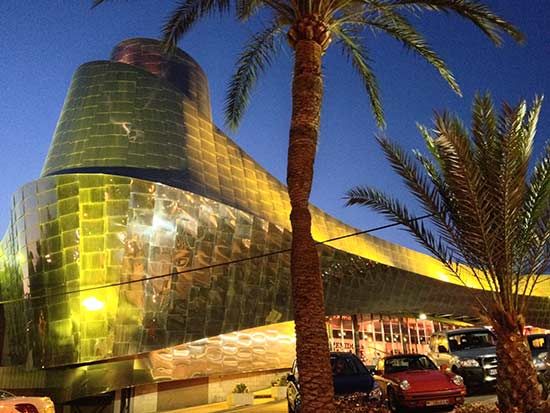 And my hosts took me there on the last night, to the Benidorm Palace.




It's quite an experience, like going back 30 years in Spanish tourism. Gary said he thought the stage was the longest in Europe, and it was fascinating seeing the tables fill up for the cabaret show with people from all over the world.




I was rather sad to leave, there's still so much in Spain I want to see. I loved watching out the van windows while we drove from place to place; the landscape looked much like this, with lots of terraced hillsides and huge orange and lemon orchards.




A huge thanks for a brilliant visit to Gary, Ana and the five schools who hosted us. Muchísimas gracias!
(See earlier Spain Book Tour blog posts from Castellón and from Sitges.)