When writer-illustrator-puppeteer Sue Eves tagged me as the next person on My Writing Process Blog Tour, I promised to deliver... and then forgot. Sorry, Sue! But here it is, a bit late. (And you can read Sue's blog post here.)




1. What am I working on?

Um, I forget. Ha ha, no really, when I woke up this morning, I tried to go through a list of things in my head that I need to do today. I don't always do this, sometimes I wait for people to e-mail saying WHERE IS THIS THING YOU PROMISED?

So today's list:

* Write and draw the pencil roughs for my next Shark & Unicorn comic strip for The Sunday Times. This episode needs to be dragon-themed, since the overall theme of the next Funday Times is going to be How to Train Your Dragon 2. I quite like being given a theme, then I have a good jumping-off point.

* Finish up the Sainsbury's Children's Book Award logo. The last version I did had red as its main colour and then I found out that Sainsbury's use red as a symbol for discounted items, and they don't want people to make the mistake that we're offering a discount. Actually, I think I like the new version better (without the red). I changed the lettering from hand lettered to letters I cut out of paper. It makes the letters look nicely rough and wobbly.

* Do some character colour studies for my Scholastic picture book that's due... uh, worryingly soon. I just turned in the pencil roughs to my editor and designer and I'm waiting to hear back from them. They're pretty quick, so I'll shortly be starting colour artwork.

* Pester my studio mate Gary Northfield (a kind, gentle, talented fellow) to clear his stuff off the big communal table so I can use it to cut to size the watercolour paper for the picture book. Because my desk is too messy to cut it there, heh. Perhaps I should change this point to clearing off my own desk; now there's a thought.

* Rethink a story I sent to my agent. She gave me some good tips on it. I probably won't actually work on this today, but I need to ruminate on it for a bit. Ruminating's important.

* Avoid e-mail. I spent almost all of yesterday fussing over festival logistics and replying to various e-mails. Sometimes I just go through my e-mails and put a star next to the ones I need to answer, and I feel I've accomplished something. But no one seems to appreciate that I've starred their e-mail, they tend to want a reply as well.

2. How does my work differ from others of its genre?

Hmm, I don't know, you'll have to tell me that! It's like 'style' that people always talk about. Illustration students are always worrying about 'finding their own style' and writers about 'finding their voice'. I don't know, I just try to do what suits each story best, and if you think I have a style, that's fine. I like keeping my options open, I think I'm still developing and I don't want to get pegged down to only one way of working.

And I don't really work in any one genre. So far I've done animal stories, adventure stories, fantasy, science fiction, auto-bio... oh, let's move on to the next question; talking about genre's kind of irrelevant and boring. Unless it's the shark book genre. That's HOT STUFF right now.

3. Why do I write what I do?

If I write the story, I can put in all the things I want to draw! I get frustrated when critics and sales websites list picture books and heavily illustrated novels only by the writer's name. Edit: Ha ha, for example, Twitter just now: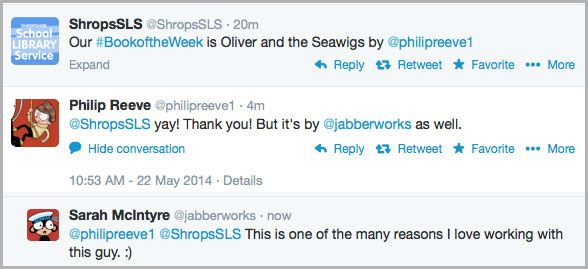 Yes, writing a picture book is very tricky and requires a lot of skill, but sometimes it can happen very quickly. Jampires took David O'Connell and me four years, at least 12 trips up to Oxford and 18 drafts. But I wrote There's a Shark in the Bath in less than two hours. And we tweaked a few words here and there at editorial meetings. But the artwork couldn't be done quickly, it took months - I was working 17-hour days for three weeks - and I knew it would be like that. So if some writer spent two hours on the book and got all the credit, I'd be a bit miffed at all the people being so thoughtless about it.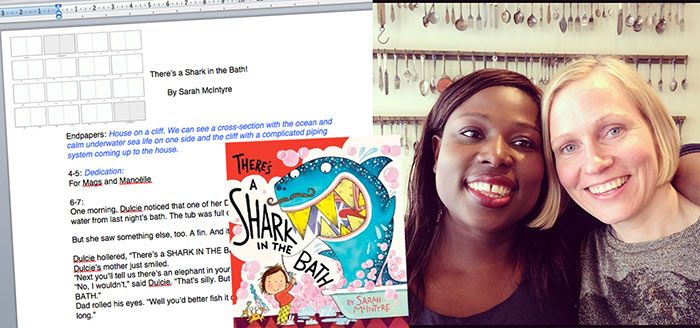 Team Shark! My picture book designer Rebecca Essilifie and editor Pauliina Malinen-Teodoro

I used to accept texts from my editors by people I'd never met, but now I either write my own, or use the excuse to do fun things with friends. I have three new books coming out this autumn: Cakes in Space with Philip Reeve and Oxford University Press, Jampires with David O'Connell and David Fickling Books, and Jampires: the Great Doughnut Mystery, a comic that David and I are self-publishing with David Fickling's permission and going to sell at the Lakes comics festival in Kendal and Thought Bubble comics festival in Leeds. (More about this later!)




Working with both guys is great; Philip treats me like a proper co-author - we split everything, even stuff like film rights (usually the illustrator gets cut out on those) - and he comes down firmly on people don't credit us both with coming up with the story. With David O'Connell, our work was shared out so equally that it's impossible to say who was the illustrator and who was the writer.

4. How does my writing process work?

It depends entirely on the project!

* For Shark & Unicorn, I jot down a few dialogue notes. Then I draw a pencil rough, and alter the dialogue until it fits well into the space I have. Speech bubbles are great for making me cut away unnecessary words.

* For There's a Shark in the Bath, I bounced the idea off a picture in my previous book, Superkid. My editor and I had both loved the sharks in that book and thought it would be great fun to give them their own book. So I got out my 32-page template and worked out a story idea that could comfortably span that number of pages. Then I filled the words into each page, trying to create an atmosphere that started with menace but which, with an injection of silliness, turns into rollicking good fun.

* For Cakes in Space, Philip spotted a little drawing I'd done earlier on my blog of an astronaut and alien, and thought it would be fun to put me through my paces drawing machinery and robots. (I'd drawn lots of organic matter for Oliver and the Seawigs.) And he'd been wanting to write a space opera for some time, so we thought we'd set it in space. He had the idea of a child wandering around in a spaceship, and ten I came up with the idea of a malfunctioning food machine and mutant killer cakes. For Oliver and the Seawigs, I think I had more influence on the actual text - I wrote a passage or two - but Philip did all the writing on this one, and Skyped me whenever he wanted a new idea for it.

* For Jampires, I'm going to do a whole other blog post about this soon, because the technique was so unusual. But I can say that it all started with a Comics Jam. Stay posted...

So, in the tradition of My Writing Process Blog Tour, I've passed on the baton to...

DAVID O'CONNELL!

Master comicker, writer, illustrator, self-publisher, author of HarperCollins' Monster and Chips series, editor of ink+PAPER, friend extraordinaire... and he makes a damn fine Christmas cake.




(Check out my FAQ page if you want to find out more! And get links to lots of other #MyWritingProcess blog posts via Twitter.)

Edit: And here we go, here's Dave's blog post!